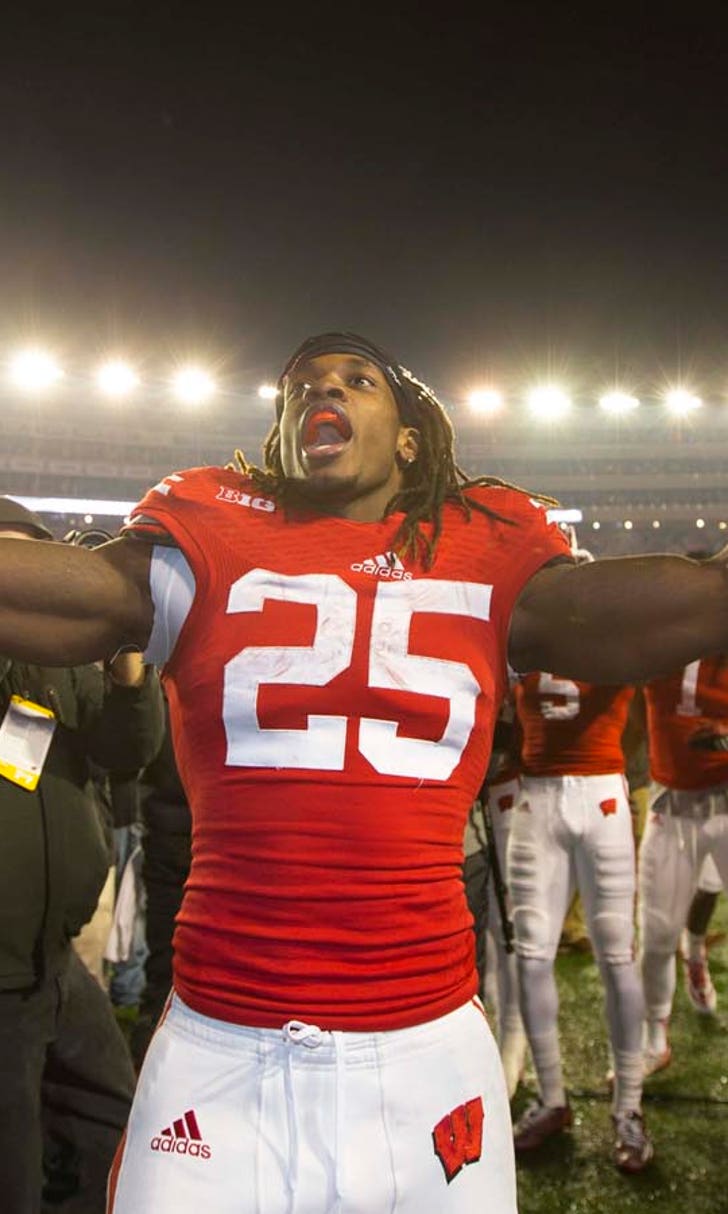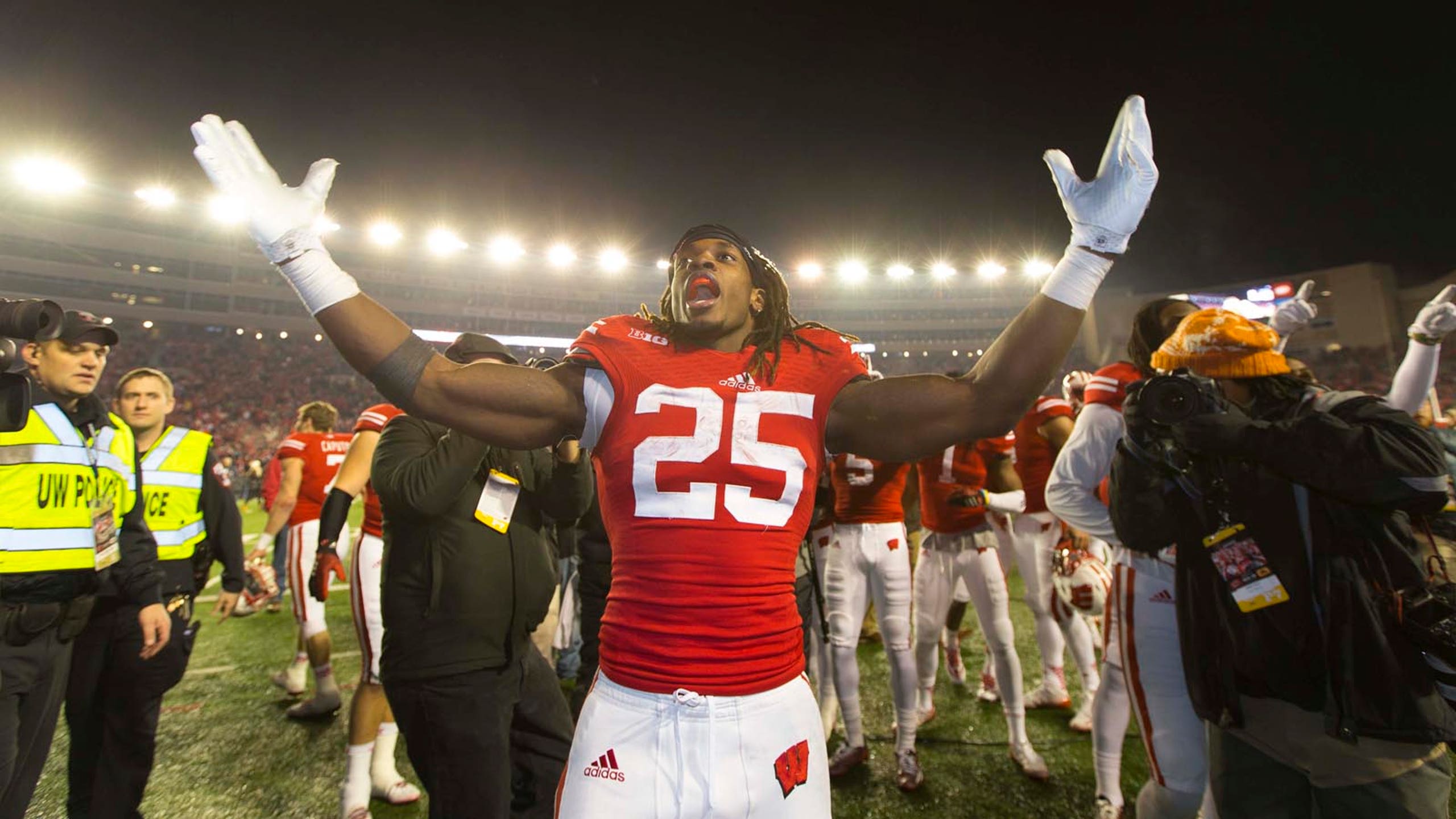 Badgers' Gordon named Heisman Trophy finalist
BY foxsports • December 8, 2014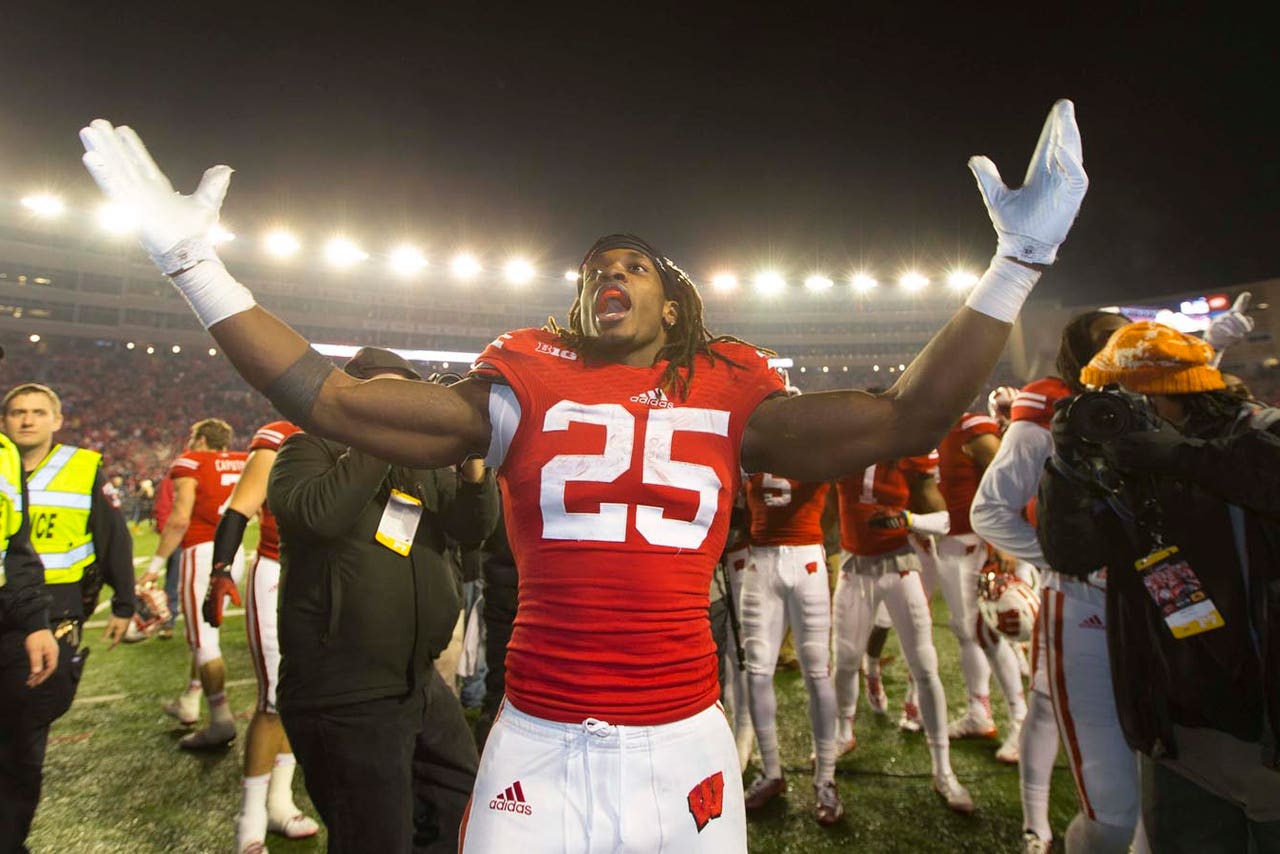 MADISON, Wis. -- One of Melvin Gordon's primary reasons for returning to Wisconsin this season was to leave his own legacy, to be remembered among the all-time great running backs in program history. He did not want to be considered just another player, and so he bypassed the NFL Draft last summer to become the Badgers' featured back and make his mark on a national stage.
Mission accomplished.
Gordon's season already has produced several memorable moments. But on Monday night, he added another to a stellar year: Heisman Trophy finalist.
Gordon was one of three players named finalists for college football's highest individual honor, joining Oregon quarterback Marcus Mariota and Alabama wide receiver Amari Cooper. The three will attend the trophy ceremony in New York, with the winner being announced Saturday night at 7 p.m. CT.
"I feel like I'm trying to do my best to be remembered," Gordon said Monday night after the announcement. "Hopefully this is a step to that direction."
Gordon, the Badgers' fourth-year junior running back, is considered a long shot to actually win the Heisman, particularly after he carried 29 times for 76 yards during Wisconsin's 59-0 Big Ten championship game loss to Ohio State on Saturday night.
Many presume Mariota will take home the award based on his eye-popping statistics for a team that will play Florida State in the semifinal of the inaugural four-team College Football Playoff. Mariota has thrown 38 touchdowns to only two interceptions and rushed for 14 more scores. His 4,478 combined yards are an Oregon single-season record, and his 53 total touchdowns (he also caught one) are a Pac-12 record.
"I shrug my shoulders like, 'Wow,'" Gordon said of Mariota being the Heisman favorite. "Me, Cooper -- pretty much everyone that's been in the running -- (heard) that he was just a frontrunner and that he's going to win it. It's nothing new. We've been hearing it all year.
"I think at the end of the day, it'll still be fun. It'll still be an experience to go. I was just told that maybe some past Heisman winners would be there. So I'm anxious just to meet some people, some legends. I think that'll be special. Regardless if I win or not, I want to make the best of this trip because not everyone gets this experience. I've got to just make the best of it."
Gordon, of course, was no slouch himself this season, and in many other years, he would likely be the frontrunner to capture the award. In 13 games, Gordon has rushed for 2,336 yards -- the fourth-most in FBS history -- and scored 26 touchdowns. His 179.7 rushing yards per game are 10 more than any other player in college football. He needs 293 yards in Wisconsin's Outback Bowl game against Auburn to surpass Barry Sanders' single-season FBS record.
Gordon acknowledged Sanders was one of the first running backs his father showed him on highlight reels, and breaking Sanders' mark would be particularly sweet.
"His record is kind of far away now," he said. "But it would be great to beat his record. It would be an honor. He's a special player. Everyone knows that. But If I get a chance to meet him, that would change my day and definitely put me in a better mood."
In addition to Gordon's running talent, he became a pass-catching threat for the first time in his career. After beginning the season with a grand total of one catch for 10 yards, Gordon has caught 17 passes for 151 yards with three touchdowns.
Gordon noted the only two individual goals he set for himself before the season was to rush for 2,000 yards and to score 20 touchdowns -- marks he broke well before the Big Ten title game arrived.
"That's pretty much what I had for myself," he said. "The rest were team goals. I did both of those. So I did what I wanted."
Gordon's most memorable game occurred Nov. 15 during a 59-24 blowout victory at home against Nebraska. He set the single-game FBS rushing record with 408 yards on 25 carries in only three quarters, breaking former TCU tailback LaDanian Tomlinson's record of 406, set in 1999. Oklahoma tailback Samaje Perine broke Gordon's mark one week later with 427 yards rushing against Kansas.
Gordon endured his share of early-season adversity as well. During a season-opening 28-24 loss against LSU, he carried the ball 16 times for 140 yards and a touchdown. But he also ran only four times in the second half, and Badgers coach Gary Andersen later revealed he held Gordon out because of a hip flexor strain sustained during the game. Gordon, meanwhile, was apparently unaware of the diagnosis and said he could have played. He later chalked up the mini-controversy to a "misunderstanding."
In Week 2, Gordon gained only 38 yards on 17 carries against FCS foe Western Illinois, which stacked the box and forced Wisconsin to win with its passing game. At the time, it appeared Gordon's Heisman stock was plummeting.
"After the Western Illinois game, I really thought that," Gordon said. "Just having a bad game like that. That was a really bad game on my part. I just tried to bounce back, tried to have some good games. I think that was probably one low point I had right there."
Gordon, however, was not to be denied.
He ran for a career-high 254 yards and five touchdowns against Bowling Green the following game and then bested that rushing mark with 259 yards against Northwestern in early October. His 1,648 rushing yards and 206.0 rushing yards per game during eight Big Ten regular season games were conference records, and he was selected as the Big Ten's offensive player of the year.
"It just shows what type of year I had and how hard I worked," Gordon said. "I came back to help my team do some things and to become a better player as well, so I think this is showing that."
Wisconsin has produced two Heisman winners in program history -- both running backs. Alan Ameche won the honor in 1954, and Ron Dayne won it in 1999. Badgers tailback Montee Ball was a finalist for the award in 2011 but finished fourth. Quarterback Russell Wilson finished ninth that season.
Follow Jesse Temple on Twitter
---