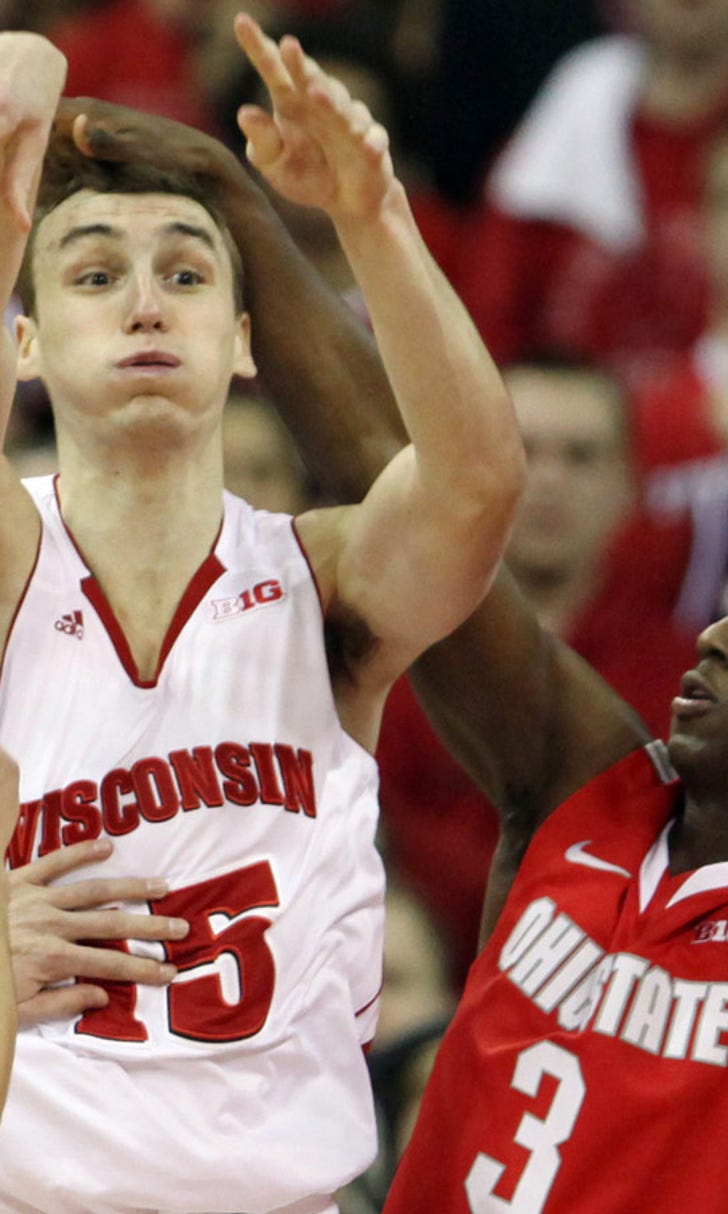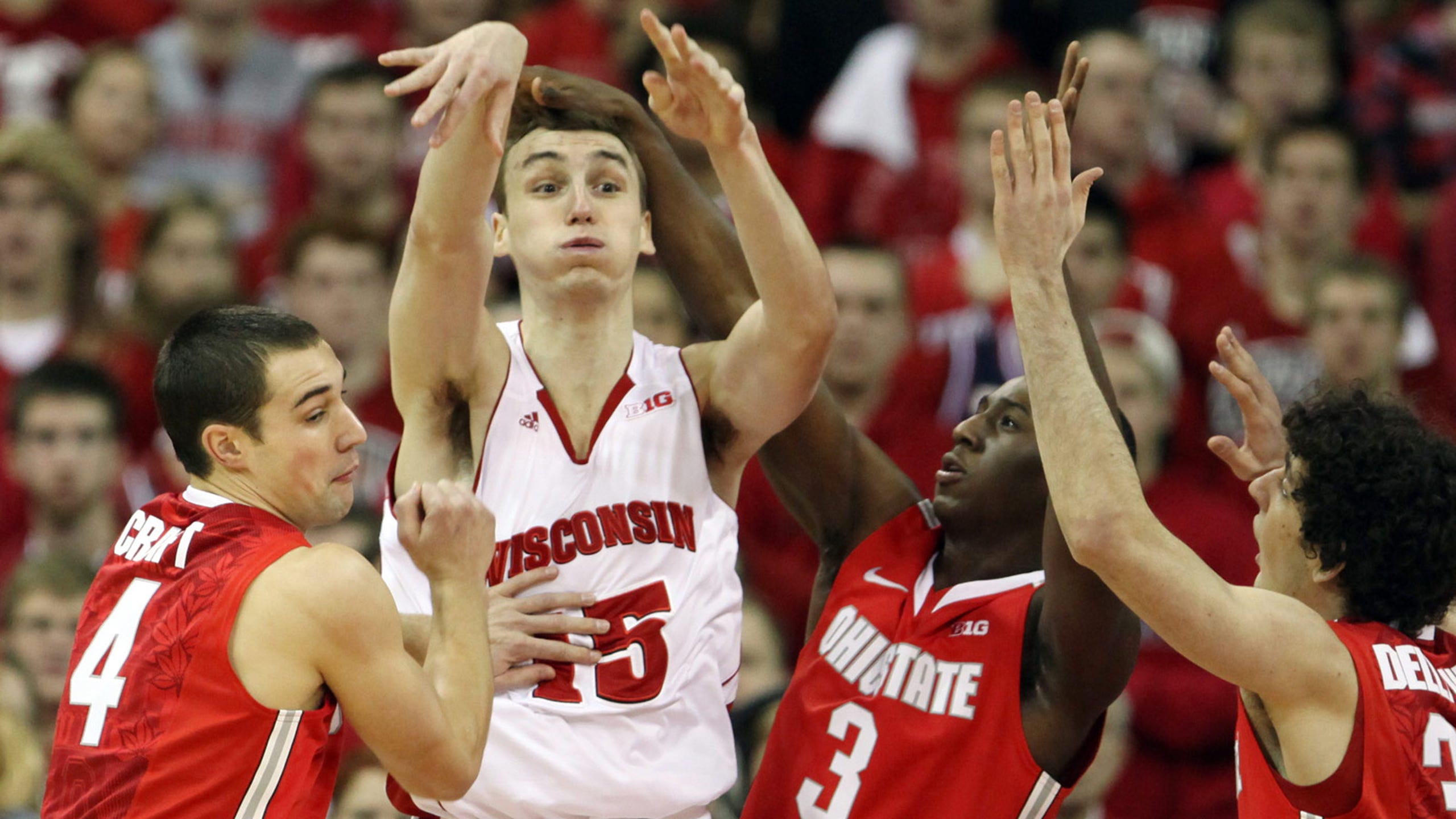 Badgers find out talk is cheap in suffering another loss
BY foxsports • February 1, 2014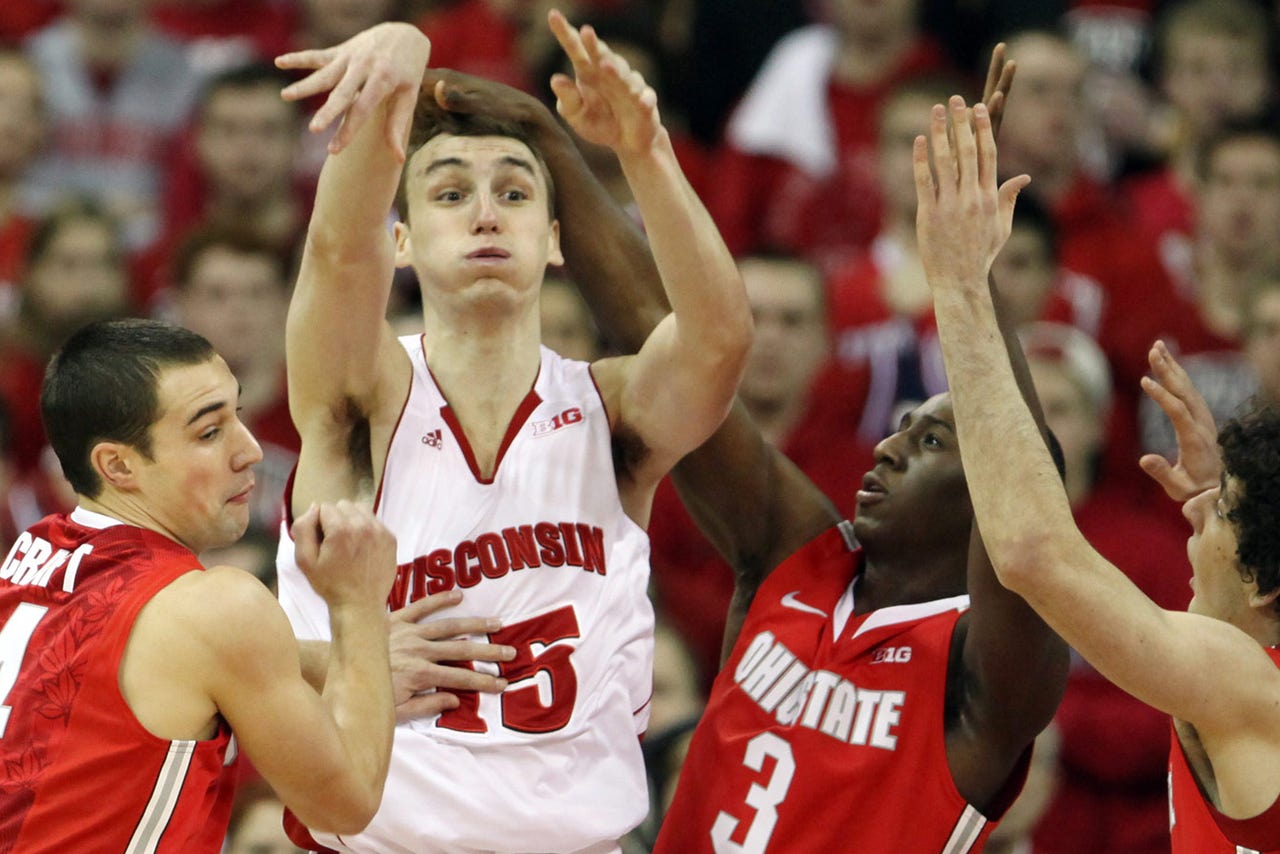 MADISON, Wis. -- They said the time for talk was through, that the only thing worthwhile was to simply play in a manner that better resembled the staples of Wisconsin basketball. Over the past three weeks, players had strayed from those principles -- toughness, physicality, grit -- and tumbled out from beneath the Big Ten well of prosperity.
Maybe it was the best start in program history that filled their heads with visions of March spoils. Perhaps it was the grind of playing in the toughest conference in America that finally caught up with them. Or maybe this team wasn't quite as good as it played earlier this season, when shots dropped to mask vital defensive issues. The potential reasons for the slide were numerous, but answers were slow to materialize.
On Saturday, Wisconsin put itself in position to quell an unusually dreadful stretch of play. But when forward Sam Dekker's contested 3-point try clanged off the back iron as time expired, the Badgers found themselves lamenting yet another missed opportunity in a season suddenly mounting with surprising losses.
Ohio State 59, Wisconsin 58.
"We didn't want to just talk the talk," Badgers forward Nigel Hayes said afterward. "Got to walk the walk. This game was better than some of the previous others we had. We weren't just giving up easy layups or it wasn't a lack of playing hard or playing physical.
"Sometimes the ball doesn't bounce your way. We just have to in games find ways to make the ball bounce our way."
Better overall play did little to soothe the Badgers' collective psyches when the result was the same. No. 14 Wisconsin (17-5, 4-5) lost its fifth conference game in six tries to fall into a tie for fifth place. UW also has lost three straight home games for the first time since the 1997-98 season.
The Badgers have never finished worse than fourth under coach Bo Ryan in 12 seasons -- one of the more remarkable testaments to his teams' annual consistency -- but now the very real possibility exists that the streak could end this season. Only twice has Wisconsin lost more than six Big Ten games with Ryan in charge, and the Badgers will have to win seven of nine to avoid that fate.
Now, a team once ranked No. 3 in the country at 16-0 is on the verge of falling from the Top 25 rankings entirely.
"I don't think we're happy by any means," said Badgers guard Ben Burst, who tallied 13 points and seven rebounds. "We want to get back to what we know we can be. We've got to change something. We're going to get back at it. We can't sulk. We've got to move on. There's nine games left, and we've got to try and turn those nine games positively."
What in the name of the swing offense has gotten into Wisconsin lately? When the Badgers were scoring early in Big Ten play, their defense leaked like a sieve, as associate head coach Greg Gard put it. They surrendered at least 50 percent field-goal shooting in conference losses to Indiana, Michigan and Minnesota.
But in back-to-back losses to Northwestern and now No. 24 Ohio State (17-5, 4-5), the offense has inexplicably abandoned Wisconsin. In the past two games, Wisconsin has shot 8-for-41 on 3-point attempts (19.5 percent) after being one of the best long-range shooting teams in the conference all season.
"You're not going to reinvent the game of basketball," Ryan said. "But guys have to be able to step up and hit shots. Obviously we didn't. Missed some free throws. Missed some wide-open shots for 3s. If you expect to be on the left-hand side, you've got to make some of those."
Only one Wisconsin player made at least 50 percent of his shots from the field Saturday one game after nobody hit that mark. Hayes, a Toledo native who called Ohio State his "dream school" days earlier, nearly saved the Badgers from defeat. He took over the game midway through the second half, scoring eight of 11 points to give the Badgers a 51-44 lead with 8:56 remaining in the game and finished with a team-best 17 points.
But Wisconsin made only one field goal the rest of the way, allowing an equally desperate Ohio State team that had lost five of six to creep back in and take the lead -- all of which set up the Badgers' final offensive play with 8.4 seconds remaining.
Badgers point guard Traevon Jackson caught the inbound pass from teammate Josh Gasser at his own free throw line and quickly dribbled across halfcourt. When he reached the 3-point line, he tried to drive on Buckeyes point guard Aaron Craft and pull back his dribble. But he briefly lost control of the ball and dished to Dekker, who had no choice but to heave a double-clutched effort over the outstretched arms of LaQuinton Ross. The ball banged off the backboard and the back iron before darting away.
Ohio State coach Thad Matta said there was "no question" Jackson would try and take the last shot of the game. Jackson, a junior, hit three game-tying or winning jumpers last season. He beat Minnesota and Penn State and forced overtime in an eventual victory against Iowa but has struggled immensely with his shot this season. On Saturday, he made 2 of 9 shots after hitting 2 of 12 against Northwestern.
"The one thing we know about Traevon is he's a heck of a basketball player, and he likes big shots," Matta said. "And he loves the ball at the end of the shot clock.
"He hit like 19 game winners in his three years here. So we knew. We told our guys. We said he's probably going to take the shot. LaQuinton did an incredible job of stunting, getting back and challenging the 3."
Wisconsin's funk has become so prolonged that Ryan had to answer questions afterward about tentativeness down the stretch, player leadership and even shuffling his lineup.
"If you take guys and move them out, what you're saying is it's their fault," Ryan said. "I don't do that. It's all of us together. And sometimes it might make a difference in how many minutes you get. But guys have responsibilities. They have to trust in each other in those responsibilities."
That trust has been tested severely in the past three weeks, and players must now will themselves toward finding answers to prevent a fracture. The time for talk is well past gone. But whether the Badgers can salvage a once-promising season with their on-court play remains a mystery.
Follow Jesse Temple on Twitter
---