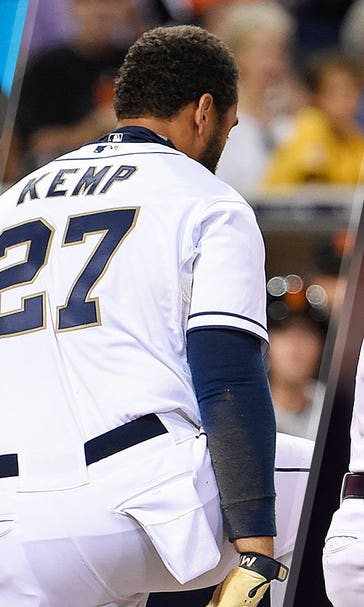 Assessing the mess in San Diego as new Padres GM A.J. Preller battles Murphy's Law
July 28, 2015

There'€™s that old joke about the outgoing Russian premier, or sometimes about the outgoing CEO, or sometimes about the outgoing U.S. President, or ... or, if you want, the outgoing baseball GM, who leaves his successor two letters. The first, to be opened the first time everything goes wrong, says "€œBlame everything on me."€ The second, to be opened the second time everything goes wrong, says "€œSit down and write two letters."
For most GMs, there'€™s a lot of truth here. The rule of thumb is that a GM gets five years before we can really judge his team'€™s performance because it takes five years before that'€™s really his team -- €"before the ugly contracts his predecessor left are off the books, before the player development system represents the new guy'€™s leadership, before the first draft picks and international signees are matriculating, before the new guy'€™s free-agent signings have had a chance to turn really, really ugly themselves. 
A.J. Preller took over in San Diego and, like Cortes burning his ships, lit that first envelope ablaze. Within one offseason, the Padres had become overwhelmingly his team: The first five hitters in the Opening Day lineup were Preller acquisitions, the Opening Day starter was his signing, the setup man brought into a tie game that night was his, and the closer who never got into the game (because the setup man allowed three runs) was his. In all, 54 percent of his team's payroll this year is going to players he acquired -- €"a number that jumps to 88 percent when looking at his share of next year'€™s payroll commitments.
The results are even worse than you probably realize. Some 54 percent of his team's plate appearances have gone to his guys, who have "€œhelped"€ "€œproduce"€ baseball'€™s 26th-best offense, as measured by Baseball Prospectus'€™ True Average. James Shields has been a below-average pitcher, by adjusted ERA, and closer Craig Kimbrel has already allowed more earned runs than he did in 2014, or in 2013, or in 2012. Is it time for Preller to write two letters?
To answer that -- €"actually, the answer is just "€œno."€ He'€™s not getting fired after one season. But to sort of answer that, we have to see how much worse off the Padres really are now than they were last August, before Preller got his shot.
Are They At Least Better?
On Sept. 1, 2014, we at Baseball Prospectus forecast the Padres to win 46.7 percent of their games for the rest of the season. That'€™s our estimate of their true talent level on that day. They had already traded Chase Headley and Huston Street in the summer, so they were in a position to lose virtually nobody of consequence in the offseason -- €"Everth Cabrera, and that'€™s about it. They also weren'€™t likely to have any immediately odds-changing rookies coming up from the system. So Preller inherited roughly a .467 team. 
Then he did a bunch of stuff, which brings us to now. On Monday, when we ran our playoff odds, the Padres were forecast to win ... 46.7 percent of their games for the rest of the season. That'€™s the worst true talent level in the NL West, by our calculations. By at least one measure -- €"is the team better? -- €"Preller failed. All that movement and nothing changed.
Are They At Least Less Expensive?
Obviously not. While it'€™s hard to believe that the Padres added all those stars while keeping payroll below $110 million, payroll is still nearly $110 million, up from around $80 million at the end of 2014. More importantly for the future, the Padres have $75 million in salary commitments for 2017, and $50 million for 2018 -- €"the eighth- and 13th-highest figures in the game, comparable to the commitments of the Angels, Giants and Nationals, who all typically carry much larger payrolls than the Padres. San Diego has spent on 2017 as though it is a big-market team, and it is not a big-market team -- €"which means the Padres likely will be very limited in what they can do going forward.
But Do They At Least Have More Young Talent?
Obviously not. They traded eight of their top 20 prospects, including Nos. 2, 4, and 6, as well as pre-arbitration catcher Yasmani Grandal (who would rank second among Padres hitters in Baseball-Reference WAR this season) and pre-arbitration starting pitcher Jesse Hahn (who would rank third among Padres starting pitchers, nearly equal to James Shields). 
But Are They At Least More Marketable? 
Yes. From last year through this point in the season, the third-place Padres were averaging 27,000 fans per game. This year, the fourth-place Padres are averaging 31,000 fans per game. The Padres have the lowest average ticket prices in baseball, but even at $17 a head that would be a bit more than $5 million in additional revenue from ticket sales alone, and more demand would enable them to charge more per ticket, in theory. Of course, many of those extra tickets were sold during a spike in season-ticket sales last winter, when it appeared the Padres would be good; there'€™s no such promise to next year'€™s ticket buyers.
But Is It At Least Fixable?
This is the crucial question, particularly this week, as the Padres embrace the suck and become sellers. They added around $60 million in annual salary commitments and cost themselves half of a prospect Top 10 list last winter; if they can cash out their big-name acquisitions and get, say, $60 million in salary relief and half of a prospect Top 10, they'€™ll be no worse off than when they started, minus the memories of one disappointing season.
The problem is that just about every player they acquired last year is worth less than he was at the time of acquisition. Justin Upton, who has the best WAR of the bunch thanks to favorable defensive and baserunning ratings, has seen his offense drop to Colby Rasmus levels -- €"Upton would be the eighth-best hitter in the Giants'€™ lineup this year -- €"and he hits free agency in two months. His acquiring team wouldn'€™t even get a draft pick back if he signs elsewhere. Shields is having the second-worst season of his career by ERA+, and the worst by adjusted FIP. Matt Kemp hasn'€™t produced more than 1.0 win above replacement in a season since 2012, and he'€™s not on pace to this year, either; further, the Dodgers'€™ quit paying most of his paycheck next year. Kimbrel has a career-worst strikeout rate, a career-worst home run rate, and has salary raises coming to him each of the next two years. Will Middlebrooks might be the worst-hitting third baseman in the National League, and he hits arbitration eligibility this winter.  Derek Norris went from the seventh-best offensive catcher in baseball last year to 14th-best this year, from a 118 OPS+ to 88. He, too, hits arbitration eligibility this winter. And Wil Myers, the one bright spot on the field, has played three games since May 10. His wrist rehab was shut down this weekend.
(Lottery-ticket starters Josh Johnson and Brandon Morrow, predictably, have combined to pitch 33 innings. Each is rehabbing, Johnson as a reliever.)
And so the Padres might try to reset by trading the few valuable players who preceded Preller: Tyson Ross and Andrew Cashner are reportedly available. If Preller trades them, this team will have even more of his stamp, in an increasingly not-great way.
It didn'€™t have to turn out this bad-- €"it didn't have to be that every player Preller acquired would underperform projections, and our playoff odds at BP gave the Padres the same chances as the Giants entering the season. There'€™s plenty to love about the way Preller has done his job. He could have done a full tear-down, cynically shoveling three years of misery at Padres fans while buffering himself from any blame. That'€™s what GMs do; they blame the predecessor. Preller, though, took a team that few thought could compete, and with a combination of indefatigability and optimism, he made them into credible contenders. And then,
absolutely everything went wrong on him. He probably doesn'€™t deserve all the blame, but, alas, there'€™s nobody else. 
---
---