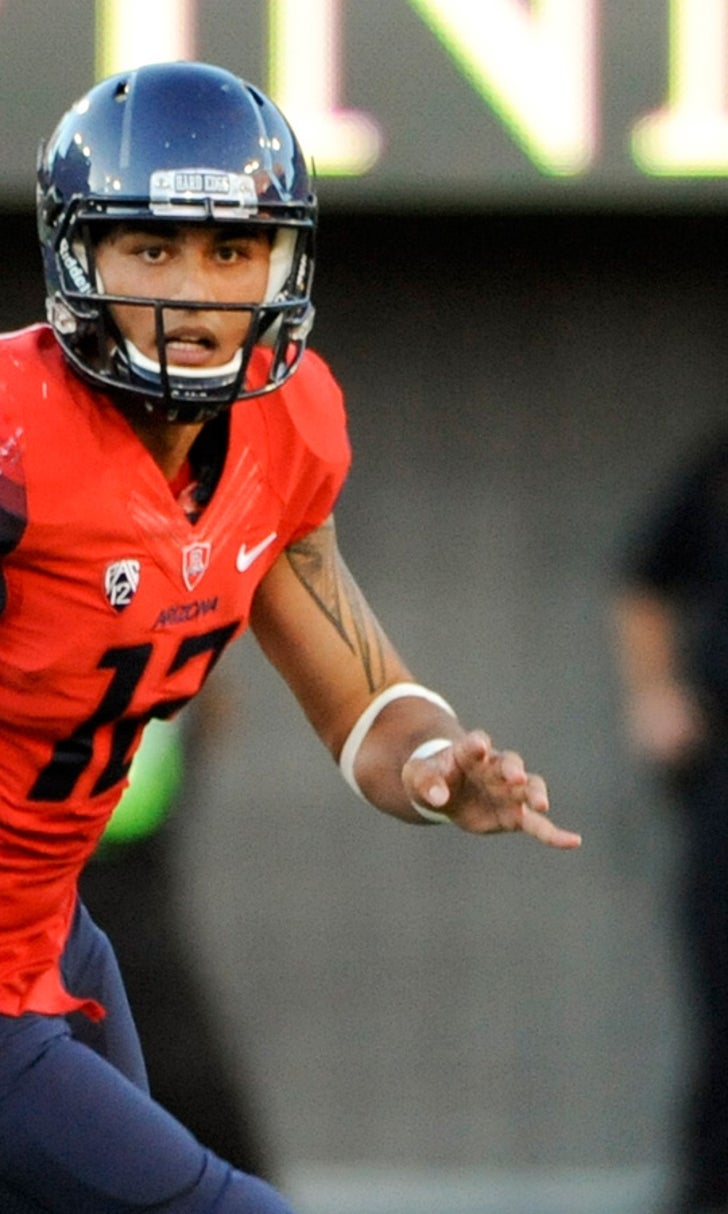 Arizona's Solomon dealing with tender ankle
BY foxsports • November 17, 2014
TUCSON, Ariz. -- About 20 minutes after Arizona coach Rich Rodriguez said Anu Solomon was "probably hurting more than he let on," the Wildcats starting quarterback walked by the football facility with a foot in a walking boot.
"He's been getting treatment and he hasn't missed a practice, and he's been getting around OK, but he probably wasn't 100 percent (against Washington) and probably was hurting a little bit more than he let us know," Rodriguez said Monday.
"In fact, he told he that during the game on the one quarterback draw. He said, 'Coach, my ankle is bothering me a little bit.' I said, 'Are you OK?' He didn't want to come out, but I don't think he was 100 percent."
Solomon, a redshirt freshman, wasn't sharp in Arizona's 27-26 win over the Huskies, completing 17 of 39 passes for 242 yards, with no touchdowns and two interceptions. His seven rushes were mostly scrambles, including two sacks.
Solomon's skill set is such that Arizona hasn't used him much on designed runs or in the zone-read part of the offense, unlike last season when B.J. Denker set a school record for rushing yards by a quarterback. Solomon did run 13 times for a career-high 105 times against Colorado on Nov. 8, after which Rodriguez first made reference to Solomon's balky right ankle.
Wide receiver Austin Hill said last week he's been impressed with Solomon's toughness and his ability to take a hit.
"He's gotten hit hard, and he's been able to get up and make good plays after he's gotten hit," Hill said. "No matter if he gets sacked or hit hard or makes a bad throw, he's able to throw that aside and make a good play on the next play."
Solomon has thrown three of his seven interceptions in the past two games, and the Washington game was his first without a touchdown pass. He has completed just 56 of 125 passes (44.8 percent) in the past three games, but it's unclear how much the ankle is to blame. Rodriguez said he had a "really stern quarterback/receiver meeting" Sunday.
Rodriguez said Solomon should be a bit healthier this week and that the injury won't change the play-calling as the Wildcats (8-2 overall, 5-2 Pac-12) prepare to play at Utah (7-3, 4-3) this Saturday. Utah is the national leader with 4.7 sacks per game.
"Sometimes when you're getting chased by big, mean guys, you can run a little bit faster," Rodriguez said.
"He's usually pretty smart about getting down. Any quarterback against a really talented front, you're going to get hit. I think a stationary target is more susceptible to more dangerous hits than a guy on the move."
Solomon is ninth nationally in passing yards (305.8 per game) and has thrown for 25 touchdowns.
The early Saturday forecast for Salt Lake City is for a 90 percent chance of rain, with a high of 38 and a low of 23. The Arizona-Utah game kicks off at 1:30 p.m. MT.
Rodriguez said his team will practice with wet footballs this week, but there is not much to be done otherwise in preparing in Tucson for those kinds of conditions.
"It looks like it's going to be a tough weather day," he said. "We'll just have to adjust and go from there."
Junior safety Will Parks, from Philadelphia, was asked what advice he would give to his teammates about playing in the cold weather.
"I just told them to go out there with no sleeves, look real tough and everything will be fine," Parks said, smiling.
Placekicker Casey Skowron, fresh off his 47-yard game-winning field goal against the Huskies, said he has never kicked in the snow.
"A lot of it is going to be getting used to kicking cold footballs," said Skowron, who earned Pac-12 Special Teams Player of the Week honors on Monday. "I haven't really dealt with water-logged balls or half-frozen footballs, so that's going to be the biggest factor -- just getting used to the feel of the football."
Rodriguez pondered the question for a second -- why does he think his team leads the nation in drawing penalties? -- and smiled.
"Well, I have such a great relationship with the officials," he said.
But seriously ...
"To me, it's just straining a little harder," he said. "I've always said that effort, if it doesn't make a play for you, sometimes it can draw a penalty. I've been saying it, and I don't know if our guys really believe it or not. Maybe I need to throw that stat at them."
Here it is: Arizona opponents are committing 9.9 penalties per game, averaging 88.9 yards per game. Both figures are tops in the country.
Washington committed 13 penalties for 111 yards against Arizona. In fact, all seven of the Wildcats' conference opponents have been penalized double-digit times.
"A lot of times when you strain and give a little bit extra effort, you can draw a holding penalty or you can draw a pass interference penalty or something like that," Rodriguez said.
"That may have something to do with it. But I also think we play a lot of plays and we try as well as we can to put pressure on the other team, whether it's offensively or defensively. When you do that, sometimes you get penalties called against the other team."
By comparison, Arizona is averaging 6.3 penalties for 57.9 yards per game.
Follow Anthony Gimino on Twitter
---