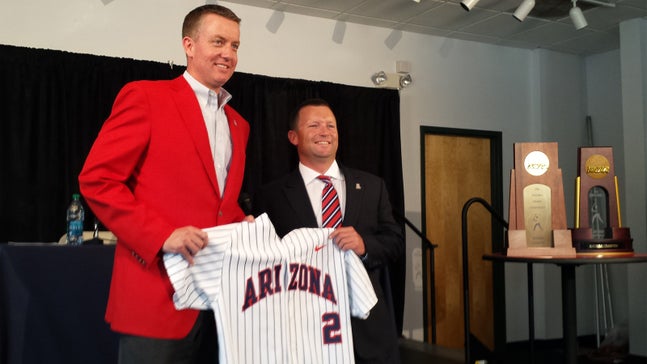 Arizona baseball coach Johnson completes staff with 2 hires
Updated
Mar. 5, 2020 12:05 a.m. ET

TUCSON, Ariz. --€" University of Arizona head baseball coach Jay Johnson has announced the hiring of assistant coaches Dave Lawn and Sergio Brown to complete his first staff with the Wildcats. Lawn will serve as the head pitching coach and Brown will be the recruiting coordinator and first base coach.

"I could not be more excited about the coaching staff we have put together," Johnson said. "Both will fit perfectly with the vision and the mission of The University of Arizona and our athletic department. I am excited for our players to have the opportunity to be developed by these two coaches."
 Lawn comes to Arizona after two seasons on Johnson's staff at Nevada but is no stranger to the Pac-12 Conference. After beginning his coaching career as a graduate assistant at Nevada in 1988, Lawn went on to spend 10 seasons at California (1991-2000) and seven at USC (2001-07).
"Dave is one of the elite pitching coaches in the country," Johnson said. "There are very few pitching coaches across the United States who have the winning experience he has and have developed as many pitchers who have ascended to Major League Baseball. I look forward to the development of our current and future pitching staff at Arizona under his direction."

Under Lawn's guidance, 22 players have gone on to play Major League Baseball, including Mark Prior, the 2001 Golden Spikes Award winner from USC.
Brown, who won a national championship as a player at Cal State Fullerton in 1995, also brings with him a wealth of experience at top west coast programs, including two stints at his alma mater (2001-03 and 2007-10) as well as time with UC Irvine (2004-07), UC San Diego (2012) and Cal State Northridge (2013). A highly regarded recruiter at each of his stops, Brown has twice been to the College World Series, including trips with Cal State Fullerton (2009) and UC Irvine (2007).

"Getting Sergio to come to Arizona has a huge lift for our program," Johnson said. "He is an outstanding recruiter who will help us in our effort to put Arizona baseball back at the forefront of the minds of the top players across the country. He is a tremendous coach as well and had a large hand in both UC Irvine and Cal State Fullerton reaching the College World Series during his time at each school. I look forward to the impact Sergio has on Arizona baseball."
After leading Nevada to the 2015 Mountain West regular season title, Johnson was named Arizona's head coach on June 8. Johnson replaced Andy Lopez, who led the Wildcats to the 2012 national title and retired in May with the completion of his 33rd season as a collegiate head coach.
---