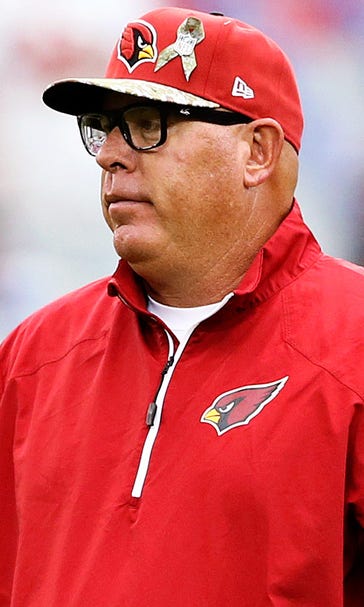 Arians warrants coach-of-year consideration
January 29, 2014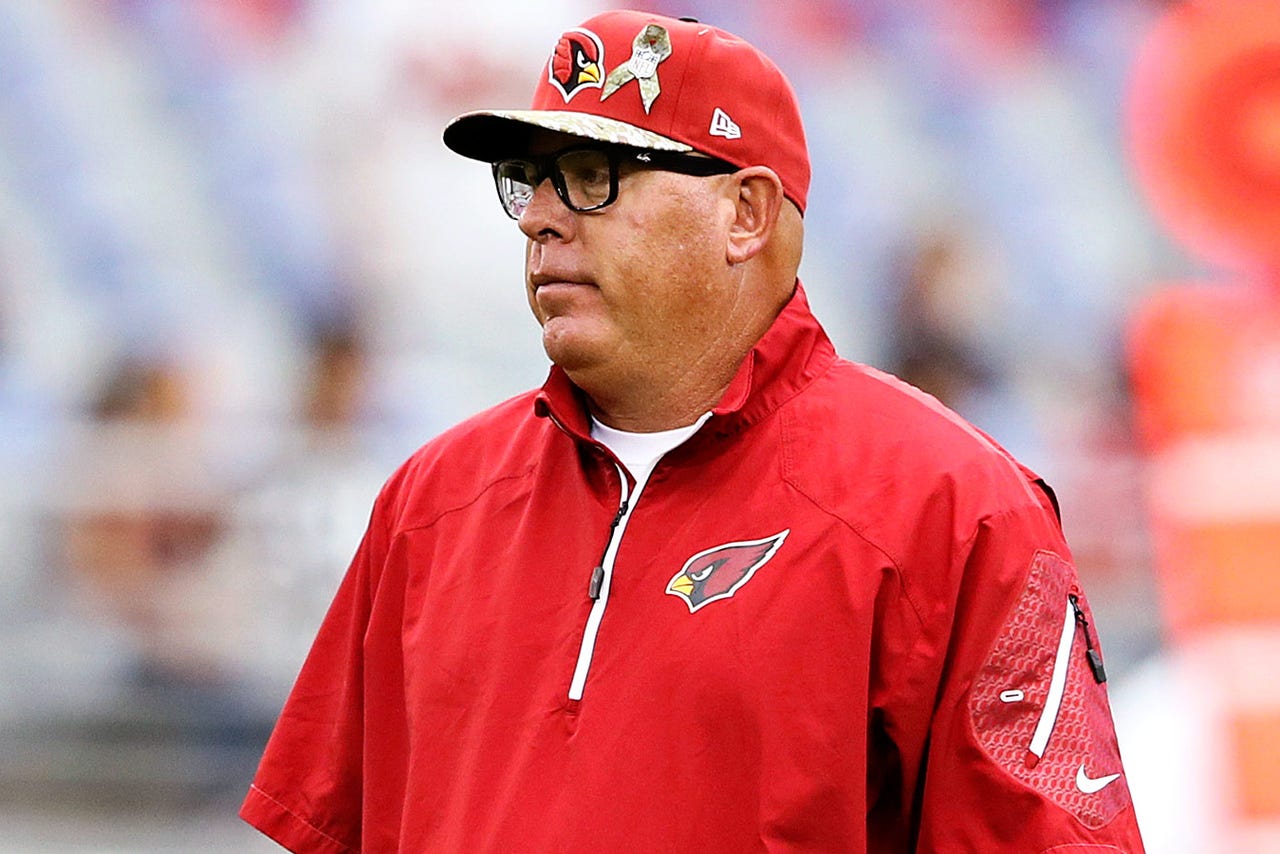 In a season full of sparkling one-liners, Cardinals coach Bruce Arians reached a crescendo in his final press conference before the team cleaned out its lockers. When it was suggested that many players view him as a father figure, Arians, 61, grimaced and shook his head.
"I don't like that," he said. "I'm the cool uncle you like to have a drink with.
"Everybody had that uncle. He might you call you a little (expletive) or something, and you really liked that. That's me."
Arians is many things to his players. Offensive wizard. Shoulder to lean on. Straight-talking counselor. Blunt critic. But as the NFL prepares to announce its annual awards on Saturday -- on the eve of Super Bowl XLVIII -- Arians is also garnering consideration for his second consecutive AP Coach of the Year award.
No coach has won the award two consecutive years since Washington's Joe Gibbs did it in 1982 and 1983, and only three coaches have won it in consecutive seasons since the award was introduced in 1957 (Miami's Don Shula in 1967-68 and the New York Giants' Allie Sherman in 1961-62).
Arians is not considered the favorite (Kansas City's Andy Reid wears that hat), but just to be in the conversation two years in a row, with two separate teams, is a remarkable achievement. Then again, so is his abbreviated body of work. In two seasons as a head coach -- one as an interim in Indianapolis; one in Arizona -- Arians has engineered two remarkable turnarounds.
With Chuck Pagano on a leave of absence while battling leukemia, Arians guided the 2012 Colts to a 9-3 record (they finished 11-5) one season after Indianapolis went 2-14. And in one season at the helm in Arizona, he led the Cardinals to a 10-6 record one season after they went 5-11.
"Nobody's doubting him now," linebacker Karlos Dansby said.
Arians had been lauded for a number of innovations. Early in camp, he caught the media's attention with his practice approach in which he divided the team into two separate workouts so that the rookies could get more reps and advance more quickly. He also has a larger coaching staff than most coaches, reasoning that a lower teacher-to-student ratio makes for better learning.
Arians arrived in Arizona one year ago with the passing game guru title in tow. He didn't disappoint, taking what had been a moribund offense and transforming into one of the league's better passing units in half a season.
"I can't wait to see what wrinkles he adds to the offense now that everybody has a year under their belt and a better comfort level with each other," quarterback Carson Palmer said.
There are plenty of coaches with similar abilities. With some exceptions, you don't get to the NFL without special coaching talent. But what may separate Arians from many of his brethren is his ability to relate to his players on their level.
"He's not gonna shoot you no bull(expletive)," defensive tackle and captain Darnell Dockett said. "Straight-forward, tell you what it is. Tell you not what you want to hear; gonna tell you exactly what it is. Gonna tell you what it's going to take to win, and he'll also tell you how you'll lose.
"I wish I had six, seven more years to play with him, but I do believe that this team will be one of the most dominant teams in the NFL for years and years with this coaching staff."
That players' coach aspect of Arians persona was well-known when he arrived, but nobody knew if he could maintain that persona when he moved permanently into the head coach's seat, where discipline plays a greater role. And some wondered how Arians managed to bridge a wide generation gap between himself and his players in the first place. 
"I don't know if he's all the way there on that cool uncle thing, but he's really good at it. He knows when to crack a joke and he knows when to be tough," right tackle Eric Winston said. "You either have it or you don't, and he's one of those guys that has it. Age has little meaning. I don't look at him like that at all. In fact, I was kind of surprised when he told me how old he was. That's just not the way it feels when you're around him. It'€™s a lot of fun watching him bounce around out there."
Arians clearly isn't the only one responsible for the Cardinals' turnaround. General manager Steve Keim, Arians' assistants and the players all played large roles. But from Day 1, Arians made it clear that there would be no patience with building a winning team. Winston believes he backed those words every step of the way.
"We're in a day and age when a lot of teams are saying we don't need or can't afford veteran guys like me and Karlos and Rashard Mendenhall," Winston said. "To me, they're not playing to win, they're playing to build, and if they get something this year, great. 
"Steve and Bruce deciding to sign players like us was not necessarily taking a chance, but it was bucking a trend, and it showed how committed they were to winning right now."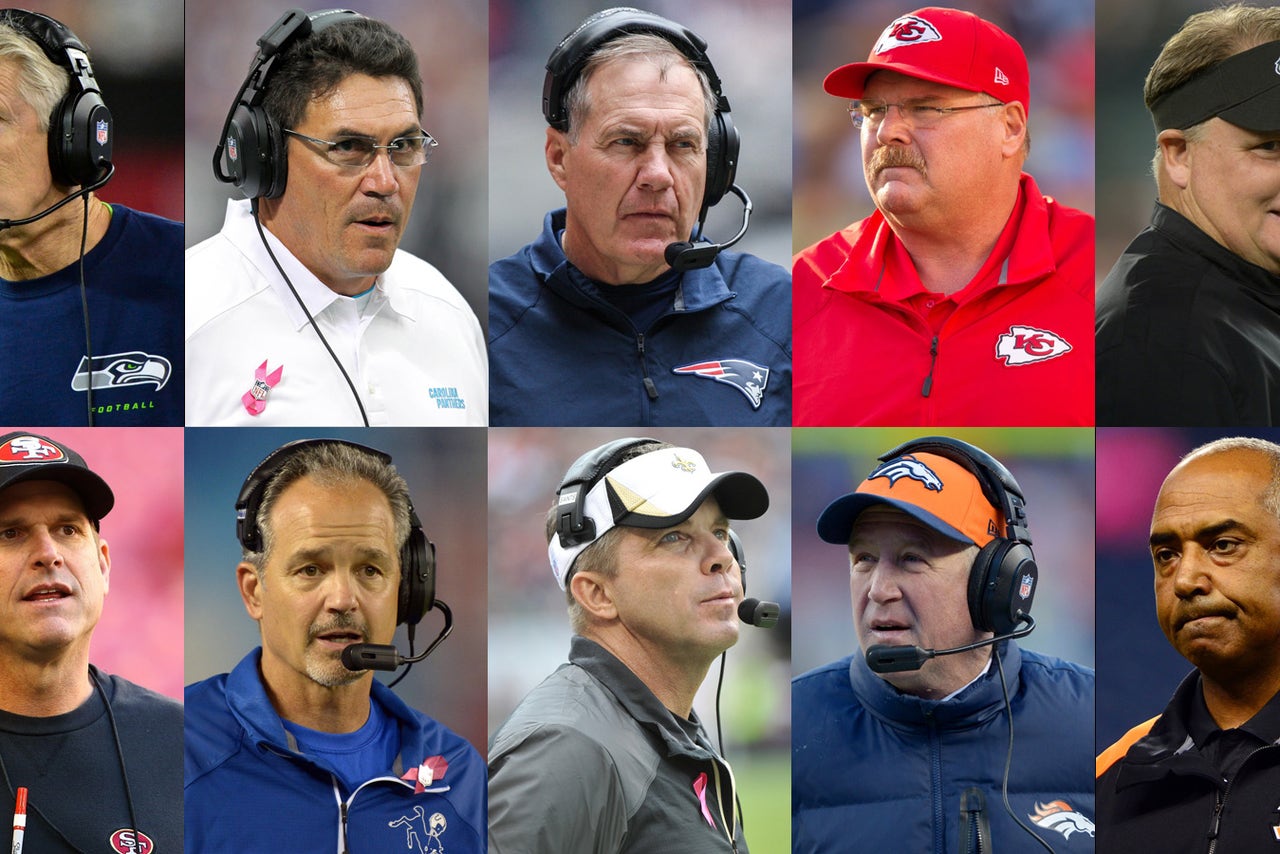 Pete Carroll, Seattle Seahawks
Pro: They're in the Super Bowl with a second-year QB at the helm and a passing offense that ranked 26th in the pass-happy NFL.
Con: Seattle was everybody's darling when the season began because of running back Marshawn Lynch and the league's best defense.
Pro: The Panthers won 11 of their final 12 games to win the NFC South after a 1-3 start. QB Cam Newton made big strides, and the defense made even bigger strides.
Con: Hard to find any, but that divisional-round playoff loss to the 49ers sure was a dud.
Bill Belichick, New England Patriots
Pro: The Patriots began the season without their top five pass catchers from 2012, including Wes Welker, Rob Gronkowski and Aaron Hernandez. They also lost defensive tackle Vince Wilfork, linebacker Jerod Mayo and right tackle Sebastian Vollmer to injuries. Still, they won their fifth consecutive AFC East title.
Con: Yawn. This is expected of Brady and Co., and the AFC East, is lousy. Heck, most of the AFC is lousy.
Andy Reid, Kansas City Chiefs
Pro: The Chiefs were 2-14 in 2012 and finished 11-5 this season after a 9-0 start. Reid got the most out of one-time 49er QB Alex Smith.
Con: The 2012 season was an anomaly. The Chiefs already had six Pro Bowl players on the roster when Reid arrived. And when the schedule got tougher, the Chiefs went 2-5 down the stretch and lost their first playoff game in what must be considered a choke in K.C.
Chip Kelly, Philadelphia Eagles
Pro: He made a seamless transition from Oregon to the pros, a seamless transition at QB from Michael Vick to Nick Foles, and he guided the Eagles into the playoffs, winning the weak NFC East.
Pro: He won five more games than Ken Whisenhunt did the previous season despite turning over more than half the roster and losing both starting outside linebackers in Week 3.
Con: Playing in the NFL's best division, the Cardinals missed the playoffs. That matters when the votes are cast.
Pro: San Francisco played much of season without top receiver Michael Crabtree yet still managed to tie for the NFC's second-best record.
Pro: He proved 2012 was no fluke by leading the Colts to the AFC South and beating playoff teams San Francisco, Seattle, Denver and Kansas City, then rallying past the Chiefs in an epic wild-card game.
Con: Having Andrew Luck at quarterback with a year under his belt really helped the Colts overcome some shortcomings.
Sean Payton, New Orleans Saints
Pro: With Payton suspended last season, New Orleans fell to 7-9 and sported an historically bad defense. Upon his return, the Saints got back to elite status and battled the Seahawks to the wire in a divisional-round playoff loss.
Con: The Saints don't know how to win away from the Superdome, and they squandered a hot start to fall to the wild-card spot.
John Fox, Denver Broncos
Pro: Um. A Super Bowl spot and the NFL's best record (13-3).
Con: Payton Manning is running his offense in a very weak AFC.
Marvin Lewis, Cincinnati Bengals
Pro: He led the Bengals to their third straight winning season for just the second time in franchise history (1975-77), and they dethroned the Baltimore Ravens in the AFC North.
Con: The Bengals flopped badly in the postseason, losing a home-game to the wild-card Chargers, who got the benefit of a blown call just to qualify for the playoffs.
Follow Craig Morgan on Twitter
---