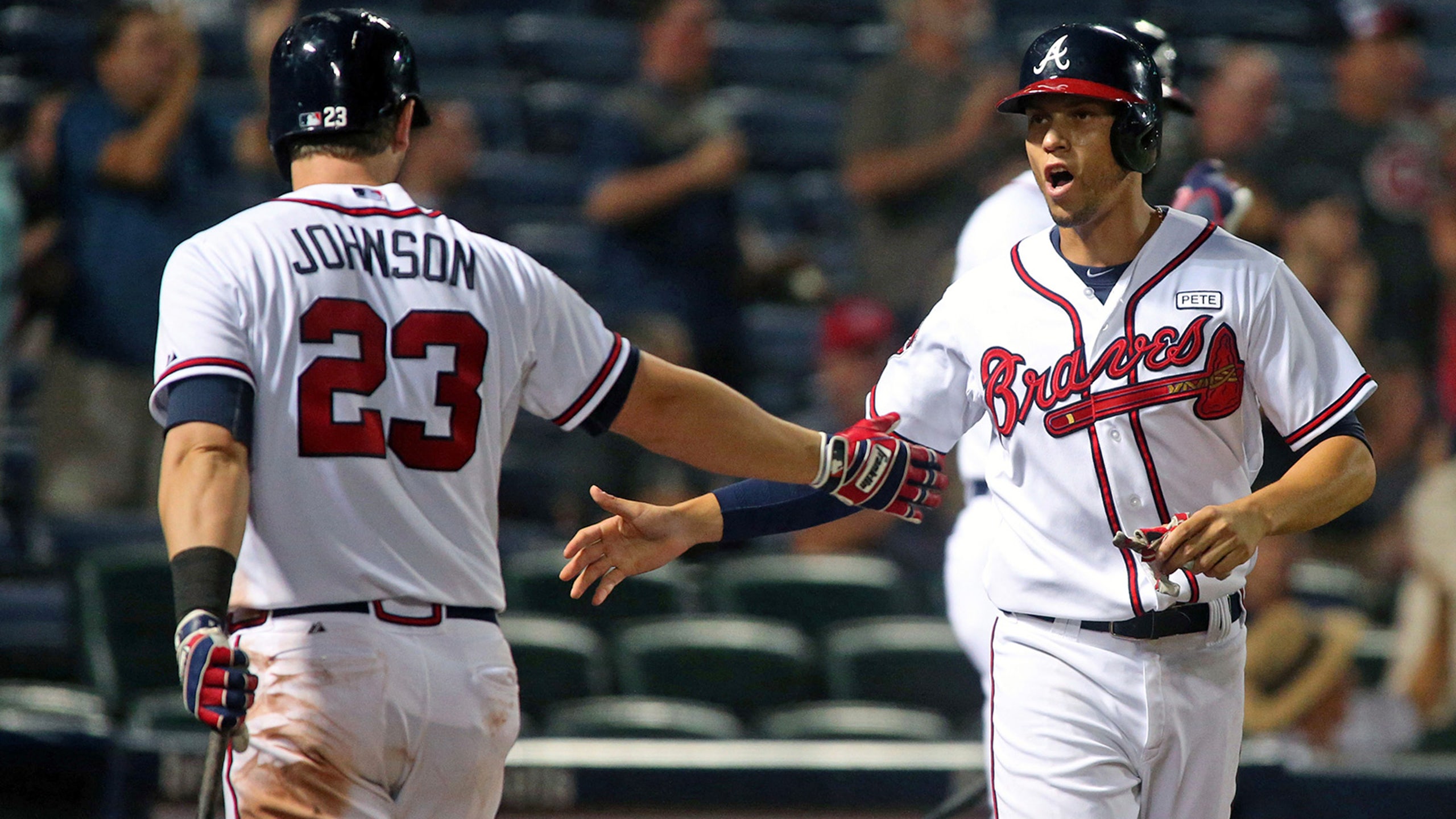 After trades, Braves need rebound seasons to fuel offense
BY Cory McCartney • January 15, 2015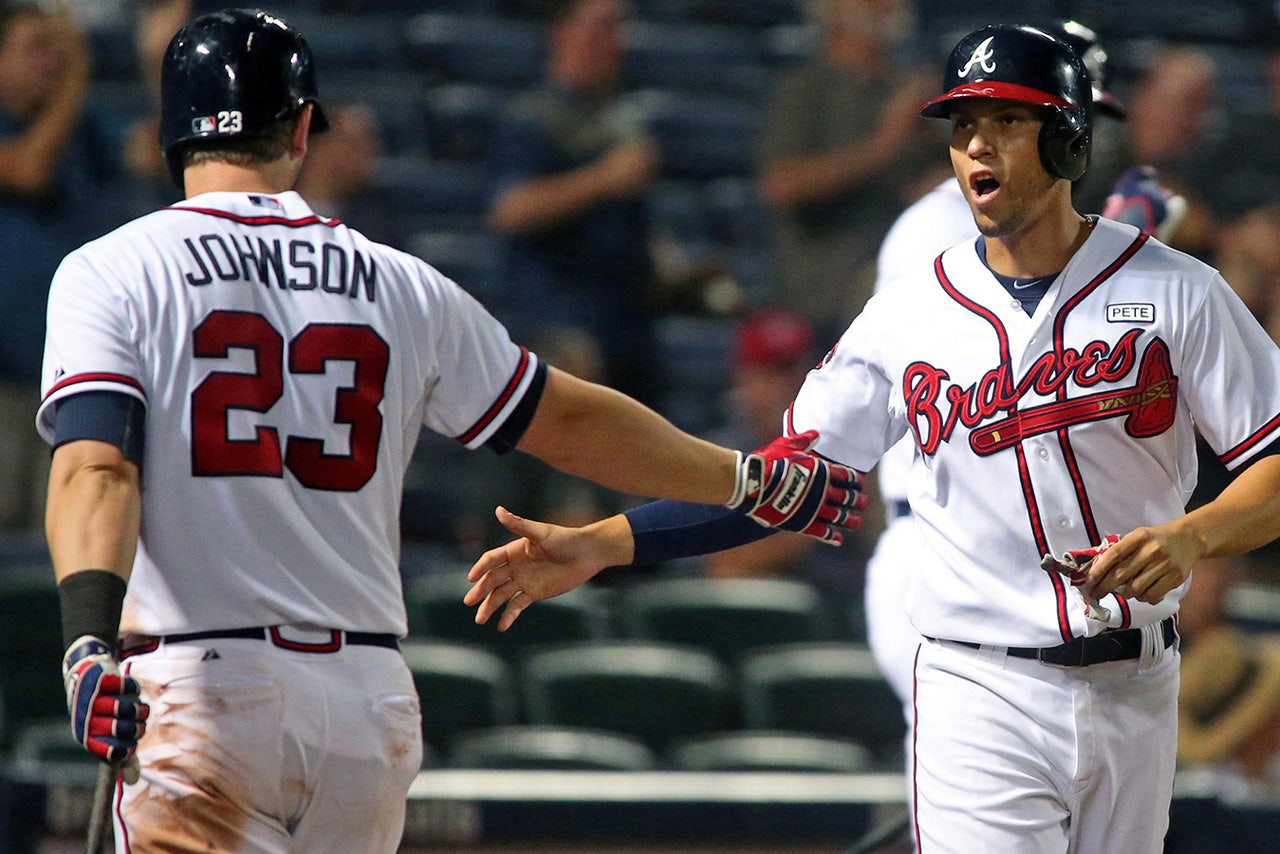 According to the Georgia Wildlife Resources Division, the state's bear population sits around 5,100, but after Wednesday, that figure it down one.
Evan Gattis, aka El Oso Blanco became a baseball folk hero in Atlanta with the long, winding, backstory where reality was better than fiction. The Turner Field crowd was regularly dotted with fuzzy white bear-shaped hats and T-shirts with an ursine caricature and Gattis' signature.
But Gattis is now in Houston after a trade that landed the Braves a trio of highly regarded prospects and, at least in this shop, you can get one of those bear hats for just under 75 percent off.
While it could be seen as another tough blow for fans that have already seen Jason Heyward and Justin Upton depart, from a big picture standpoint, the organization is stronger than it was as John Hart continues to stockpile the farm system.
From that end, there has been an immediate impact on the prospect rankings.
Right-handed pitcher Mike Foltynewicz and third baseman Rio Ruiz, whom the Atlanta acquired from Houston, immediately vault to No. 2 and No. 6 on that list. Meanwhile, Max Fried, the lefty that was part of the Upton deal with the Padres, is fourth, righty Tyrell Jenkins, whom the Braves got from the Cardinals for Heyward, is 11th and lefty Manny Banuelos, sent to Atlanta via the Yankees for David Carpenter and Chasen Shreve, is 12th.
But from the 10,000-foot view to ground level, the question now becomes 2015, as in, where are the runs going to come from?
Gone with Gattis, Heyward and Upton are 49.5 percent of Atlanta's 123 home runs from last year and as presently constituted, Steamer projections have the Braves scoring 482 runs this year.
To put that into perspective, no team in a non-strike-shortened season has gone under 500 runs since the 1971 Padres had 486 and no Braves team in the modern era has gone under that plateau, with the lowest 514 in 1968, the fabled Year of the Pitcher.
If there's a silver lining based on last year, when Atlanta scored 573 runs (29th in MLB), it's that it did so with some key cogs having down seasons.
Andrelton Simmons, with 44 runs and 46 RBI in 2014, was 19 runs and 11 RBI below his 162-game average. Likewise, Chris Johnson was down 12 runs and 17 RBI and B.J. Upton came in 17 runs and 32 RBI below his standards, though, to be clear, he has yet to approach those numbers in a Braves uniform.
The only returner that actually exceeded his career figures in '14 was Freddie Freeman, who scored 93 runs, five above his average with Justin Upton having his first 100-RBI season in front of him. But the other side of that is Freeman was also 14 below his 162-game average for RBI last year with 78. Now without Gattis behind him in the lineup, how inclined will opponents be to pitch to Freeman?
Even if Freeman delivers at his average of 88 runs, along with Johnson, Simmons, Upton and free agent acquisition Nick Markakis (89 along with 78 RBI) at their standards, the Braves would then be projected at 568, which is five less than '14.
That figure could expand further depending on what the Braves do in left field.
Every expectation was, that with Christian Bethancourt tabbed as the present and future catcher, Gattis was going to move to left field. While there are in-house options -- Zoilo Almonte and Todd Cunningham are listed at the position on the team's depth chart and Dian Toscano may also be a contender -- there's a distinct possibility that the left fielder isn't on the roster right now. With free agents that include Nori Aoki, Tony Gwynn Jr. and Eric Young Jr., the Braves can add a piece with extensive major league experience.
Aoki, who per CBSSports.com and the 'Atlanta Journal-Constitution,' the Braves are interested in, could provide the biggest impact.
Forecasted to score 70 runs and drive in 44 while hitting .279/.343/.371, Aoki wouldn't solve the Braves' home run questions as he's hit no more than 10 in a season. After making $1.95 million last season with the Royals, the 32-year-old is reportedly seeking a three-year deal.
Should the Braves stand pat, Almonte showed pop last season at Triple-A Scranton/Wilkes-Barre, hitting 18 home runs with 69 RBI in 421 at-bats and Cunningham averaged 63.7 runs the past four years. Then there's the wild card, Toscano, who hit .356/.400/.452 in 86 plate appearances in 2012-13 for Villa Clara in Serie Nacional in his last year in Cuba.
Of course, none of them will be Gattis. None of them will have a story that can match his, both in the path to the majors and that first at-bat as he homered off future Hall of Famer Roy Halladay.
Throughout his maneuvers, Hart has had an eye on the future, 2017 to be exact. The move to SunTrust Park and building a team that will open that stadium with a contender have fueled everything and with some luck, the hauls they've pulled in the past months will pay dividends.
It's just unlikely they can help the run production in 2015.
There will be doomsday scenarios painted, but the fact is the Braves can still have a viable offense, it's just going to take rebounds from Johnson, Simmons and Upton and it's going to mean Markakis returning to his pre-'13 form (.295/.365/.455).
When Justin Upton was on the impressive stretches that defined his time in a Braves uniform, manager Fredi Gonzalez said "When he gets hot, he can carry your team."
Last season Atlanta often looked to Upton to do that, and at times, Gattis and even Heyward.
Now, it's on those others to step up. The state of the Braves' offense is going to depend on it.
Follow Cory McCartney on Twitter @coryjmccartney
---