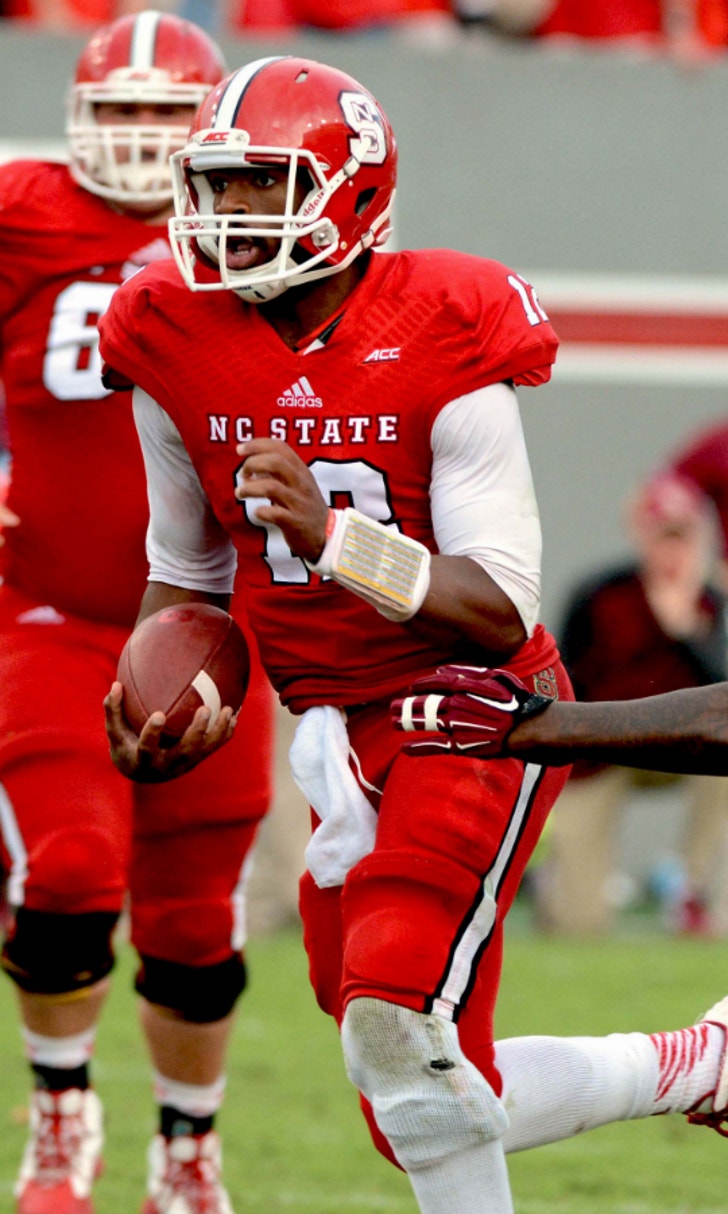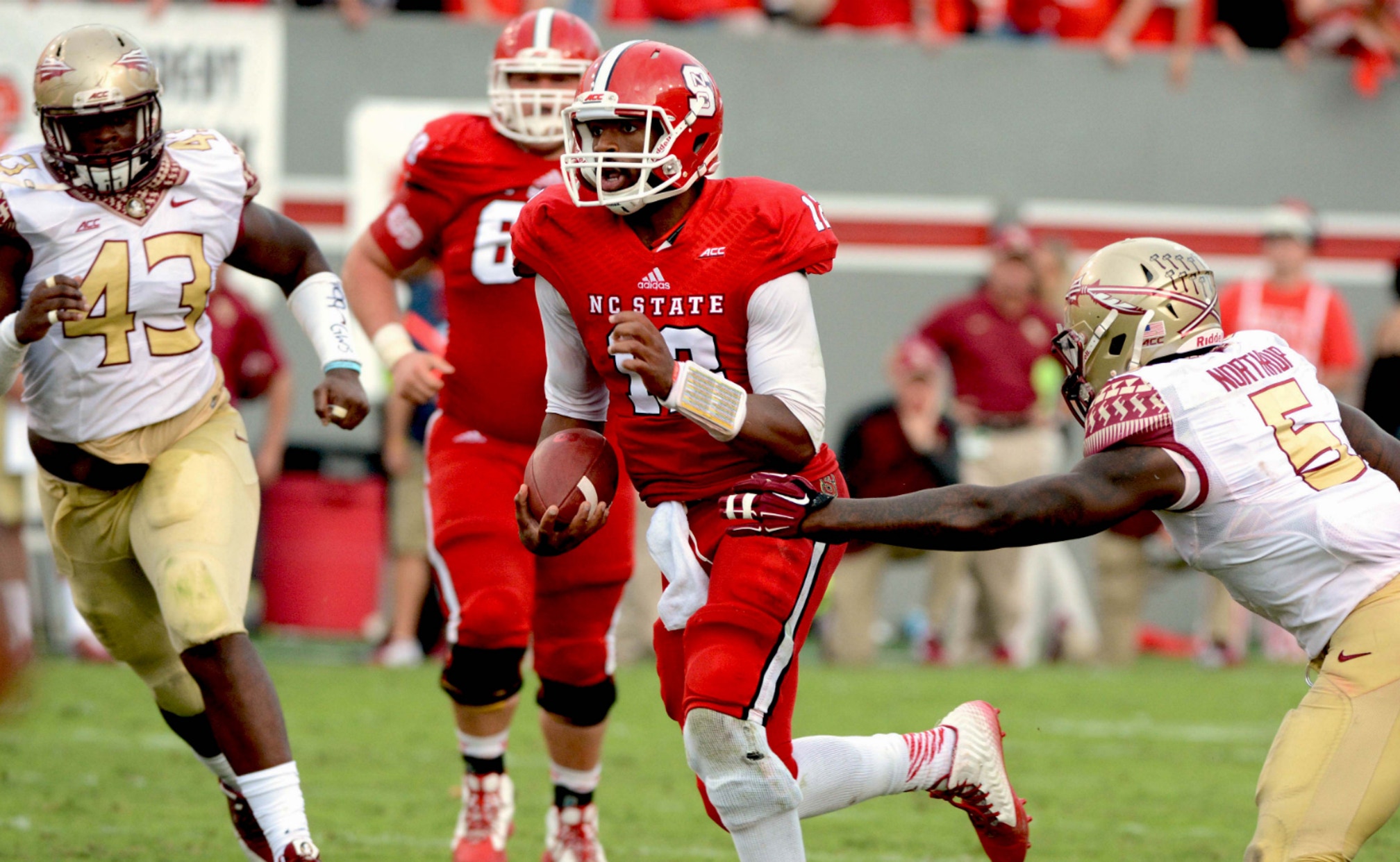 ACC Power Rankings: NC State, Miami rise; Duke, Pitt drop
BY foxsports • September 29, 2014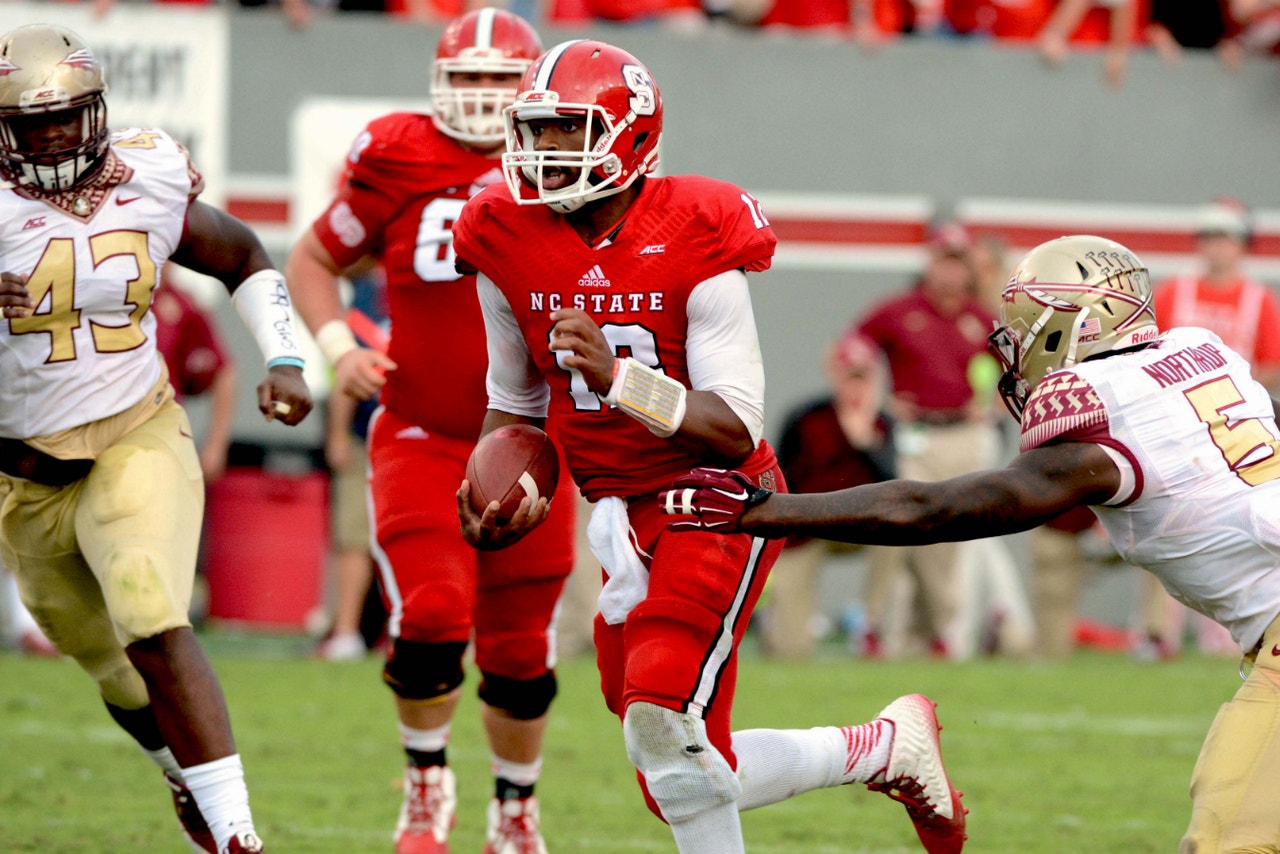 As intra-divisional play cranks up this weekend, the ACC's elite remains a clear -- and small -- group.
But there are plenty of potential challengers, even some unexpected ones, as Virginia continues to rise in the rankings and NC State takes a big leap.
Both teams finished last in their respective divisions a year ago; and proving that none of us really know anything, both were predicted at or near the bottom of their respective groups.

However, some favorites continue to disappoint, and have tumbled appropriately down the rankings.
As ACC play gets going, the league will probably continue its singular assault on the significance of the transitive property.
1. No. 1 Florida State (4-0, 2-0 ACC)
Last week: 1 (W 56-41 at NC State)
Next up: Wake Forest
Has Florida State looked like the No. 1 team in the country yet? No, but the Seminoles were able to overcome a 17-point first-quarter deficit on the road, and they certainly looked like a No. 1 offense.
Finallly.
We're all waiting for that defense to come together, but without some senior leaders from a year ago, not to mention the loss of defensive tackle Niles Lawrence-Stample, that may never materialize.
Even when Mario Edwards, Jr. gets back to the lineup.
Either way, FSU overcame yet another obstacle in its quest to get to the College Football Playoff and fortunately for the Seminoles, they won't face another one this week -- taking on a dreadful Wake Forest team.
2. Clemson (2-2, 1-1 ACC)
Last week: 2 (W 50-35 over North Carolina)
Next up: NC State
Coming off of an emotional loss, Clemson took care of business against a UNC team that was desperate for a turnaround.
The Tigers weren't all that impressive on defense, but freshman Deshaun Watson proved he's the guy at quarterback by throwing for six touchdowns in his first collegiate start.
Now, the Tigers are going to face a resurgent NC State team that has to be feeling good about itself after its performance last week, so they're going to need to shore some things up defensively.
3. Virginia (3-2, 1-0 ACC)
Last week: 5 (W 45-13 over Kent State)
Next up: Pittsburgh
The Cavaliers have already passed their win total from all of last season after the sluggish but convincing win over Kent State. Certainly a lot better than anyone predicted entering this season.
Now, after a brutal schedule to open the season, the Cavaliers have a chance to take control of the Coastal Division with Pittsburgh coming to town.
4. NC State (4-1, 0-1 ACC)
Last week: 10 (L 56-41 to No. 1 Florida State)
Next up: at Clemson
Through four games, NC State was undefeated and looking great under Florida transfer QB Jacoby Brisset. The defense, however, was not so great.
How would it look against real competition, then?
Well, that question was answered when No. 1 Florida State came to town and NC State took it to the 'Noles early, leading 24-7 after the first quarter.
Brissett was brilliant, moving the ball against FSU's vaunted defense seemingly at will. But the NC State defense just couldn't manage any key stops, and that's why FSU's four turnovers ultimately went for naught.
Can NC State recover mentally in time to do enough on both sides of the ball at Clemson and stay competitive in a very tough environment?
5. Georgia Tech (4-0, 1-0 ACC)
Last week: 7 (Bye)
Next up: Miami
Georgia Tech did not play last weekend, and thus rose two spots. But the Yellow Jackets are one of only two undefeated teams left in the league, and that has to be worth something.
They've played some tougher-than-expected games against worse-than-expected competition, but they also have a road win at Virginia Tech. Plus, Georgia Southern looks to be the real deal.
Georgia Tech always manages to stay around until the end of the Coastal Division conversation, and getting a win over Miami (Saturday night at home) would go a long way toward making the Jackets the team to beat.
But hopefully, they were able to fix some things on defense during their bye week, because that's been a bit of a mess.
6. Louisville (4-1, 2-1 ACC)
Last week: 8 (W 20-10 over Wake Forest)
Next up: at Syracuse
Is Louisville the top-25 caliber team many thought they were after a Week 1 win over Miami? It's hard to say, really.
There's no shame in Louisville's only loss this season (at Virginia), but since and including that game, the Cardinals just haven't particularly strong.
The good news for Louisville: Their defense continues to be much better than expected. The bad news: The offense continues to struggle, although putting up 421 total yards on a very good Wake defense is quite respectable.
Still, the Cardinals had three turnovers and saw drives stall out in inopportune times.
This week will go a long way toward helping solve the puzzle that is Louisville.
7. Miami (3-2, 1-1 ACC)
Last week: 11 (W 22-10 over Duke)
Next up: at Georgia Tech
Give Miami credit -- the players and coaches had been hearing it all week from the fans, the media, you name it.

Heads were to roll for the Hurricanes' defensive performance at Nebraska, and the dissatisfaction with head coach Al Golden was growing.
Well, the team -- and particularly the defense -- stepped up mightily, holding a powerful Duke offense to just 264 total yards on Saturday in a win and forcing three turnovers as well (Duke had just two on the season entering the game).
Even after a turbulent start to the year, the Coastal is still right there for the taking if Miami has actually turned the corner; there's no questioning the talent on that roster and no other team seems to want to take it right now.
T-8. Duke (4-1, 0-1 ACC)
Last week: 4 (L 22-10 at Miami)
Next up: Bye
Duke hadn't really beaten anyone of note, in spite of its impressive start to the season, and still, the Coastal Champs should be considered the champs until proven otherwise.
Maybe some of their sloppiness on both sides of the ball the last few weeks was just due to being bored. This past weekend's loss at Miami was just one game, but the Blue Devils certainly gave validity to those concerns.
The offense could not move the ball against a Miami defense that had not been good the last few weeks, and senior QB Anthony Boone struggled mightily (22-of-51, 179 yards, two interceptions).
The defense did its job, though, and that's encouraging -- maybe the bye week will help Duke get some of its offensive kinks worked out. Or maybe they miss offensive coordinator Kurt Roper (now at Florida) more than they thought they knew they would.
T-8. Boston College (3-2, 0-1 ACC)
Last week: 3 (L 24-21 to Colorado State)
Next up: Bye
Oh, Boston College. Is it that bad to lose to Colorado State, even at home? No, not really. The Rams have beaten plenty of Power 5 teams in the last few years, and that's a legitimately good team.
But Boston College beat USC not that long ago (even if it feels like a long time ago now), and now it appears that the Eagles couldn't really turn that big win into anything substantial.
After the bye, the Eagles will be at NC State and home against Clemson, so there's no time to lick their wounds.
A bowl game is still within reach, but it doesn't seem like the sure thing it did two weeks ago.
10. Virginia Tech (3-2, 0-1 ACC)
Last week: 9 (W 35-17 over Western Michigan)
Next up: at North Carolina
Western Michigan is not good. And coming off of a loss to Georgia Tech, the Hokies' second in a row, the Virginia Tech of old would have pounded the Broncos.

It looked like that was going to happen as the Hokies scored eight seconds into the game off of a fumbled kickoff. But while the Virginia Tech defense continued to do its job, holding WMU to 231 total yards and 10 first downs, quarterback Michael Brewer continued to struggle, finishing 14-of-32 for 178 yards, two touchdowns and two INTs.
The ground game got going, but one of the main cogs, Shai McKenzie, tore his ACL and will miss the season.
Could Virginia Tech's offense get well against a struggling UNC defense? Maybe, but if it couldn't get well in last week's game ...
11. Syracuse (2-2)
Last week: 12 (L 31-15 to No. 8 Notre Dame)
Next up: Louisville
Syracuse continues to confound.

The Orange have now lost two in a row to good teams (Maryland and Notre Dame), and have arguably played well enough to win one or both games.
Syracuse's offense, often sputtering a year ago, has played well enough to win both, amassing at least 400 yards in both games, but the defense -- aside from forcing turnovers against Notre Dame (five) has not been, allowing opposing quarterbacks to pass seemingly at will.
That's not going to cut it as the Orange get into ACC play, but maybe they can turn it around defensively?
T-12. Pittsburgh (3-2, 1-0 ACC)
Last week: 6 (L 21-10 to Akron)
Next up: at Virginia
Let's get this out of the way -- Akron is not a good team.
The Zips had a total of 20 points in their previous two games against FBS teams (Penn State and Marshall), and managed to score more than that in just one game against Pitt.
And what's worse, the Pitt offense couldn't move the ball as Akron stacked the box against powerful running back James Conner and dared Pitt to beat them through the air. Chad Voytik managed 220 yards passing, but had just one touchdown to one interception and too many drives stalled out.
It was a pretty bad loss, and now even Pitt's best win -- at Boston College -- got downgraded a bit as the Eagles took a loss, too.
Pitt hasn't really beaten anyone else of consequence, and its performance the last two weeks has certainly been red-flag worthy.
T-12. North Carolina (2-2, 0-1 ACC)
Last week: 13 (L 50-35 at Clemson)
Next up: Virginia Tech
Well, the Tar Heels didn't let up 70 points ... so that's something?
UNC did show improvement at Clemson in some areas, and their game plan to load up on the rush defensively (allowing just 92 rushing yards) to let a freshman quarterback beat them made sense.
Except Deshaun Watson did just that, throwing for 435 yards and six touchdowns.
But the North Carolina offense showed signs of life, and that's necessary going forward. UNC finished with 478 yards and quarterback Marquise Williams had his best game (24-of-38 for 345 yards, four TDs and one interception) after a rough start.

The 15 penalties and the overall defensive struggle, however, were big negatives. Now, the Tar Heels will have to find a way to win next week's game against the stumbling Hokies -- as nothing gets easier from here on out.
14. Wake Forest (2-3, 0-1 ACC)
Last week: 14 (L 20-10 at Louisville)
Next up: at No. 1 Florida State
Wake Forest's defense continues to do all it can, scoring the Deacons' only touchdown of the game in the loss at Louisville and forcing three turnovers total.
Louisville moved the ball some, but it wasn't easy for them and Wake's defense was what kept this game close. Wake's offense continued to struggle mightily as the Deacs finished with minus-22 rushing yards and just 100 total yards (and seven first downs).
As if that weren't bad enough, a trip to Florida State looms against an angry Seminoles defense.
---