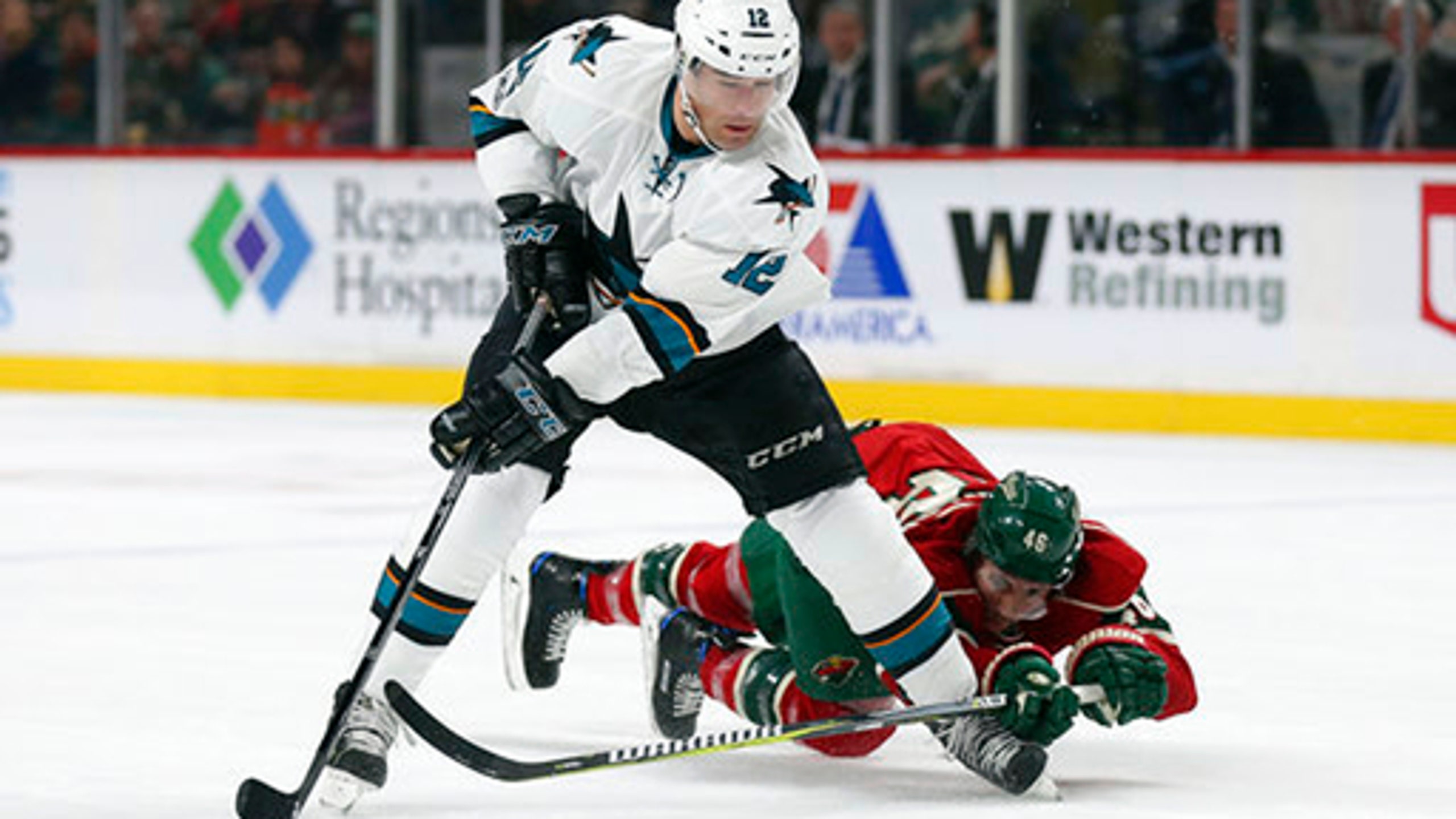 Sharks sign Thornton to 1-year deal after losing Marleau
BY AP • July 2, 2017
SAN JOSE, Calif. (AP) Joe Thornton is staying in San Jose for at least one more season, while longtime running mate Patrick Marleau is leaving for Toronto.
Thornton tested the free-agent market for the first time in his career before officially signing his $8 million contract to remain with the Sharks on Sunday, just hours after Marleau signed an $18.75 million, three-year deal with the Maple Leafs.
Thornton heard from more than half the league before making his decision to stay.
''There was a lot of interest to be honest with you,'' he said. ''I was kind of shocked that there was the interest there was. I feel I'm a Shark and I wanted to stay come back a Shark and that's what it came down to.''
After being tied together as the faces of the Sharks ever since Thornton joined San Jose from Boston in November 2005, the two have now been separated. They teamed to help San Jose make it to the conference finals in 2010 and 2011 and the Stanley Cup Final in 2016 but couldn't deliver a championship to San Jose.
Thornton said he was in constant contact with Marleau the past few days to try to persuade him stay. General manager Doug Wilson said Thornton even waited to finalize the dollar amount on his contract until after Marleau made his decision in case the team needed more money under the salary cap.
But Marleau ultimately decided to leave.
''Obviously, I'm bummed that Patty's not coming back,'' Thornton said. ''I think he's going to do great in Toronto. I think it's going be a good fit. Patty will be a Shark for life and he'll go down as the best Shark of all-time.''
Thornton, who turned 38 on Sunday, will now try to deliver that title to San Jose without Marleau.
After originally seeking a three-year contract, Thornton opted for the shorter term deal even though he still plans to play for many more seasons.
''I think one year works at this point in my career,'' he said. ''Really go year by year and just see how I feel. I feel like I have a lot left in the tank. Hopefully after this deal I'll keep signing.''
Thornton is one of the best playmakers of his generation but showed some signs of his age last season after an abbreviated offseason following a Stanley Cup run and a trip to the world championships.
He scored just seven goals - his fewest in an 82-game season since his rookie year in 1997-98 - and was a key part of a power-play unit that uncharacteristically struggled last season. But he still managed 43 assists, teaming with captain Joe Pavelski on San Jose's top line.
Thornton missed the final week of the regular season and the first two playoff games with a left knee injury before returning for the final four games of a first-round loss to Edmonton. Thornton then underwent surgery to repair his MCL and ACL after the season but plans to be back on the ice in two weeks and completely healthy for the start of training camp.
''I'm feeling really good,'' he said. ''I'm feeling strong, coming along really good. I'm not going to say I'm 100 percent right now, but I'm pretty darned close.''
Thornton recorded his 1,000th assist last season and ranks in the top 25 on the career lists in assists (1,007, 13th place) and points (1,391, 22nd place) as one of the best passers in NHL history. He has had at least 50 points in the past 16 non-lockout seasons he has played.
Marleau, the second overall pick in 1997, has 508 goals and 574 assists for 1,082 points. He had 46 points in playing all 82 games last season as he rebounded from a disappointing 2015-16 season by scoring 27 goals, including the 500th of his career. He ranks first in San Jose in goals, games and points.
Only six players in NHL history have played more games with one team than Marleau's 1,493 in San Jose. The Sharks haven't played a game without him on the ice since April 7, 2009.
''I think I've worn out a few carpets pacing around the house trying to make this decision over the last couple of days,'' Marleau said.
Marleau's loss will be felt in San Jose, where he helped a young franchise develop into a consistent winner after he came to the Bay Area as a teenager in 1997.
''We knew that Patty had options,'' Wilson said. ''That is the reality of free agency. We certainly respect that. We respect Patty's decision. Nothing will ever take away what Patrick and our team accomplished over the last 20 years.''
---
More AP NHL: apnews.com/tag/NHLhockey
---
---