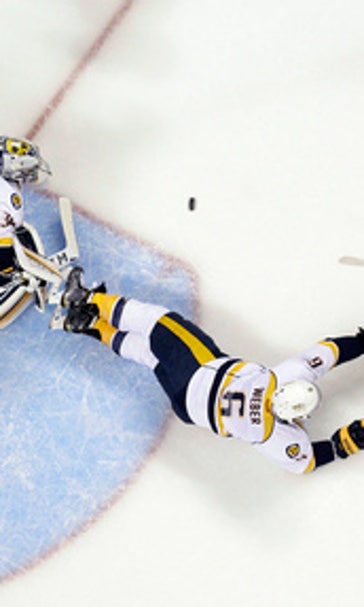 Sharks look to shed past following 5-0 Game 7 win vs. Preds
May 13, 2016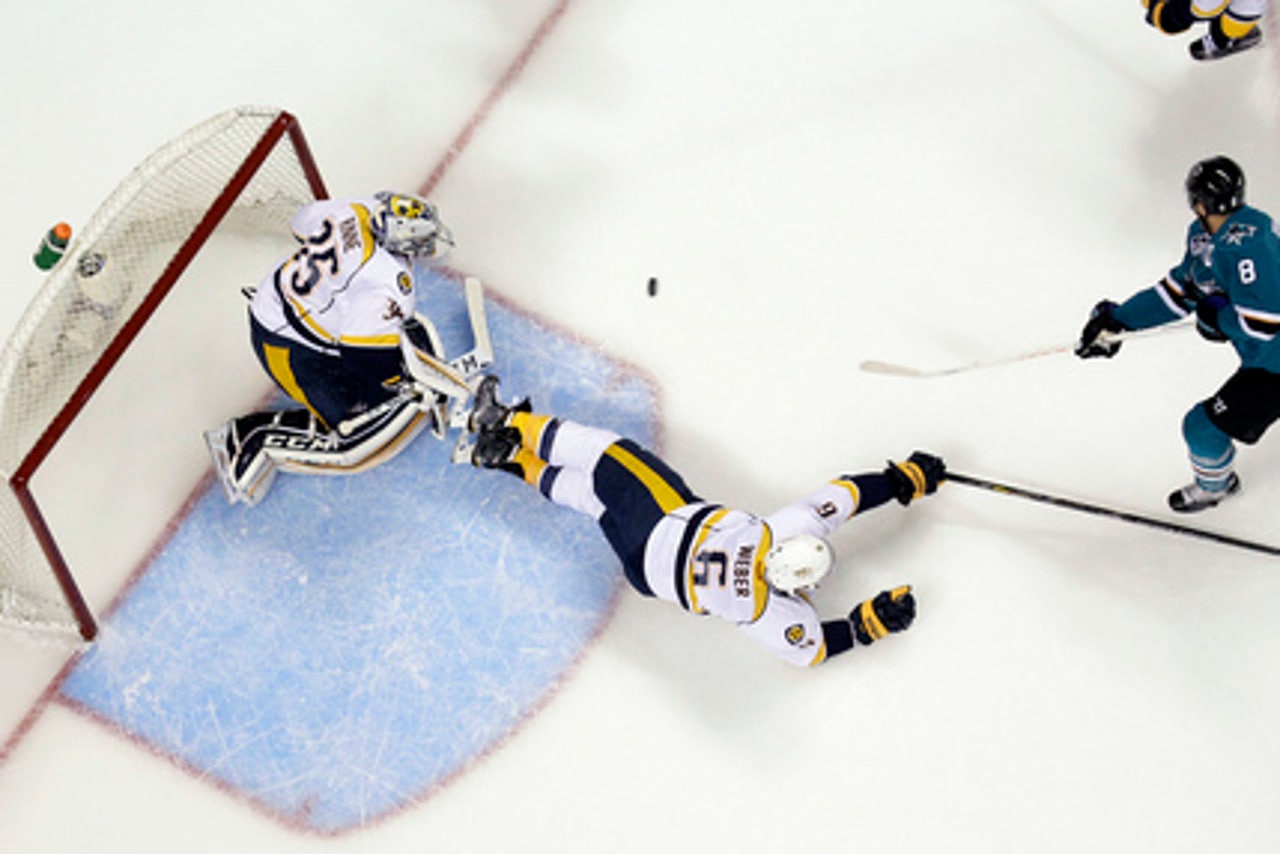 SAN JOSE, Calif. (AP) A Game 7 win for a franchise haunted by playoff disappointments can help silence the skeptics. But the San Jose Sharks know they have plenty of more work to do before ending all those questions about their past.
The Sharks took another big step achieving that when they jumped on top of Nashville early in a dominant Game 7 win. Captain Joe Pavelski started the scoring early with his franchise record-tying ninth goal of the playoffs that helped send San Jose to its first Western Conference final in five years with a 5-0 victory over the Predators on Thursday night.
''There will be doubters until we go all the way,'' said Logan Couture, who had a goal and two assists to set a franchise record with 11 points in the series.
''We're used to it. If you're a hockey player, you can't let it bother you.''
Joel Ward, Joe Thornton and Patrick Marleau also scored as San Jose shook off an overtime loss in Game 6 to reach the conference final for the fourth time in franchise history. San Jose will open the conference final on the road Sunday against the St. Louis Blues.
Martin Jones made 20 saves for San Jose's first playoff shutout in six years.
But it was San Jose's biggest stars who really delivered. Pavelski got a power-play goal to open the scoring off a feed from Marleau. Couture had a back-breaking goal in the opening minute of the second period that made it 3-0. Thornton added a power-play goal in the third period that sealed the win.
''That's what we're supposed to do,'' Couture said. ''We're supposed to go out there and lead this team and contribute offensively. We did what we're supposed to do.''
They just haven't always done that come playoff time. While the Sharks have been one of the most successful regular season teams for more than a decade, they are still seeking their first trip to the Stanley Cup final.
There were conference final losses in 2004, 2010 and 2011. Then came crushing seventh game defeats to rival Los Angeles in 2013 and `14. The last of those came after San Jose took a 3-0 series lead and left a cloud over the franchise for an entire season as the Sharks missed the playoffs in 2015.
But key offseason additions like Jones, Ward and defenseman Paul Martin and new coach Peter DeBoer helped San Jose make it back to the postseason this year where the Sharks knocked off Los Angeles in five games in the first round before surviving against the Predators.
''The core guys are still the same, but the core guys here are great,'' DeBoer said. ''They have great habits, they've been well coached for a decade by the previous staff that was here. They're not the problem. It was filling in behind them. We've got those type of people here now, and I think the guys at the top feel that and are feeding off it.''
Now the Sharks will face another deep team with a checkered playoff history. The Blues are in the conference final for the first time in 15 years and are seeking their first trip to the Stanley Cup since 1970. St. Louis made it to the final in each of its first three seasons only to get swept each time.
With a team led by talented forwards like David Backes and Vladimir Tarasenko, a deep defense headed by Alex Pietrangelo and Kevin Shattenkirk and goalie Brian Elliott, St. Louis will provide a formidable test for San Jose.
''It never gets easier,'' Pavelski said. ''These teams are all good right now, good goalies. It feels good, but we understand this was a second in step. It feels good, but we have to keep going.''
The Predators pushed San Jose for six games, winning twice in overtime, but had little left in their second straight Game 7 on the road.
Defensive miscues by Nashville's two top defensemen, captain Shea Weber and Roman Josi, led to early San Jose goals as Pekka Rinne got little help from his teammates.
The Predators had just eight shots on goal in the first two periods and Rinne left after allowing goals to Thornton and Marleau early in the third period. The frustration boiled over as he slammed his stick against the post and tossed it aside after Marleau's goal made it 5-0.
''That was childish and not the way you want to end the season,'' Rinne said. ''I wish I hadn't have done that. Yeah, it was frustration. That's the end of that stick.''
Nashville remains one of three franchises, along with Columbus and the current Winnipeg franchise, to never make it to a conference final.
---
---