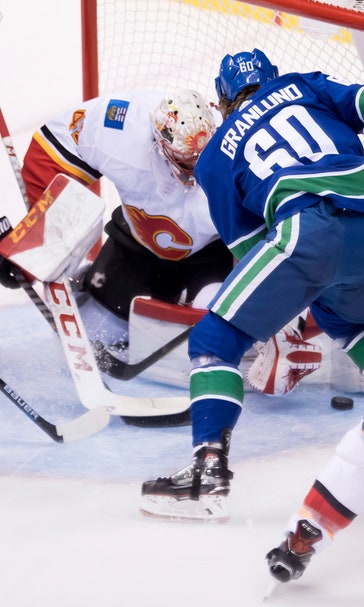 Pettersson scores 1st goal, Canucks beat Flames 5-2
October 4, 2018
VANCOUVER, British Columbia (AP) — Elias Pettersson had one thought when he hit the ice before his first NHL game — stay upright.
The 19-year-old Vancouver Canucks' center said he knew about the league's tradition of initiating rookies with a solo skate during warm-ups, but hoped his teammates might make an exception.
"Maybe I thought they would forget it because it was lonely, not that fun," he said. "My only focus was not to fall."
Not only did Pettersson stay on his feet, he scored his first NHL goal on his first shot and also had an assist in the Canucks' 5-2 win over the Calgary Flames on Wednesday night.
Nikolay Goldobin, Brendan Leipsic, Jake Virtanen and Tyler Motte also scored for Vancouver. Jacob Markstrom stopped 33 shots.
Pettersson opened the scoring with 6:12 left in the first period, picking up the puck in the neutral zone, springing into the Calgary end with teammate Derrick Pouliot on a 2-on-1. Petterson kept the puck and fired a wrist shot into the top of the net.
The goal brought chants of "Petter-sson" from the crowd.
"Everyone on the team congratulated me, including the coaches. And then I didn't expect a standing ovation from the crowd. So that was amazing," said Pettersson, whose parents were among those in attendance.
Teammate Eric Gudbranson said Pettersson, who led the Swedish hockey league in scoring last season with 56 poi8nts in 44 games, was 'an absolute stud' in his NHL debut.
"One of the most impressive things about him is how responsible he is and how competitive he is," Gudbranson said. "If he turns the puck over, he's right back on it and he takes it away from you. He doesn't give up anything. He plays the game incredibly well."
Matthew Tkachuk and Sean Monahan had goals for the Flames, and Mike Smith finished with 18 saves.
Even Smith had kind words for Pettersson.
"He made a great shot, he put right in the top corner. I got a piece of it with the glove, but yeah I have heard quite a bit about this young kid and he let her go and hit the perfect spot there," Smith said.
Pettersson then got an assist on Goldobin's goal in the third period. Pettersson got the puck in front of the net and passed it off to his teammate, who tipped it in at the side to make it 2-0 at 1:52.
Nearly 30 seconds later, Leipsic sneaked a puck into the same spot to put the Canucks up 3-0.
Tkachuk then caught Markstrom too far out of the net and buried the puck to put the Flames on the scoreboard at 3:08. Defenseman Noah Hanifin got a secondary assist on the play for his first point with Calgary after being acquired from Carolina during the summer.
Virtanen responded by getting a breakaway and sliding the puck in past Smith as he fell to the ice to make it 4-1 at 5:46.
Monahan pulled the Flames within two again as he ended a battle outside the Vancouver crease with a wrist shot that slipped through Markstrom's legs and into the net at 8:08.
"Not enough pace, and not enough execution on it and not enough desperation," Flames coach Bill Peters said. "At one point, I think through 40 (minutes) we were 1 for 7 on faceoffs on the power play, so it's an important part of the game."
Vancouver's Motte got a pass from Markus Granlund and put a long shot into the empty net with 47 seconds to go to cap the scoring.
NOTES: Vancouver held Calgary scoreless on seven power plays. ... Gudbranson spent nine minutes in the box, including a five-minute penalty he earned after dropping the gloves with Calgary's Travis Hamonic midway through the first period. ... Hamonic, who also received a five-minute major for his fight with Gudbranson, left the game but later returned wearing a full-face mask
UP NEXT
Calgary: Host Vancouver in the Flames' home opener on Saturday.
Canucks: At Calgary on Saturday night to open a six-game trip.
---
---