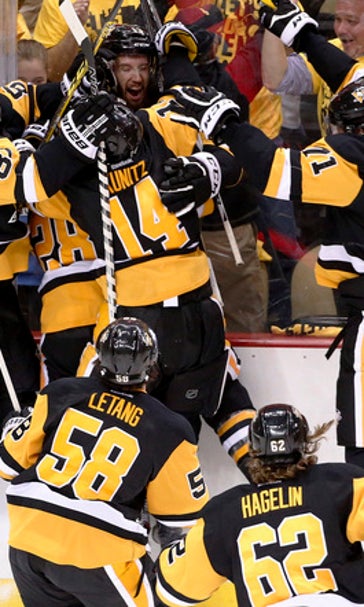 Penguins edge Capitals 4-3 in OT to win series in 6 games
May 11, 2016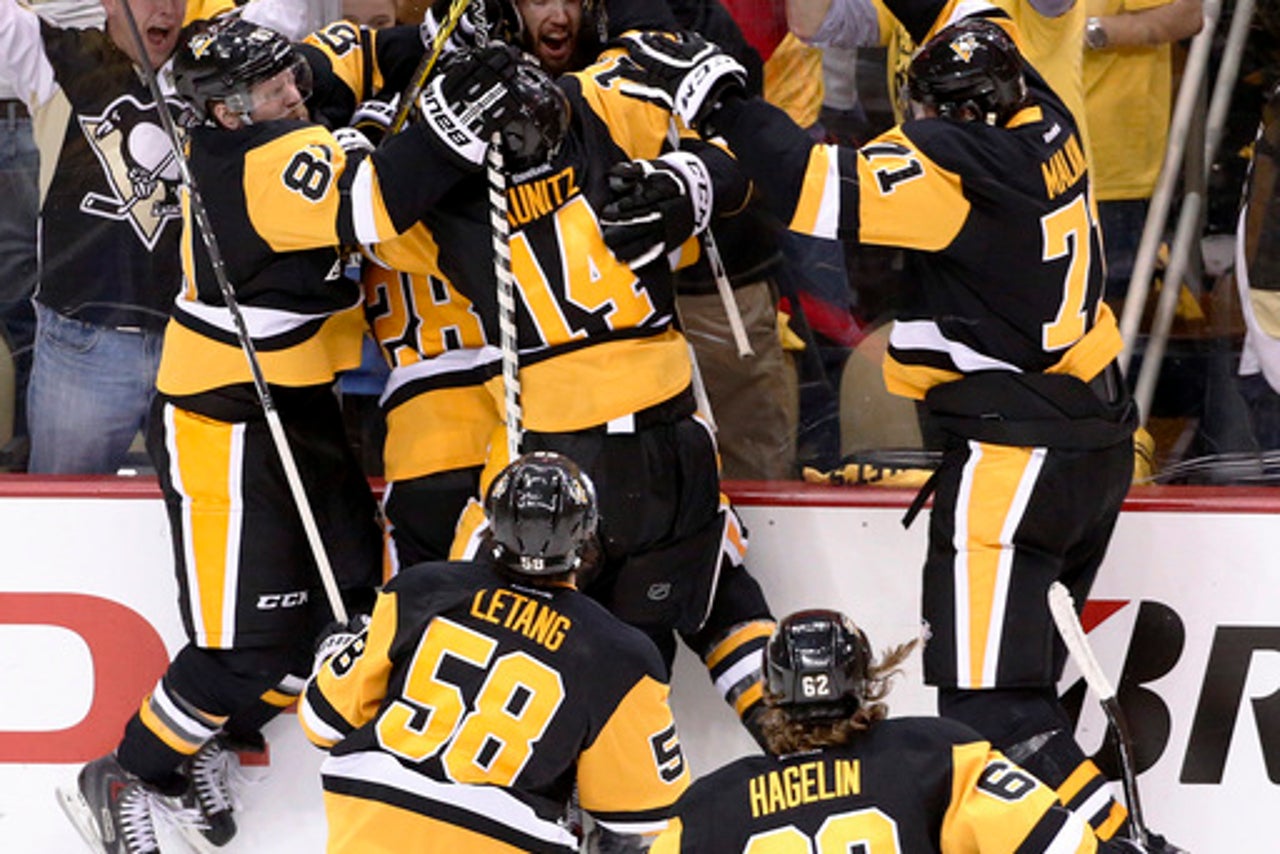 PITTSBURGH (AP) A three-goal lead gone - and his team's momentum right along with it - Pittsburgh Penguins coach Mike Sullivan provided a reminder heading to overtime of Game 6 of a relentlessly entertaining playoff series against the Washington Capitals.
Keep skating. Play fast. Be confident.
In the span of a dozen frantic seconds early in the extra period on Tuesday night, Carl Hagelin, Phil Kessel and Nick Bonino did all three, sending their resilient club to the Eastern Conference final in the process.
Bonino tapped in a rebound of Hagelin's shot by Braden Holtby 6:32 into overtime to give the Penguins a 4-3 win to wrap up the series in six games and set up a showdown with Tampa Bay for the right to play for the Stanley Cup.
Kessel went to the corner to retrieve the puck and passed it to Hagelin in the slot. Hagelin's shot caromed off Holtby's right pad directly to Bonino, who had little trouble pushing it into the net for his 10th career playoff goal, and easily his most important.
''I just went to the front,'' Bonino said. ''The puck always ends up there and I was able to get a stick on it. It wasn't pretty, but they're usually not.''
Not that style points mattered much during a taut dozen days in early spring. The Capitals overcame a three-goal deficit in the final 22 minutes of regulation and earned a break when Jay Beagle went to his belly on the goal line to steer a shot by Patric Hornqvist out of harm's way early in the extra period.
There was no stopping Bonino's tap-in, however, sending the Presidents' Trophy winners to their dressing room with an all-too familiar feeling.
Nine times the longtime rivals have met in the playoffs. Eight times the post-series handshake line has ended with Pittsburgh celebrating while Washington trudges toward the offseason.
''It's just kind of setting in right now that it's over,'' Beagle said. ''We had high expectations. The Cup was our goal all year and unfortunately we didn't (make it).''
Thanks in part to an inability to keep Bonino, Hagelin and Kessel in check. While Washington kept Pittsburgh stars Sidney Crosby and Evgeni Malkin under wraps - they combined for all of four points in six games - the Capitals struggled to keep up with one of the fastest lines in the league.
Kessel scored twice and helped set up the winner. Hagelin added a goal and two assists for Pittsburgh, including the shot that allowed Bonino to send Consol Energy Center into a frenzy.
''I thought we did a really good job on Crosby and Malkin the whole series, but a lot of the other people hurt us,'' Washington coach Barry Trotz said.
T.J. Oshie, Justin Williams and John Carlson scored during Washington's comeback, one completed after three straight delay of game penalties against the Penguins gave one of the league's best power plays enough time to tie it up.
Chris Kunitz, Ian Cole and Bonino all flipped the puck over the glass from the defensive zone in a span of 2:02, a sequence that led to Carlson's fifth playoff goal, a shot that bounced and skipped by Murray to provide another compelling twist in a series that lived up to - and perhaps beyond - its billing.
''It was the worst feeling I think I ever had in hockey when I whacked the puck out of play,'' Bonino said. ''Then Cole did it after (Kunitz) did it. That's something you'll never see.''
Sullivan tried to remain upbeat in the dressing room before the third overtime game of the series.
''What we talked about was taking a deep breath, not changing what's happened and letting it go,'' he said. ''These guys to their credit have done an amazing job of not allowing any sort of ebbs and flows of the game to affect them.''
It's that resiliency that allowed the Penguins to recover from a shoddy start that cost Mike Johnston his job in mid-December.
Pittsburgh ended the regular season as the hottest team in the league and has now cruised through two rounds by relying on the supporting cast general manager Jim Rutherford has cultivated behind his stars.
All but two of Pittsburgh's 16 goals during the series were scored by players who were not on the roster when Rutherford replaced Ray Shero two summers ago.
That group includes Kessel, acquired from Toronto last July to take some of the scoring load off Pittsburgh's two franchise cornerstones, Hagelin and Bonino, who were easily Pittsburgh's best line in the series while combining for seven goals and 11 assists.
''It shows the depth of our team,'' Bonino said. ''We've had it all year.''
And in the playoffs, the Penguins remain Washington's tormentor. The Capitals have just four wins beyond the second round of the postseason in franchise history after another promising spring ended abruptly.
''We made some progress but obviously not enough,'' Trotz said. ''We need to get through this round. That's part of the deal. That will always be thrown at us until we get through that.''
NOTES: Washington defenseman Karl Alzner left in the first period and did not return shortly after getting slashed by Crosby. ... Holtby finished with 37 saves. ... The Penguins went 2 for 3 on the power play. The Capitals were 2 for 6. ... The Penguins scratched defensemen Justin Schultz and Derrick Pouliot following Maatta's return.
---
---