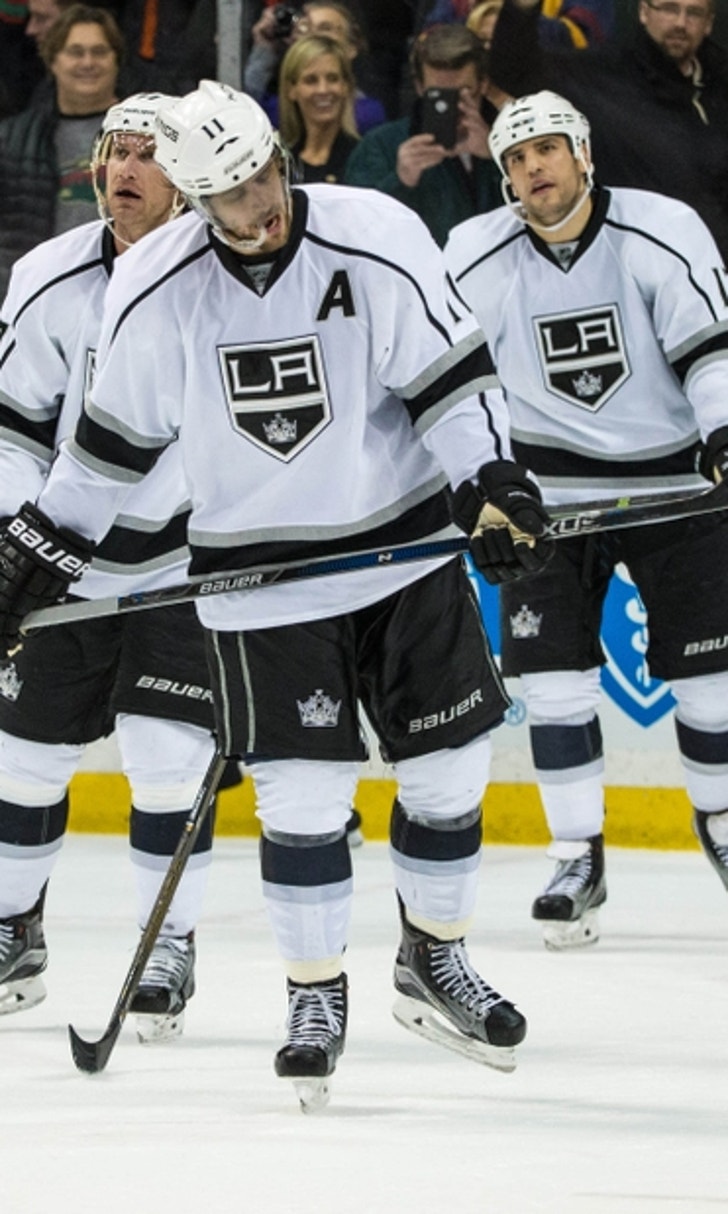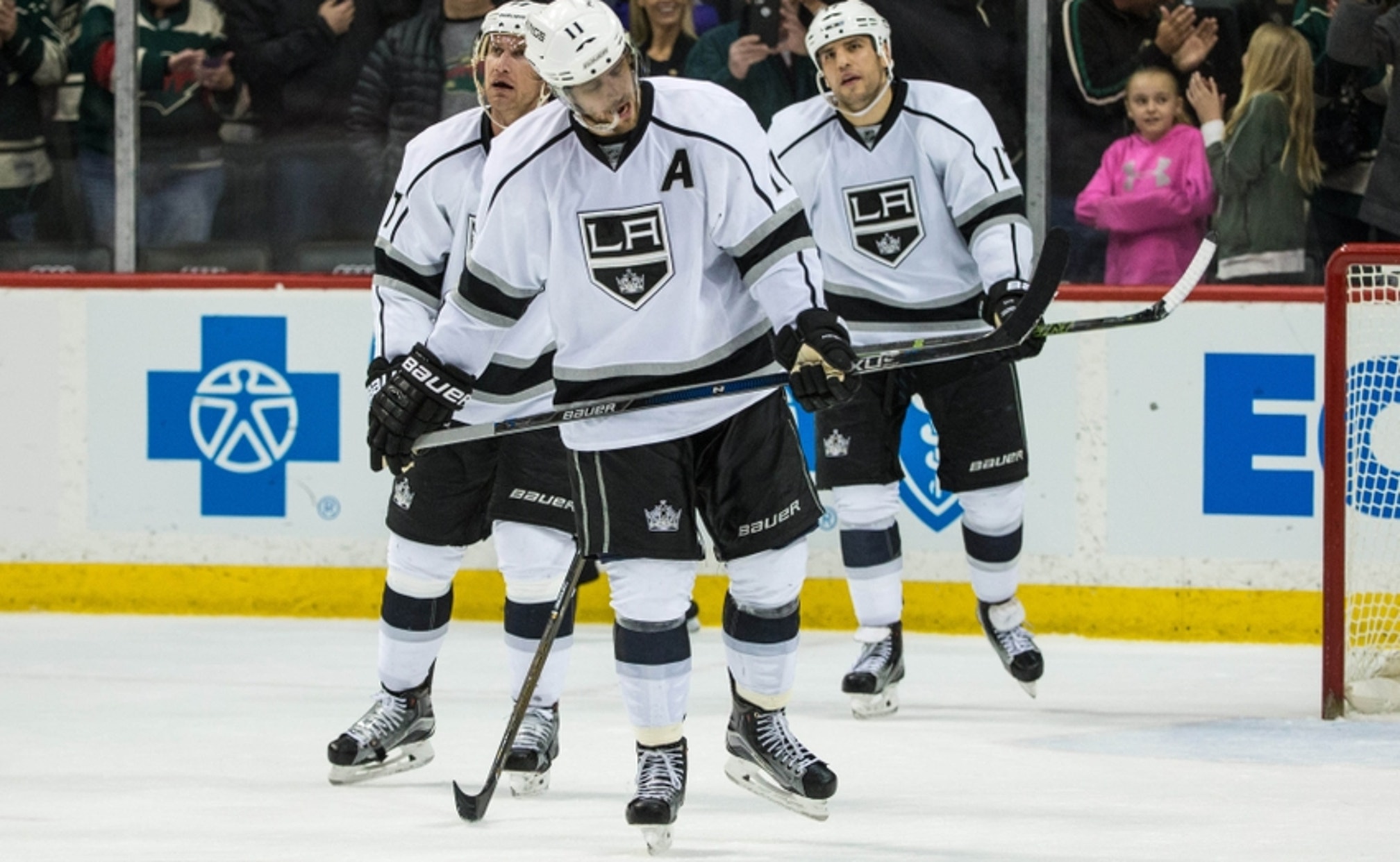 NHL Fantasy: Top 20 Busts in 2016-17
BY Fansided and Santagata JJ/FanSided via Puck Prose • January 2, 2017
NHL Fantasy Hockey: With all 30 clubs having played between 35-40 games in 2016-17, we take a look at the top 20 busts so far and wonder which individuals can turn their season around in the 2017 calendar year.
We're nearing the halfway mark of the NHL fantasy hockey season. Many teams and players have exceeded their expectations coming into the year. Where on the other hand, many teams and players have not lived up to their expectations with a disappointing season thus far.
In this three-part series, we'll take a look at the top 20 fantasy busts, top 20 fantasy forwards and top 20 fantasy defensemen. All pre-season and current rankings are based on Yahoo Fantasy Hockey rankings. Check back tomorrow for your top 20 NHL fantasy hockey forwards!
We'll start with the bad news, the top 20 NHL fantasy busts:
NHL Fantasy Hockey: Top 20 Busts in 2016-17
1. F Anze Kopitar, Los Angeles Kings
Coming into the year Kopitar was ranked 26th, to this date he is ranked 313. Kopitar has not scored a goal in 24 games and has 3 goals, 13 assists, and 4 power play points.
2. F Sean Monahan, Calgary Flames
Monahan came into the season ranking 49, now he sits at 232. Monahan has played in all 39 games this season, only recording 20 points(10g,10a). Monahan is young and the Flames faced their fair share of struggles but Monahan's production was not what his rankings perceived him as before the year.
3. F Zach Parise, Minnesota Wild
Parise came into the year ranking 59, now ranking 316. Parise has yet to play a full season in the past 5 years. Parise has 15 points (6g 9a) 27 games.
4. D John Klingberg, Dallas Stars
Klingberg was ranked 60 prior to the start of the season and now ranks 288. Klingberg has 3 goals 15 assists with a -3 plus/minus rating through 36 games.
Dec 9, 2016; Buffalo, NY, USA; Washington Capitals center Evgeny Kuznetsov (92) against the Buffalo Sabres at KeyBank Center. Mandatory Credit: Timothy T. Ludwig-USA TODAY Sports
5. F Evgeny Kuznetsov, Washington Capitals
Kuznetsov had high expectations set by fantasy analysis, but has been disappointing so far this season Kuznetsov ranked 17, now sits at 250. Evgeny has 3 goals and 15 assists through 36 games.
6. F Gabriel Landeskog, Colorado Avalanche
Despite Landeskog only playing 26 games this season, his numbers are still not spectacular compared to his 68 preseason ranking. Landeskog currently ranks 303 with 6 goals and 5 assists.
7. F Joe Thornton, San Jose Sharks
Thornton has 23 assists, but only 2 goals this season. Coming into this NHL season Thornton was ranked 40 now ranks 164.
8. D Drew Doughty, Los Angeles Kings
Doughty has definitely had better seasons, coming off a Norris Trophy season Doughty has yet to find his game this year. Doughty has 6 goals and 12 assists(18 points) through 37 games.
9. D Tyson Barrie, Colorado Avalanche
Barrie has been off to a rough start this year, despite Colorado playing poor hockey Barrie is not performing his best as well. Barrie ranked 92, which he now sits at 361. Barrie has 2 goals and 17 assists logging a -21 plus/minus.
More from Puck Prose
10. D Shayne Gostisbehere, Philadelphia Flyers  
Formally known as "Ghost". Ghost started off the year very slow and has yet to play at the potential many fantasy owners thought he was capable of. Ghost has 4 goals and 14 assists ranking  215 compared to his 53 overall ranking prior to the start of the season.
11. D John Carlson, Washington Capitals
Despite Carlson's two-goal game last week, he only scored 1 goal prior to that. Carlson has not been much of game changer in fantasy lineups this year. Carlson has 3 goals and 15 assists with 8 power play points through 36 games this season.
12. D Roman Josi, Nashville Predators
Another defensemen who had very high expectations set on him by fantasy analysis. Josi had a breakthrough year last season, but is disappointing fantasy owners this year with 5 goals and 14 assists.
13. F Andrew Ladd, New York Islanders
A big-ticket free agent signing by the Isles in the summer, Andrew Ladd has largely disappointed so far – yet so has the team as a whole. Ladd is logging minimal ice-time and not playing the minutes fantasy owners wanted. Ladd has 8 goals and 4 assists(12 points) through 36 games.
14. F Patrice Bergeron, Boston Bruins
Bergeron has been a bit of disappointment his year. Coming into the year he ranked 35, since then he has fell to 113. Only scoring 7 goals with 5 assists.
Get the FanSided App
15. F James Neal, Nashville Predators
Despite having 14 goals this season, the slumping Predators team has taken a blow due to inconsistent production from players like James Neal. Neal's last 10 games he has 2 goals and 1 assist.
16. F Filip Forsberg, Nashville Predators
Forsberg started off the year very slow but has seemed to find his scoring ways back recently, but that doesn't deny the fact Forsberg was a top-tier draft pick with only 8 goals this season.
17. D Oliver Ekman-Larsson, Arizona Coyotes
Arizona has had a rough year, Ekman-Larsson has been one of the better players for Arizona this season but not for fantasy owners, only logging 19 points in 37 games.
18. F Nathan Mackinnon, Colorado Avalanche
Colorado has been playing poor hockey as of late and Mackinnon's last 10 games do not look great for fantasy owners. In his 10 he has 2 goals and 4 assists. With only 9 goals this season.
19. F John Tavares, New York Islanders
Tavares has underperformed after being a first-round/top 10 fantasy pick for most owners. Tavares has only 11 goals this year. But stick strong with Johnny T he's bound to bounce back soon.
20. F Jamie Benn, Dallas Stars
Being a top 5 draft pick, Benn has not found the back of the net much this season despite his 24 helpers. Unfortunately, a recent foot injury could set Benn back even more.
---
---