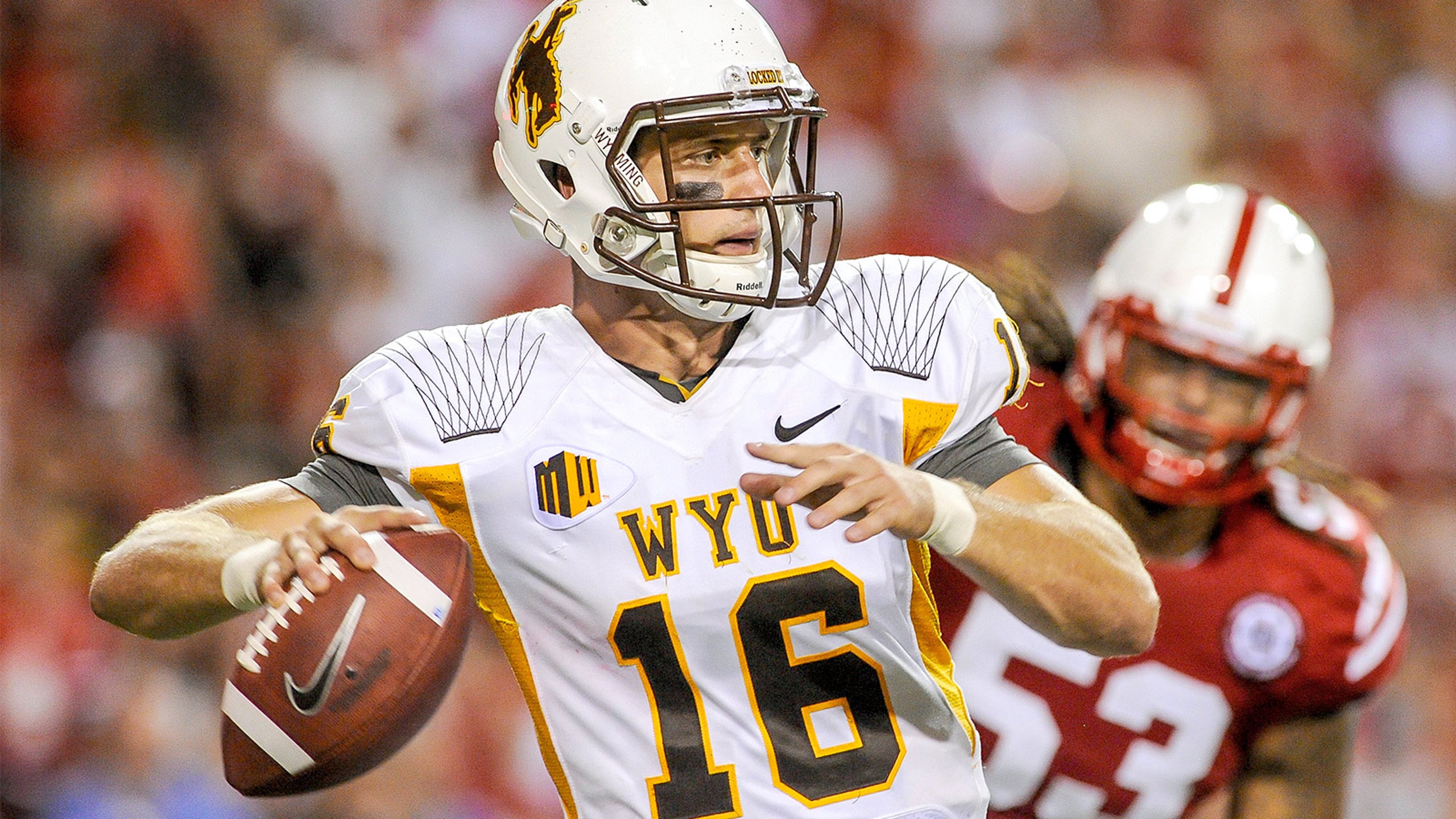 Wyoming quarterback Brett Smith uses Combine snub as motivation for pro day
BY Aaron Torres • February 27, 2014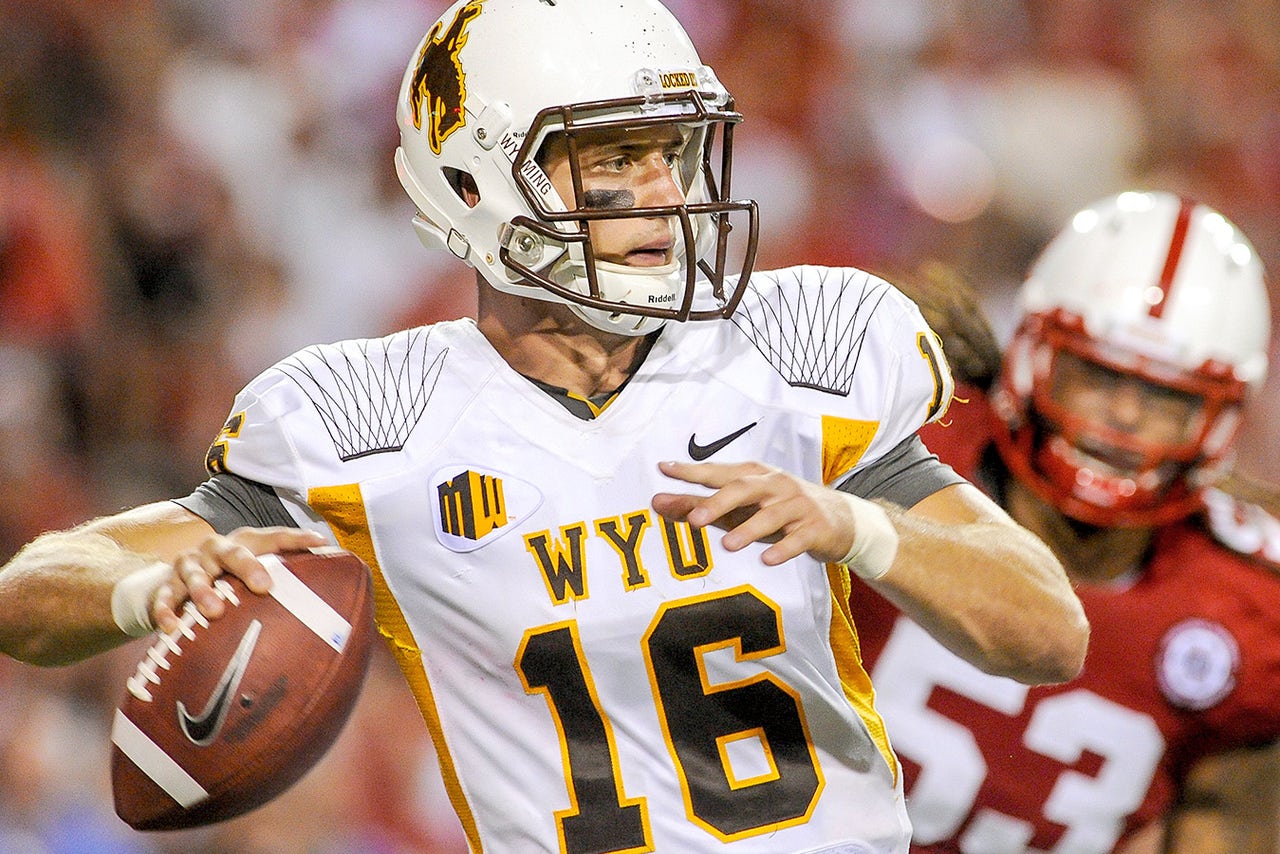 CARLSBAD, Calif. — The NFL Combine is officially over, and with it, a week filled with strange questions about girlfriends and fluid hips, not to mention over-analysis of life's important issues…like hand sizes.
Yet while it seemed like every grown man in America who owns a stopwatch and swishy pants descended upon Indianapolis over the past few days, that's simply not the case. It also raises this very important question:
What would it be like to be the rare pro prospect that didn't get an invite to Indy? How would it feel to watch the guys who you've spent the last couple months training with — not to mention the last few years playing against — take the next step in a shared life-long dream, all while you're stuck at home?
What would it be like to essentially not be invited to the biggest, and most important pre-draft party there is?
It is a question we posed to former Wyoming quarterback Brett Smith last Friday, during the height of QB hysteria at the Combine.
"It's been a hard time," Smith admitted over a quiet lunch, while TV's everywhere were tuned into Johnny Manziel answering questions about his hand size, and Teddy Bridgewater defending his sudden weight gain.
"I just wanted an opportunity to go be able to go to the Combine and go against some of the guys I've been hearing about in high school," added Smith, who is projected to go between the second and fourth rounds.
For those who don't know Smith's story, it's not all too unfamiliar. He's the small-school kid who made it big, arriving at Wyoming in the winter of 2011, and winning the starting quarterback job before the first game of his true freshman year. He never gave up the gig, throwing for nearly 80 touchdowns and rushing for another 20 in three years as the team's starter, playing his home games in some of the toughest conditions in college football.
When Smith did declare for the draft in December, he was immediately seen as an intriguing prospect that many projected as a mid-round pick. Some have him rated higher on their big boards than more notable names like Clemson's Tajh Boyd and Georgia's Aaron Murray.
Yet when the official invites for the Combine came out in early February, his name was conspicuously absent, with no true reason given. Many draft experts listed him as the biggest Combine "snub" at the quarterback position, if not the biggest snub overall. He'll use the newfound motivation for a March 13 pro day in Laramie, Wy.
"The day we found out," Smith said, before pausing, almost as if he were re-living that moment in real time. "That was a really hard day."
Even with a couple weeks to reflect, it wasn't made any easier when the Combine kicked off. It was made especially tough Friday, as news started to trickle out that some of the bigger-name QB's like Manziel and Bridgewater were opting out of select drills in Indy.
As someone who wasn't given the chance at all to show his skills in Indy, Smith was stunned that some would shy away from an opportunity to impress at the Combine.
"Even if I were the No. 1 pick, if there was something that was open to us doing (in drills), I would do it," Smith said, in a bit of an ironic statement, since one of Smith's training partners, Blake Bortles, was lauded for being the only elite QB who elected to participate in just about every drill in Indy. "It's an opportunity they're providing. It isn't something that you should look at it as 'It might hurt my draft stock.' Raise your draft stock doing it."
That work ethic is something Smith decided to fall back on over the last week, returning to work out at a desolate training facility, which just days before had been filled with dozens of draft hopefuls. On a day where all eyes were on Indy, Smith mostly ignored draft chatter, deciding instead to fill his morning with white-board work, and spend the afternoon lifting and throwing to any receivers he could round up.
"I'm embracing it right now," Smith said. "If I let something like that affect the next five weeks negatively, then I'm the one who is the idiot."
And while the disappointment may have been tough for a time, it also isn't necessarily new to Smith. He went through a very similar circumstance during his college recruitment, in which both Oregon and Oregon State — each located less than an hour from where he grew up — showed no interest. That came even after Smith won the state's Gatorade High School Player of the Year as a senior, and after he persistently called the schools to pitch himself. An Oregon assistant went so far as to literally hang up on Smith, when the high school prospect told him who he was.
Yet instead of letting the moment keep him down, he instead used it as a chip on his shoulder when he eventually ended up at Wyoming.
"Right before I left for college," Smith began, "The teams that pulled the rug out from under me, I taped their letters to the wall. I looked at them before I went to bed every night. I wanted to go to bed mad."
Mad or not, the tactic worked for Smith before college, and now he's ready to use it again as a pro.
"There's been so much involved in my process getting here," Smith said. "Up until this point, there hasn't been one part that's been easy."
Yet no matter how many times Brett Smith has been doubted in the past, he won't let it define his future.
The question now becomes: What team will his future be with?
Aaron Torres is a show writer for Fox Sports Live and a contributor to FoxSports.com. Follow him on Twitter @Aaron_Torres or e-mail at ATorres00@gmail.com.
---
---