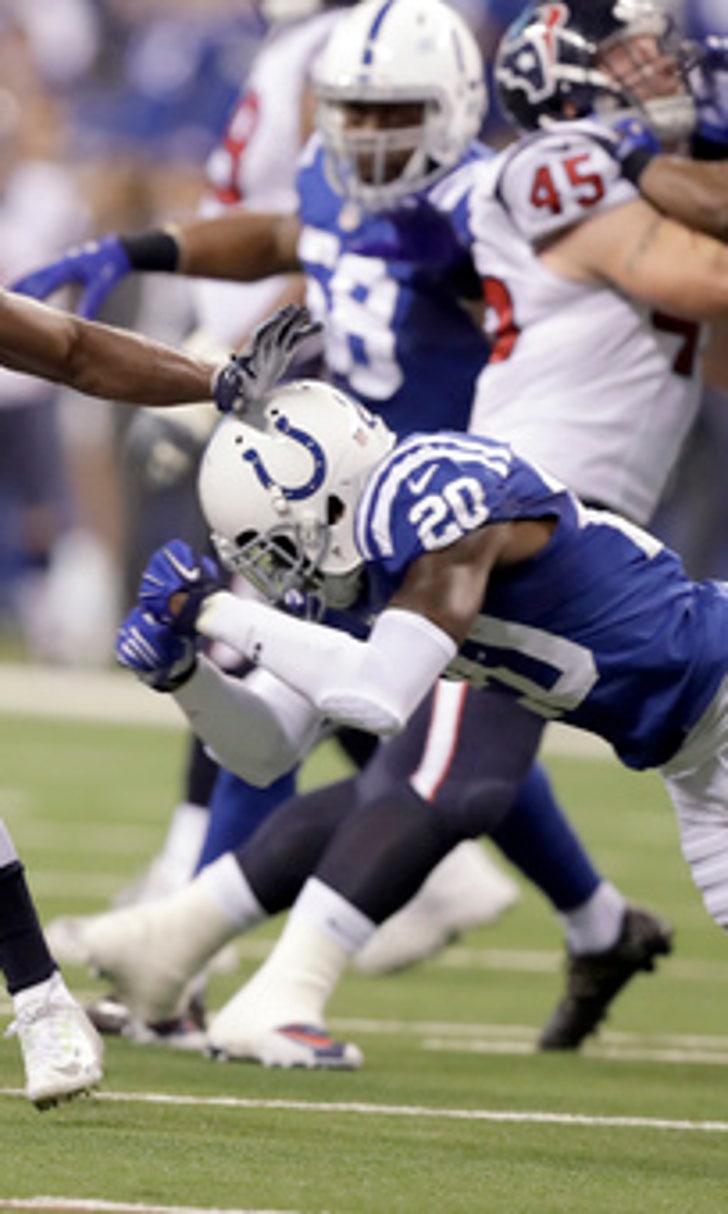 Texans take control of AFC South with another win in Indy
BY AP • December 12, 2016
INDIANAPOLIS (AP) The Houston Texans are heading home with a lot more than a second straight victory at Indianapolis.
They're atop the AFC South, again, and in control of their own postseason fate, again, if they keep finding ways to win games.
What they did Sunday to snap a three-game losing streak and position themselves for a second straight AFC South title was rely on a proven old-school formula - run efficiently, force turnovers and let the defense close it out.
''We have a mindset - every game is a playoff game,'' Lamar Miller said after rushing for 107 yards in the 22-17 victory. ''When we came in (to practice) Monday, you could tell by the energy in the locker room.''
Right now, everything seems lined up for Houston even though they're tied for the AFC South lead with Tennessee.
Of the three division teams still in contention, Houston has the easiest schedule remaining. It also has a season sweep over the Titans and now its first season sweep of the Colts (6-7). Houston has won nine straight against division foes, tied with Kansas City for the longest active streak in the league.
But after snapping a three-game losing streak by winning its second straight on Indy's home turf, the Texans know there's still not a lot of margin for error.
''It's what we talked about, coming here and winning the game,'' Jadeveon Clowney said after his strip-sack of Andrew Luck on third-and-goal from the 3-yard line snuffed out a scoring chance late in the third quarter. ''We now control our own destiny.''
The Colts, meanwhile, must rely on help after Luck was picked off twice, lost the fumble and couldn't put enough points on the board on a frustrating day that left players battered and their playoff hopes severely bruised.
''It is not what we all anticipated and what we were working for but it didn't work out,'' Colts coach Chuck Pagano said. ''Sometimes that is just how life goes. You dust yourself off, you pick yourself up and you keep moving forward.''
Here are some other things we learned from Sunday's game:
GOLDEN OLDIES
Colts kicker Adam Vinatieri extended his NFL record of 100-point seasons to 19 and set a franchise record with his ninth 100-point season since joining the Colts in 2006. Indy running back Frank Gore ran for 41 yards and had 33 yards receiving, including an 18-yard TD catch, passing Terrell Owens (16,185) for No. 11 on the NFL's career list for yards from scrimmage. Gore has 16,217 yards.
Houston linebacker Brian Cushing had six tackles to give him 639 in his career, three more than previous franchise record-holder DeMeco Ryans. Texans punter Shane Lechler also surpassed former Colts and Broncos quarterback Peyton Manning with his 267th game played.
GROUND AND POUND
The city that once featured the high-octane run-and-shoot offense may go more frequently with the ground-and-pound style to win their second straight division crown.
Houston rushed for 185 yards against the Colts and it could be the playbook of the future. After Brock Osweiler was picked off in the first half to end a scoring chance, Houston ran on 10 of its next 12 plays, capping the drive with Miller's 2-yard TD plunge.
REGRRESSION
The Colts' season largely has been a case of a couple of steps forward and a couple more backward. This week was a perfect example.
After dominating the New York Jets on Monday night, the Colts scored one first-half field goal and didn't even come close again until early in the third quarter when a 41-yard defensive pass interference set up Gore's score on a screen pass. Indy's only other score came on a 35-yard TD pass to T.Y. Hilton early in the fourth.
DEFENSIVE DIFFERENCE
After missing last week's game at Green Bay and being limited in practice earlier this week, Clowney's return made a difference. He finished with three tackles and one sack, but came up big when it mattered most with the strip sack on the goal line and pressuring Luck into an errant throw on fourth-and-1 from the Texans 42-yard line with 1:24 left to seal the win.
---
For more NFL coverage: http://www.pro32.ap.org and http://www.twitter.com/AP-NFL .
---
---