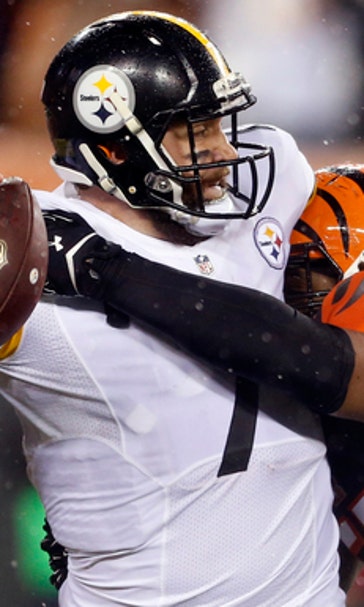 Steelers searching for cure to red-zone issues
October 19, 2017

PITTSBURGH (AP) The drive that put the NFL's last unbeaten team on notice started three feet from the Pittsburgh Steelers own end zone.
Over the course of the next five minutes, the Steelers put their considerable offensive talents on display. They literally pushed the Kansas City Chiefs from one end of the field to the other, quieting the Arrowhead Stadium crowd one Ben Roethlisberger pass and Le'Veon Bell run at a time.
Then, six feet from a touchdown that could have blown things open, the $92 million offense went backward. Again. An incomplete pass, a 4-yard loss by Bell and another heave by Roethlisberger that fell to the turf later, Chris Boswell came out for a field goal that gave Pittsburgh a 12-3 lead the Steelers know should have been larger.
''We were all like, `What are we doing, why can't we get this ball in?''' guard David DeCastro said. ''It's frustrating. You drive all the way down there and all of a sudden you kick 3 points. You had all the momentum in the world and we just love making our life hard here. I don't know what it is.''
Whatever it is, it's keeping the pre-planned touchdown celebrations by Pittsburgh's offensive stars largely under wraps. While the Steelers (4-2) held on to beat the Chiefs last Sunday, their struggles punching it in have allowed teams to stick around far longer than necessary.
Pittsburgh is tied for 16th when it comes to finishing red zone drives with touchdowns. The teams the Steelers are tied with in that category include the winless Browns and 49ers. The Steelers rolled up 432 yards in Kansas City and scored all of 19 points , something they know has to change starting this week against Cincinnati (2-3).
''We got all the way down the field a lot,'' Bell said. ''We just didn't punch the ball in the end zone consistently. I think that's what I want us to evolve to. We need to clean some things up. There's little minor details that are killing us.''
Two weeks ago, the Steelers trailed Jacksonville by a point starting the second half. Pittsburgh slowly moved all the way to the Jaguars 5. Poised to take the lead and control, Roethlisberger sandwiched a 3-yard shovel pass to Bell around a pair of incompletions. Boswell's field goal gave the Steelers a 9-7 lead, one that disappeared following a pair of pick-sixes thrown by Roethlisberger later in the quarter.
A touchdown on that drive and maybe the Steelers aren't wondering how the Jaguars beat them by 21 points at home .
''As the field gets tight down there, the little small fine details coaching points become very critical because there's very little margin for error,'' offensive coordinator Todd Haley said. ''There's less margin for error down there so you need to be on point.''
Something the Steelers haven't done with consistency due in part to Roethlisberger's erratic play. He's completing just 41 percent of his passes inside the opponent's 20, 29th among players with at least 10 pass attempts. Brian Hoyer, Case Keenum and Tyrod Taylor are all at 50 percent or better.
Then again, Roethlisberger has never finished in the top 10 in red zone completion percentage since Haley started calling the plays in 2012. Haley is quick to defend his franchise quarterback's decision-making. Roethlisberger checked out of a run on first-and-goal at the Kansas City 2 because of an unusual defensive look by the Chiefs.
''That's part of being a quarterback in this league, trying to make all those decisions,'' Haley said. ''The good ones are able to do it most of the time as Ben has done.''
Giving to Bell anyway might be the best option. When he bulled over from the 3 on the first play of the second quarter in Kansas City, it gave him four touchdowns on four carries inside the 5. The streak stopped during the butchered goal line sequence later in the quarter, the one that played a role in letting the Chiefs hang around until the final minutes.
''It's like going to the store and you have a paradox of choices,'' DeCastro said. ''It's like you have too many choices, you don't know which ones to choose.''
Not that DeCastro or anyone else is panicking or suggesting the Steelers go to the wishbone. They believe they have the talent to throw it and pass it in tight. They know they just need to do it more effectively.
''You can't be one way or the other with it,'' guard Ramon Foster said. ''We've got to Philadelphia 76er this thing and trust the process.''
NOTES: Steelers S Mike Mitchell confirmed he was fined by the NFL for hitting Chiefs QB Alex Smith low after Smith released a pass last Sunday. Mitchell said he is appealing the fine. ... RT Marcus Gilbert (hamstring), DE Stephon Tuitt (back) and LB Vince Williams (hip) did not practice Thursday. ... Foster (back), C Maurkice Pouncey (chest) and LB Tyler Matakevich (shoulder) were full participants.
---
For more NFL coverage: http://www.pro32.ap.org and http://www.twitter.com/AP-NFL
---
---