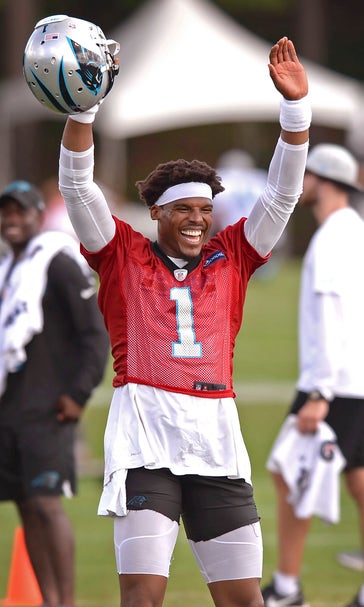 Panthers have a QB battle on their hands _ behind Cam Newton
August 7, 2018
SPARTANBURG, S.C. (AP) — For the first time since 2010, the Carolina Panthers have a quarterback battle on their hands heading into the preseason — at least when it comes to who'll backup 2015 league MVP Cam Newton.
Since Newton entered the league as the No. 1 overall pick in 2011, Panthers coach Ron Rivera has always had veteran Derek Anderson to fall back on as a security blanket. But the Panthers opted not to re-sign the 35-year Anderson this offseason, opening the battle for the No. 2 spot between two young QBs who have attempted one career pass between them.
Garrett Gilbert and Taylor Heinicke will begin that battle in earnest on Thursday night when the Panthers open the preseason in Buffalo against the Bills.
Rivera said Gilbert will be the first off the bench and will get some reps with the first team. Heinicke will be the third quarterback for this game, although he didn't rule out that the QB rotation could change the following week.
"I'm really curious to watch them and see how they both do, I really am," Rivera said. "... We are going to try to get those guys as many snaps as we can the next few weeks so we can make a good decision."
Rivera said he'll try to split reps as equally as possible between the two in the preseason.
"We would like to feel really good about who the guy is going to be going into the last preseason game so he can get the bulk of the work," Rivera said. "We will give them both some opportunities with the twos and the threes and create some situations where they can get some time with the ones."
Panthers tight end Greg Olsen said he likes what he's seen from both young QBs in training camp.
"They are two really smart kids and can spin it really well," Olsen said. "Of course, losing a guy like D.A. (Anderson) is tough for a lot of reasons because of who he was in the locker room for us, but we are moving in another direction."
Ironically, both Gilbert and Heinicke have spent time in New England behind Tom Brady, although neither was able to stick with the Patriots.
Gilbert was drafted in the sixth round by the Rams in 2014 and spent time with the Patriots, Lions and Raiders before serving as Carolina's third-string quarterback last season. However, he's never played in a regular season game.
"You can see the confidence with how he gets up and handles things right now," Rivera said. "He has a strong arm and we know that. So now, it's about knowing the offense, and what we're trying to do and then taking it and translating."
Heinicke has a leg up on Gilbert in that area since he's familiar with coordinator Norv Turner's offensive system having spent two years working under him with the Minnesota Vikings.
"He has shown us he has a good arm and good decision maker and he's athletic as well," Rivera said.
Gilbert said he's not worried about the competition at this point, saying his goal is to "develop my skills and be the best quarterback for this team I can possibly be."
NOTES: Rivera said ideally he'd like to play Newton about nine to 10 plays against the Bills. ... Tyler Larsen will start at center against the Bills as the team slowly works center Ryan Kalil back into action. ... Defensive end Julius Peppers still has not practiced with the team, although he has been cleared to return.
---
---