'I wasn't embarrassed': Giants' Jason Pierre-Paul vows not to play with fireworks
Published
Oct. 30, 2015 3:02 p.m. ET

In his first session with reporters since his fireworks accident over the Fourth of July weekend resulted in his losing a finger and other damage to his hand, New York Giants defensive end Jason Pierre-Paul was sketchy on details regarding the incident, indicated there's more to the story that would eventually come out, vowed not to play with fireworks again and said he was happy to be back with his team.
Oh, and that he's lucky to be alive.
"I saw a kid die. Maybe 12 years old," said Pierre-Paul, who is on the Giants' exempt list and won't play Sunday against the New Orleans Saints. "One, they had to cut off the whole finger. I'm just very fortunate I'm alive. I look up every day at my hand and say, 'Thank you, Lord.' I've seen worse.
"There were probably 12 people in the hospital and my hand is the best one. I'm just fortunate to have one."
Pierre-Paul took part in portions of practice this week after signing a one-year contract with the Giants that will pay him as little as $1.5 million but as much as $8.7 million, depending on the number of games he's active and as many sacks as he records. (The Giants have a league-low nine sacks, so they're hoping he earns as much of those incentives as possible.)
The former first-round pick says he's in great shape and expects to be as good as he was before the injury. He even said he might be better than he was, though even he doesn't know how he'll be able to play with his hand now surely weaker than it was before.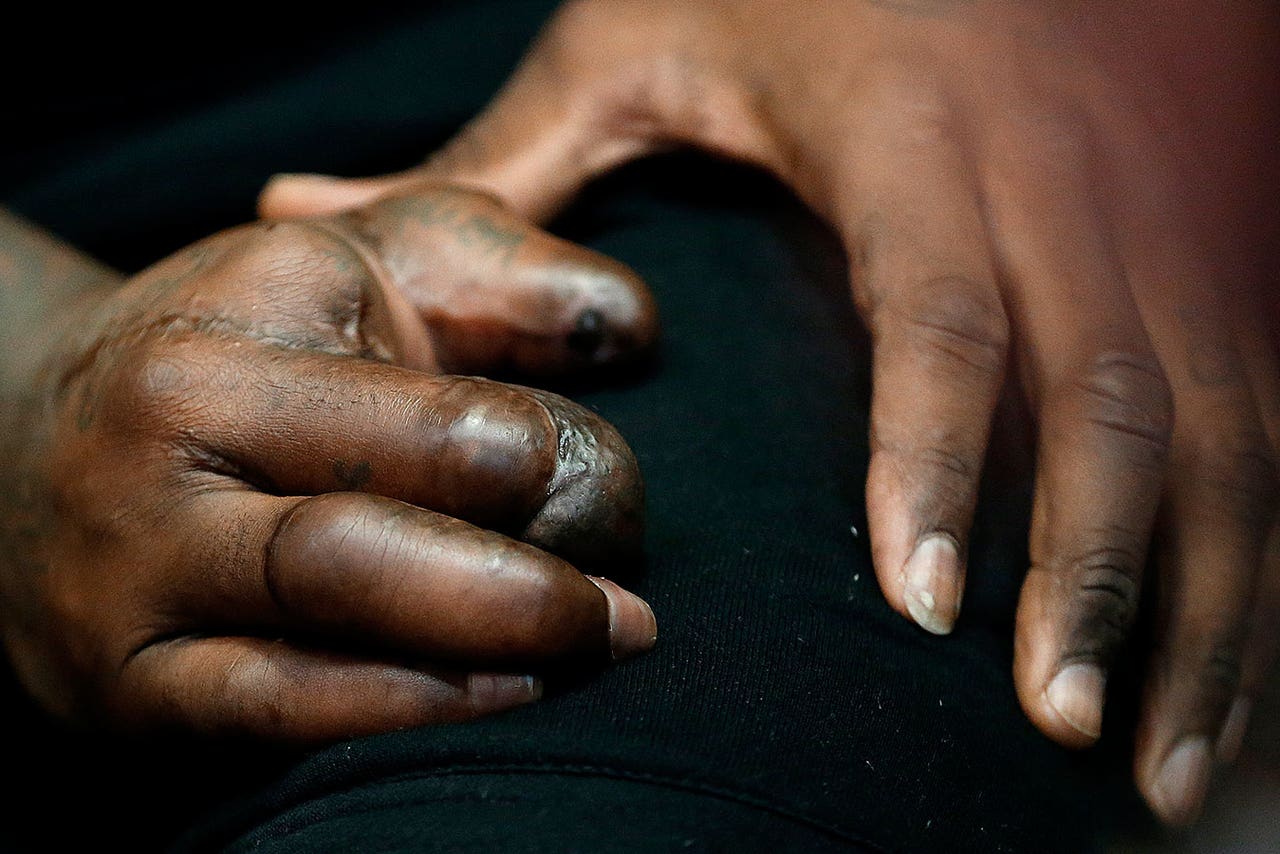 Here is what Jason Pierre-Paul's right hand now looks like.
There are mental hurdles for Pierre-Paul to overcome, but he downplayed at least one of them.
"I wasn't embarrassed by nothing," he said. "At the end of the day, the media's going to say whatever they're going to say, people are going to have their own opinions. I didn't care about none of that because I knew one way or another I was going to return to football."
He added, "I wasn't worried at all. I wasn't in shock or nothing. I looked at my hand and my fiancee was going crazy. But I kept calm through the whole situation."
Pierre-Paul provided only minimal details on the incident and at one point said he has pictures that will paint a different story than the one many have inferred.
"When it's time to let it out," he said, "I will."
Asked if that means he believes it wasn't his fault, he replied, "No, I'm not saying that. By me buying the fireworks, it was my fault."
Pierre-Paul said he has bought fireworks for the kids in his neighborhood for "six, seven years now" because others did that for him when he was growing up.
So was this the last fireworks display for him?
"What kind of question is that? Of course it is," he said with a smile. "You live and learn. People make mistakes. We're all human."
Pierre-Paul will wear a special glove during practices and games because "I didn't want to wear a five-finger glove and have it just hanging."
As for his decision to leave the Giants out of the loop when they sent representatives down to see him in the hospital, Pierre-Paul said it was due to his being under anesthesia, "going in and out of consciousness." He claims he didn't know the team representatives were down there or who made the decision to keep them out.
Pierre-Paul won't travel to New Orleans. He said coach Tom Coughlin invited him but he didn't want to serve as a distraction. The Giants have a roster exemption for him for one more week. There's a chance he returns to action in Week 10 against the New England Patriots.
"The Giants have always been a caring organization. They did a great job through all of the distractions they had here, especially the ones they had for the team I caused," he said. "They did a great job of handling it and I thank them for giving me a second chance."
---
---