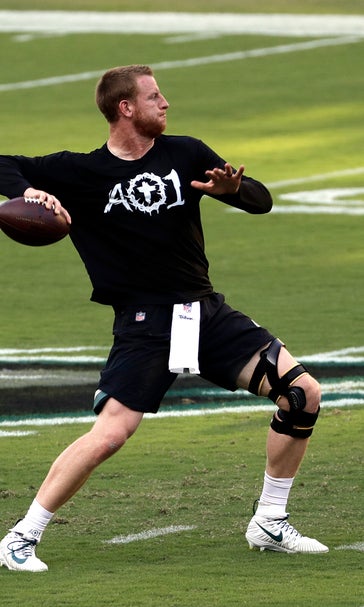 Carson Wentz makes long-awaited return for Eagles vs Colts
September 20, 2018
PHILADELPHIA (AP) — Carson Wentz has been waiting for this moment since he tore up his knee last December.
No. 11 will be back under center for the Philadelphia Eagles (1-1) against the Indianapolis Colts (1-1) on Sunday after watching his teammates win the Super Bowl without him in February, and missing the first two games this season.
"It's been a long time coming," Wentz said. "It's been quite the grind of an offseason. There's a lot of excitement, a lot of built-up almost anxiety over when it was going to be that time, and almost relief finally being cleared to get back out there."
Nick Foles, the Super Bowl MVP in Philadelphia's 41-33 win over New England, returns to the sideline to make way for Wentz, who finished third in NFL MVP voting after setting a single-season franchise record with 33 touchdown passes and helping the Eagles go from 7-9 to 13-3.
Wentz will wear a brace on his left knee — he tore his ACL and LCL in Week 14 diving into the end zone on a scramble. He doesn't plan to change the way he plays, but understands the importance of avoiding hits.
"I feel extremely confident moving around, on the run," he said. "Even last year, I never said I'm a running quarterback. I never want to be. But I'll find ways to extend time in the pocket and make plays down the field. I don't think that's ever going anywhere."
Eagles coach Doug Pederson isn't going to alter his game plan or his philosophy to accommodate a quarterback returning from injury, even if it's the face of the franchise.
"I'm not going to coach scared. I'm not going to coach paranoid," Pederson said. "I'm not going to go in thinking, 'Oh no, we can't do 'this,' we can't do 'that.' We just have to continue to go play and I (have) to coach that way. That's where the confidence with the team comes, by doing that."
Here are some things to know about the Colts-Eagles matchup:
REICH'S RETURN:
Colts coach Frank Reich was Philadelphia's offensive coordinator the previous two seasons and is one of the most liked guys to come through the team's building. He has a close relationship with Pederson and texted back and forth with him this week.
"I am as close with Doug as I am with anybody in this profession," Reich said. "I just think the world of him. I think he's a superior coach. He's an incredible coach and an incredible person."
The familiarity could give the Colts an advantage.
"We feel like they know us and we know them, even though we don't see each other every year," Pederson said. "I'm excited to see Frank again. But at the same time we're up on the things that he could make them aware of."
FAVORITE TARGET
Wentz will have Jordan Matthews back in the huddle with him. Matthews was traded to Buffalo last August but signed with the Eagles this week to bolster a depleted receivers corps. He was Wentz's top target in 2016 and the two were close friends off the field.
"Obviously, with Jordan, I feel good with him," Wentz said. "He was gone only one season. He's picking up things pretty quickly."
CAPTAIN ANDREW
The Colts got Andrew Luck back in Week 1 after playing without him for an entire season. Luck is benefiting from Reich's new offense that's designed for quick passes. His completion rate is 71.4 percent, but he does have three picks.
"I feel I have a lot to improve on and that's exciting," Luck said. "It makes practice fun.
BURNED DEEP
Ryan Fitzpatrick torched Philadelphia's secondary last week in Tampa's 27-21 win, throwing for 402 yards and four TDs, including a pair of 75-yard scores. The Eagles know they have to eliminate the big plays.
"We were a sloppy defense in that game," defensive coordinator Jim Schwartz said. "Our tackling wasn't as good as it normally is, our technique wasn't as good as it normally is. Our pursuit and things like that got a little bit sloppy at times. We need to do a better job."
MISSING MAN
The Eagles traded up in the second round to select tight end Dallas Goedert and expectations were high after an impressive preseason. But Goedert has only played 34 snaps and has one catch through two games. Considering the Eagles were missing two of their top three receivers last week, it's surprising Goedert wasn't part of the offense.
"We have a talented player in Dallas, and we need to find more ways to get him involved," offensive coordinator Mike Groh said.
---
---