Emmanuel Sanders
Emmanuel Sanders
Both Fox and the Broncos play down their reunion
Published
Nov. 19, 2015 1:21 a.m. ET

ENGLEWOOD, Colo. (AP) Buried in the story line of Peyton Manning's benching is the subplot of John Fox facing his former team Sunday when the Denver Broncos visit the Chicago Bears.
''We're all human, so emotion's going to be involved,'' said Bears QB Jay Cutler, whose own NFL roots were planted in Denver. ''But he's a professional. He's been in this for a long time. He's going to approach this game like we have the other ones.''
The Bears (4-5) wobbled through the first half of their season, but back-to-back wins at San Diego and St. Louis have them in the NFC wild-card hunt. The Broncos (7-2) are coming off back-to-back losses and fourth-year pro Brock Osweiler makes his first NFL start Sunday.
Osweiler is one of 37 players on Denver's roster that Fox coached, and 10 members of his staff are also still with the Broncos.
''This is my eighth team, third as a head coach. So, there's not too many games where you're not playing against your old team,'' Fox said. ''So, it still counts the same.''
Fox may see some familiar faces, but there are also a lot he won't recognize.
Defensive coordinator Wade Phillips has changed Denver's defensive scheme, replacing Jack Del Rio's conservative 4-3 front with an aggressive 3-4 look. And head coach Gary Kubiak has drastically altered the offense, ditching the multiple receiver sets for a run-oriented zone-blocking scheme, albeit one he had to modify for Manning's sake.
The 39-year-old was benched in the third quarter last weekend and won't be suiting up Sunday. He's dealing with ailments that are all connected to his throwing motion: a throbbing left foot, aching right shoulder and sore ribs. Manning leads the league with 17 interceptions and his career-worst 67.6 passer rating is lower than Tim Tebow's 72.9 in 2011.
Cutler said he sympathized with Manning because changing systems is ''never easy to do. I've done it multiple times. But a guy who's played this same system for 16, 17 years and have to change, that's not an easy task by any means. But he's got a lot of injuries and at that age - I'm 32 and it takes me a little bit longer to get over stuff and get ready for a game - so I'm sure for him, that's a difficult process.''
As for the Bears, they're the opponent who knows Osweiler the best.
''I wouldn't look at it like that,'' Osweiler said. ''Yeah, coach Fox knows a lot about us, but we also know a lot about him. I think it's going to be a great football game.''
Fox had the same take on Osweiler.
''We're very familiar with him, spending the last few years with him. He's a smart guy, he's not afraid to work. I think from a preparation standpoint, he's learned from probably one of the better guys to play the position,'' Fox said. ''So, I'm sure he'll be very well-prepared and hopefully we will be, too.''
The Broncos opened as 5 1/2-point underdogs but the betting was so heavy on Denver that the line moved to a single point by midweek.
Fox was 46-18 in the regular season in Denver, winning all four AFC West titles during his tenure. As GM John Elway complained, however, Fox's teams didn't go down ''kicking and screaming'' in the playoffs, losing their last game of a season by a combined 150-66 under Fox.
''It was a good run, no doubt, I have great memories and some not so good, on the other side of it,'' Fox said. ''But all in all, I had an opportunity to come be a Chicago Bear and at this stage, I'm very, very happy with where I'm at and what I'm doing now.''
As his team was preparing to hit the field in the playoffs last year, there were already reports that in the event of another playoff pratfall, Fox was interested in coaching the Bears.
Fox's farewell was a stunning 24-13 loss at home that afternoon to the Colts.
''That's a good football team,'' Fox said, adding, ''you always regret losses.''
Other than that, he didn't want to discuss his departure.
The Broncos aren't into sentimentalities this week, either.
Two weeks after their whipping of Green Bay had the city buzzing with Super Bowl talk, they're only focused on snapping their two-game skid by helping their new QB get a win over their old coach.
''We've got a lot of love for Fox, so it's definitely nothing personal,'' said Denver nose tackle Sylvester Williams. ''It's kind of like if you play your brother, you definitely want to win. We've got that mindset. But there are no bad feelings. We had a great time while he was here, we had a great run.''
NOTES: Kubiak said an MRI on Manning's sore ribs didn't reveal any serious issues. ''Everything was fine,'' Kubiak said. Manning wasn't even attending meetings this week but just spending his days with the athletic training staff, Kubiak said. ... D-linemen Vance Walker (shoulder) and Antonio Smith (hip) sat out practice Wednesday along with WR Emmanuel Sanders (ankle), Manning, TE Owen Daniels (rest) and DeMarcus Ware (back).
---
AP NFL website: www.pro32.ap.org and www.twitter.com/AP-NFL
---
---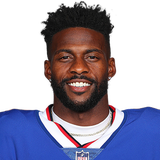 Get more from Emmanuel Sanders
Follow your favorites to get information about games, news and more
---