Jabari Parker
Jabari Parker
Wizards seek better result vs. Antetokounmpo, Bucks (Dec 26, 2016)
Published
Dec. 25, 2016 4:04 p.m. ET

WASHINGTON -- The home-and-home series conclusion against the Milwaukee Bucks provides the Washington Wizards a chance for some post-Christmas redemption.
If the rematch follows a similar path to the opener, it may be time to wonder if Giannis Antetokounmpo has reached superstar status.
The Bucks' all-everything forward scored a career-high 39 points in Milwaukee's 123-96 rout over Washington on Friday. Antetokounmpo sank 15 of 17 free throws to go with eight rebounds, six assists, two steals and 12 field goals, many of which were dunks and layups.
"It was alright," Bucks coach Jason Kidd joked about the dazzling performance. "We hold the bar a little bit higher. I thought the team played great. What was special about tonight for Giannis was that we didn't call his number, the ball found him and he delivered. He did the hard work, putting the ball in the basket."
The crowd chanted "M-V-P" for the lengthy Antetokounmpo in the fourth quarter with Milwaukee up 27 after he led the Bucks (14-14) to season-high 73 points in the first half for a 73-58 lead.
"My mind was going like 'wow,' but, I'm not there yet," Antetokounmpo said. "I'm going to keep working hard and keep helping my team to do great things."
The Wizards' (13-16) defense can only get better after allowing the Bucks to shoot 56.3 percent from the field.
"I think you're going to have like one out of every five games where you just get your (tail) beat," Wizards point guard John Wall said. "Tonight we just got our (tail) whooped in all phases of the game. We converted back to old defensive ways and that's not the way we can beat these guys."
The spotty effort came after a stretch of improved work. Washington went 6-2 before its worst performance of the season capped a three-game road swing.
Milwaukee scored a staggering 66 points in the paint. Power forward Jabari Parker had 21 points.
"Everything went wrong," Wizards coach Scott Brooks said. "They got back doors, they got offensive rebounds, straight line drives. We weren't good tonight, there is no way around it. They out-worked us, we have to do better. Too many points in the paint, too many layups, I think they had 20 layups in that first half. We can't do that, we can't expect to win on the road and give an athletic team easy buckets around the paint, that is what they do. We didn't make them play to their weaknesses at all."
Washington's defensive form was fine late in its 110-105 home win over Milwaukee on Dec. 11. The Wizards trailed 100-95 with 4:28 left, but outscored the Bucks 15-5 from there. Wall finished with 24 points and 11 assists. Bradley Beal scored 20 against Milwaukee, but had only 10 on 3 of 10 shooting in Friday's rematch, snapping a streak of eight straight games with at least 20 points.
Antetokounmpo had 28 points, 13 rebounds and seven assists at Washington.
Milwaukee had lost five of seven before Friday's win.
Wall, who had two knee offseason knee surgeries, is playing at a high level in December. The three-time All-Star is averaging 24.6 points, 10.1 assists and 2.7 steals through 12 games.
---
---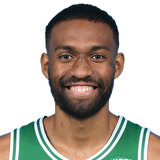 Get more from Jabari Parker
Follow your favorites to get information about games, news and more
---