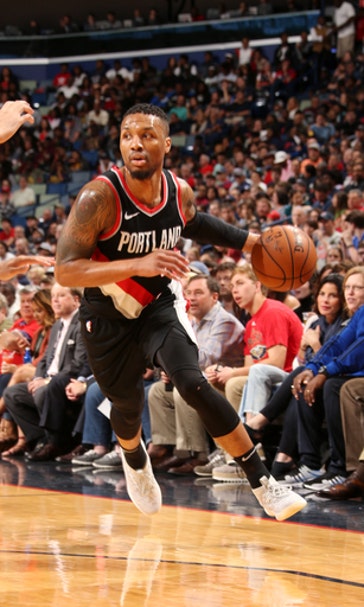 Lillard's 41 points lifts Blazers past Pelicans, 107-103
March 28, 2018
NEW ORLEANS (AP) Damian Lillard couldn't get out of New Orleans fast enough. The Pelicans could only wish the Portland All-Star had been in even more of hurry.
Lillard scored 20 of his 41 points in the fourth quarter to lift the Trail Blazers to a 107-103 victory on Tuesday night, then booked a flight straight home in hopes of arriving in time for the birth of his first child.
Lillard, who's been expecting a son, said he found out when he got back to the locker room after the game that his girlfriend had gone into labor. He said the message was along the lines of: ''Get home.''
He said he'd head straight to the hospital as soon as he landed.
''I'm excited. I've been waiting,'' Lillard said.
He'd stuck with his team as long as he could because the Blazers are in a tight playoff race, and the two teams closest behind them in the standings - Oklahoma City and New Orleans - are the past two they've played. They beat both to strengthen their hold on third place, moving 2 1/2 games ahead of the Thunder and 3 1/2 ahead of New Orleans with eight games left.
''We knew that these two were really, really big and I'm just happy I'm going to be able to get on that plane knowing we got these first two'' of the current three-game road trip, Lillard said.
Portland coach Terry Stotts said he planned to rest Lillard to start the fourth quarter, when the Pelicans led by four. Lillard asked to stay in the game, and made Stotts look smart for acquiescing.
''We were just fighting, fighting, fighting, and I was like, `Man, we've got to roll. I don't want to come out,''' Lillard said. ''I don't want the game to change, you know, them go on a run. I don't want anything to be out of my control and me not being able to have an impact on whatever happens.''
Lillard hit his first six shots of the fourth quarter, including two 3-pointers, to push Portland into its first lead since early in the first quarter. He continued to slice through converging defenders to convert difficult driving scoops and closed it out with game-sealing free throws with 1.3 seconds left.
Anthony Davis had 36 points, 14 rebounds and six blocks for the Pelicans, with 22 points coming after he rolled his right ankle and briefly came out of the game with 5:15 left in the third quarter. Jrue Holiday had 21 points, 11 assists and 11 rebounds for New Orleans, which has lost two straight.
After Holiday's block on Pat Connaughton with 20 seconds left, New Orleans wound up with two shots to tie or lead, but both of E'Twaun Moore's 3-point attempts rimmed out. The Blazers failed to rebound the first, but Connaughton corralled the second miss with 2 seconds left and quickly got the ball to Lillard, who was fouled.
''We're not going to get two better looks than that,'' Pelicans coach Alvin Gentry said. ''We got two wide-open 3-point shots with the guy we want shooting.
''If I do take a timeout, they have a chance to set their defense or whatever, so I would take those two open shots,'' Gentry added.
Jusuf Nurkic had 21 points and 10 rebounds for Portland, highlighted by his putback of C.J. McCollum's miss while being fouled by Moore with 3:55 left to give the Blazers a 96-95 lead. Evan Turner scored 14 points for the Blazers. Al Farouq Aminu added 10 points and 10 rebounds, including a crucial putback of Lillard's miss with 28 seconds left to make it 105-101.
New Orleans led by as many as 11 twice in the third quarter, the last time on Davis' 9-foot floater with 7:41 left in the period.
TIP-INS
Trail Blazers: Starting F Maurice Harkless was scratched from the lineup with left knee soreness. The Blazers announced after the game that Harkless would undergo arthroscopic surgery Wednesday in Portland to remove a loose particle in his left knee. ... Portland won its seventh straight on the road. ... McCollum missed 16 of 19 shots, going 1 of 6 from 3-point range, and finished with seven points. ... Portland was 10 of 32 on 3s.
Pelicans: Starting G Rajon Rondo, who missed New Orleans' loss at Houston on Saturday with a sprained right wrist, was scratched from his second straight game shortly before tip-off. ... Moore had 11 points. ... F Solomon Hill played a season-high 21 minutes in his fifth game back from offseason hamstring surgery. He finished with nine points, four assists and three rebounds. ... Holiday had two blocks, including one from behind on Lillard.
SECOND CHANCES
While Portland shot only 41.9 percent (44 of 105), the Blazers converted 17 offensive rebounds into 27 second-chance points. Aminu had seven offensive rebounds and Nurkic four.
''We come up with stop after stop after stop, but it doesn't matter if we're giving the ball back and they're putting it back in the basket,'' Gentry said.
UP NEXT
Trail Blazers: Visit Memphis on Wednesday night.
Pelicans: Visit Cleveland on Friday night.
---
More NBA basketball: https://apnews.com/tag/NBAbasketball
---
---