Al-Farouq Aminu
Al-Farouq Aminu
Leonard leads Spurs to 93-80 win over Trail Blazers
Published
Nov. 17, 2015 12:20 a.m. ET

SAN ANTONIO (AP) The San Antonio Spurs turned to a veteran when they needed a burst of energy.
Manu Ginobili scored 14 of his 17 points in the final quarter to help the San Antonio Spurs overcome a listless start and beat the Portland Trail Blazers 93-80 on Monday night.
''I think we all turned into fans on the bench watching him,'' San Antonio reserve guard Patty Mills said. ''He definitely saved us tonight offensively. Making shots and really doing what he's done for so long. But to be able to do it this year, it just goes to show his leadership and what he brings to this team. It was fun to watch him.''
Kawhi Leonard added 19 points and nine rebounds for San Antonio, which won its fifth straight overall and improved to 4-0 at home.
Former Portland standout LaMarcus Aldridge was held to six points and six rebounds, his lowest output since signing with the Spurs.
With Aldridge being held in check, the return of Leonard and Ginobili from one-game absences proved critical.
The Trail Blazers were playing the second game of a back-to-back after losing 106-94 in Charlotte, but were able to stifle the Spurs.
San Antonio and Portland both set season lows for points in the first half with the Trail Blazers' 28 points falling just four points of matching a franchise low.
The teams shot a combined 27 percent from the field in an erratic first quarter.
Ginobili helped ignite the offense.
Ginobili and Danny Green each had a 3-pointer during a 12-2 run that put San Antonio up 75-62 with 9 1/2 minutes left in the game. But the Spurs had trouble closing out the victory, just as they had in their previous game against winless Philadelphia.
Noah Vonleh's first 3-pointer of the season pulled Portland within 81-78, but they were unable to get any closer.
''We've just got to learn how to win,'' Blazer point guard Damian Lillard said. ''Against Memphis we gave ourselves a chance, but we don't know how to finish that game. Tonight we don't know how to finish this game. I think it's a matter of us learning how to win games.''
The run ended with Ginobili scoring San Antonio's next nine points, capped by a high 3-pointer. The Spurs backed Ginobili's personal 9-2 run with three blocks, including two against Lillard.
''I was very glad, that it happened,'' Ginobili said. ''They were not falling (early). We were taking good shots, it just sometimes happens. That's the great thing about playing good defense, we kept them at 80 and that's what gave us a (cushion). If we had played like this offensively in Portland, we would have lost by 20.''
Green and Boris Diaw each had 12 points and Tony Parker and Tim Duncan both added 10.
Lillard finished with 27 points and Al-Farouq Aminu added 17 points for Portland.
TIP-INS
Blazers: F Meyers Leonard missed his third straight game after getting tangled up with Kawhi Leonard on Nov. 11 and injuring his left shoulder. ... The Blazers have scored less than 20 points in a quarter five times this season, but never twice in a game until Monday. Portland's lowest output this season was 11 points in the fourth quarter of 120-103 loss to Detroit on Nov. 8.
Spurs: Leonard and Ginobili returned from one-game absences. Leonard had an upper respiratory infection and Ginobili sat out with a strained abductor. ... Aldridge and Leonard are the only players to lead the team in scoring this season, with Leonard leading the way six times.
HOLD UP
San Antonio has performed better defensively than offensively to start the season, which isn't what they expected despite a history of solid defense.
''We thought we were going to be a little better offensively,'' Ginobili said. ''We are still not moving the ball that well and we've got to find a better equilibrium,'' Ginobili said.
UP NEXT
Blazers: At Houston on Wednesday.
Spurs: Host Denver on Wednesday.
---
---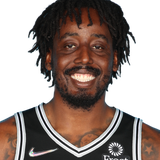 Get more from Al-Farouq Aminu
Follow your favorites to get information about games, news and more
---