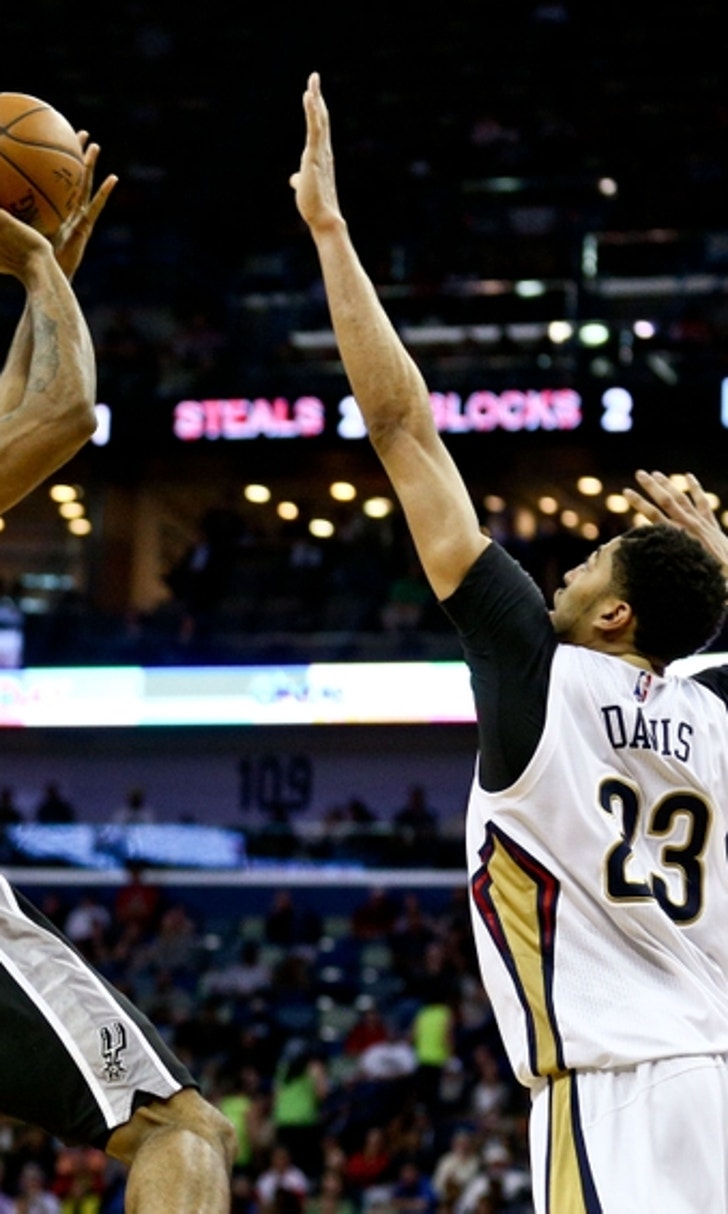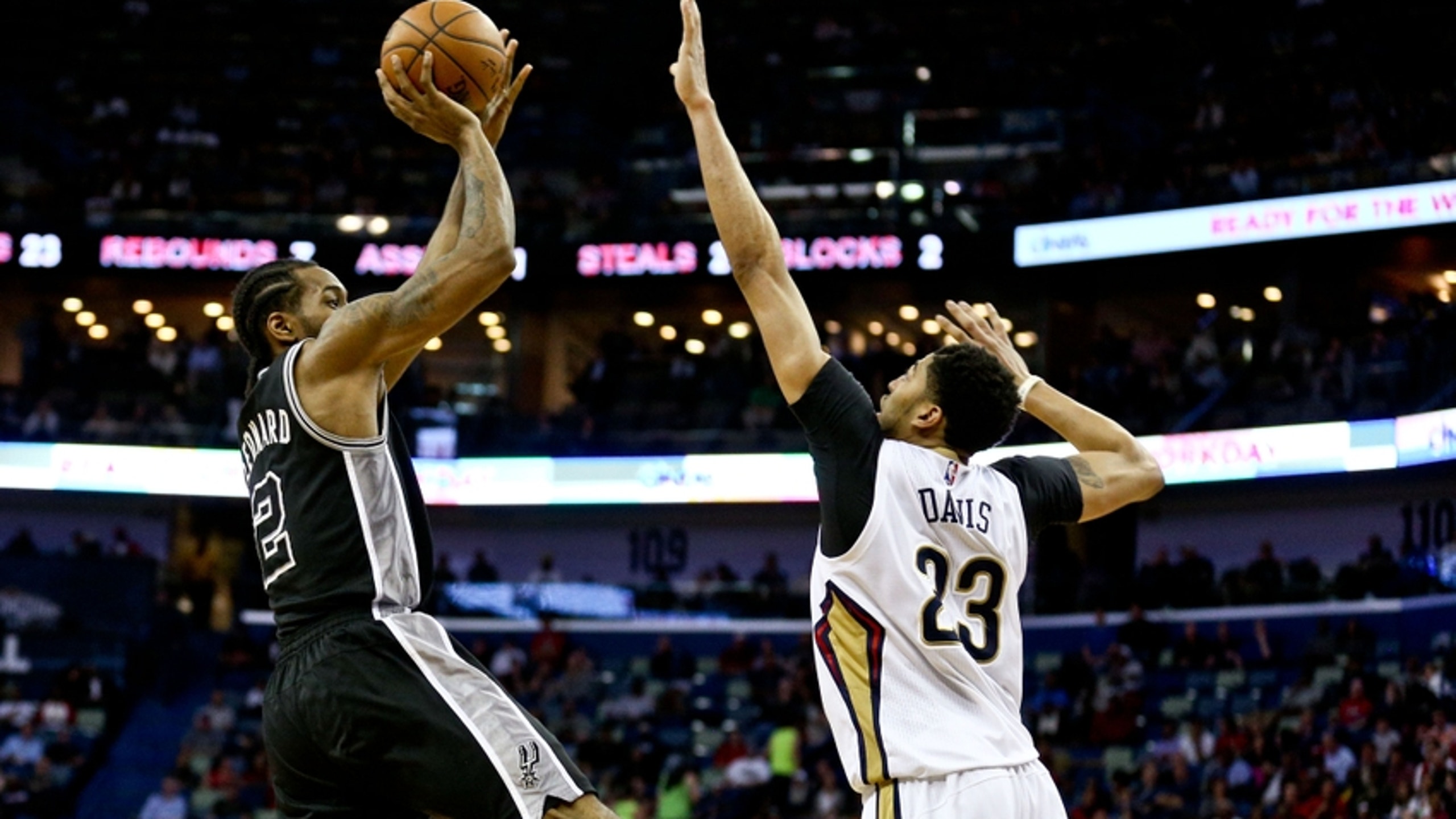 Game Preview: New Orleans Pelicans look for tough win against San Antonio Spurs
BY Fansided and Brendon Kleen/FanSided via Pelican Debrief • December 18, 2016
Mar 3, 2016; New Orleans, LA, USA; San Antonio Spurs forward Kawhi Leonard (2) shoots over New Orleans Pelicans forward Anthony Davis (23) during the fourth quarter of a game at the Smoothie King Center. The Spurs defeated the Pelicans 94-86. Mandatory Credit: Derick E. Hingle-USA TODAY Sports
Fresh off of trouncing in Houston, the New Orleans Pelicans (9-19) stay in Texas to battle their longtime rival San Antonio Spurs (21-5).
The New Orleans Pelicans have historically had success against the San Antonio Spurs in the Anthony Davis era. It just so happens that the Spurs' biggest strength over the last five seasons has been their frontcourt, from Tim Duncan to LaMarcus Aldridge. Of course, that is clearly the Pelicans' biggest strength with Davis around.
This year even more than the last several, the emphasis is clearly on Kawhi Leonard on both ends of the ball. He has become a perennial MVP candidate– someone who can change comes with his defense or his offense. This year, he's posting a line of 24.5 points, 6.0 rebounds, 3.1 assists, and 2.0 steals per night.
However, unless coach Greg Popovich elects to sic Leonard on Davis, the Pelicans need not fear Kawhi. They don't have a scorer whose abilities will be negated by Leonard's. Instead, the Spurs will have to rely on getting Leonard involved defensively in other ways, from switching screens to changing match-ups over the course of the game. This idea has gained momentum over the past several days, and it really has been a blueprint to scoring on the Spurs.
The Pelicans will have to prey on those minutes when Gasol is on the court (expect Alexis Ajinca to start again), and put a less-talented player in Leonard's corner whenever possible. It's possible that Leonard guards Jrue Holiday at some point in the game, which could potentially allow the Spurs to switch the Holiday-Davis pick-and-roll. The Pelicans must be ready to take advantage in a split second, finding outlets around the court or beating individuals after the initial action.
On defense, the Spurs are a beatable group. Unless a specific player gets hot, you simply have to stay locked into your assignment and stay attentive. The Pelicans have been a solid defensive team this season outside of a few clunkers like Friday in Houston, so it is doable. Solomon Hill and Dante Cunningham will both be back to defend Leonard, and Aldridge was completely ineffective in the teams' last meeting.
Keep the game low-scoring, win your individual matchups, and hope for the best. The Spurs are 21-5 for a reason, but a blueprint exists for beating them. Healthy players is a great first step for the Pelicans. Now they must execute.
Mar 3, 2016; New Orleans, LA, USA; San Antonio Spurs forward LaMarcus Aldridge (12) is defended by New Orleans Pelicans forward Anthony Davis (23) during the second quarter of a game at the Smoothie King Center. Mandatory Credit: Derick E. Hingle-USA TODAY Sports
Who, When, Where and How to Watch
When and Where: The game will be played at 6:00 p.m. CT in San Antonio.
How To Watch: The game will be broadcast on Fox Sports New Orleans and NBA League Pass.
Injuries: 
New Orleans: Tyreke Evans (Right Knee), Tim Frazier (Right Wrist), Dante Cunningham (Knee) and Anthony Davis (Leg Contusion) are questionable. Quincy Pondexter (Left Knee) is out.
San Antonio: None, because of course.
Probable Starting Lineups:
New Orleans: PG Jrue Holiday, SG Buddy Hield , SF Solomon Hill, PF Anthony Davis, C Alexis Ajinca
San Antonio: PG Tony Parker, SG Danny Green, SF Kawhi Leonard, PF LaMarcus Aldridge, C Pau Gasol
Other Players to Watch: 
New Orleans: E'Twaun Moore, Terrence Jones, Anthony Brown, Reggie Williams and Langston Galloway
San Antonio: David Lee, Dewayne Dedmon, Patty Mills, Manu Ginobili, Jonathon Simmons, and Kyle Anderson
What's Next for the Pelicans?
The New Orleans Pelicans will stay on the road and travel to Philadelphia on Monday, where they will then play the 76ers on Tuesday night. Tip is scheduled for 6:00 p.m. CT.
Mar 30, 2016; San Antonio, TX, USA; New Orleans Pelicans power forward Dante Cunningham (44) drives to the basket as San Antonio Spurs small forward Kawhi Leonard (2) defends during the second half at AT&T Center. Mandatory Credit: Soobum Im-USA TODAY Sports
Who will Kawhi Leonard guard?
The great write-up I linked in the first slide is from CBSSpors' Matt Moore, who looked deeply into a phenomenon he calls the "Kawhisland". In short, the Spurs' opponents are leaving Kawhi Leonard's matchup out to dry against the league's best defender, and operating in a spaced-out, four-on-four setting in the rest of the halfcourt.
It has meant that the Spurs are a worse team statistically on defense when Leonard is on the court no matter what lineup is around him. That difference is especially alarming during the minutes he shares with big man Pau Gasol, one of the worst frontcourt defenders in the league. Those are generally the minutes at the beginning of each half, at the very least. The Pelicans have to capitalize.
No matter who starts out of the Hill/Cunningham duo, the Pelicans will have the perfect candidate to isolate on the Kawhisland and go to work. Neither player is a key part of what the Pelicans do on offense outside of shooting, and so the team will still be able to be effective on that end without their skills.
As always, the success of this plan is contingent upon Anthony Davis showing up in his usual way: 30 points, 12 rebounds, whatever.
It is also contingent upon Gregg Popovich not adapting on the fly (which he most certainly will do at some point) in a way that outsmarts the Pelicans' gameplan. Kawhi is a dangerous defender against positions one through four, and the Spurs also have good defense in players like Dewayne Dedmon, Kyle Anderson, and Danny Green.
Like most top-flight games for the Pelicans this year, it will require a nearly-perfect team effort to win.
More from Pelican Debrief
This article originally appeared on
---
---