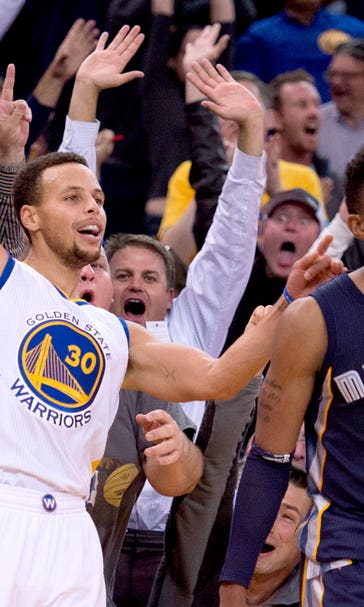 Curry, Warriors' latest trick? Hammer Grizzlies by 50 ... FIFTY!
November 3, 2015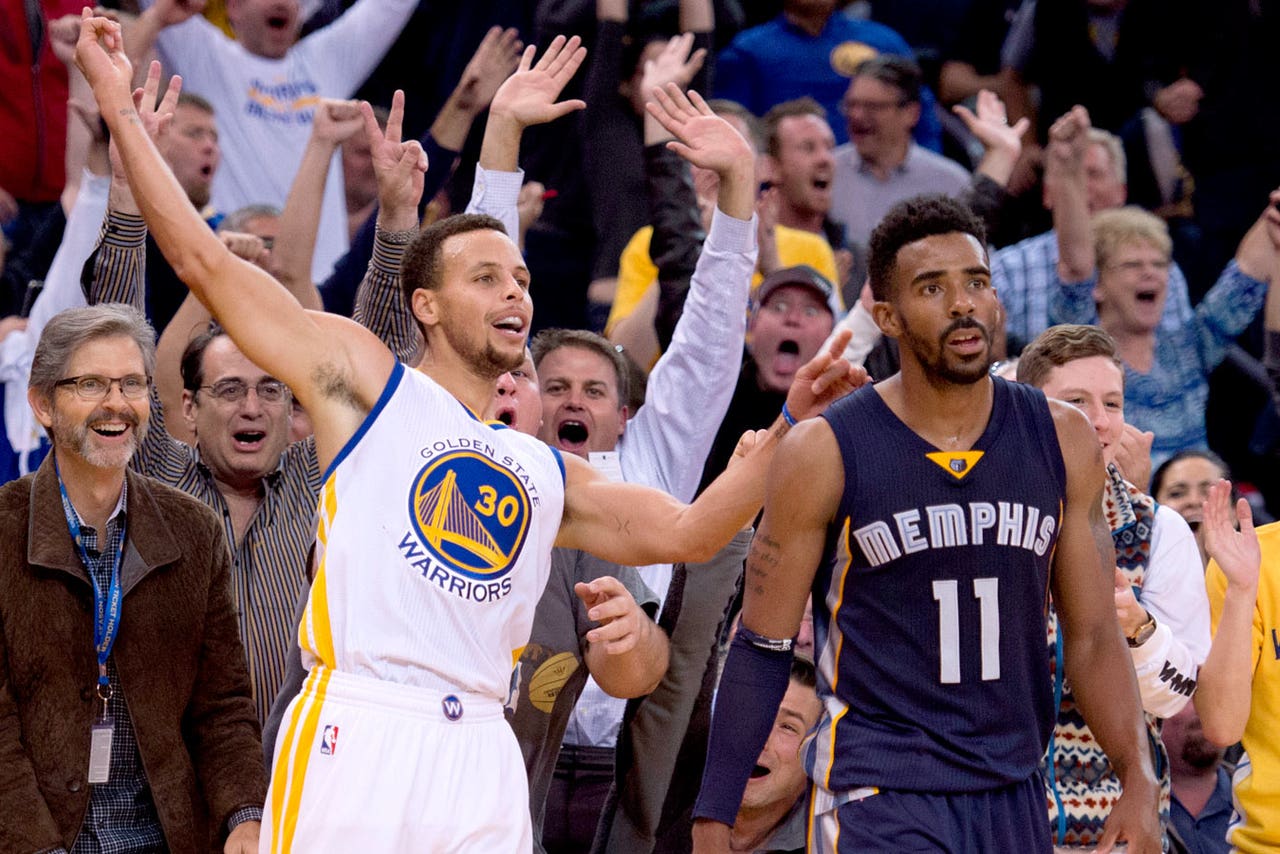 Stephen Curry scored 21 of his 30 points in an emphatic third-quarter stretch and the reigning NBA MVP followed up his 53-point performance from three days earlier with another gem to lead the unbeaten Golden State Warriors past the Memphis Grizzlies 119-69 on Monday night.
Curry did not play in the fourth quarter with his team up big after shooting 10 for 16 and hitting four 3-pointers to give him 21 through four games -- even after Grizzlies coach David Joerger joked before the game, "We're going to put three guys on him tonight."
Curry also had a huge third quarter with a career-best 28 points in Saturday's win at New Orleans, and he won Western Conference Player of the Week honors after averaging a league-best 39.3 points.
Festus Ezeli added 11 points and 10 rebounds filling in for injured center Andrew Bogut, and Curry scored 16 straight at one point in Golden State's franchise-record 20th straight win at Oracle Arena.
The Grizzlies starters combined to shoot 11 for 46, led by Marc Gasol's 13 points. They were outscored 72-27 over the second and third quarters.
All three of the Warriors' opponents in four games -- they faced the Pelicans twice already -- have been teams Golden State eliminated in last season's playoffs en route to an NBA championship. The Warriors beat the Grizzlies in six games in the Western Conference semifinals.
Curry made a steal and a driving hook shot with 6:28 left in the third to put Golden State ahead 75-40, and it eventually built a 46-point lead. He knocked down a 3-pointer a minute later and another about 30 seconds after that.
The Grizzlies kicked off a season-long five-game, nine-day road trip in forgettable fashion, going 3 for 23 from 3-point range.
TOUGH SCHEDULE
Joerger has most of it memorized when it comes to his team's early, tough schedule -- even if he didn't have the exact order right when he rattled it off before the game.
"Golden State, Sacramento, who has four days between games waiting for us, Portland, Utah, Clippers, then we go home to play Golden State, Houston, then Minnesota, Oklahoma City, Dallas and San Antonio," he said. "At this point, we know our first 25 games are very difficult."
BOGUT CONCUSSION
Bogut is still going through the NBA's concussion protocol after getting injured in last Tuesday's season opener against the Pelicans.
He did a workout Sunday but still needs to successfully get through a contact practice, interim coach Luke Walton said.
LIFE AS THE INTERIM
Yes, the pressure has come off a little bit for Walton given Golden State's strong start, yet he noted, "I have no off-the-court life anymore, it's nonexistent."
"A lot of relief," he said. "Big picture, I knew if we started off slow it wasn't the end of the world. But the NBA game is at a point now that there's so much media, so much social media that without Steve here if we would have lost a game or two early on it would have been a ton of stories all over the place."
TIP-INS
Grizzlies: The Grizzlies will host Golden State once home from the road Nov. 11. ... Memphis has lost its last three regular-season games in Oakland. ... Memphis shot 26 of 96 (27.1 percent).
Warriors: The Warriors have won their first four games by 10 or more points for the first time in franchise history. ... Golden State opens the season against five straight Western Conference playoff teams. Golden State hit 43 of 84 shots (51.2 percent).
UP NEXT
Grizzlies: At Sacramento on Tuesday night.
Warriors: Host Clippers on Wednesday night.
---
---