When Cubs need a game-winning shot, Javier Baez puts the ball in the basket
BY foxsports • October 8, 2016
CHICAGO -- Javier Baez dropped his bat, mic-drop style, and began his home-run trot.
"When he hit it," Cubs teammate Albert Almora Jr. said, "I thought it was going to land on the moon."
As it turned out, one of the more memorable home runs in Wrigley Field history nearly wasn't a home run at all.
"The wind," Baez told me in our postgame interview on FS1, flashing a huge smile. "I forgot about the wind."
Ah, Wrigley. Home of the wind, the ivy and – fortunately for the Cubs -- the basket that juts out from the top of the outfield wall.
Baez's towering shot landed in the basket, proving the decisive blow in the Cubs' 1-0 victory over the Giants on Friday night in Game 1 of their NL Division Series.
If not for the basket?
"Oh, catch," Giants left fielder Angel Pagan told reporters. "I was right under it. But that basket has been there forever. What can you do?"
Nothing at the end of this night of exquisite baseball. Something crazy had to happen for the Giants' Johnny Cueto or Cubs' Jon Lester to give up a run. Something did.
The Cubs finished with only three hits. Baez had two of them. But Cueto was throwing so well, Baez said he actually thought about trying to bunt for a base hit with one out in the eighth, only to reconsider when he saw third baseman Conor Gillaspie playing in.
The count went to 3-2, and then Cueto made one of his few mistakes, throwing a center-cut fastball. Baez pounced, unleashing his typically quick, violent swing, sending the ball soaring.
Cubs reliever Pedro Strop predicted it would happen. No, check that – Strop ordered Baez to make it happen.
In the dugout before the eighth inning, Strop began screaming at Baez in Spanish, using some words that were printable, some that were not.
"You better take charge of this game right now!" Strop recalled shouting. "You're the man! I'm telling you right now, I think you're going to do it!"
According to Strop, Baez replied, "Wait a second. I'll do it right now."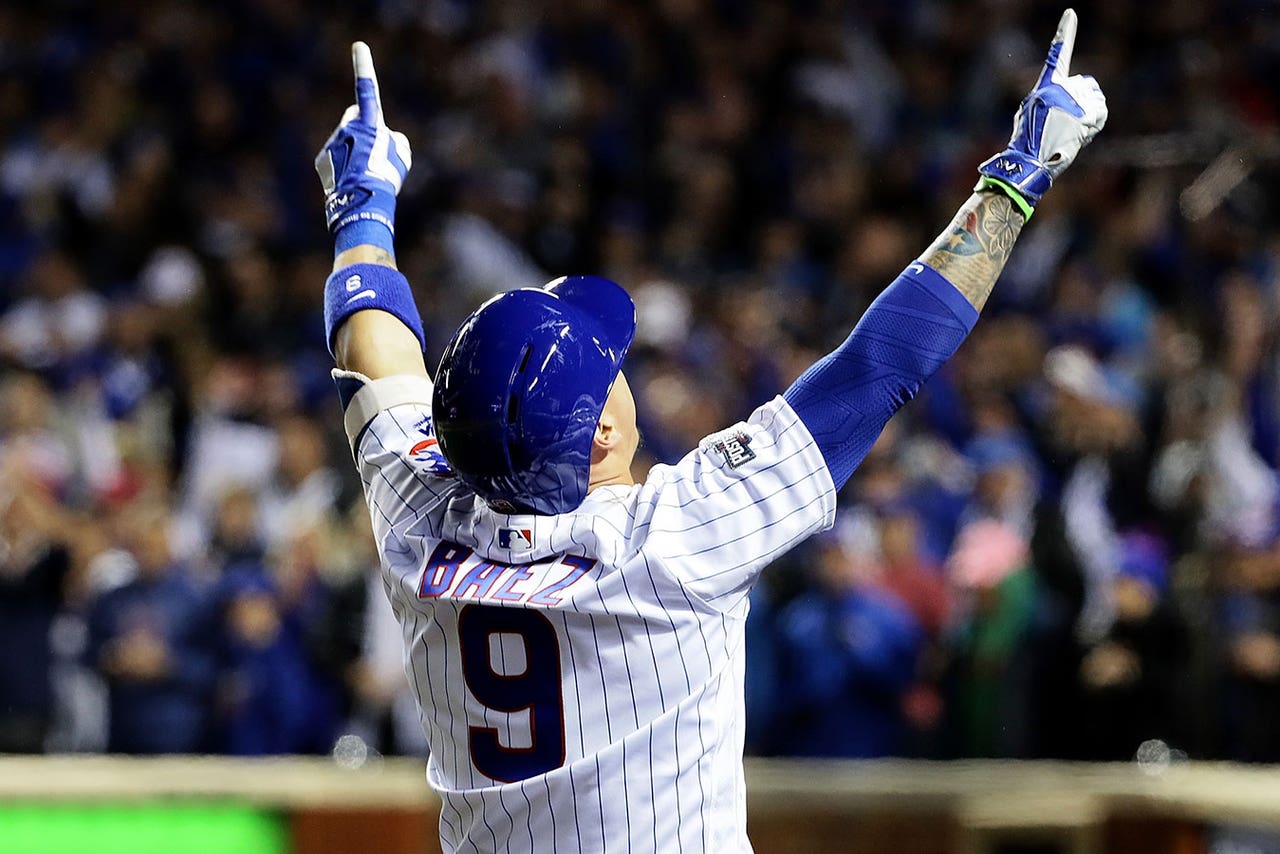 Baez, 23, surely was caught up in the moment, but the Cubs know that he can pull off just about anything he wants on a baseball field.
During the regular season, Baez was a major factor in the Cubs converting batted balls in play into outs at a higher rate than any team since the 1982 Padres, according to STATS LLC. The Cubs consider him their best defender, and deploy him where they think groundballs are more likely to be hit.
That's why Baez was at second base Friday night, even though the Giants stacked their lineup with right-handed hitters against the left-handed Lester. Manager Joe Maddon said the Cubs believed that there would be more action in the middle of the field, and he loves the way Baez tags, handles popups and turns double plays.
Sure enough, the game ended with the Giants stranding the tying run at second after Baez fielded a bouncer by Hunter Pence and threw across his body for the out at first.
In the third inning, Baez actually contributed as a momentary first baseman, making a swipe tag after the Cubs went into a bunt defense and "back-picked" Gillaspie on a perfect throw by catcher David Ross.
Afterward, Ross told reporters that Baez was "the best defensive player he has ever played with." Strop spoke of a moment a few months back when Baez was "down" because he wasn't playing regularly.
"You're not a normal backup," Strop said.
No, Baez is Maddon's beloved "Swiss Army knife," providing utility all over the infield. He actually finished seventh on the team with 421 at-bats, batting .273 with 14 homers and a .737 OPS. And while he still hardly walks, he improved his strikeout rate and – equally important from Strop's perspective – proved a good teammate.
"He understands his role," Strop said. "You don't see that with young guys. Young guys are always bitching, 'I want to play.' They blame everyone because they don't play every day. I've been with young guys like that before. But he's mature. He's ready for anything."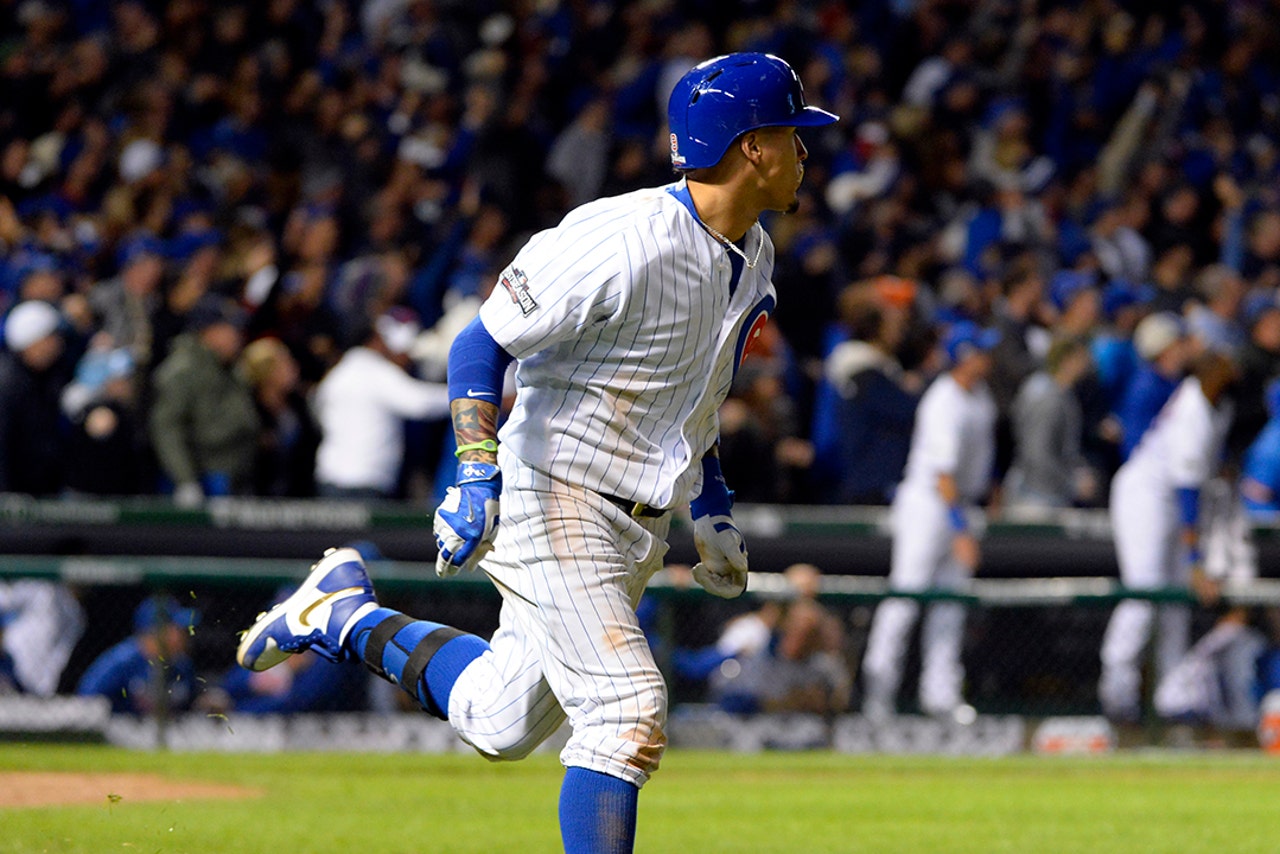 Friday night provided merely the latest example. The homer was the headliner, but Maddon also raved about Baez's previous at-bat, a single to right off Cueto in the fifth inning.
"Listen, he's got plenty of power. When he gets enough opportunity, meaning enough at-bats, he's definitely a 20-plus home run guy," Maddon said. "But I love the base hit to right field, actually.
"I don't think it's any coincidence that he ended up hitting a home run because (of) what he had done in his earlier at-bats . . . he was up there working good at-bats, he wasn't trying to do too much. Even the home run, I mean, it wasn't his 'A' hack, but it was in an area that he can do that with, so he didn't try to force something."
Well, if it wasn't Baez's "A" hack, it was at least an "A-minus." And Strop vowed that he would yell at his younger teammate again if such inspiration was warranted.
"If I feel like I have to do it, I'll do it," Strop said, laughing. "Wake him up."
---
---