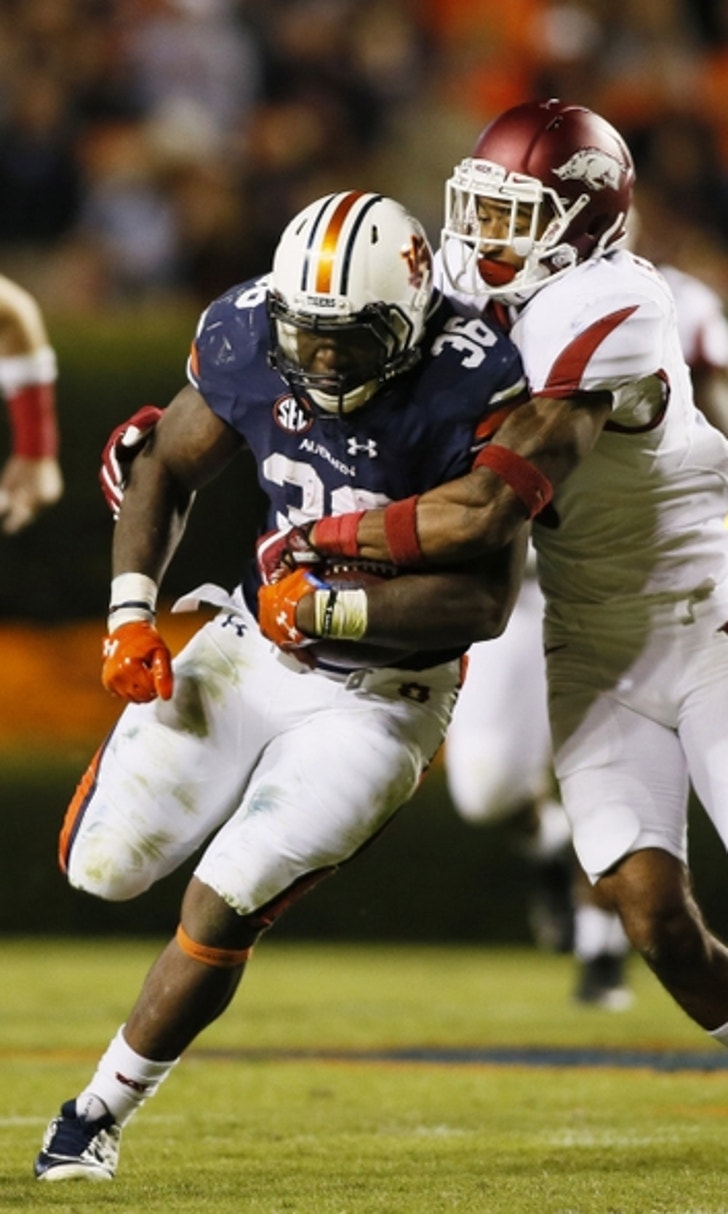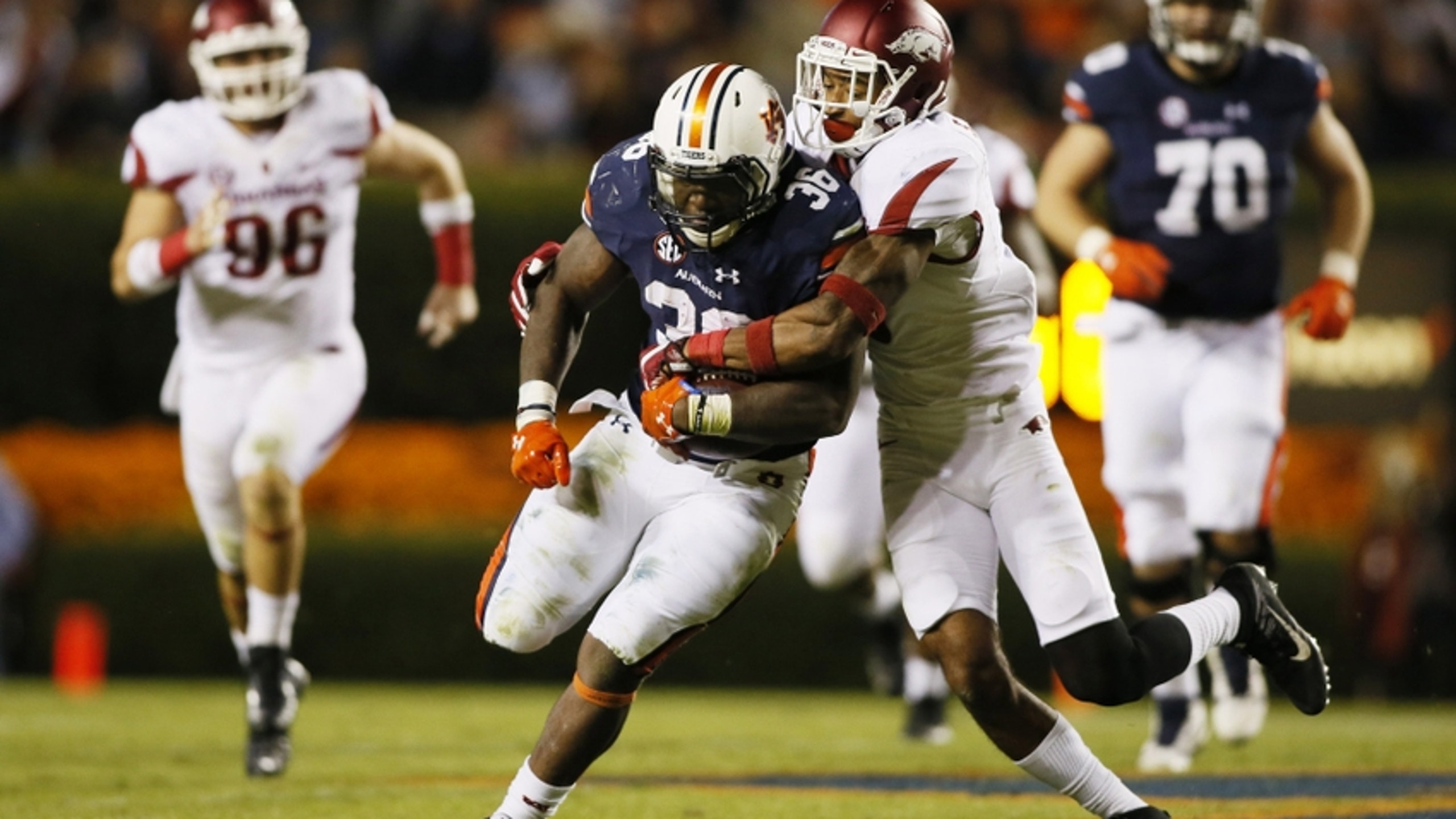 SEC Football: Game Balls: Top Performers from Week Eight
BY foxsports • October 25, 2016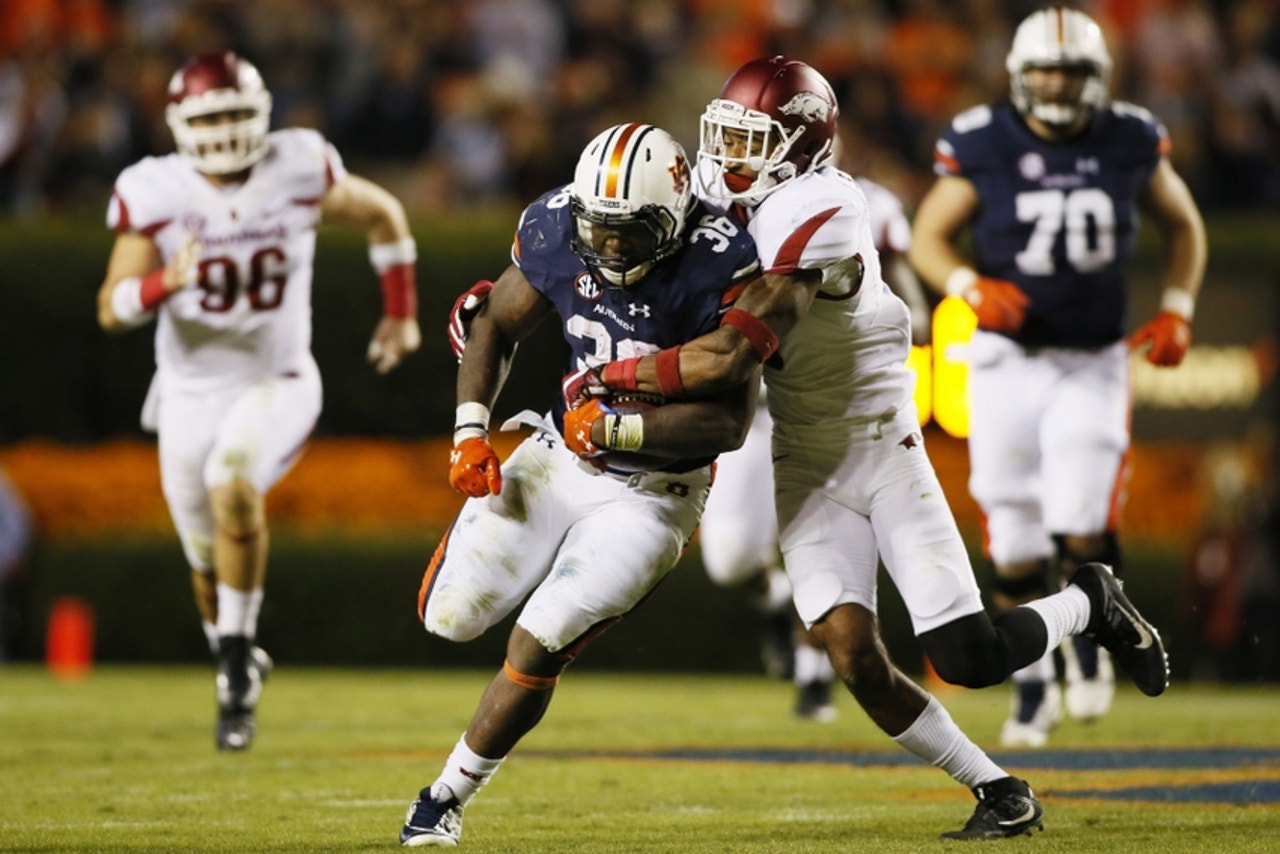 Oct 22, 2016; Auburn, AL, USA; Arkansas Razorbacks defensive back Santos Ramirez (9) tackles Auburn Tigers running back Kamryn Pettway (36) during the third quarter at Jordan Hare Stadium. The Tigers beat the Razorbacks 56-3. Mandatory Credit: John Reed-USA TODAY Sports
Hello there. Welcome to our weekly "Game Balls" column here at Southbound and Down. In this column, we will give you our picks for who the top performers on offense, defense, and special teams from SEC Football were this week. Though some overlap may occur, this is not a re-posting of the SEC's Players of the Week.
In addition to the top performer, we will also give you two "Honorable Mentions" for each category. If you are reading the article and think that someone was snubbed, or even omitted entirely, then please let us know in the comment section.
Below their names, I will attempt to tell  you a bit about the player's performance this week. That way you can see why I felt they deserved a Game Ball. But again, if you think someone else performed better, let us know.
This week there were several big games happening across the conference, and thus there were many players who performed at a high level for their teams. This did make it tough to decide who should get the "Game Balls" this week. Nevertheless, we here at Southbound and Down have powered through and will give you what you came to see.
Some players on losing teams perhaps deserve to be on this list. However, if a player can't lead his team to a win, then that is a pretty big knock against them. For a player on a losing team to make our list he must perform virtually flawlessly.
Well, without further ado, let's just dive on in. We will start with the offensive "Top Performer" and the two offensive "Honorable Mentions." Click on the handy link below to see who gets the offensive "Game Ball" this week.
Oct 22, 2016; Baton Rouge, LA, USA; LSU Tigers running back Leonard Fournette (7) runs past Mississippi Rebels linebacker DeMarquis Gates (3) during the second half of a game at Tiger Stadium. LSU defeated Mississippi 38-21. Mandatory Credit: Derick E. Hingle-USA TODAY Sports
Offense: Leonard Fournette, RB, LSU
Leonard Fournette has missed time this season due to a nagging ankle injury. In this week's clash with Ole Miss, he finally looked like his old self. He rushed for 284 yards on just 16 carries, and led his team to a victory over Ole Miss.
On the day, Fournette scored three times and averaged an absolutely ludicrous 17.8 yards per carry. When he's healthy, Fournette is simply the best running back in the entire country. This week he'll have a chance to rest up for the showdown against Alabama. I fully expect him to get more than 31 yards this season.
Honorable Mentions:
Oct 22, 2016; Columbia, SC, USA; South Carolina Gamecocks quarterback Jake Bentley (4) passes against the Massachusetts Minutemen in the second quarter at Williams-Brice Stadium. Mandatory Credit: Jeff Blake-USA TODAY Sports
Kamryn Pettway, RB, Auburn
In the absence of Kerryon Johnson, Auburn elected to feed the big man. And the big man ate. He carried the ball 27 times and gained 192 yards and scored two touchdowns.
Pettway is a big threat, both literally and figuratively. He is tough, but also surprisingly fast for a man of his stature/ If Gus Malzahn knows what's good for him he'll keep giving Pettway the ball.
Jake Bentley, QB, South Carolina
The South Carolina quarterback situation has been tumultuous this season. Both Perry Orth and Brandon McIlwain have started and been inconsistent at best. This week, Will Muschamp turned to yet another contender, in the form of true freshman Jake Bentley.
And Bentley played very well. He completed 17 of his 26 passes for 201 yards and two touchdowns. And, most importantly he didn't turn the ball over. UMass is not exactly a juggernaut, but still, Gamecock fans have to be encouraged by the young man's debut.
Oct 22, 2016; Tuscaloosa, AL, USA; Alabama Crimson Tide defensive lineman Jonathan Allen (93) returns a fumble for a touchdown against the Texas A&M Aggies during the third quarter at Bryant-Denny Stadium. Mandatory Credit: John David Mercer-USA TODAY Sports
Defense: Jonathan Allen: DE, Alabama
Jonathan Allen is a terror off the edge and in the middle. He undoubtedly took a few years off of Trevor Knight's life when he sprang over Trayveon Williams and into Knight's midsection like a heat-seeking missile. Allen finished the game with six tackles, one sack, and four quarterback hurries.
In addition, Allen made an impact on the scoreboard. After a fumbled exchange Allen scooped up the ball and rumbled 30 yards for a touchdown. It was his second of the season so far. As someone who was present, I can tell you that Bryant Denny Stadium nearly exploded when the big man went into the end zone.
Honorable Mentions:
Oct 1, 2016; Auburn, AL, USA; Auburn Tigers lineman Montravius Adams (1) blocks the field goal attempt of UL-Monroe Warhawks kicker Craig Ford (16) during the second quarter at Jordan Hare Stadium. Mandatory Credit: John Reed-USA TODAY Sports
Montravius Adams, DT, Auburn
Speaking of talented defensive linemen, Auburn has a few of their own. Though he is often overshadowed by Carl Lawson, Montravius Adams is still a great player. This week against Arkansas, he had five tackles, two tackles for a loss, half a sack, and two quarterback hurries.
Adams, along with the aforementioned Carl Lawson, are the stars of one of the conference's best defensive lines. This week, they completely dominated the Arkansas Razorback offensive line. If they can continue to play at a high level, they will be extremely tough to move the ball on.
Duke Riley, LB, LSU
In the game against Ole Miss, Duke Riley was all over the field. He racked up a team-leading 14 tackles and also pulled down an interception. Riley is a talented senior who has double-digit tackles in three of LSU's games so far this season.
Oct 22, 2016; Lexington, KY, USA; Kentucky Wildcats kicker Austin MacGinnis (99) shakes hands with Mississippi State Bulldogs lineman Tiberias Lampkin (45) after kicking the game winning field goal against the Mississippi State Bulldogs in the second half at Commonwealth Stadium. Kentucky defeated Mississippi 40-38. Mandatory Credit: Mark Zerof-USA TODAY Sports
Special Teams: Austin MacGinnis, K, Kentucky
Austin MacGinnis proved to be the hero of the day against Mississippi State this weekend. He hit a 51 yard field goal with no time remaining to give the Wildcats a two point victory. It was his fourth field goal of the game. He also connected from 32, 46, and 32 yards. He also made both of his extra points on the night.
Honorable Mentions:
Oct 1, 2016; Auburn, AL, USA; Auburn Tigers kicker Daniel Carlson (38) kicks to the UL-Monroe Warhawks during the second quarter at Jordan Hare Stadium. Mandatory Credit: John Reed-USA TODAY Sports
Daniel Carlson, K, Auburn
Daniel Carlson did not get a chance to kick a field goal against Arkansas due to the effectiveness of his offense. However, he did make all eight of his extra points. Carlson is the best kicker in the country and should be drafted this spring into the NFL.
Colby Delahoussaye, K, LSU
Delahoussaye made his only field goal attempted against Ole Miss. It was from 44 yards out. He also made all five of his extra point attempts. Delahoussaye is a solid college kicker.
Thank You!
Thank you so much for reading. I hope you enjoyed the article. If so, be sure to like us on Facebook and follow us on Twitter. Also, share your own top performers in the comments below. Finally, check in again next week to see who gets a "Game Ball" in Week Eight.
More from Southbound and Down
This article originally appeared on
---