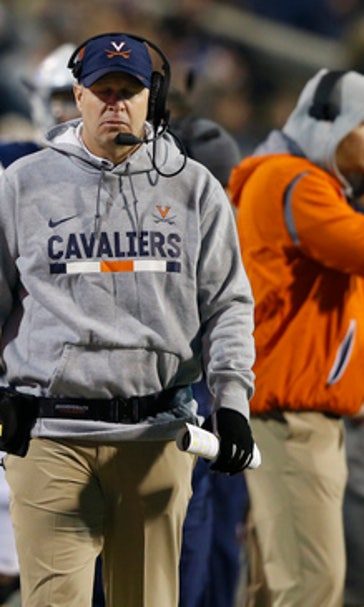 Jackson's 19th TD pass, Hokies 'D' stops Virginia, 10-0 (Nov 24, 2017)
November 25, 2017

CHARLOTTESVILLE, Va. (AP) Virginia Tech defensive tackle Ricky Walker's eyes got wide when he heard the number: The No. 24 Hokies held Virginia to 5 rushing yards Friday night, and 191 yards in all, in a 10-0 victory. It was their 14th straight win in the series and third shutout of the season.
''To shut out somebody is pretty hard nowadays,'' the redshirt junior said. ''I'm proud, man. That's great.''
The Hokies did it with a familiar formula, even with several defensive starters not even making the trip because of injuries.
''We were a little bit of a MASH unit coming in here,'' defensive coordinator Bud Foster said. His unit was without safety Terrell Edmunds, defensive lineman Vinny Mihota and linebacker Mook Reynolds, all because of injuries, and never let Virginia deeper than the 23 yard-line.
''They understand the expectations around here, Foster said of defenders like Houshun Gaines, who made his first career start at defensive end and recovered a fumble to set up the Hokies' touchdown, Emmanuel Belmar, who started at the other end spot, and Khalil Ladler, who started in place of Reynolds, the team's No. 3 tackler. ''This is a big game. It's a big game for a year,'' Foster added.
Josh Jackson turned the fumble recovery on the second play of the second half into a touchdown in four plays. He hit Chris Cunningham in the back left corner of the end zone after the Cavaliers defenders bit on a run fake, and the defense did the rest to keep the streak alive.
''I think it's probably the best team win of the year,'' Walker said.
The Hokies (9-3, 5-3 Atlantic Coast Conference), who won this game 52-10 last year, also had some luck on their side.
Virginia (6-6, 3-5) had two golden opportunities for touchdowns, but Juan Thornhill slipped after intercepting a pass with nothing but 60 yards of green grass in front of him. Later, speedy wide receiver Olamide Zaccheaus caught a slant pattern that looked like it might go 89 yards, but as he was just hitting his stride, he was caught from behind by Deon Newsome, the only player with a chance, after just 28 yards.
''Deon's pretty fast, Hokies coach Justin Fuente said. ''For him to get him on the ground so we could live to fight another day was huge.''
Jackson was thrilled to see Thornhill go down after jumping a route.
''I would have had to make a tackle, so I guess it's good that he fell,'' he said,
The Hokies remain unbeaten against Virginia since joining the ACC in 2004, but Virginia coach Bronco Mendenhall was encouraged.
''The gap has closed and that's obvious, I think, to anyone,'' he said. ''But not enough to where we won the game.''
After the first six series of the game ended in punts, Brian Johnson, subbing for Virginia Tech's injured career field goal record-holder Joey Slye, kicked a 30-yard field goal early in the second quarter. Jackson later converted a lost fumble by Virginia's Chris Sharp on the second play of the second half. After a 25-yard pass to Hezekiah Grimsley to start it, he finished it with an 8-yard scoring pass to Cunningham.
It was the redshirt freshman's 19th touchdown pass of the season.
The Cavaliers' best two penetrations into Hokies territory ended in a missed 41-yard field goal try just before halftime, and a comedy of errors in the fourth quarter. With the crowd exhorting the home team, Kurt Benkert drove them to the Hokies 30 and appeared to have hit Doni Dowling with a 16-yard pass. But a review overturned the call, and Dowling was whistled for unsportsmanlike conduct after the following play for pushing a Virginia Tech player. A few plays later, defensive end Andrew Brown was ejected for a personal foul on the sideline.
THE TAKEAWAY
Virginia Tech: The Hokies aren't asking Josh Jackson to do as much in the passing game as they did earlier in the season, and the return of Steven Peoples from injury and the emergence of Deshawn McClease seems to have eased the pressure on Jackson to be their most effective player. By avoiding throws into trouble, that get him into trouble, and relying on the players around him to make plays and the defense to shine, he gives Virginia Tech the chance for another 10-win season.
Virginia: The Cavaliers finished with 11 rushing yards on 20 attempts, and that put the onus on a marginal offensive line to give Benkert time to lead the offense against a defense that historically finds a way to make quarterbacks uncomfortable. Benkert was sacked four times and finished 17 for 34 for 186 yards. ''We needed to make them one-dimensional when all was said and done,'' Foster said.
TIDBITS
Hezekiah Grimsley had just two catches for 20 yards coming into the game, but added five for 56 yards. ... There was lots of post-whistle chippiness, but each team was only whistled for four penalties. ... Benkert's passing yardage moved him past Matt Schauib (2002) for the school's single-season record. Benkert (3,062 yards) is the first 3,000-yard passer in a season in Virginia history. ... Zaccheaus had four catches for Virginia and has 80 for 833 yards this season. ... The shutout was the Hokies' 34th with Bud Foster as defensive coordinator.
UP NEXT
The Hokies await their 25th consecutive bowl destination, the longest such streak in the country.
The Cavaliers await their first bowl destination since 2011.
---
Follow Hank on Twitter: www.twitter.com/hankkurzjr
---
More AP college football: http://collegefootball.ap.org and https://twitter.com/AP-Top25
---
---