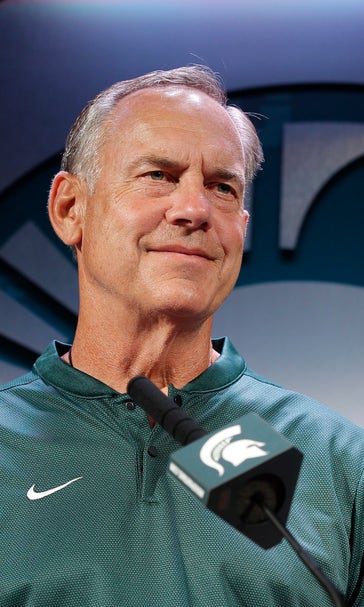 Football team tries to learn from Michigan State scandal
August 12, 2018
EAST LANSING, Mich. (AP) — Every now and then, when the Michigan State football team won't be together for a little while, it's a good time for another reminder.
Safety Khari Willis explained the message:
"It's me, Joe (Bachie), Brian (Lewerke), Grayson (Miller), Matt Morrissey reiterating: Make good choices," Willis said. "Be smart, nothing out of character, nothing stupid, and conduct ourselves in the right way."
No matter how many games Michigan State wins this season, it won't change the ugliness of the recent past. The Larry Nassar sex-abuse scandal — plus lingering off-field questions about the basketball and football programs — put the university under the kind of spotlight every school wants to avoid.
Amid that cloud, the leaders of this year's football team can only hope the right lessons have been learned.
"It's hard as young people today to make the right decisions all the time. We see that across the country everywhere," tight end Matt Sokol said. "A player-led team is always better than a coaches-led team, so I think we've done a good job as the leadership group on our team to really emphasize guys making the right decisions, representing our program the right way, representing your families back at home."
Like with Penn State and Jerry Sandusky, all of Michigan State faces being linked with Nassar for the foreseeable future after the former MSU and USA Gymnastics doctor was sent to prison for molesting women and girls who sought treatment.
And while Nassar's crimes didn't have anything to do with the football team, the program has had its own issues. Before last season, four football players were dismissed from the team amid sexual assault allegations and three pleaded guilty to reduced charges.
Early this year, around the time the Nassar scandal caused a shakeup in school leadership, ESPN reported allegations of sexual assault and violence against women involving Michigan State football and basketball players. The report questioned how the athletic department handled those cases over the years.
Athletic director Mark Hollis retired , but football coach Mark Dantonio responded by saying he's always worked with proper authorities when dealing with sexual assault cases. The school gave no indication that it doubts Dantonio, who is entering his 12th season as Michigan State's coach. University leaders have similarly stuck by basketball coach Tom Izzo.
The Spartans could easily contend for the Big Ten title after winning 10 games last season, but off-field issues never seem too far away. At Big Ten media days last month, Dantonio addressed the return of linebacker Jon Reschke, who left the team following the 2016 season after making an insensitive comment involving a former teammate. Dantonio said Reschke would need the support of the team's African-American players to return. He's currently on the roster.
"The one thing I want our football players to understand and to learn from is that — and to grow as people from — is that they're going to have to handle big, big issues at times," Dantonio said. "Such as standing for the flag or not, things we've endured at Michigan State in this past year, they're going to be a part of that, and they're going to have to weigh in on things."
Players say Dantonio has indeed emphasized off-field behavior.
"The way he worded it is: In critical moments of choice, make good decisions," Willis said.
Coaches all over the country put forth similar credos. That these reminders are necessary is a sign of how often programs can screw up.
Running back LJ Scott said it's unfortunate that it needs to be emphasized repeatedly. "It's all around the world, at almost every program," he said.
Scott had legal problems of his own last season, though less severe and resolved when he renewed a suspended driver's license. He received some ridicule and now calls that situation a life lesson. There have been plenty of those for the Spartans in recent years.
"Being at this program and being able to be here through all those things, it really gives you an eye opener on what's life like, and how on the front porch we are at this university," Scott said. "Like Coach D always say, a regular student that goes to this university, you probably won't hear as much, but one of us do it on this football team, everyone's going to hear it."
There will probably be times this season when it feels like business as usual at Michigan State — when the focus is mostly on the field as the team chases its fourth conference title in nine years. But the backdrop of MSU's problems is still there. That puts everyone under a little extra scrutiny.
"You just can't keep doing the same thing. The guys we have here, I think we're good guys," Scott said. "As long as Coach D always emphasize that — we know what's right from wrong. Not throwing no shade on anybody that went through those things while they were here, but the guys here are the guys here."
---
---