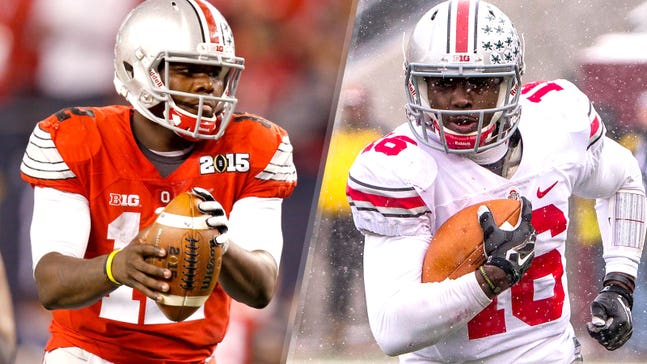 Big Ten QB rankings: An ocean separates Ohio State from the rest
Published
May. 4, 2015 2:00 p.m. ET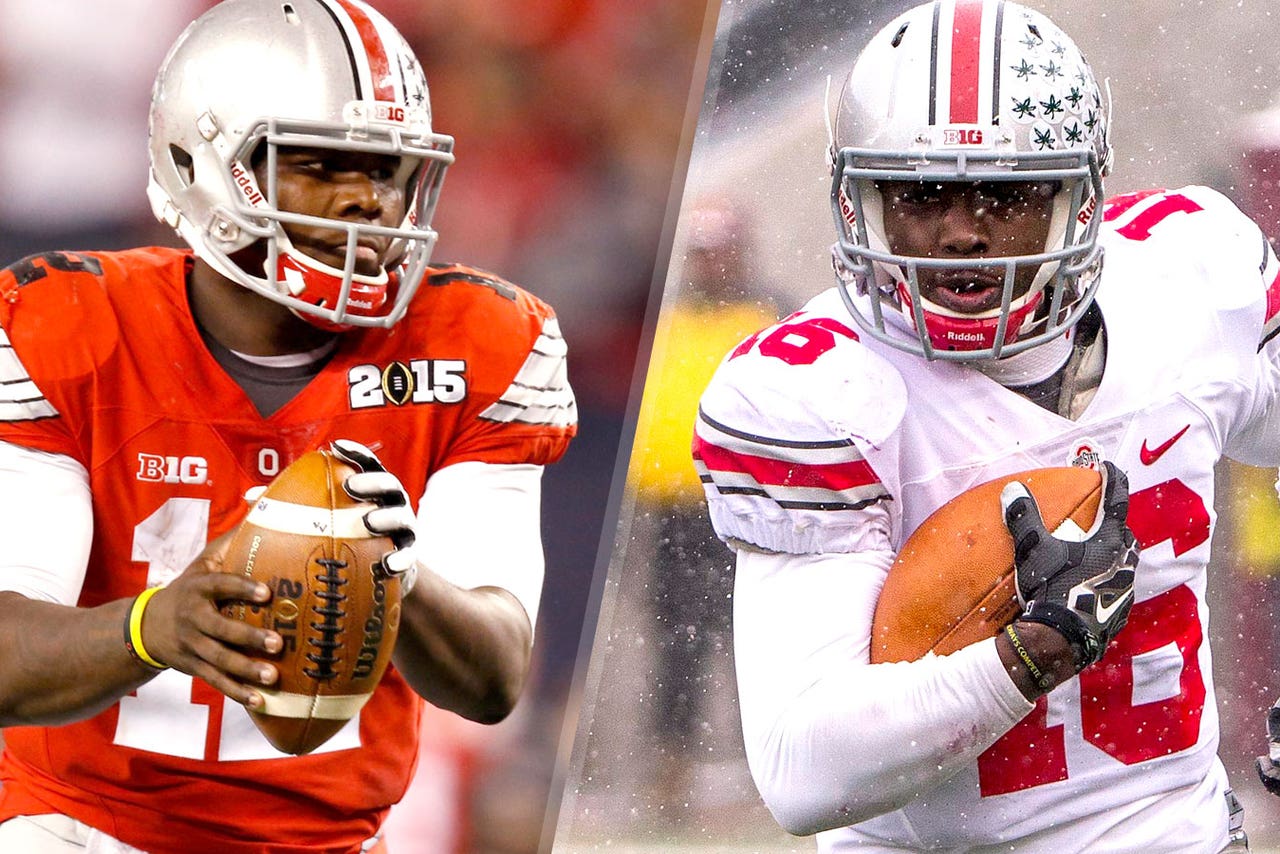 More from Athlon Sports: Top 10 coaches on the hot seat this spring / Top 20 WRs on the rise in 2015 / Alabama is ready for another title run / Florida could win SEC East in 2015 / North Carolina's D must step up in 2015 / South Carolina in danger in SEC East
***
It's no secret Ohio State's quarterback battle is the most intriguing storyline in college football this year. Cardale Jones, Braxton Miller and J.T. Barrett will compete this fall to take the first snap against Virginia Tech, and the winner of the competition -- assuming they start the full year -- should be a Heisman candidate.
Michigan State's Connor Cook ranks No. 2 in the Big Ten quarterback, and the steady senior is poised to keep the Spartans in the hunt for 10 wins. 
Let's take a look at how the entire conference stacks up at QB entering this fall.
Note: To help compile the rankings, there was some projection involved for 2015. This is not a ranking of quarterbacks only based on accomplishments so far or pro potential. All factors -- pure talent, supporting cast, 2015 projection and scheme changes (just to name a few) -- were considered and projected to rank the quarterbacks in the Big Ten for 2015.
1. Cardale Jones (RS Jr.)/Braxton Miller (RS Sr.)/J.T. Barrett (RS So.), Ohio State Buckeyes
The Buckeyes have three proven and talented quarterbacks competing for the top spot this offseason. We listed all three names here, but the early favorite to take the first snap of the season has to be Cardale Jones. With Braxton Miller and J.T. Barrett recovering from injuries, Jones has been the top quarterback in the spring and played well in Ohio State's final three games last year, leading OSU to a national title. If Jones starts the full season, he should be one of the nation's top quarterbacks and a Heisman contender.
2. Connor Cook, Sr., Michigan State Spartans
Michigan State is 23-3 with Cook entrenched as the starting quarterback, and the senior should keep the Spartans among the nation's top 10 teams in 2015. In two years as the starter, Cook passed for 46 touchdowns to just 14 interceptions and 5,969 yards. Cook isn't going to post monster statistical totals in Michigan State's offense, but he rarely makes mistakes and has earned back-to-back second-team Big Ten honors.
3. Christian Hackenberg, Jr., Penn State Nittany Lions
2014 was a struggle for Penn State's offense. With a rebuilding offensive line, the passing and rushing attacks for the Nittany Lions were never able to get on track. The overall depth and talent is better up front for Penn State in 2015, which should allow the offense to take a step forward in coach James Franklin's second season. Hackenberg's passing totals regressed from throwing 2,955 yards and 20 scores in 2013 to 12 touchdowns and 15 interceptions in 2014. Talent isn't an issue for Hackenberg, but he needs more help from the offensive line.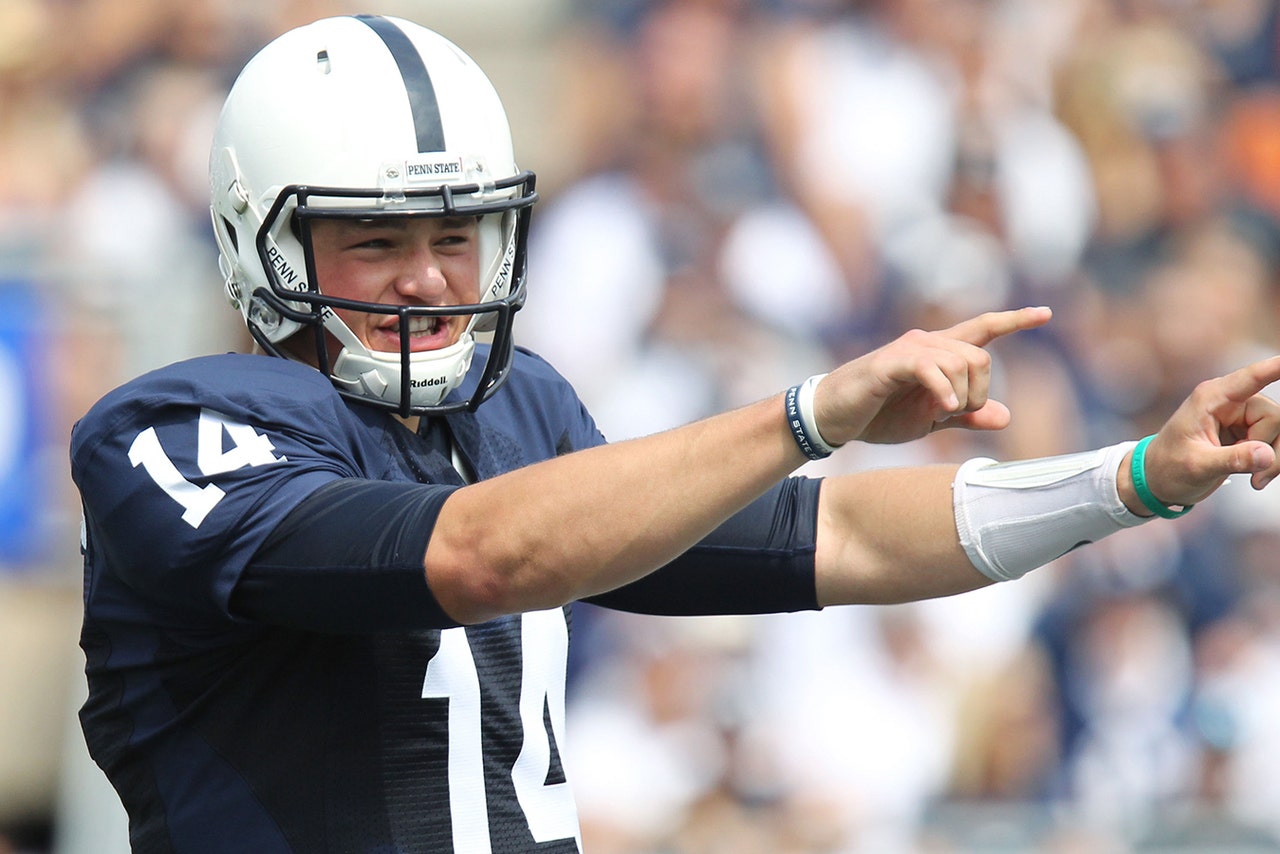 4. Wes Lunt, Jr., Illinois Fighting Illini
It's a toss-up among quarterbacks No. 4-7 on this list. Lunt is arguably the most talented passer out of that bunch, but he has yet to put everything together for a full season of production. However, that could change in 2015. Lunt's 2014 season was limited by a leg injury, and he finished the year with 1,763 yards and 14 passing scores. The Fighting Illini offense will miss Mike Dudek's playmaking ability at receiver while he recovers from a torn ACL. However, the cupboard at receiver isn't bare for Lunt. Geronimo Allison (14.59 ypc in 2014), Justin Hardee and Malik Turner provide three capable options in the passing game.
5. Tommy Armstrong, Jr., Nebraska Cornhuskers
It wouldn't be a surprise to see Armstrong move up this list by the end of November. Of course, that's assuming the junior has an easy transition to a new offense. New coach Mike Riley is changing up Nebraska's offense to more of a pro-style attack, and Armstrong has to progress as a passer this season. In 13 games last year, Armstrong passed for 2,695 yards and 22 scores. He also added 705 yards and six scores on the ground. With Jordan Westerkamp, Jamal Turner and De'Mornay Pierson-El returning at receiver, everything is in place for Armstrong to succeed in 2015.
6. Nate Sudfeld, Sr., Indiana Hoosiers
Sudfeld's 2014 season was cut short by a shoulder injury suffered against Iowa. Prior to his injury, Sudfeld was still trying to adapt to a new group of receivers and threw for 1,151 yards and six scores through six appearances. But rewind back to 2013 and it's easy to see Sudfeld's potential in Kevin Wilson's offense. In 12 appearances (with eight starts), Sudfeld threw for 2,523 yards, 21 scores and completed 60.2 percent of his throws. Assuming he's healthy, Sudfeld will have Indiana in contention for a bowl this season.
7. Jake Rudock, Sr., Michigan Wolverines
After a two-year stint as Iowa's starting quarterback, Rudock transferred to Michigan for his final year of eligibility. C.J. Beathard was expected to replace Rudock as the starter with Iowa this season, so getting a chance to learn under Jim Harbaugh and remain in the Big Ten is a good move for the senior quarterback. Rudock was productive from 2013-14 with the Hawkeyes, throwing for 4,819 yards and 34 touchdowns to interceptions. How quickly will he mesh with the supporting cast at Michigan? Harbaugh is one of the Big Ten's top offensive coaches, and Rudock should have a solid year in 2015.
8. Mitch Leidner, Jr., Minnesota Golden Gophers
In his first full season as Minnesota's starter, Leidner led the Golden Gophers to an 8-5 record and a 5-3 mark in Big Ten play. The Minnesota native passed for 1,798 yards and 11 scores and rushed for 452 yards and 10 touchdowns last year. While Leidner's debut was solid, there are plenty of areas for him to work on in 2015. Leidner has to become a better passer after completing just 51.5 percent of his throws last year. The struggles in the passing game aren't solely on Leidner's right arm, as Minnesota has to develop more playmakers at receiver. That task is even more critical with the departure of tight end Maxx Williams to the NFL.
9. Joel Stave, Sr., Wisconsin Badgers
Stave has been a steady presence for Wisconsin over the last three seasons. The Wisconsin native has passed for 4,948 yards and 37 scores since 2012. New coach Paul Chryst is tasked with improving the Badgers' passing attack, which averaged only 148.7 yards in 14 games last season. Considering the punishing rushing attacks Wisconsin has generated recently, a prolific passing game isn't needed. However, Stave has to elevate his performance if the Badgers want to challenge Ohio State and Michigan State for a spot at the top of the Big Ten in 2015.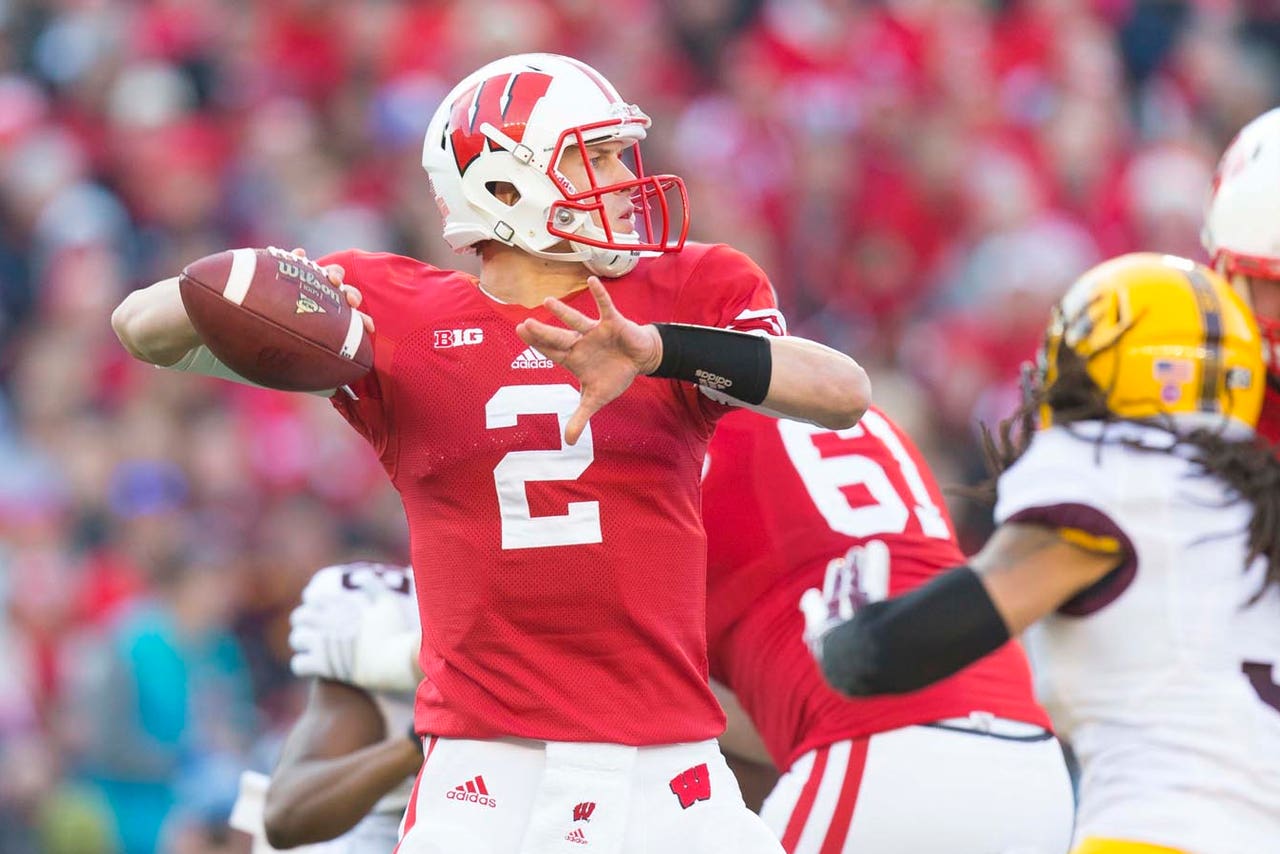 10. C.J. Beathard, Jr., Iowa Hawkeyes
Jake Rudock was a solid starter for Iowa, but Kirk Ferentz and coordinator Greg Davis hope Beathard brings more big-play ability to the offense. In nine appearances last year, Beathard passed for 645 yards and five scores and completed 52 of 92 throws. It's a small sample size to draw conclusions from, but it's interesting to note Beathard completed three passes of 40 yards or more last year. Rudock had just eight with more playing time. With a strong arm and good mobility, Beathard could provide a spark for an Iowa offense that produced only 12 plays of 40 yards or more last season and ranked seventh in the Big Ten in scoring.
11. Caleb Rowe, Jr., Maryland Terrapins
An offensive makeover is underway at Maryland this offseason. Quarterback C.J. Brown expired his eligibility, the receiving corps lost key targets Stefon Diggs and Deon Long, and the offensive line could have two promising freshmen start at the tackle positions. Rowe did not participate in spring practice while recovering from a torn ACL, but he is the favorite to replace Brown under center in 2015. The South Carolina native is a better pocket passer than Brown and is 123-of-229 for 1,768 yards and 12 scores over the last three years.
12. Zack Oliver (RS Sr.)/Matt Alviti (RS So.)/Clayton Thorson (RS Fr.), Northwestern Wildcats
It's a wide-open battle to replace Trevor Siemian at Northwestern. Oliver, Alviti and Thorson finished spring with little separation, meaning the quarterback competition will extend into the fall. Thorson has the most upside, but Oliver and Alviti have the edge in experience. Oliver started the finale against Illinois last year and threw for 221 yards on 23 completions.
13. Chris Laviano, So., Rutgers Scarlet Knights
Laviano edged slightly ahead of LSU transfer Hayden Rettig for the starting quarterback job at the conclusion of spring practice. In Rutgers' spring game, Laviano completed 8 of 10 passes for 140 yards and two touchdowns, while Rettig went 4-of-7 for 37 yards. Laviano also played in five games as Gary Nova's backup last season, completing 11 of 28 passes for 107 yards. There's some upside with Laviano, especially with top receiver Leonte Carroo returning for his senior year and an underrated stable of running backs. But will there be a transition period with Ben McDaniels taking over for Ralph Friedgen as the team's play-caller?
14. Austin Appleby, Jr., Purdue Boilermakers
Appleby and Chris Laviano easily could be flipped on this list. However, for now, Appleby pulls up the rear. The Ohio native started the final six games of 2014 and passed for 1,449 yards and 10 scores, while adding 198 yards and five touchdowns on the ground. Appleby isn't secure in the starting job, as Danny Etling and David Blough will push for time once again in the fall.
More from Athlon Sports:
---