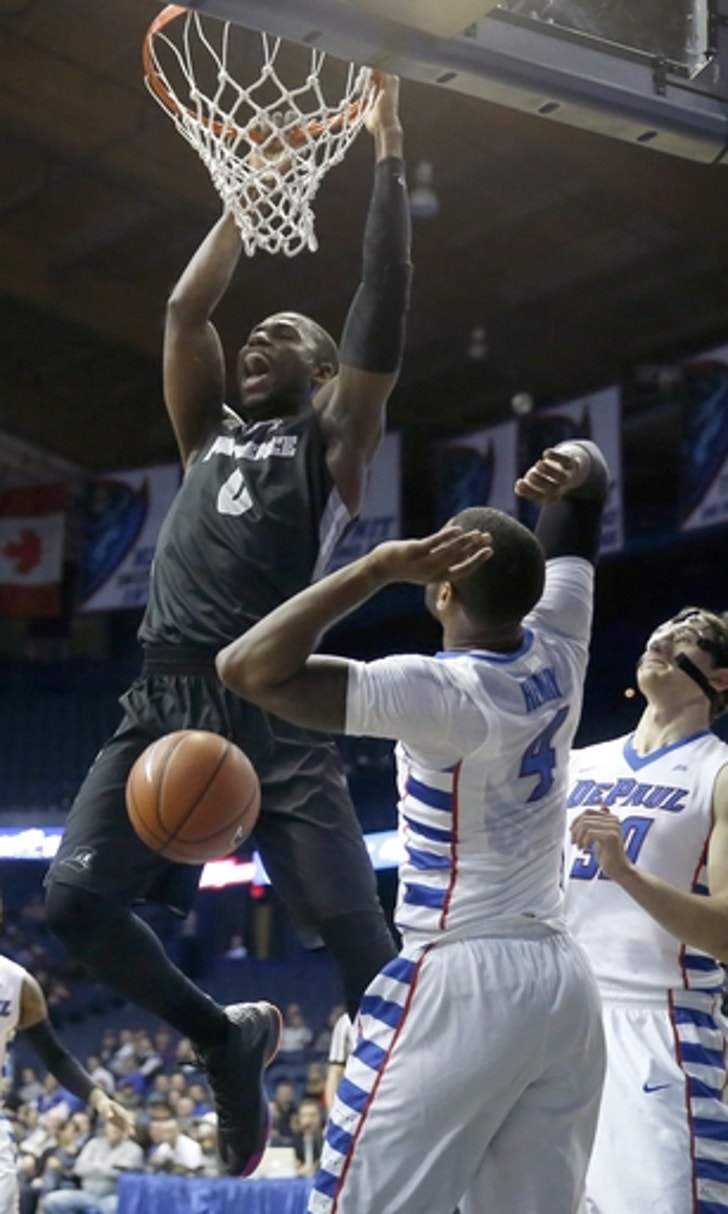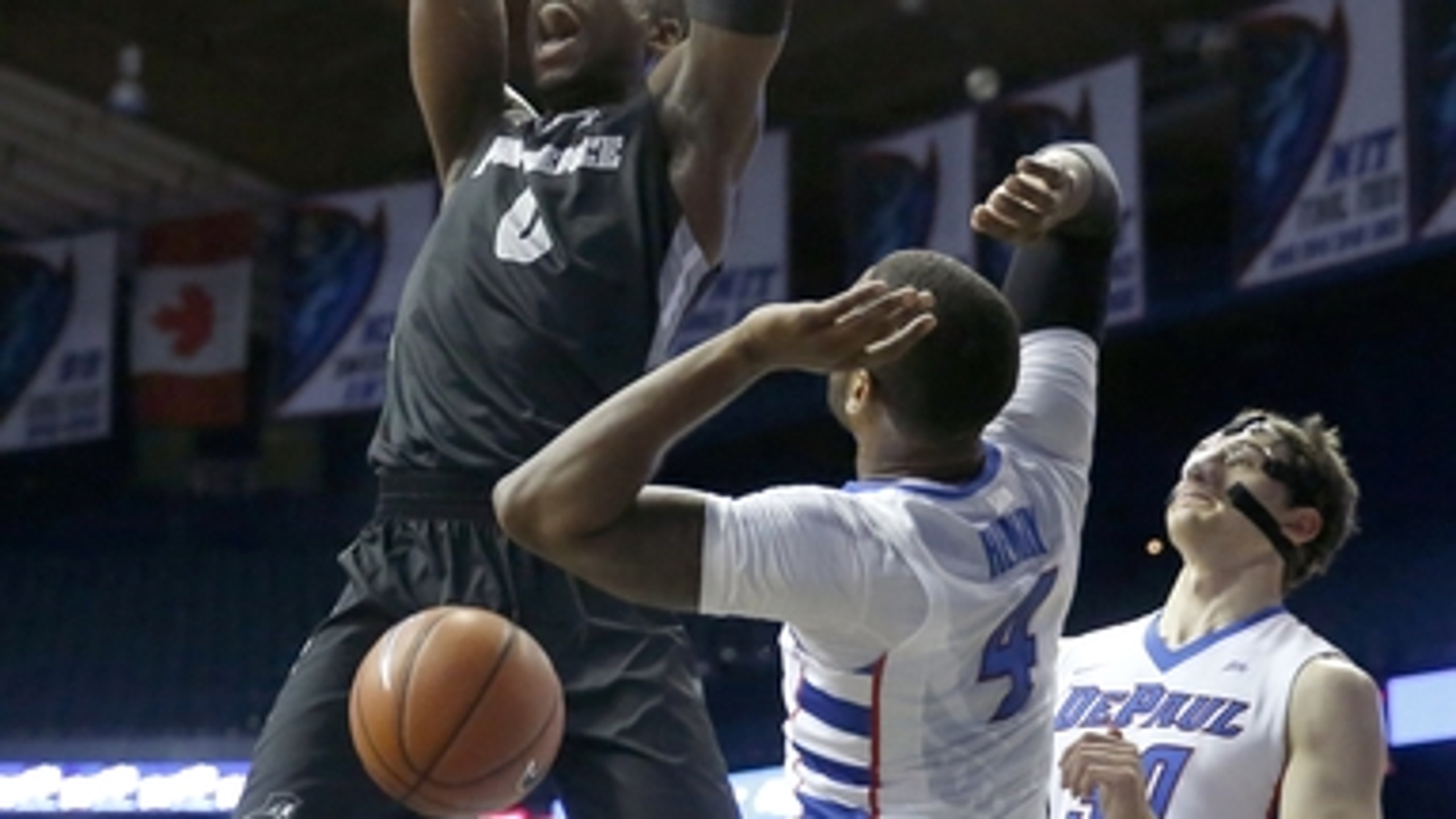 Henry powers DePaul past No. 11 Providence 77-70
BY foxsports • February 3, 2016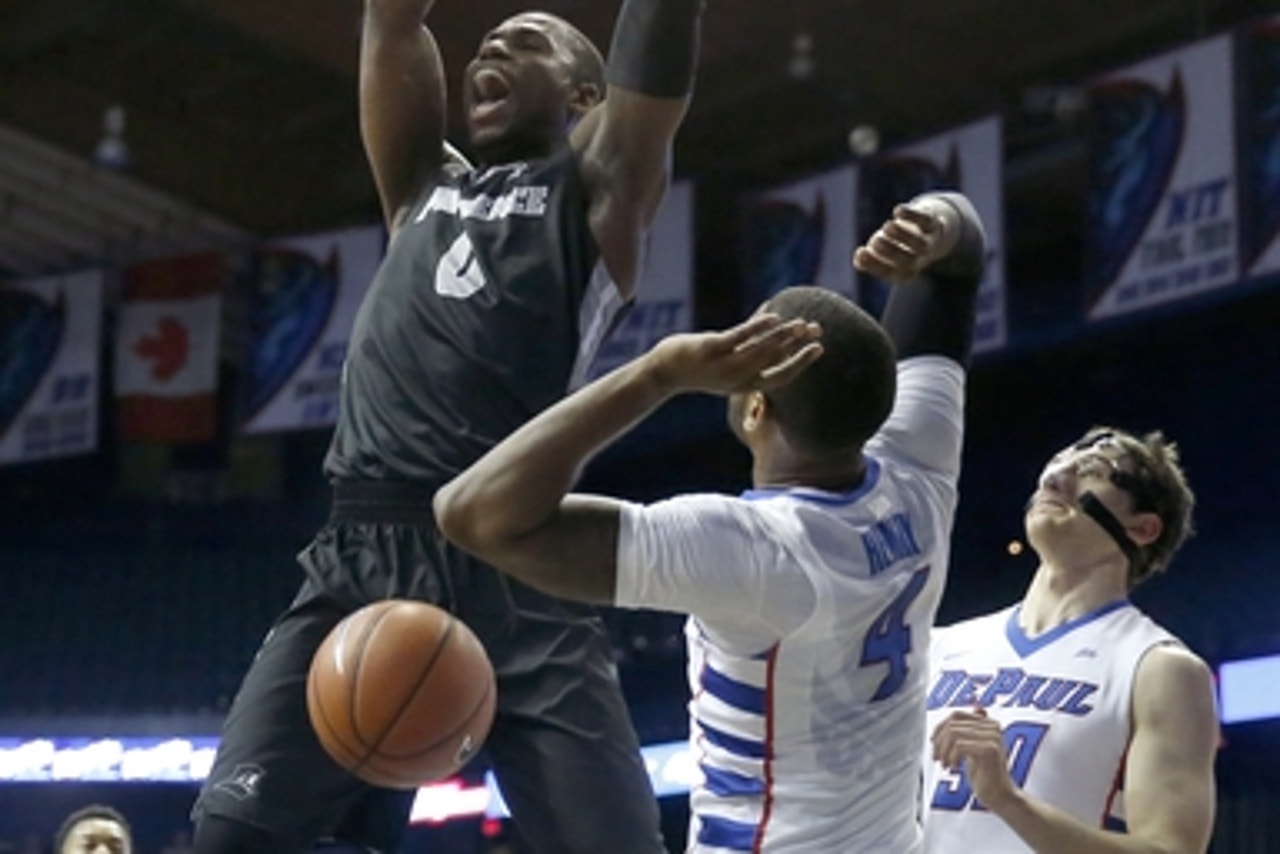 ROSEMONT, Ill. — Rashaun Stimage was standing right behind DePaul coach Dave Leitao when he slapped the floor a couple of times and yelled as the final seconds ticked off. Leitao kept his eyes on the court until it was all over.
For one night at least, the Blue Demons finished the job.
Myke Henry had 27 points and 11 rebounds, and DePaul held off No. 11 Providence for a surprising 77-70 victory on Tuesday.
"It's a great building point for us," a smiling Henry said.
The Blue Demons (8-14, 2-8 Big East) had lost eight of nine, but they outrebounded the athletic Friars 48-24 on the way to just their second victory of the season against a Top 25 team. Billy Garrett Jr. added 16 points and Stimage had nine points on 4-for-4 shooting.
"We were just resilient enough to carry it over the top," Leitao said. "A little bit hairy at the end with our press offense, but we haven't been in that position almost all year. We hung in there and got the win."
Kris Dunn had 14 points and eight assists for Providence (18-5, 6-4), but was 5 for 20 from the field. The star guard was coming off a 26-point performance in a 73-69 victory over Georgetown on Saturday.
"We try the best we can every game. I don't think we take anybody lightly," Dunn said. "Like I said, they were the better team tonight. They were a lot more physical. They play a lot more tough than us."
Dunn helped Providence sweep the season series a year ago, including his first career triple-double in an 83-72 victory on Jan. 29, 2015. But the Blue Demons did a much better job of keeping a close watch on him this time.
"It was our normal defense, but with him, we wanted him to see six eyes on him at all times," Henry said.
It was the Friars' first road loss of the season, and they have to push this one aside in a hurry. Next up is a home game against No. 3 Villanova on Saturday.
Providence forward Ben Bentil, who was averaging a Big East-best 20.3 points coming into the night, missed part of the first half with a right ankle injury and wasn't the same when he returned. He finished with just six points in 14 minutes.
Coach Ed Cooley said he will know more after Bentil sees a doctor.
"He tried to give it a go, so I give him a lot of credit," Cooley said. "But he couldn't go. It was sore, swollen. Hope for the best and see what happens."
DePaul broke open a close game in the second half with a 13-2 run that included a scoring drought of almost 4 1/2 minutes for Providence. Henry made a go-ahead 3-pointer and a layup, and Darrick Wood's transition layup with 14:25 left lifted the Blue Demons to a 51-43 lead.
Providence made a couple more charges, but DePaul answered each time.
After Rodney Bullock's layup got the Friars within one point with 9:33 remaining, Henry made two straight jumpers and Stimage had a big dunk to run the lead back out to seven. Providence trailed 73-70 with 29 seconds left, but Henry had a layup and Wood got loose for a dunk to close out the win.
"In games gone by, our defense in the second half has not been as good as it was in the first half," Leitao said. "I thought our defense today was better in the second half, and that's what we needed."
SO TO SPEAK
Cooley disputed the idea that Providence's loss was an upset.
"They outplayed us," he said. "They were better than us today. Because we have a number beside our name, it's an upset? You've got to come and be prepared. That's why you play the game."
TIP-INS
Providence: Ryan Fazekas made three 3-pointers and finished with 13 points. Bullock finished with 11. ... The Friars shot 30.3 percent (10 for 33) in the second half.
DePaul: Garrett got an assist in the first half to become the 16th player in school history with 300 or more for his career. ... The Blue Demons' only other victory over a Top 25 team was an 82-61 win against then-No. 20 George Washington on Dec. 22.
UP NEXT
Providence hosts No. 3 Villanova on Saturday.
DePaul visits Creighton on Saturday.
---