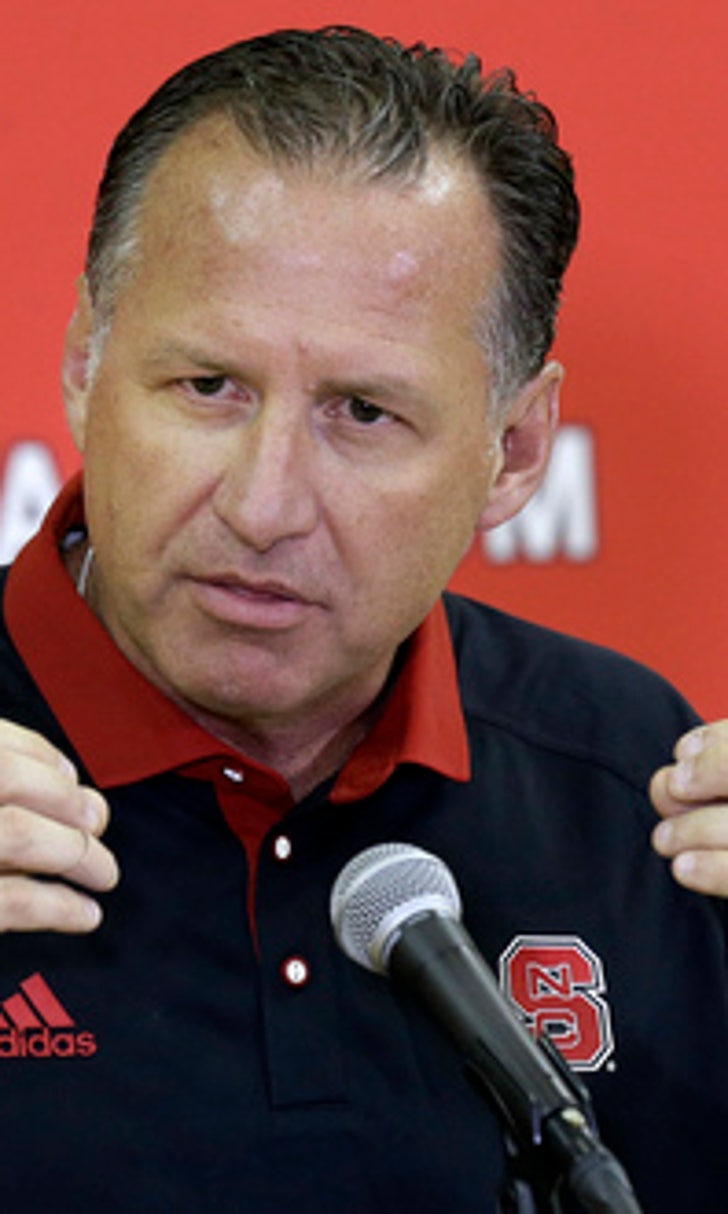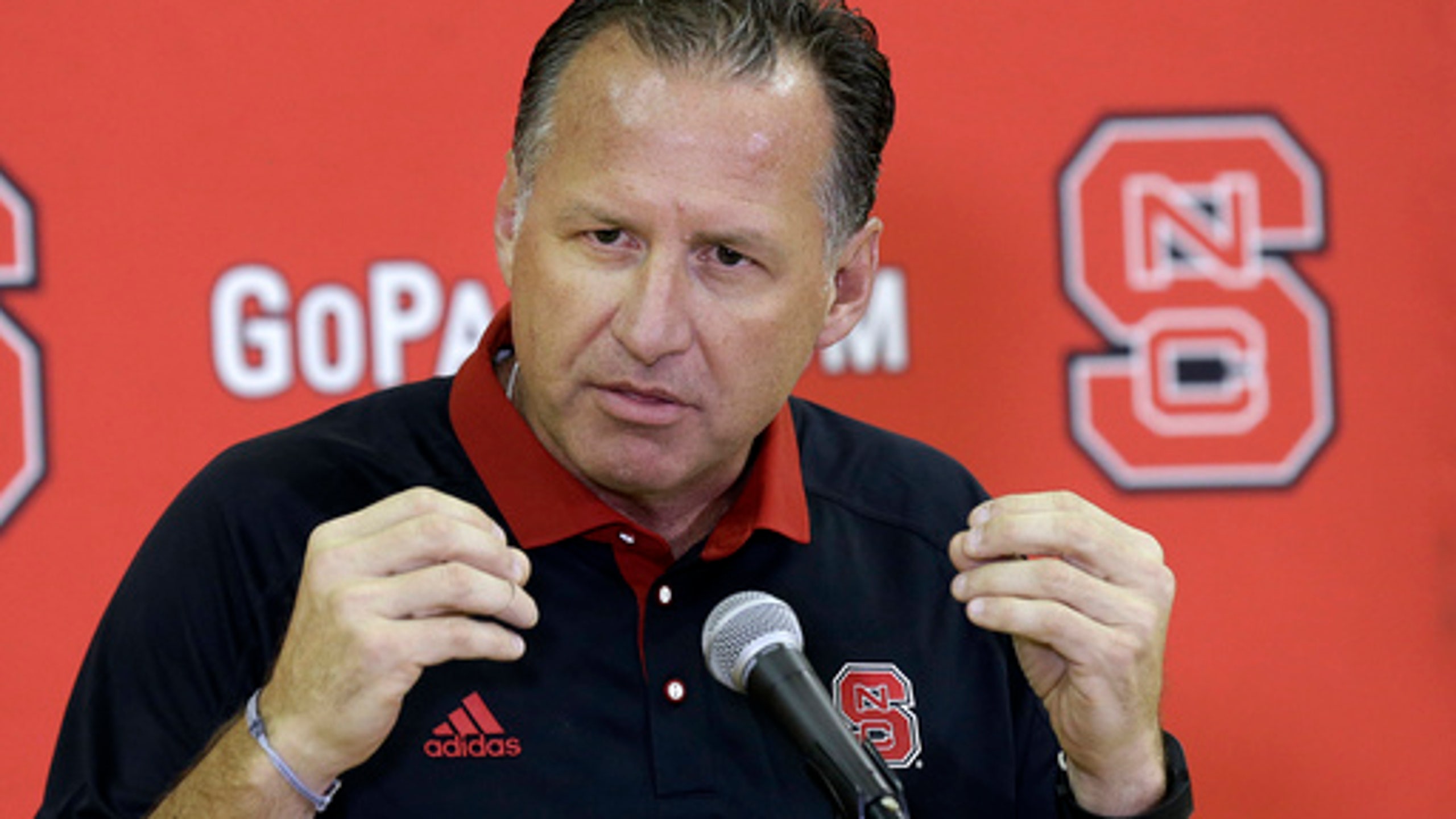 Gottfried hopes offseason changes get Wolfpack back to NCAAs
BY foxsports • October 24, 2016
RALEIGH, N.C. (AP) North Carolina State coach Mark Gottfried is eager to see what offseason changes do for his program after a stumble.
After last year's injury-plagued Wolfpack missed the NCAA Tournament for the first time in his five seasons, Gottfried hit the recruiting trail for several spring additions while reshaping a coaching staff that had been intact since his arrival in Raleigh. Now N.C. State has two new assistants and a roster featuring a top-10 national recruiting class along with key returnees - a mix that could get N.C. State back into the NCAAs.
''It's like if you and I play cards together, and if you kick my tail in cards, I can't wait to play again,'' Gottfried said. ''Let's go play. That's kind of where we are: I'm ready, let's go, our players are ready. ... We have that kind of anxiousness about getting this year started because of that.''
The Wolfpack (16-17, 5-13 Atlantic Coast Conference) relied heavily on ACC-leading scorer Anthony ''Cat'' Barber last year, but he left with a year of eligibility remaining to pursue a professional career. Twin wings Caleb and Cody Martin transferred, while senior forward Lennard Freeman is likely to redshirt to fully recover from a leg injury that lingered through last season.
The biggest cause for optimism in Raleigh is the debut of touted freshman Dennis Smith Jr. He enrolled early in January to rehab a serious knee injury and is fully recovered , while the recruiting class also features a five-star Turkish big man Omer Yurtseven - though the school is waiting for the NCAA to clear him to play as an amateur.
Throw in the debut of Torin Dorn Jr., a former Conference USA freshman of the year from Charlotte who sat out last year, and N.C. State has an infusion of young talent.
Among the returnees, junior forward Abdul-Malik Abu, the team's No. 2 scorer and top rebounder, is back along with sophomore wing Maverick Rowan and senior center BeeJay Anya. N.C. State will also get back a player it never really had last year in West Virginia transfer guard Terry Henderson, who played just 7 minutes in the season opener before going down with an ankle injury.
---
Some other things to know about the Wolfpack this season:
SMITH'S DEBUT: Smith is a likely one-and-done prospect, a player that Gottfried described bluntly as ''the best guard in the country. Period. Hands down.'' The instate recruit from Fayetteville exudes confidence and hasn't seemed fazed by his recovery, even back during summer workouts . ''I didn't wear a brace or anything like that at all,'' Smith said recently. ''As soon as they cleared me, I was ready to go. The mental aspect of recovering was pretty easy for me.''
HENDERSON'S RUST: Henderson was supposed to give the Wolfpack a 3-point shooter, second ballhandler and wing defender before his injury. Now he's entering a season in which he has had a nearly two-year layoff with a long recovery , going back to the 2014-15 season when he sat out as a transfer. ''Just know I'm back,'' Henderson said, ''and I'm here to win.''
BODIES UP FRONT: The return of Abu and Anya gives N.C. State some size, but the Wolfpack sure could use Yurtseven, too. Abu will have to continue to develop his offensive game and attack the glass, while Anya - who has battled his weight and conditioning issues throughout his career - has contributed in the past as a shot blocker and rebounder (not to mention with a pretty big shot in 2015, too).
BENCH CHANGES: N.C. State has two new assistants in former Oklahoma State assistant Butch Pierre and former UT-Martin head coach Heath Schroyer. They replace Rob Moxley - who shifted into an administrative role after a life-threatening health scare in 2015 - and Bobby Lutz, a strong Xs-and-Os assistant now with the NBDL's Windy City Bulls.
OUTSIDE SHOOTING: Rowan is the only returnee with more than one made 3-pointer last year. The Wolfpack must find reliable shooters to go with Rowan, who hit a team-high 81 3s and shot 34 percent from behind the arc last year.
---
Follow Aaron Beard on Twitter at http://www.twitter.com/aaronbeardap and the AP's college basketball site at http://collegebasketball.ap.org
---