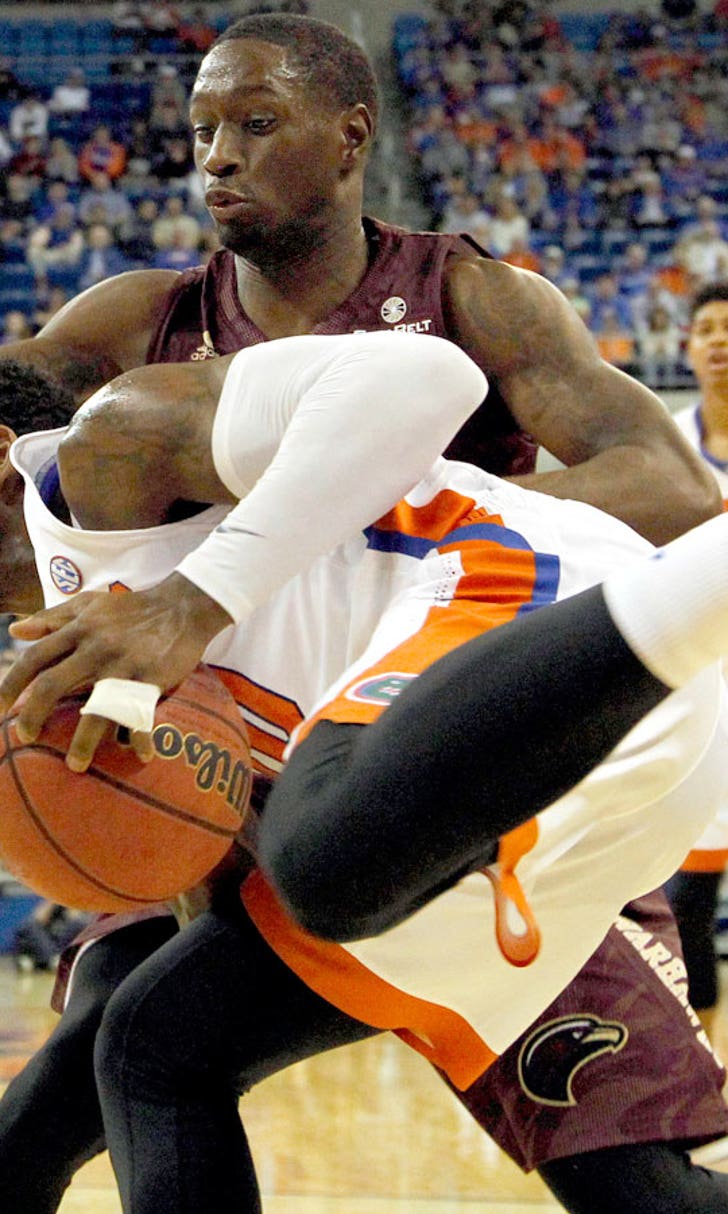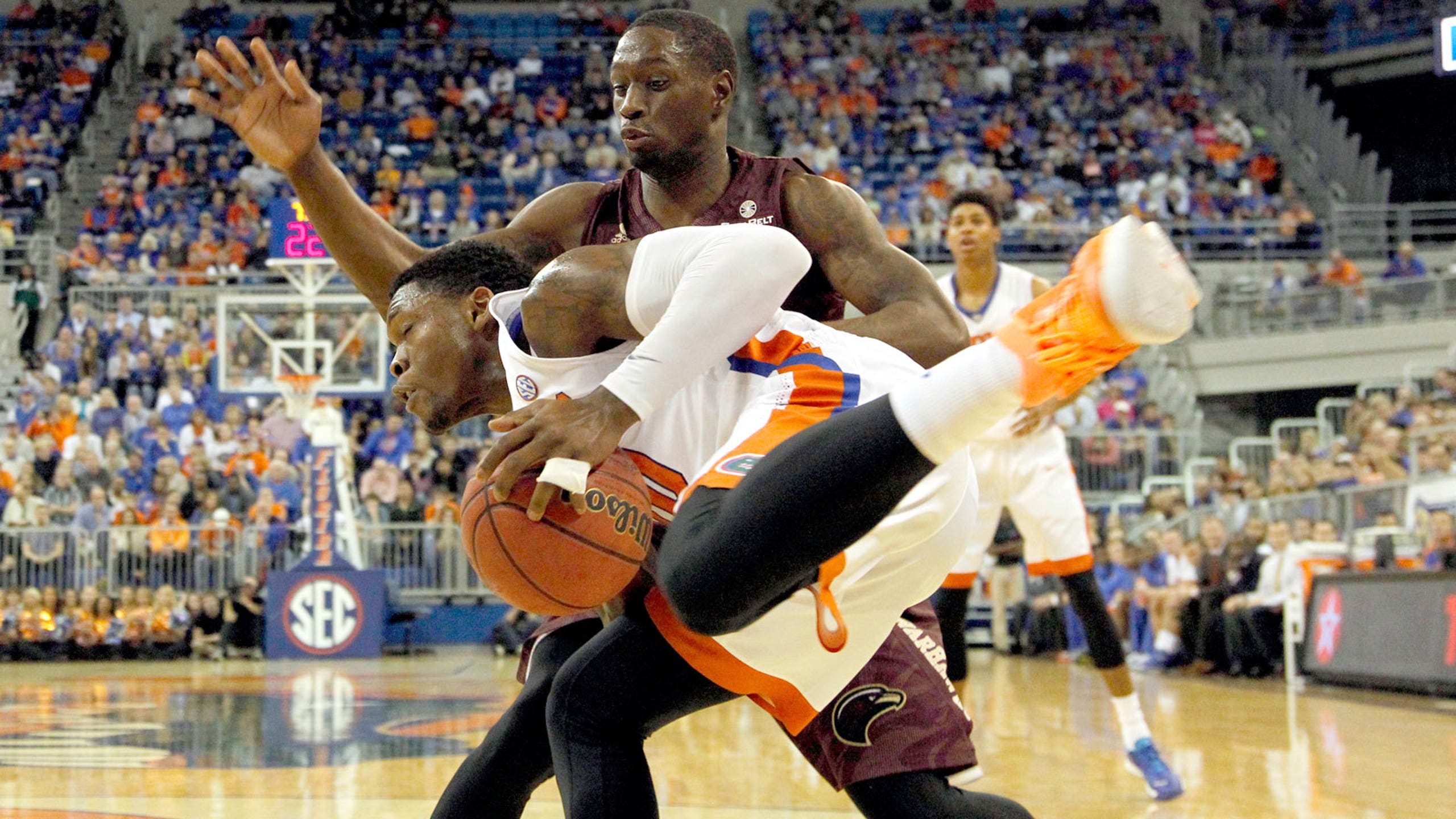 Frazier comes on in 2nd half as No. 8 Florida beats ULM in OT
BY foxsports • November 21, 2014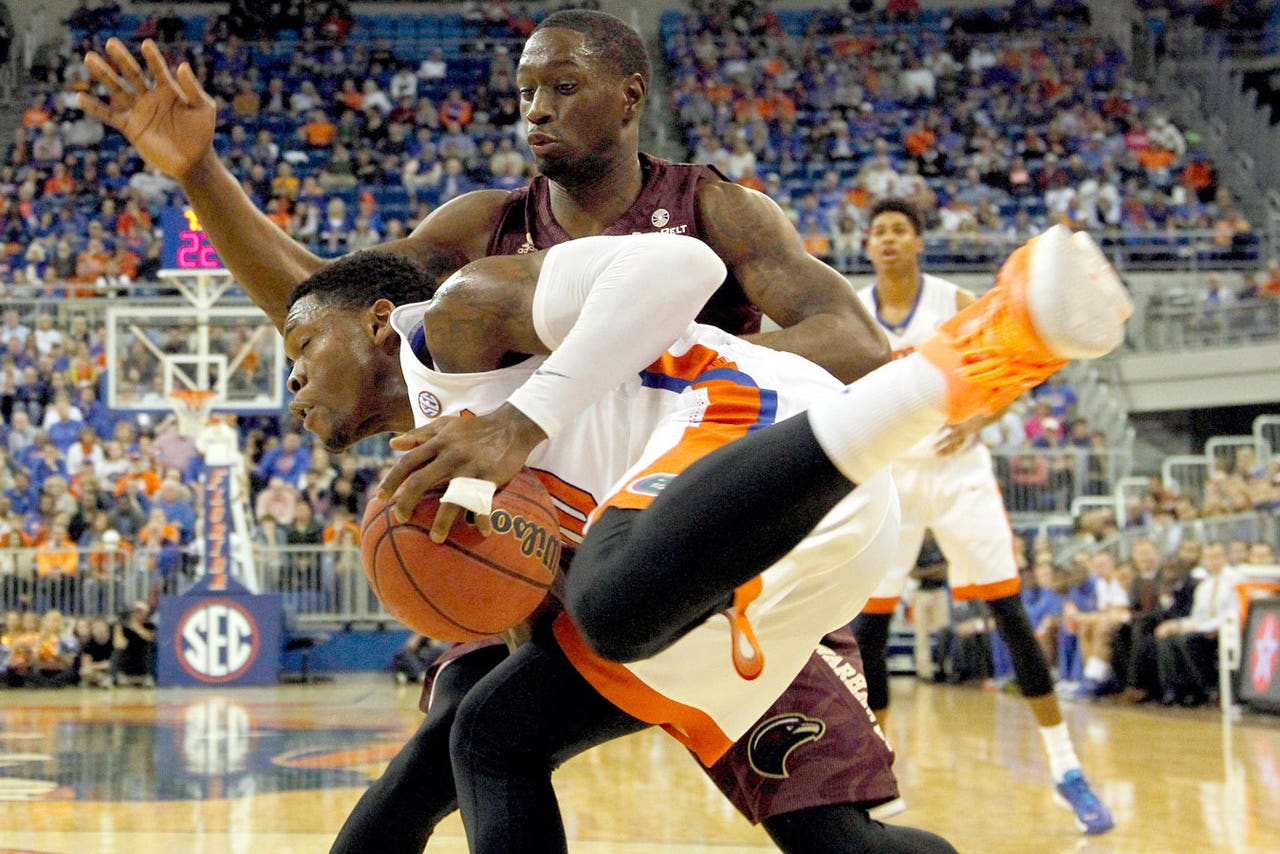 Florida's short-handed situation might be a long-term problem.
Michael Frazier II scored 16 of his 21 points after halftime, and the eighth-ranked Gators rallied to beat Louisiana-Monroe 61-56 in overtime Friday night.
Florida (2-1) played without two starters -- guard Eli Carter and forward Dorian Finney-Smith -- and coach Billy Donovan offered little positive news on either player after the game.
Carter sprained his left foot in practice Thursday and will have tests Saturday to determine whether it's a Lisfranc injury that could sideline him for the rest of the season. The best-case scenario is Carter could miss eight to 10 days, Donovan said.
Finney-Smith missed his second consecutive game with hairline fractures in the index and middle fingers on his left (non-shooting) hand. Finney-Smith wasn't even on the bench Friday because Donovan said he needs to get his academics in order.
"This will probably look like our team going to the Bahamas," Donovan said, looking ahead to next week's Battle 4 Atlantis.
That could be a big problem.
Florida struggled to score against the Warhawks (2-1), shooting 32.7 percent from the floor.
The Gators trailed by as many as 12 points in the first half and squandered an eight-point lead in the final 2:31 of regulation before prevailing in OT.
Frazier was the key, playing the best defense of his career and constantly creating on the other end. He was 4-of-11 shooting from the field, including 2 of 6 from 3-point range, but made 11 of 13 free throws and had eight rebounds.
"I just wanted to win," Frazier said. "I was just trying to do whatever I could to win the game. I don't know how that looks. We got the result we wanted."
Tylor Ongwae led Louisiana-Monroe with 19 points. Nick Coppola added 11 points, including a tying 3-pointer with 16.6 seconds remaining in regulation.
Frazier had a chance to win the game after Coppola's shot, but lost the ball out of bounds with 1.5 seconds to go. He also seemed to tweak an ankle on the play, but returned in the extra frame and helped Florida pull it out.
The Gators needed him, too. They were so short-handed that Donovan had two walk-ons on the floor in OT.
Walk-on Jacob Kurtz finished with 13 rebounds and three assists -- both team highs. His feed to Jon Horford for a dunk with 1:18 to go in overtime was one of Florida's biggest plays of the game.
"It feels good," Kurtz said. "It feels much better than being 1-2 right now. We're fortunate. We have a long way to go. It was good that we were able to battle through in overtime and come out with a win."
WALKER'S DEBUT:
Highly touted Florida forward Chris Walker made his season debut after being suspended the first two games. He ended up with four points on 2-of-5 shooting and had six boards. But he was active on defense and stayed out of foul trouble.
NOT ON POINT:
Florida freshman point guard Chris Chiozza outplayed starter Kasey Hill and was on the floor down the stretch. Hill finished with eight points on 2-of-12 shooting. Chiozza had 11 points. They combined for nine turnovers. "I've got to do a better job of helping those guys," Donovan said.
TIP-INS
Louisiana-Monroe: The Warhawks were looking for their first 3-0 start since 1987. ... ULM's last win vs. a top-10 team remains a victory against ninth-ranked Arkansas on Dec. 30, 1991.
Florida: Four days after losing a school-record, 33-game winning streak at home against Miami, Florida started a new one. ... The Gators improved to 8-1 against teams from the Sun Belt Conference during Donovan's 19-year tenure. ... The 6-foot-6 Kurtz has seven, eight and 13 rebounds in three games this season, clearly a guy who knows his role.
UP NEXT
Louisiana-Monroe plays Coastal Carolina on Wednesday in the secondary bracket of the Battle 4 Atlantis tournament.
Florida plays Georgetown on Wednesday in the first of three games in the Battle 4 Atlantis in the Bahamas.
---