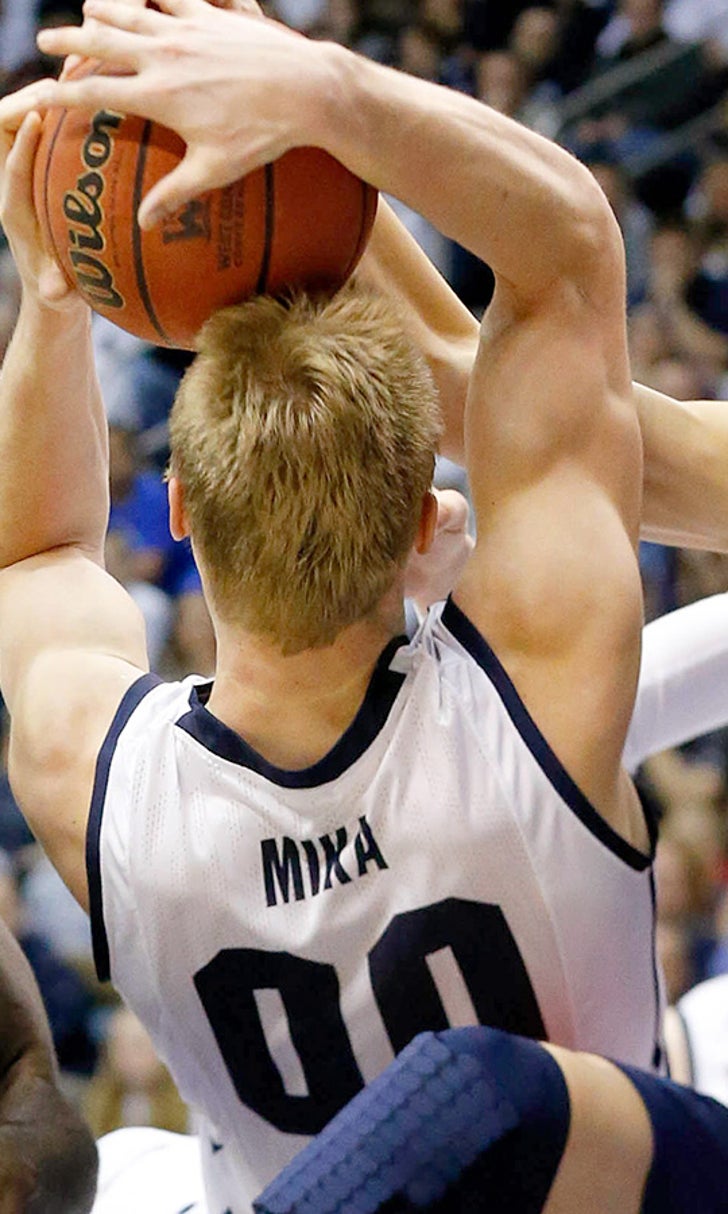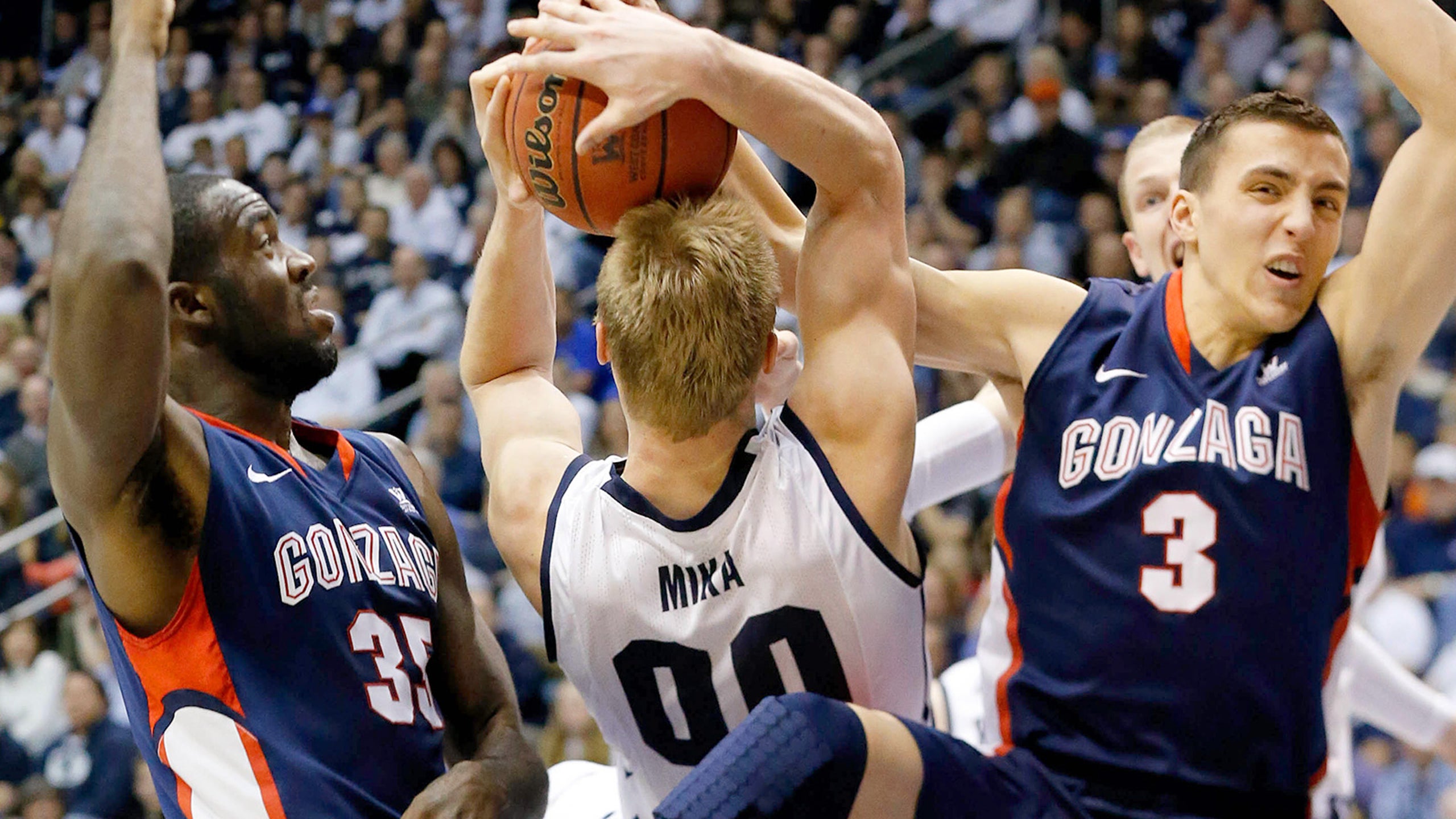 BYU capitalizes on Gonzaga turnovers for upset over No. 25 Bulldogs
BY foxsports • February 21, 2014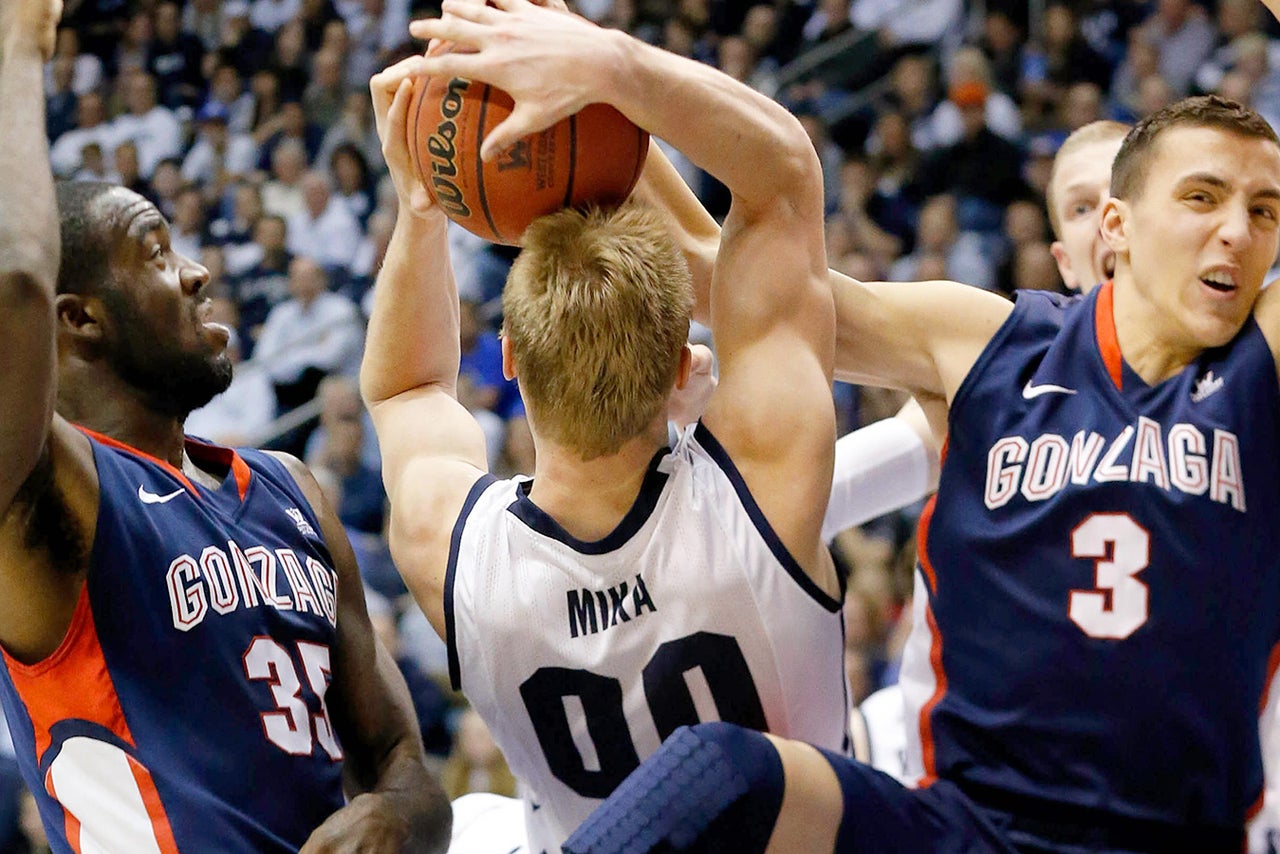 PROVO, Utah -- BYU has been fighting to stay in the picture for an NCAA tournament at-large bid after piling up potentially damaging losses in West Coast Conference play. Poor perimeter defense has been a culprit in many of those setbacks.
It appears the Cougars may have finally turned a corner in their efforts to contain teams from doing damage from the outside.
BYU beat No. 25 Gonzaga 73-65 on Thursday night in large part because it found ways to prevent the Bulldogs from making 3-pointers. The Cougars held Gonzaga to 22.2 percent shooting (4 of 18) from beyond the arc. Kevin Pangos and Gary Bell, Jr. combined for three 3-point field goals in 13 attempts.
BYU learned its lesson after watching the Bulldogs connect from long distance in Spokane last month and pull away for an 84-69 victory.
"The emphasis in practice was just to guard the 3-point line," Cougars guard Anson Winder said. "Whatever you do, guard the 3-point line. That's how they beat us at their place. We let them get a lot of 3s and they ended up beating us by a lot. In practice, we just made an effort to guard the 3-point line as best as we could."
Winder did his part to keep BYU from also going cold offensively The junior guard earned a rare start and responded with 17 points. Matt Carlino added 15 points and Eric Mika chipped in 13 points and eight rebounds to help the Cougars (19-10, 11-5 WCC) snap a five-game losing streak to Gonzaga (23-5, 13-2).
Sam Dower had 14 points and Pangos added 13 for the Bulldogs who shot 40.7 percent (22 of 54) from the field and could not overcome 16 turnovers. BYU scored 18 points off those miscues.
"You just can't do that on the road," Gonzaga coach Mark Few said of the turnovers. "You cannot do that on the road anywhere, let alone here."
The loss kept the Bulldogs from winning the WCC regular season championship outright. Gonzaga has won or shared the title in 13 of the last 14 years.
The Cougars have struggled to keep up with WCC opponents from the outside.
On Thursday, they did not let it become an issue.
"I thought we did a way better job this time around of staying with shooters," BYU coach Dave Rose said. "They really like to penetrate and bring shooters back behind the penetration and slide them to the corner. The penetration is basically (designed) to get you sucked in and I thought our guards did a better job of staying out on shooters."
The Cougars scored six straight points to open the second half, taking a 45-39 lead on a jumper from Kyle Collinsworth. It was part of a 9-0 run for BYU that started with a buzzer-beating 3-pointer from Haws to close the first half.
Pangos and Drew Barnham hit 3-pointers on consecutive possessions to help the Bulldogs cut BYU's lead to 54-52.
The Cougars pushed it back to 60-52 after Carlino took his own steal in for a layup with 7:45 remaining.
The Bulldogs closed within four points three times, the last getting within 69-65 on a 3-pointer by Pangos with 1:01 left. Carlino made two baskets and hit three free throws in the final minute to help the Cougars close it out.
"I thought down the stretch BYU did a good job of amping it up on the glass and it really hurt us," Few said.
BYU scored baskets on its first four possessions -- culminating in a layup from Collinsworth off a steal by Haws -- to take a 9-3 lead. Gonzaga answered with a 10-2 run that Bell punctuated with a layup to put the Bulldogs ahead 13-11.
Skyler Halford scored baskets on consecutive possessions to ignite a 13-3 run for BYU. When Mika capped the spurt with a three-point play, the Cougars held a 28-18 lead with 8:19 left before halftime.
Strong bench play helped BYU take a double-digit lead before halftime. The BYU reserves produced 21 points before Gerald Coleman finally made a layup with 4:48 remaining in the half to get Gonzaga's first bench points.
Coleman's basket came as part of a 15-2 run that kept BYU from pulling away. Ryan Edwards capped the rally by converting a three-point play and making a layup on the ensuing possession to give Gonzaga a 39-36 lead with 18 seconds left in the half.
BYU avoided trailing going into the locker room when Haws drained a running 3-pointer to beat the buzzer and tie it at 39.
Missed free throws and turnovers threatened to unravel the Cougars by halftime. Fortunately for the Cougars, they corrected those issues after coming out of the locker room.
"We would have had a big lead at the half if we had held onto the ball a little bit better," Mika said. "We did that in the second half and it turned out big for us."
---