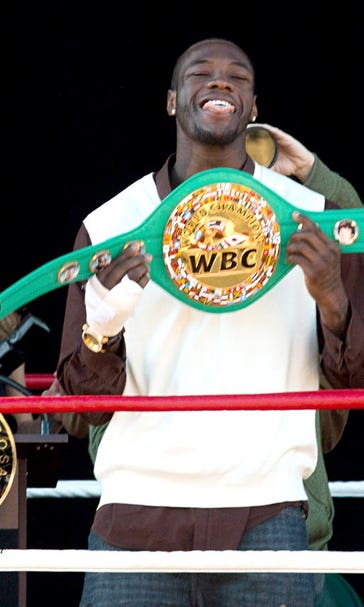 New champ Wilder eyes heavyweight unification bout with Klitschko
February 27, 2015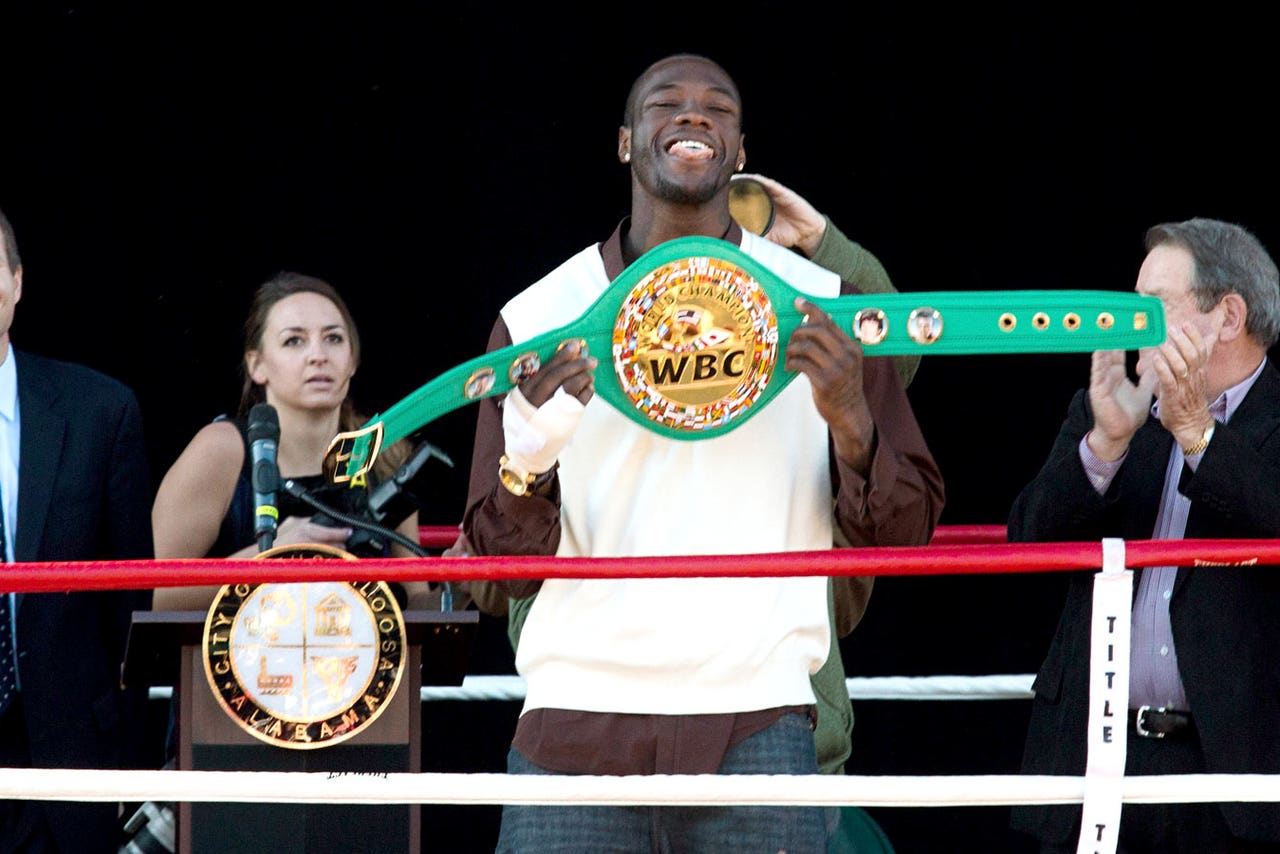 Deontay Wilder is driving around in a Hummer and sports cars, leaving his beer delivery truck days far behind. He watched the Super Bowl from the stands instead of his couch and made his rounds at the NBA All-Star game, too.
His decade-long journey from community college dropout to keg hauler to boxing celebrity was cemented with his unanimous decision over Bermane Stiverne on Jan. 17. He became the first American to capture a piece of the heavyweight title since Shannon Briggs in 2006. It moved him to 33-0 after winning the previous 32 fights via knockouts within the first four rounds.
And he says he's far from done.
The Tuscaloosa, Alabama, native's next goal is to try to knock off Wladimir Klitschko as the world's top heavyweight and ultimately restore boxing's once-pre-eminent division to its American heyday, most recently with Mike Tyson and Evander Holyfield on top.
''I'm not going nowhere no time soon,'' he said in a recent interview. ''I'm not losing no time soon, or ever till I retire. That (Klitschko) fight's going to definitely happen, and I'm looking forward to it. That's something I'm super excited about and very confident in it when it happens.''
Wilder is letting his broken hand heal, a casualty of the Stiverne bout, so his next opponent and timing of the fight are uncertain. He thinks he broke it in the fourth or fifth round but was still able to go the distance in the 12-round bout.
The journey to the top came in leaps for the 6-foot-7 Wilder.
He dropped out of Shelton State Community College with the birth of his daughter Naieya, who has spina bifida. He wandered into the gym near his house and went on to win the National Golden Gloves and a bronze medal in the 2008 Olympics less than three years after taking up the sport.
But to pay the bills and support his family, he delivered beer before finally quitting a few years ago. A half-dozen of his former co-workers and bosses were at the Stiverne fight in Las Vegas, including Spencer Burchfield, president and co-owner of Greene Beverage Co.
Burchfield recalled Wilder's physical prowess - he'd carry a keg in each arm - and compliments from customers for his manners and demeanor long before a sledgehammer right hand became Wilder's calling card.
''You could just tell his whole work ethic and just his ability to get along with everybody,'' Burchfield said. ''Everybody liked him.''
Wilder still trains at the no-frills Skyy Boxing in suburban Tuscaloosa where he got his start.
The gym is decorated with wall-to-wall magazine covers featuring boxers but not much else. From the outside it looks more like self-storage units than a training ground for a 29-year-old who aspires to boxing superstardom. The inside is a ring, a couple of weight machines and some heavy bags tucked into the back corner.
A woman and a teenager worked out in the back on a recent afternoon and a middle-aged woman popped in for Wilder's autograph and a chat. It's that kind of place.
Wilder, who successfully helped lobby for a state boxing commission in Alabama, plans to stick around. Other Alabama natives like Joe Louis (Lafayette) and Holyfield (Atmore) left the state.
Wilder wants to build a similar legacy from an Alabama base and isn't shy about stating his goal of unifying the titles - or anything else, for that matter.
''I want to put my name in history. I love history,'' Wilder said. ''I always picture my grandkids looking at their grandfather and saying, `My grandfather was the last or the first to do something.' There's nothing like setting goals and watching yourself get there, accomplishing that goal and putting your name to a part of history.''
The Stiverne win was a statement for Wilder. He had not needed to go deep into a fight before. Clearly he pays attention to the doubters since afterward, he was in the ring shouting: ''Who can't box? Who can't box?''
''They assumed he couldn't take a punch, they assumed he couldn't box, they assumed he couldn't go the distance,'' said Jay Deas, Wilder's manager and trainer. ''They assumed he couldn't overcome adversity. That was all completely ridiculous.''
Wilder has the supersized, swaggering personality to be a boxing attraction. He also has a knack for one-liners including the pre-Stiverne fight proclamation: ''I'm about to send this Haitian on permanent vacation.'' Describing himself as ''naturally silly,'' Wilder said he's serious when he trash-talks other fighters.
''Some guys may play around and say a couple of things but if I say it I mean it,'' he said. ''I may laugh, it may be funny, but if I say I'm going to get you I'm going to get you.''
Meanwhile, Wilder feels confident he has passed Alabama football coach Nick Saban as the most famous man in Tuscaloosa.
''Definitely. There's nothing like a heavyweight champion of the world, because there's nothing like a world champion,'' he said. ''I think I'm definitely the biggest. Sorry, Nick.''
---