Canucks Week 19 Preview: Horvat, Hansen, Burrows Line Entertains
Jeff Godley/FanSided via The Canuck Way

Fansided
Despite a Canucks loss, fans were raving about the new line of Bo Horvat, Alex Burrows and Jannik Hansen, who combined for six points on Saturday.
Canucks fans have a new favorite line: Bo Horvat, Jannik Hansen and Alexandre Burrows.
With Sven Baertschi back in Vancouver after receiving a concussion against the Nashville Predators, Horvat and Burrows needed a new linemate. Coach Willie Desjardins subbed in Hansen, who recently returned from an injury of his own.
The trio have only been together for two games, but already they are receiving rave reviews:
Don't know which one of you suggested Hansen with Horvat, but I think you've struck gold. Take a bow, whoever you may be.

— J.D. Burke (@JDylanBurke) February 11, 2017
Horvat and Hansen on the rush is exactly as fun as we thought it'd be

— Satiar Shah (@SatiarShah) February 11, 2017
There's a reason many wanted to see Hansen with Horvat. That line is fast, hard to play against, and has tons of potential. #Canucks

— Omar A (@omarcanuck) February 11, 2017
All these tweets came during yesterday's game against the Boston Bruins. The line combined for six points — two apiece — and 10 of Vancouver's 32 shots on goal. They were by far Vancouver's most effective line.
And, they were exciting to watch, as the social media reaction can attest.
Horvat has turned his skating from weakness to strength, by working with a power skating coach during summers. In his first NHL All-Star appearance, he raced Patrik Laine in the fastest skater competition.
In the wake of that All-Star weekend, Jason Botchford suggested that Horvat and Hansen would make a good pair. So far, he's proved correct, as the Hansen-Horvat-Burrows line has generated the bulk of Canucks chances in the past two games.
They will try to continue their impressive run in four games this week.
Sunday, Feb. 12: Canucks at Buffalo Sabres
Like the Canucks, the Buffalo Sabres played on Saturday, earning a 3-1 victory over the Toronto Maple Leafs.
Not much separates these two teams in the standings. Buffalo has just two points more in the same number of games. Vancouver has scored 131 goals, Buffalo 136. The Canucks have surrendered 158 goals, the Sabres 155.
Ryan Miller, who played 11 seasons with the Sabres, will not start this game against his former club. Instead Jacob Markstrom gets the call.
This means that Miller will not appear in either game against Buffalo this season. When the Sabres travelled to Vancouver, Miller was rehabbing a minor injury and did not start.
Buffalo coach Dan Bylsma has taken a different approach with his team's back-to-back. Robin Lehner will start his second game in as many nights. Lehner made 43 saves last night against the Leafs, his highest number this season.
Predictions
Alex Hoegler:

3

4
For some reason, the Canucks cannot seem to win in Buffalo. Why should they start now?
Jeff Godley:

3

2
Both teams played yesterday, so fatigue shouldn't work against the Canucks. They've scored three goals in each of their last two games, and I think they can do it again for a win against the Sabres.
Janik Beichler:

3

1
The Canucks are starting to score more consistently, at least in the three-goal region. This time, three is enough again.
Tuesday, Feb. 14: Canucks at Pittsburgh Penguins
The Pittsburgh Penguins do not play between now and their Tuesday game versus Vancouver.
Pens captain Sidney Crosby will enter that game sitting on 998 career points. Having been held without any points in his last two games, the feeling is that he is overdue to hit 1000.
If not Tuesday, he will almost certainly hit the millenium mark sometime this week — it is Crosby after all. It comes just a month after Canucks fans witnessed Henrik Sedin accomplishing that very same feat.
Crosby, though, has only played 755 NHL games, compared to 1221 for Henrik, who played four full seasons before Sid's first NHL game.
Tuesday will also mark just the second meeting for Brandon Sutter and Nick Bonino, who were traded for each other in the summer of 2015. Sutter played against his former club on Nov. 4, 2015, before missing most of the rest of the season with various injuries.
Since the trade, Bonino has played 117 games for the Pens, scoring 40 points. He also added 18 points in 24 playoff games en route to a Stanley Cup victory.
Sutter, meanwhile, has played only 75 games for the Canucks, but has almost matched Bonino's production with 35 points.
Predictions
Alex:

2

5
Pittsburgh is faster, stronger, and all-around better in every phase.
Jeff:

4

3
Stop the presses! Vancouver beats the Stanley Cup Champs. The dark horse is Marc-Andre Fleury, who has given up some, errr… soft goals to the Canucks in the past.
Then again, if Matt Murray plays, then forget I said anything.
Janik:

2

4
Bo Horvat gets the lead for Vancouver but the Penguins strike back and make it an easy home win.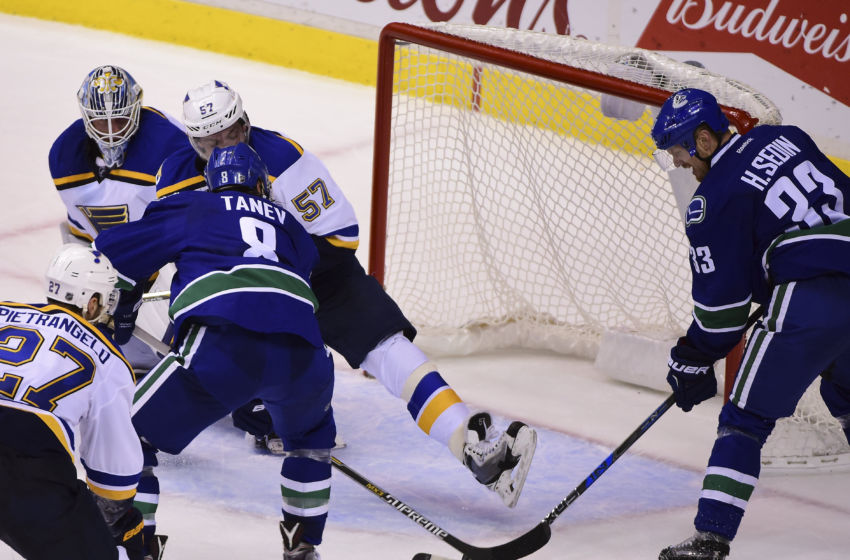 Thursday, Feb. 16: Canucks at St. Louis Blues
Times were different back when the St. Louis Blues visited Rogers Arena on Oct. 18.
Vancouver beat the Blues to improve to 3-0 on the young season. And Ken Hitchcock was the Blues' coach.
After a tough January that saw St. Louis lose seven-of-12, Hitchcock was fired on Feb. 1. Mike Yeo assumed the head coaching position a few months ahead of schedule, and the Blues have looked much better ever since. They are 5-1 under Yeo, and have the third-best record in February.
A lot of the team's improvement has come courtesy of goaltender Jake Allen. Near the end of Hitchcock's tenure, Allen went on a disastrous run in mid-January. He was pulled in three consecutive games, and played so poorly that the Blues left him behind when they left for a road game against Winnipeg.
But Allen has sorted himself out, thanks to new goalie coaches Martin Brodeur and Ty Conklin. The Blues goalie is 4-1 in February.
Predictions:
Alex:

2

3
Canucks usually play them tough, but they'll fall in OT here.
Jeff:

1

4
The Blues have a new head coach, and Jake Allen has a new lease on life. He'll keep the Canucks at bay, while Tarasenko and his pals wreak havoc in Vancouver's end.
Janik:

0

3
The Blues' defence is just a tad too good for the Canucks, who go completely scoreless in a rather bad game overall.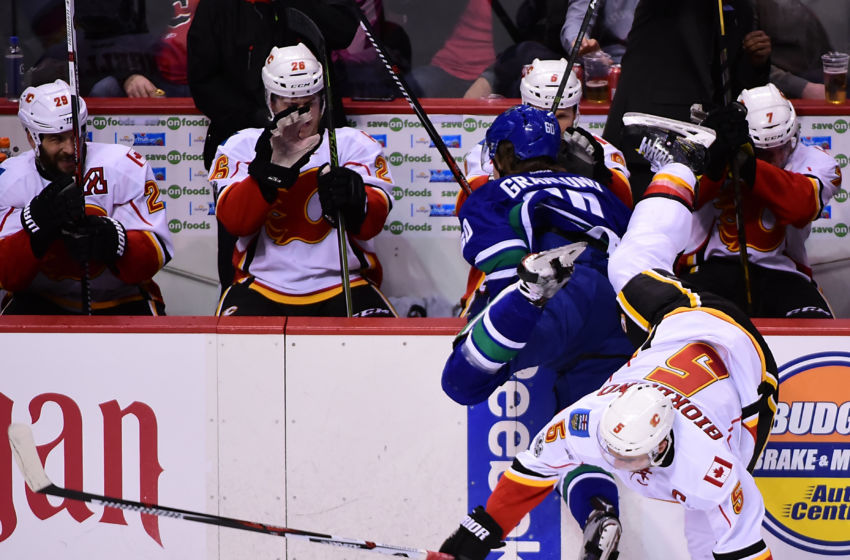 Saturday, Feb. 18: Canucks vs. Calgary Flames
Finally, the Canucks return home to take on the rival Calgary Flames on Saturday.
The Flames have recently been knocked out of a playoff spot. Nashville and Los Angeles hold down the two wild card spots, and they each have a point and a game in-hand versus Calgary.
So, like the Canucks, the Flames are now on the outside, looking in. Depending on how the two teams fare in the week prior, this could be a game with massive playoff implications.
Or, it could just turn out to be just another Vancouver-Calgary tilt.
Vancouver's most prolific goal-scorer in the second half of this season has not beeen Daniel Sedin or Bo Horvat. It's former Flame Markus Granlund. He has seven goals in 17 games since Jan. 1, which puts him third on the team for the whole season.
Jim Benning has endured all sorts of criticism in his tenure of Vancouver; a lot of it has been justified. But trading Hunter Shinkaruk for Granlund was one trade which he nailed.
Predictions
Alex:

3

1
After a miserable road trip, they continue their home dominance.
Jeff:

4

5
Defense? Ain't nobody got time fo dat! The Canucks and Flames will throw structure to the wind and play a high-scoring tilt, which Calgary will win in a shootout.
Janik:

1

2
Because games against the Flames are always close, and the Canucks deserve to win this one.
This article originally appeared on