Tyron Smith Erased Eli Apple From the Planet With Massive Block (Video)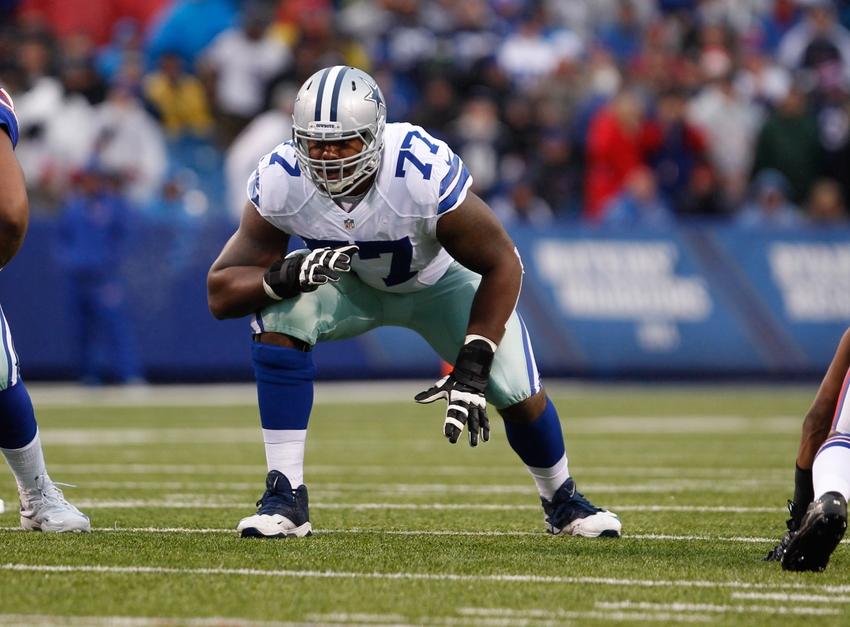 Tyron Smith is a monster at left tackle for the Dallas Cowboys and New York Giants cornerback Eli Apple should've stayed out of his way.
When talking about the best singulars offensive linemen in the NFL, Dallas Cowboys left tackle Tyron Smith is near the top (as are two other pieces on their line). Smith is an absolute force both in the run and the pass for the Cowboys and his ability to lead and anchor the line is one of the big reasons that they're considered one of the best in the league. It should go without saying, but a big, mobile, strong force like that is going to dwarf a defensive back in any matchup.
Someone should have probably told Giants cornerback Eli Apple about that. If he didn't know before, though, he certainly learned in the second half of Sunday Night Football in Week 14.
Ezekiel Elliott was on the carry for the Cowboys and he patiently waited for his line to seal and then move outside. As Smith won his matchup, he kicked out to lead the way for the rookie running back. In doing so, he came face to face with Apple, the Giants rookie corner. What Smith did next can only be described as bullying as he flattened the young defensive back with ease to free up Zeke:
Tyron Smith!!! #CowboysNation
Video from: @uSTADIUM pic.twitter.com/8hhim8tHz7

— ✭ Chase ✭ (11-1) (@chaselabsports) December 12, 2016
Man, that is just plain mean on the part of Smith. Apple got sent into another dimension after getting leveled like that.
So in case you needed a reminder or an introductory lesson, Tyron Smith is a bad, bad man. He's one of the best left tackles in the league and can contain some of the best edge rushes in the world. Subsequently, this is what happens when he's face-to-face with a young defensive back.
This article originally appeared on