Trevor Siemian: Bright Spot in Historically Painful Loss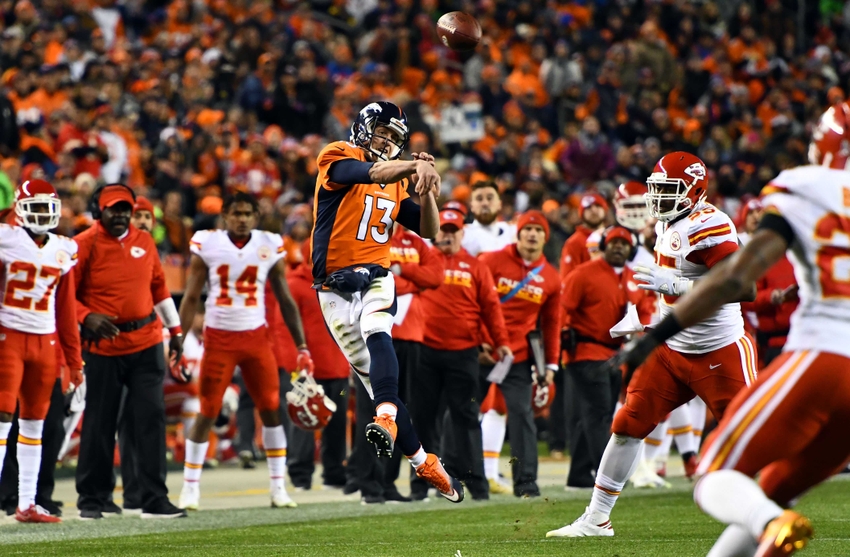 Gary Kubiak made the wrong decisions down the stretch and the defense couldn't come up with a stop, robbing Trevor Siemian of a signature win.
I live in Boston and I flew home to Colorado for Thanksgiving. I initially scheduled a later flight back on Sunday because Broncos-Chiefs was supposed to kick off in the afternoon. Oops.
So I decided that I would avoid all human and sports internet contact and write my feature on Fidel Castro for Paste Magazine on the plane, and would watch the game when I got home…at 1:30 EST. I was not prepared for what I was about to endure.
Holy Moly.
First off, from a pure football standpoint: what.a.game.
That was one of the ten or so best regular season contests I have ever seen, and perhaps the greatest 30-27 defensive struggle of all time. Do not let your partisanship detract from the epic sports moment we all experienced firsthand.
But man…I feel like a chunk of my insides are missing today. That really really really hurt. The 21st century now has its very own Pete Stoyanovich game.
Except this was far more epic. Coming off a Super Bowl championship in a year where the AFC West may have 4 of the conference's 5 best teams raises the stakes dramatically, and both teams brought a herculean effort to the moment.
There were obvious issues to the Broncos on Sunday.
The defense couldn't make a stop when they really needed to, but you can count the number of games on one hand like that, so from a long-term perspective it's hard to put the blame on them. They can't slam the door every time. Not in 2016's NFL.
More from Predominantly Orange
The special teams were the obvious culprit for the loss, but Ty Sambrailo single handedly shut down the offense for an entire quarter. When a lineman melts like snow in the oven on every single play, it really highlights the central truth of this game: the large men up front ultimately decide everything.
Remember when Pro Football Focus had Sambrailo as one of the offense's highest graded players against Tampa Bay? Me neither.
Max Garcia continued his struggles in pass protection, and the Broncos are no doubt determining which left guards and right tackles they will go after in the 2017 draft and free agency/trades. Why isn't Joe Thomas in Denver?
Despite the gaping wounds in the protection up front, Bronco fans should be encouraged by the offensive effort.All because of one guy. Who played as The Guy.
Time for me to eat some crow.
After the Oakland game, I wrote that it was worth the gamble to start Paxton Lynch. I thought that defenses had caught up to Trevor Siemian and turned him into Alex Smith, and that he very likely had a bad shoulder injury compounding everything.
Clearly his separated shoulder is not as bad as I thought it was – as he was diving headfirst and throwing on the run to such a precise degree where it's hard to see how he could have felt any pain at all. The dude just balled out.
Trevor Siemian was the best player in a 4th quarter where Von Miller and Justin Houston were starring in their own blockbuster horror movies. The Chiefs decided to throw tons of blitzes at him late in the game, and boy did he make them pay.
If that's the kind of quarterback we'll see going forward, Paxton Lynch may never see the field in a Bronco uniform again. These throws were literally perfect. Put a #12 Patriots uniform on him in these and no one would question that it's Brady.
.@ESanders_10 making plays all over the place! #BeatTheChiefs https://t.co/cZLpChwSwp

— Denver Broncos (@Broncos) November 28, 2016
.@TrevorSiemian ➡️ @b_fowler13 ➡️ 76 yardas = ¡TOUCHDOWN, @Broncos !#Broncos extienden su ventaja.#KCvsDEN https://t.co/uFvmnA1sj8

— NFL México (@nflmx) November 28, 2016
Did Kubiak Rob Trevor Siemian's Chances to Win?
Gary Kubiak made the right decision at the end of overtime as far as the spirit of the decision.
However, it just was the wrong play call. Punting to tie only helps Oakland. With a historic game on the line, you must go for the jugular.
Kubiak misread the story line. This wasn't Brandon McManus' time to bail out the special teams; it was Trevor Siemian's moment to win. The Broncos should have kept the offense on the field on 4th Down.
Going for it and missing puts the Chiefs in a slightly worse spot than missing the field goal would.
The first down would ensure that McManus would have a better shot.
Broncos fans now have a monumental "what if" game.
This could potentially be the rock that derails the train on the way to back to back titles.
We'll never know what would have happened if Gary Kubiak went for it on 4th down, but suffice it to say that putting the game in the hands of the special teams over last night's MVP was a miscalculation that could wind up costing our beloved squad extra games in January.
This article originally appeared on