All 50 Super Bowl MVPs, ranked: From Bart Starr to Von Miller
Now that we're done talking about Cam Newton's press conference and Eli Manning's reaction shot (oh, we're not?), let's actually discuss Super Bowl 50, the game that led to Cam's sulking and Eli having to explain his always-wonky facial expressions.
Von Miller was named MVP in an easy vote, but it got us thinking where his performance ranks all time in the half-century of Super Bowls. So, we went and ranked 'em all.
Note: This is not a list ranking who played the best game. Instead, it takes the term MVP at face value: Which player was most valuable to his team in a given Super Bowl? Which player's absence from his respective game would have shifted the outcome of that Super Bowl the most?
With those simple rules in place, we begin:
1. Terrell Davis, RB, Denver, Super Bowl XXXII
30 carries, 157 yards, 3 TDs
With John Elway playing his usual Super Bowl role (non-existent), it was up to Terrell Davis to put the Broncos in the win column for the first time in five Super Bowls. The running back did just that, scoring a tying touchdown in the first quarter, a go-ahead touchdown in the third and then the game-winning touchdown in the fourth, all while moving the chains and tiring Green Bay's vaunted defense.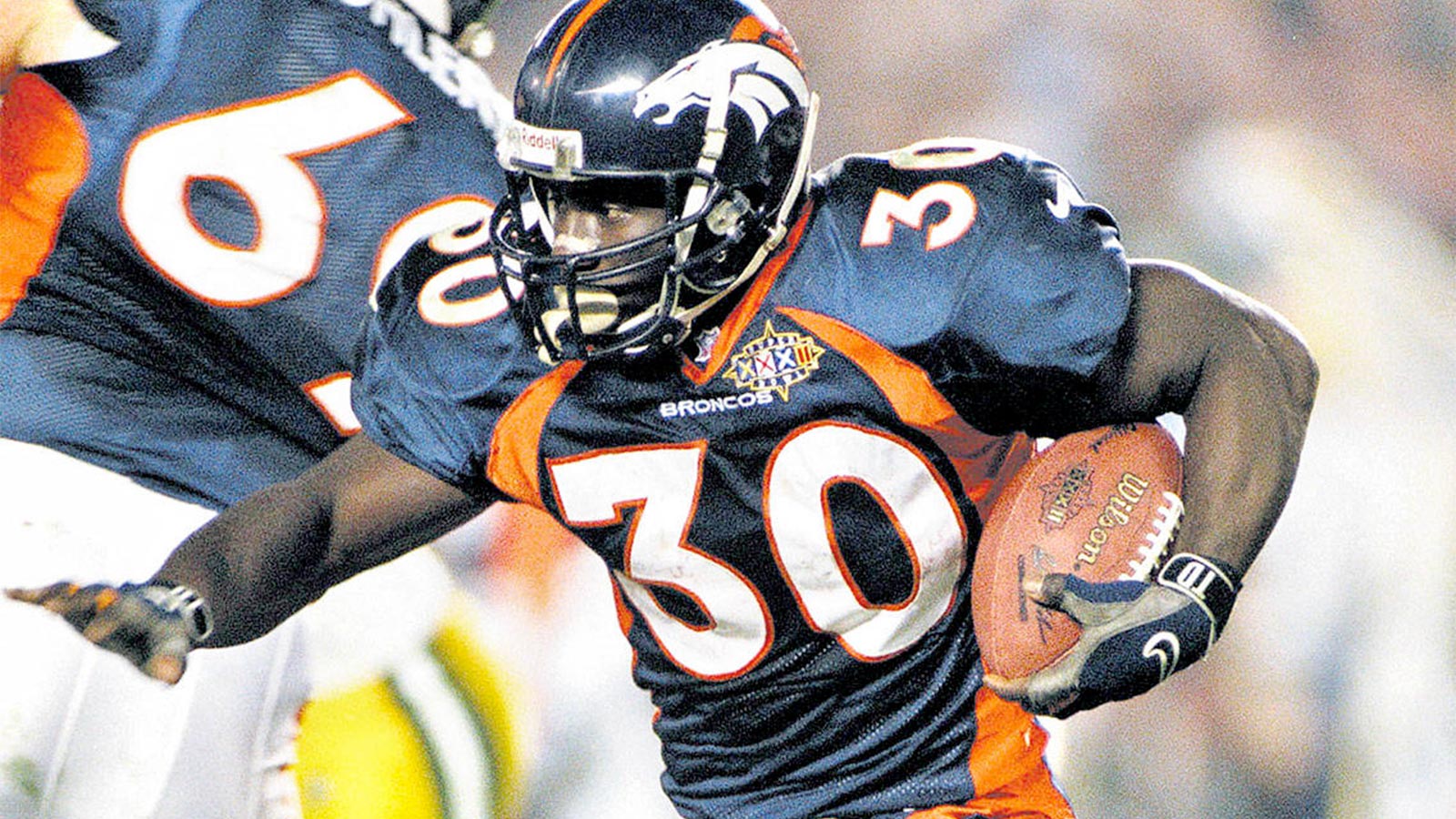 2. Kurt Warner, QB, St. Louis, Super Bowl XXXIV
24 for 45, 414 yards, 2 TDs, 0 INTs
The man no one had heard of six months before set a Super Bowl record for passing yards, including 73 on a go-ahead touchdown to Isaac Bruce with under two minutes remaining.
3. Larry Brown, CB, Dallas, Super Bowl XXX
Two interceptions that led to two touchdowns
The final score was 27-17 and both of Brown's interceptions led to touchdowns, one that put Dallas up 20-7 and another that led to the final 27-17 lead.
4. Terry Bradshaw, QB, Pittsburgh, Super Bowl XIII
17 for 30, 318 yards, 4 TDs, 1 INT
A bunch of touchdowns, a deep pass to Swann or Stallworth and a victory: just a usual Super Bowl for TB.
5. Tom Brady, QB, New England, Super Bowl XXXVIII
32 for 48, 354 yards, 3 TDs, 1 INT
The best drive of Brady's life happened in that wild 37-point fourth quarter against the Panthers. He went 4 for 5 with 47 yards in just under a minute to move the Pats 37 yards (a Troy Brown pass interference is why Brady threw for 47 in moving just 37), setting up Adam Vinatieri's second-ever Super Bowl-winning field goal.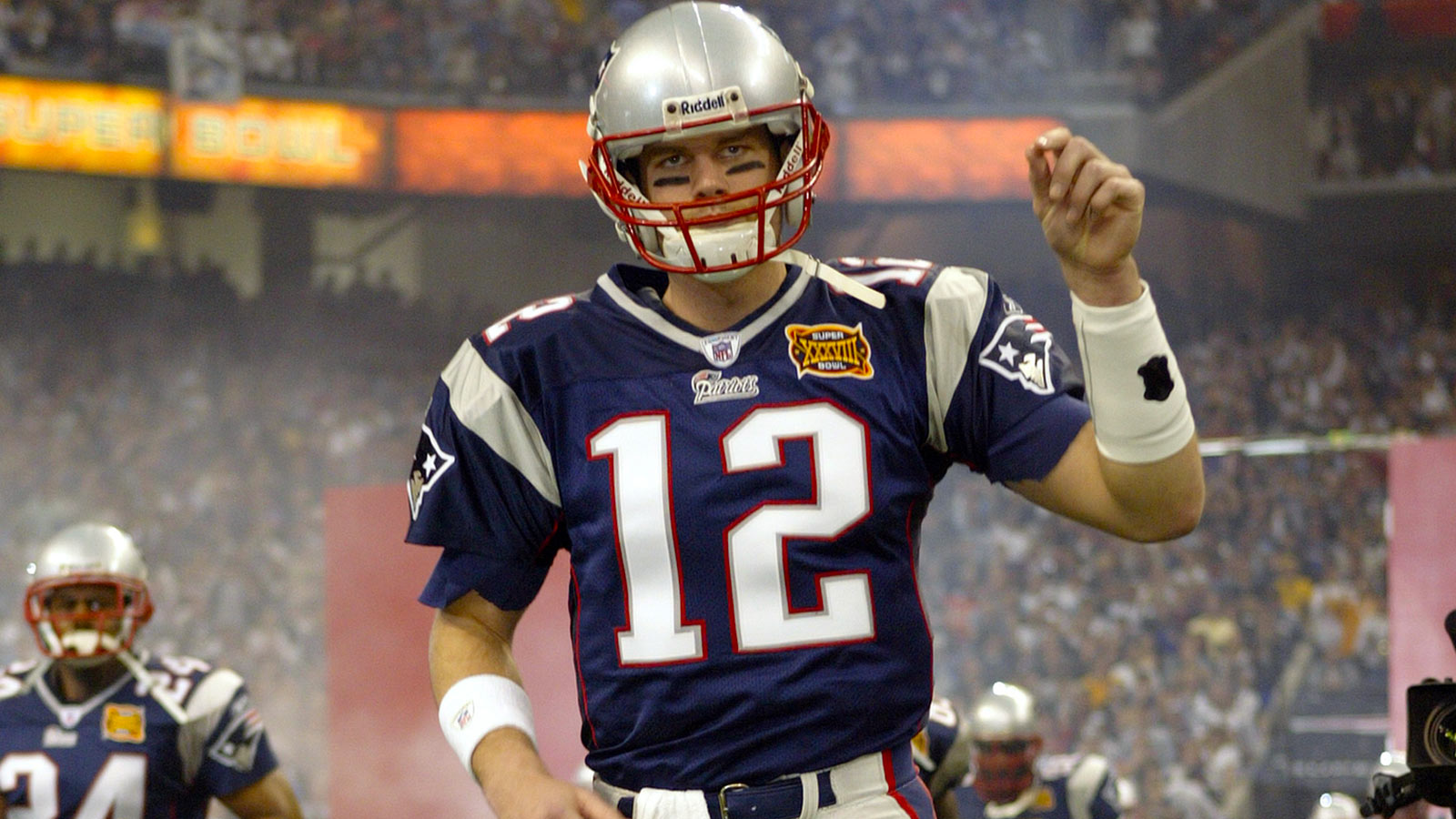 6. Steve Young, QB, San Francisco, Super Bowl XXIX
24 for 36, 325 yards, 6 TDs, 0 INT
A tough one. Young's performance is obviously one of the greatest in Super Bowl history, but could backup Elvis Grbac have led San Fran to a victory? If we were ranking straight performances Young would be a contender for No. 1. Because the Chargers were so average, he's just off of the top.
7. Phil Simms, QB, New York Giants, Super Bowl XXI
22 for 25, 268 yards, 3 TDs, 0 INT
Simms, the NFL fan's favorite TV punching bag, played one of the most sublime Super Bowls ever seen, with an insane 88-percent competition percentage and three-touchdown performance in a 39-20 blowout of the Broncos. Why isn't he higher? The Giants' ground game was just as good, if not as efficient, carrying the ball 38 times for 136 yards and a touchdown.
8. John Riggins, RB, Washington, Super Bowl XVII
38 carries, 166 yards, 1 TD
Fourth-and-1 from the 43-yard line with 10 minutes left and The Diesel rumbled to one of the most famous touchdowns in Super Bowl history, giving Washington a lead they'd never relinquish. Less-well known: On the team's next drive, Riggins carried for an unimpressive 21 yards on eight carries, but the 6:30 drive, capped by a short TD pass, clinched the win.
9. Emmitt Smith, RB, Dallas, Super Bowl XXVIII
30 carries, 132 yards, 2 TDs
Buffalo actually led 13-6 at halftime and the game was tied at 13 early in the third quarter before Smith ran for two touchdowns to put the game out of reach for the Bills in their final Super Bowl (so far).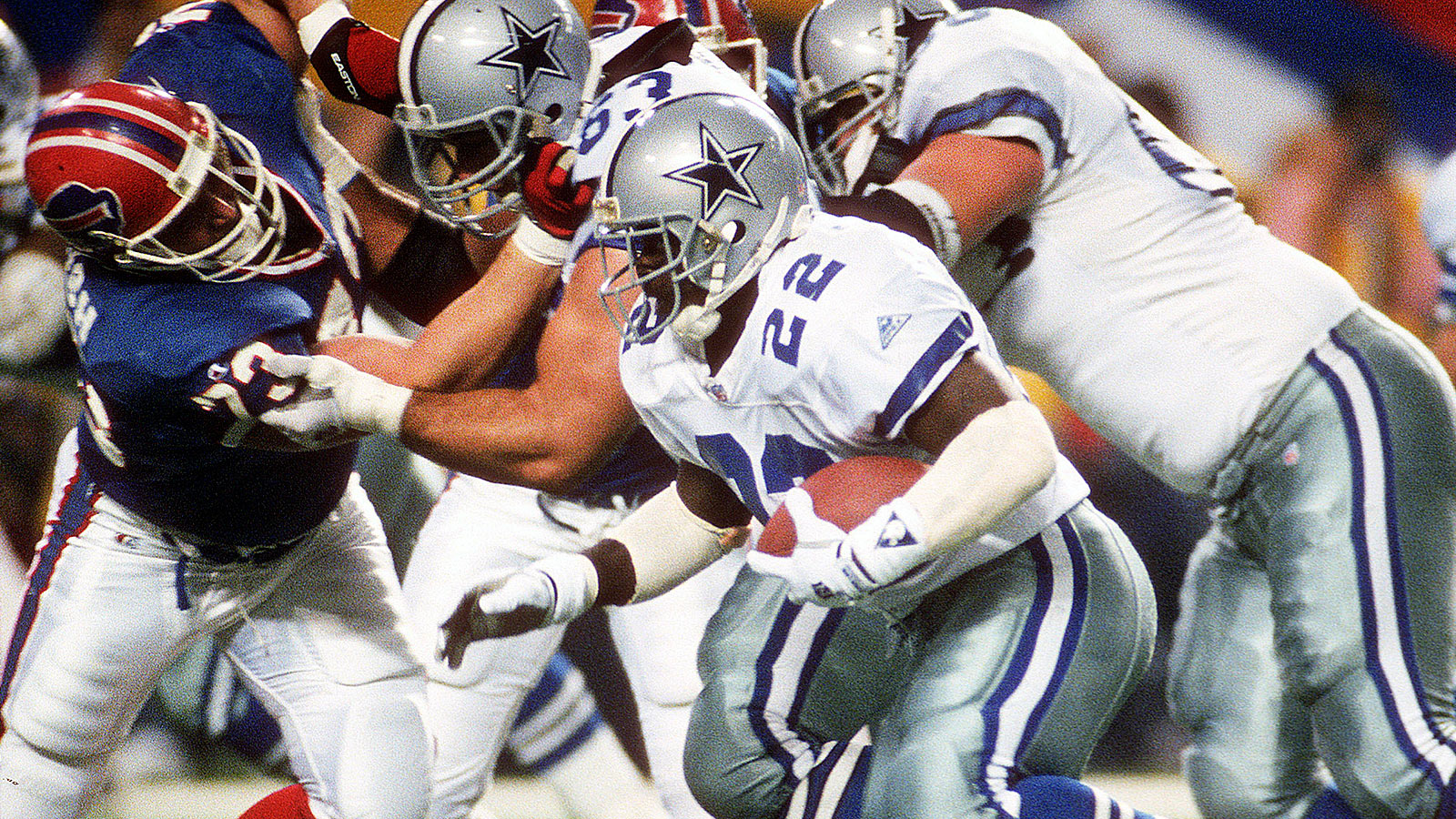 10. Doug Williams, QB, Washington, Super Bowl XXII
18 for 29, 340 yards, 4 TDs, 1 INT
A 35-point second quarter that will never be replicated. This was hard to rank — Joe Gibbs won a Super Bowl in a similar way with Mark Rypien, so how valuable was the quarterback really? In this case, Williams' perfect throws that led to touchdowns and room for the unheralded Timmy Smith to run get him high marks.
11. Terry Bradshaw, QB, Pittsburgh, Super Bowl XIV
14 for 21, 309 yards, 2 TDs, 3 INTs
Those three picks stand out like a sore thumb, but Bradshaw's go-ahead, 74-yard touchdown pass to John Stallworth was perfection. It doesn't make the highlight reels like others Stallworth and Swann had, but it was a picture-perfect throw and a great catch from Stallworth, who was face-guarded as the ball settled in.
12. Aaron Rodgers, QB, Green Bay, Super Bowl XLV
24 for 39, 304 yards, 3 TDs, 0 INT
Good thing Rodgers got Green Bay out to a 21-3 lead over the Steelers, because after four straight punts to open the second half, Rodgers needed to get back on track and eventually start a backbreaking, five-and-a-half-minute drive for a field goal to go ahead 31-25. Big Ben's two-minute drill stalled and Rodgers had matched Brett Favre in rings.
13. Joe Montana, QB, San Francisco, Super Bowl XIX
24 for 35, 331 yards, 3 TDs, 0 INT
Vintage Montana in a game the Niners were never in danger of losing.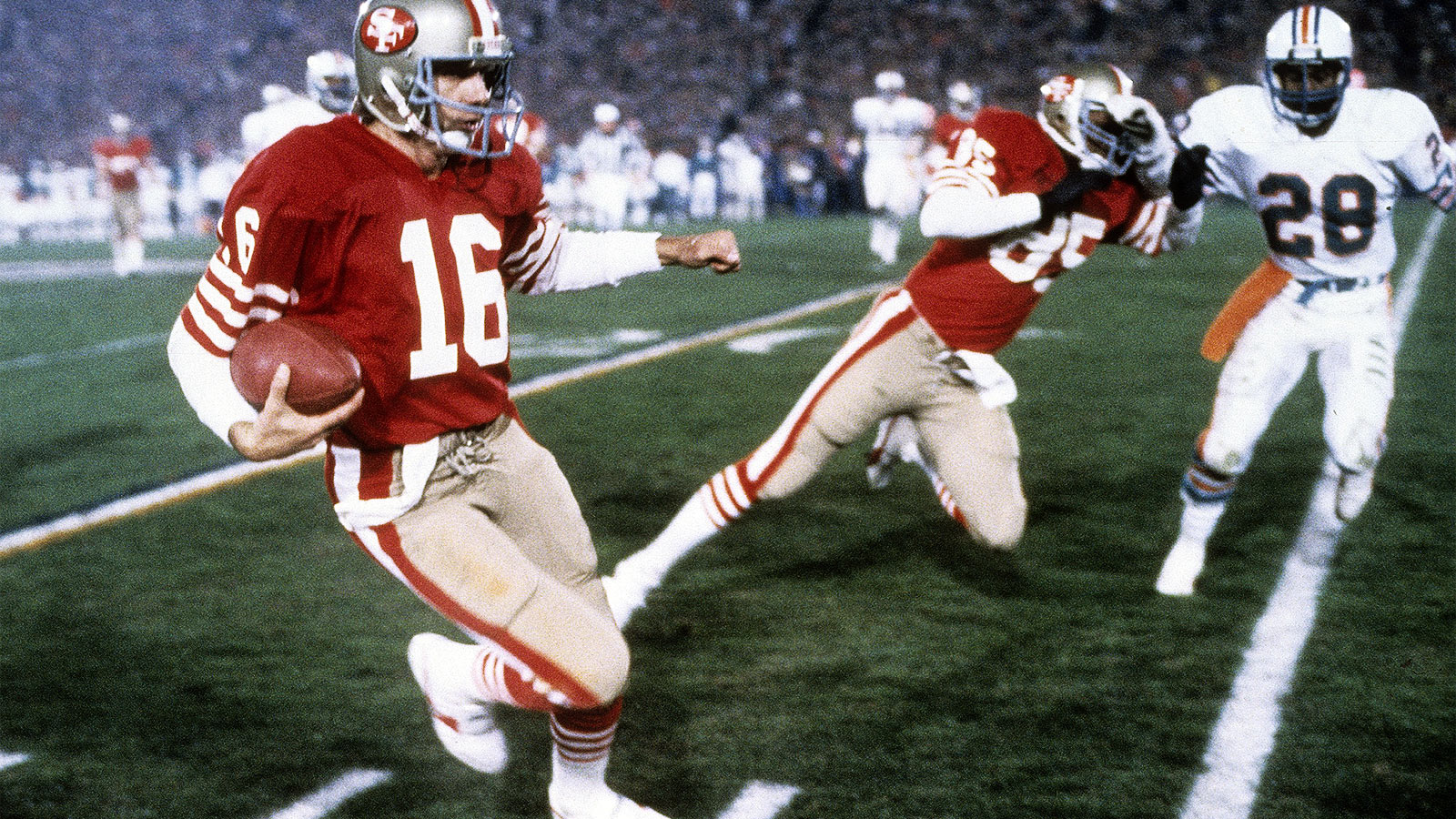 14. Franco Harris, RB, Pittsburgh, Super Bowl IX
34 carries, 158 yards, 1 TD
Pittsburgh rushed 57 times in a Super Bowl that would make Broncos-Panthers thrilling by comparison. But in a game when the starting quarterbacks (both in the Hall of Fame, mind you) combined for 198 passing yards, one man dominated and led Pittsburgh to the first of its dynastic four 1970s Super Bowls.
15. Eli Manning, QB, New York Giants, Super Bowl XLII
19 for 34, 255 yards, 2 TDs, 1 INT
David Tyree made the catch, but it took Eli's Houdini-like escape and perfect throw to set it up. Obviously, Steve Spagnuolo's defense deserves a ton of credit for holding one of the greatest offenses in NFL history to 14 points, but without Eli's magic, the Pats go 19-0.
16. Marcus Allen, RB, Los Angeles, Super Bowl XVIII
20 carries, 191 yards rushing, 2 TDs
Marcus Allen had one of the best Super Bowls in history in LA's 38-9 victory over the mighty 14-2 Redskins, but most of it came in garbage time. Allen had 46 yards in the first half (a fine number) but poured it on in the second, with his famous 74-yard touchdown run. But this Super Bowl is best remembered not for that, but Jack Squirek's five-yard interception return on an inexplicable Joe Thiesmann pass right before halftime that basically clinched the game for the Raiders.
17. Jerry Rice, WR, San Francisco, Super Bowl XXIII
11 catches, 215 yards, 1 TD
Rice was great, but it took Joe Montana to get him the ball and John Taylor to scored the game-winning touchdown (probably because Cincinnati's defense was too busy worrying about Rice).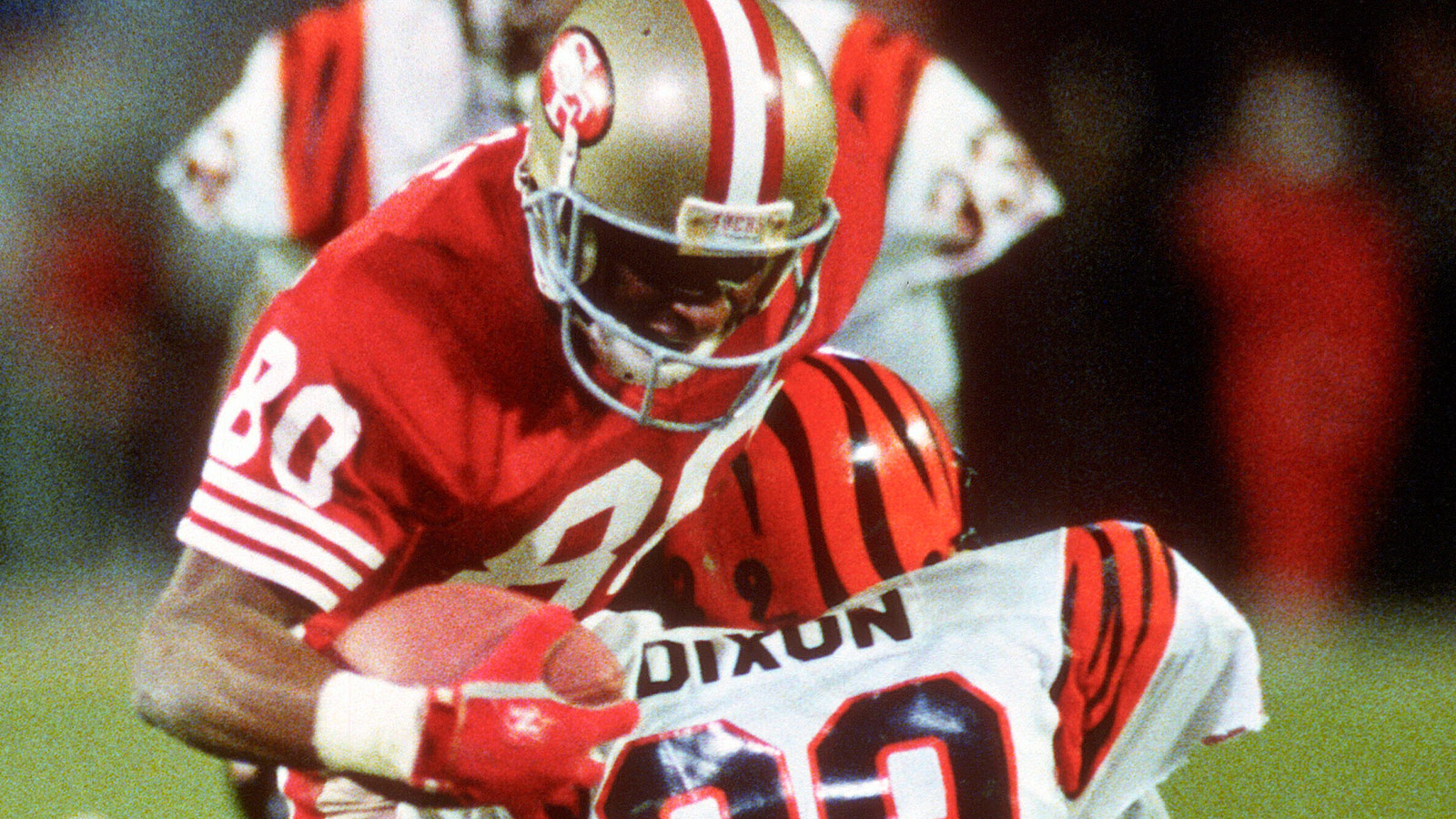 18. Joe Montana, QB, San Francisco, Super Bowl XXIV
22 for 29, 297 yards, 5 TDs, 0 INT
A similar case to his protege, Young; Montana was almost perfect in this 55-10 rout of Denver (there have been only 20 NFL games since that 1990 Super Bowl with point differentials of 45 or more), but he also had the aforementioned Young on the bench, who went 3-0 replacing Montana during the regular season and surely could have won this Super Bowl, too.
19. Larry Csonka, FB, Miami, Super Bowl VIII
33 carries, 145 yards rushing, 2 TDs
Minnesota never had a chance, particularly with Larry Csonka rumbling through the Purple People Eaters like a hot, mustachioed knife through butter.
20. Troy Aikman, QB, Dallas, Super Bowl XXVII
22 for 30, 273 yards, 4 TDs, 0 INT
At that point, I'm pretty sure I could have thrown for 275 on the Buffalo Bills (who were in their third straight losing Super Bowl) and I was also 11 at the time. Still, Aikman had one of the greatest games of his career in what was then the biggest game of his career (the first of three Dallas Super Bowls).
21. Desmond Howard, KR, Green Bay, Super Bowl XXXI
99-yard kick return TD, 244 all-purpose yards
Maybe I'm the only one, but I've long thought the famous Howard kick return was a pivotal, game-changing moment. And it sort of was, as most touchdowns are, but it still occurred with Green Bay leading 27-21, so all it did was turn a six-point lead into a 14-point lead (with a subsequent two-point conversion). In reality, this just made a likely Packers win into a near-certain Packers win.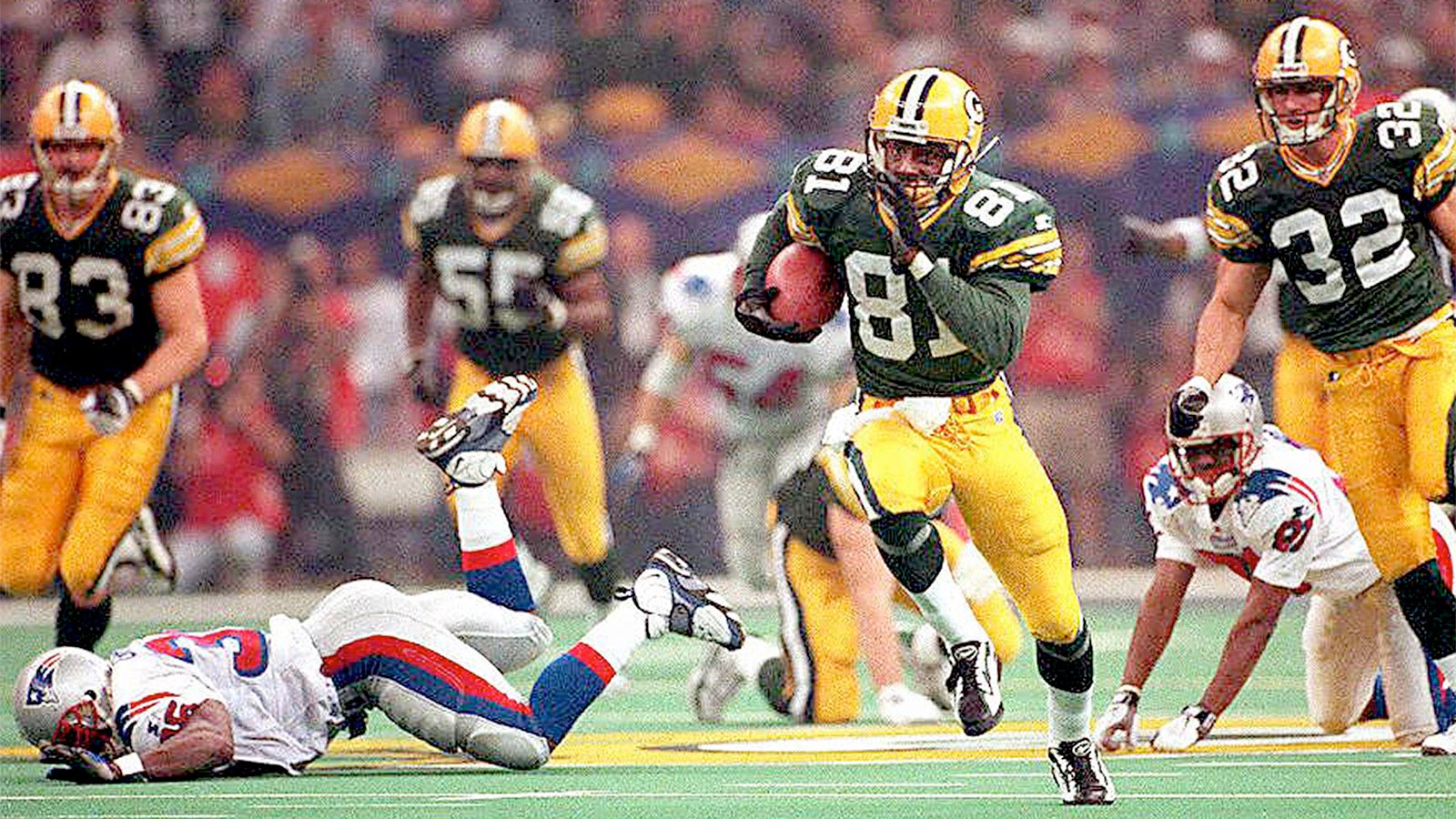 22. Bart Starr, QB, Green Bay, Super Bowl I
16 for 23, 250 yards, 2 TDs, 1 INT
This should have been Max McGee's award, but he seemed to get one the previous night, so Starr was the natural choice.
23. Mark Rypien, QB, Washington, Super Bowl XXVI
18 for 33, 292 yards, 2 TDs, 1 INT
Mark Rypien — MARK RYPIEN — was the greatest quarterback in the NFL during the 1991 season. But just as with Doug Williams we have to wonder whether any (or every) other quarterback could have thrived in Joe Gibbs' system.
24. Jim Plunkett, QB, Oakland, Super Bowl XV
13 for 31, 261 yards, 3 TDs, 0 INT
After three Plunkett touchdown passes it was 21-3 Raiders and the Philadelphia Eagles, making their first Super Bowl appearance, never got close again.
25. Von Miller, LB, Denver, Super Bowl 50
2.5 sacks, 2 forced fumbles, 5 tackles
First, and foremost, you don't realize how stupid Super Bowl "50" looks until you see it in list form with all the other Roman numeral Super Bowls. Second, though the game was never really in doubt, that was because of Miller's timely plays. Could Denver have won without him? Probably. Wade Phillips' defense was that good. But, unlike other defenders on this list, you can't say Denver definitely would have won without Von.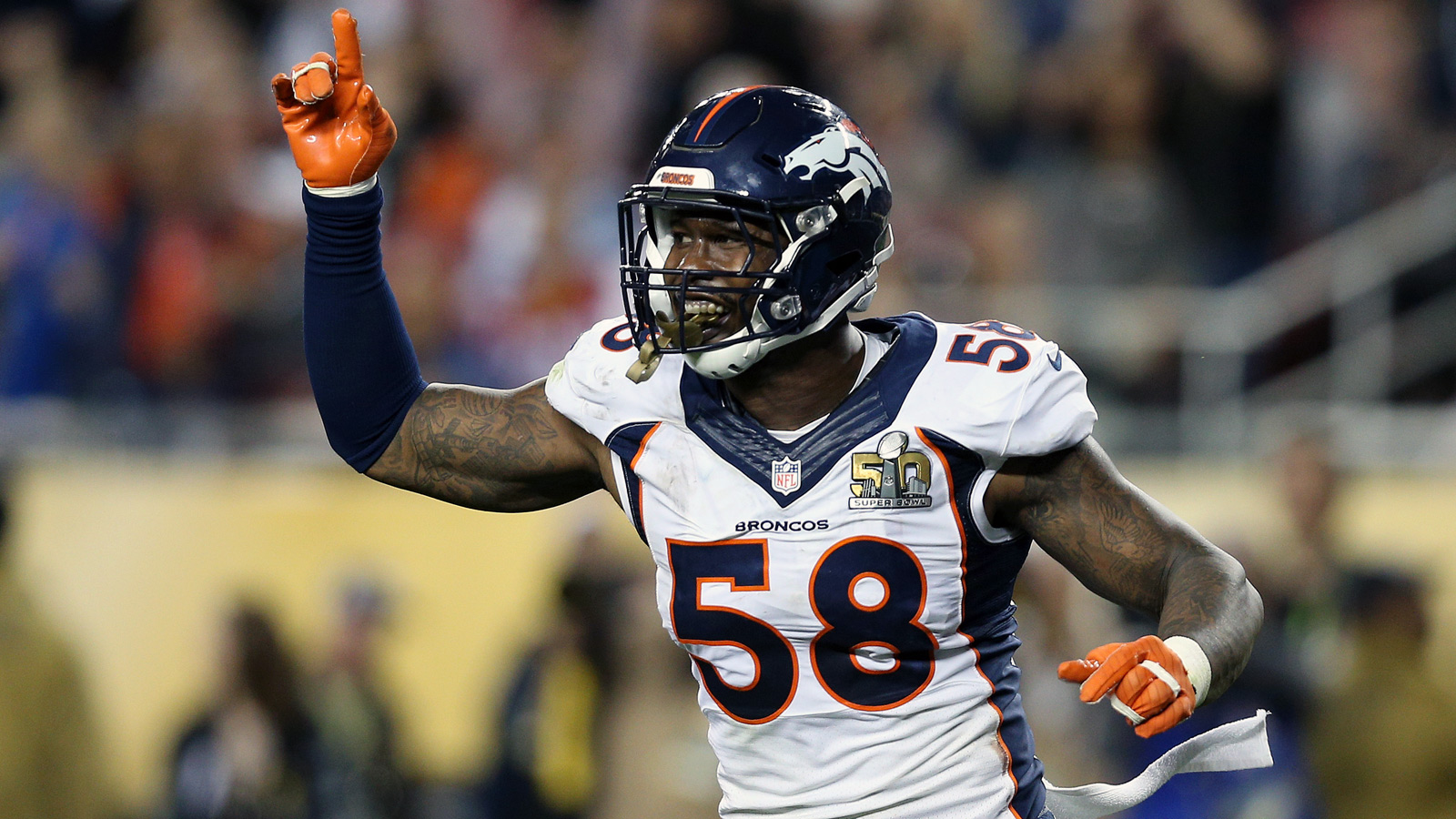 26. Joe Namath, QB, New York Jets, Super Bowl III
17 for 28, 206 yards, 0 TD, 0 INT
RB Matt Snell was the true MVP, but when you're Broadway Joe and guarantee victory, how are you going to vote for some guy named Snell? Frankly, I think the writers were in a "give the MVP to a QB" rut that they wouldn't break until Super Bowl V.
27. Len Dawson, QB, Kansas City, Super Bowl IV
12 for 17, 142 yards, 1 TD, 1 INT
See what I mean?
28. Roger Staubach, QB, Dallas, Super Bowl VI
12 for 19, 119 yards, 2 TDs, 0 INT
Dallas won 24-3, and while Staubach was fine, he was hardly game-changing.
29. Jake Scott, S, Miami, Super Bowl VII
2 INTs, 63 return yards
The first pick led to Miami's first touchdown, which would be all they'd need until Garo Yepremian got himself into every blooper reel late in the game en route to the only perfect season of the Super Bowl era.
30. Lynn Swann, WR, Pittsburgh, Super Bowl X
4 catches, 161 yards, 1 TD
This is the game featuring Swann's famous 53-yard grab, the one in which he leapt over a defender, tipped the ball to himself and somehow came down with it. While one of the great highlights in Super Bowl history, and seemingly big at the moment since it came on third-and-6, it ended up being meaningless, as time ran out of Pittsburgh's drive and they went into halftime down 10-7. Far bigger was the 64-yard touchdown late in the fourth quarter that turned a tenuous one-score game into an easy two-score one.
31. Santonio Holmes, WR, Pittsburgh, Super Bowl XLIII
9 catches, 131 yards, game-winning TD
For my money, Holmes' back-of-the-end-zone catch is still the greatest in Super Bowl history (sorry, David Tyree).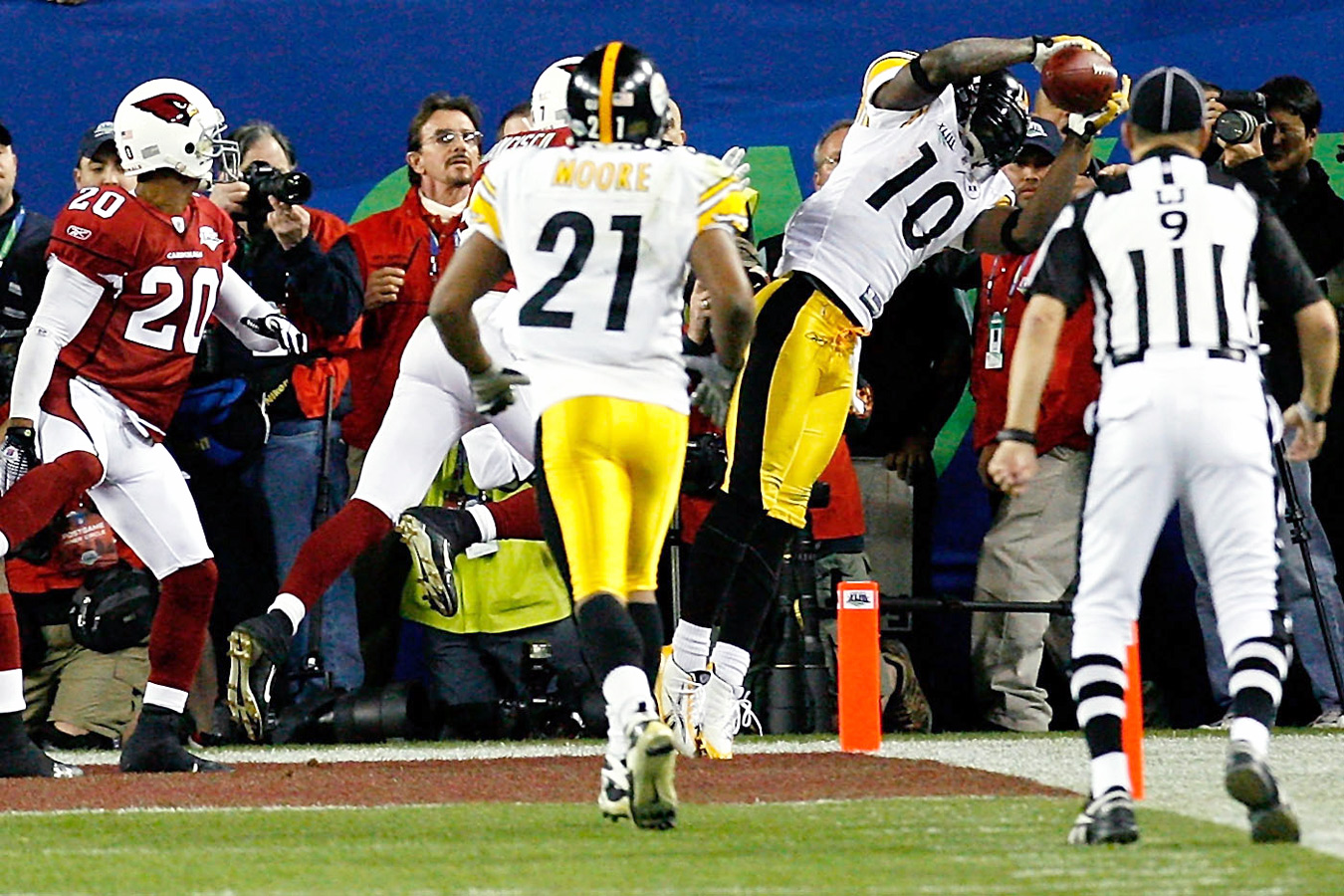 32. Fred Biletnikoff, WR, Oakland, Super Bowl XI
4 catches, 79 yards
The Hall of Famer didn't have any touchdown catches, but he had two big grabs that immediately led to Oakland TDs in a relatively easy win over Minnesota.
33. Joe Montana, QB, San Francisco, Super Bowl XVI
14 for 22, 157 yards, 1 TD, 0 INT
A perfect example of the "no one had a great game, so let's give it to the quarterback" game. A big mark against Montana: Niners kicker Ray Wersching had four field goals, three of which came from 26 yards or under.
34. Drew Brees, QB, New Orleans, Super Bowl XLIV
32 for 39, 288 yards, 2 TDs, 0 INT
A reminder: Just because you're ranked in the bottom half of this list doesn't mean you were an undeserving MVP. I mean, you were a SUPER BOWL MVP for (Rodney) Peete's sake.
35. Ottis Anderson, RB, New York Giants, Super Bowl XXV
21 carries, 102 yards, 1 TD
Sorry, Ottis. You had a hell of a game, but Scott Norwood was the game's MVP.
36. John Elway, QB, Denver, Super Bowl XXXIII
18 for 29, 336 yards, 1 TD, 1 INT
A lifetime achievement award: Davis was better (again) but because his numbers didn't approach his Super Bowl XXXII stats, voters went sentimental and, honestly, who can complain?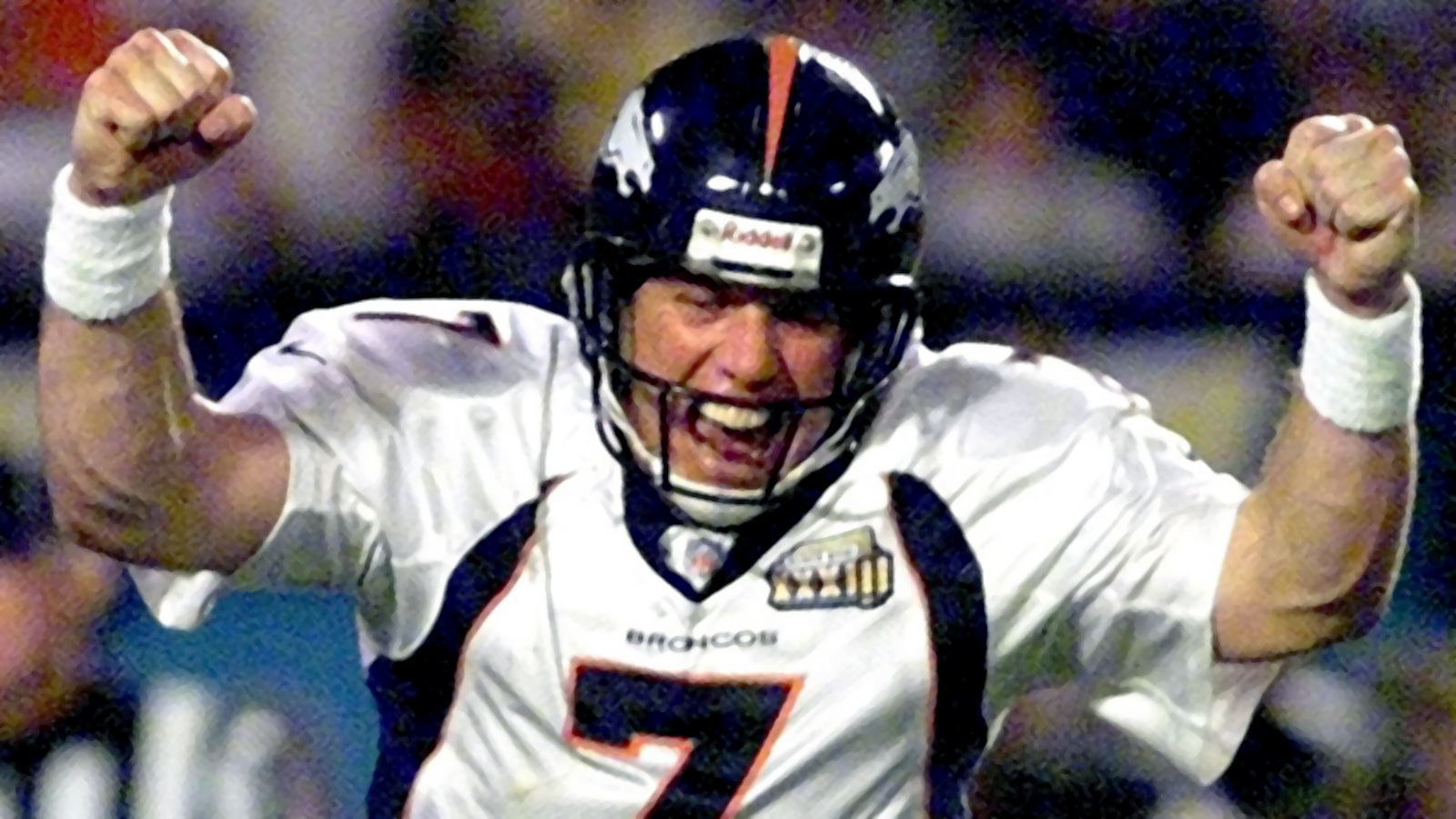 37. Ray Lewis, LB, Baltimore, Super Bowl XXXV
Part of a defense that held Kerry Collins to 112 yards and forced four interceptions
He didn't go to Disney World, however.
38. Tom Brady, QB, New England, Super Bowl XXXVI
16 for 27, 145 yards, 1 TD, 0 INT
A classic team-effort win that inevitably goes to the quarterback. And while Brady certainly didn't steal the award, perhaps the real MVP was the Pats defense that held Marshall Faulk to 130 yards and no touchdowns on 21 touches and never let him get going as the entire football world expected.
39. Hines Ward, WR, Pittsburgh, Super Bowl XL
5 catches, 123 yards, 1 TD, 18 rushing yards
How many people in the press box do you think were trying to justify voting for Jerome Bettis to win this award? (In case you had forgotten, this game was played in Detroit — his hometown!) But Ward was the easy choice because — and this might have been a Super Bowl first — he had as many receiving yards as his quarterback had passing yards. How? Forty-three of Ward's 123 came on an option pass by Antwaan Randle El. Roethlisberger would have 43 other yards to three other receivers.
40. Peyton Manning, QB, Indianapolis, Super Bowl XLI
25 for 38, 247 yards, 1 TD, 1 INT
As Peyton's Super Bowl rings will prove, it doesn't matter how you win them, as long as you do.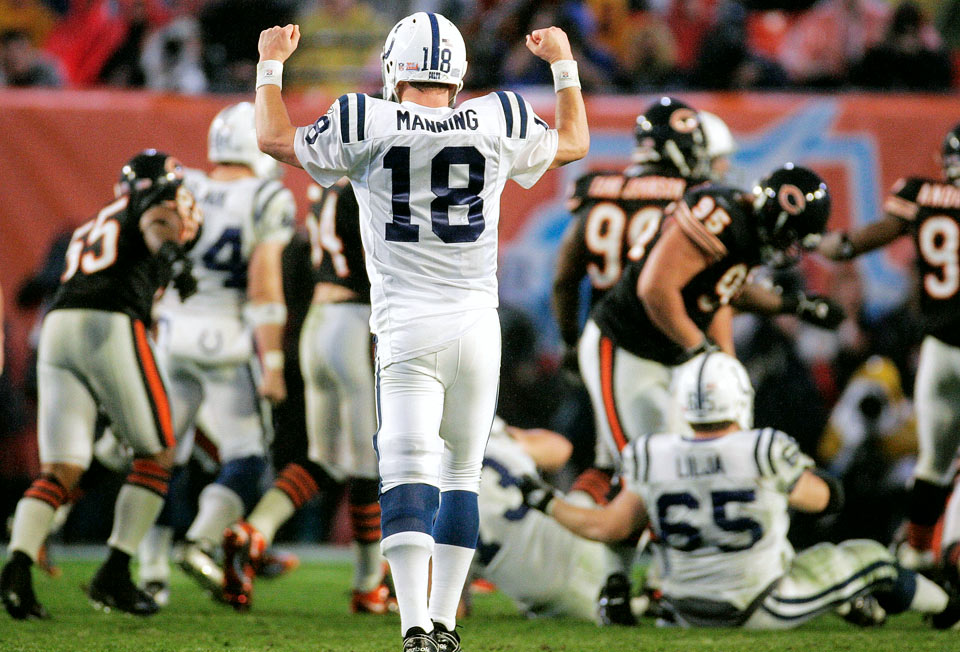 41. Joe Flacco, QB, Baltimore, Super Bowl XLVII
22 for 33, 287 yards, 3 TDs, 0 INT
Just an elite performance.
42. Tom Brady, QB, New England, Super Bowl XLIX
37 for 50, 328 yards, 4 TDs, 2 INTs
Tom Terrific was great in leading New England to a late go-ahead touchdown, but when the indelible memory of a Super Bowl doesn't involve you (that would be the goal-line pick by Malcolm Butler), it's hard to rank very high.
43. Bart Starr, QB, Green Bay, Super Bowl II
13 for 24, 202 yards, 1 TD, 0 INT
Could have given it to Herb Adderley, who had a 60-yard INT return for TD, but Starr worked well in Super Bowl I, so why not give it to him again?
44. Eli Manning, QB, New York Giants, Super Bowl XLVI
30 for 40, 296 yards, 1 TD, 0 INT
The last six (real) drives in Giants-Pats II: Punt, punt, FG, FG, punt, TD run. Not much Eli there. Still a great game though.
45. Deion Branch, WR, New England, Super Bowl XXXIX
11 catches (on 12 targets), 133 yards, 0 TD
Branch had the game of his life and was nearly perfect, but this was more a "we can't give Tom Brady three MVPs in four years" deals.
46. Malcolm Smith, LB, Seattle, Super Bowl XLVIII
1 INT returned for 69-yard TD
The final was 43-8. Malcolm Smith could have sat on the bench for a few plays and Denver could have played against 10 and it wouldn't have mattered.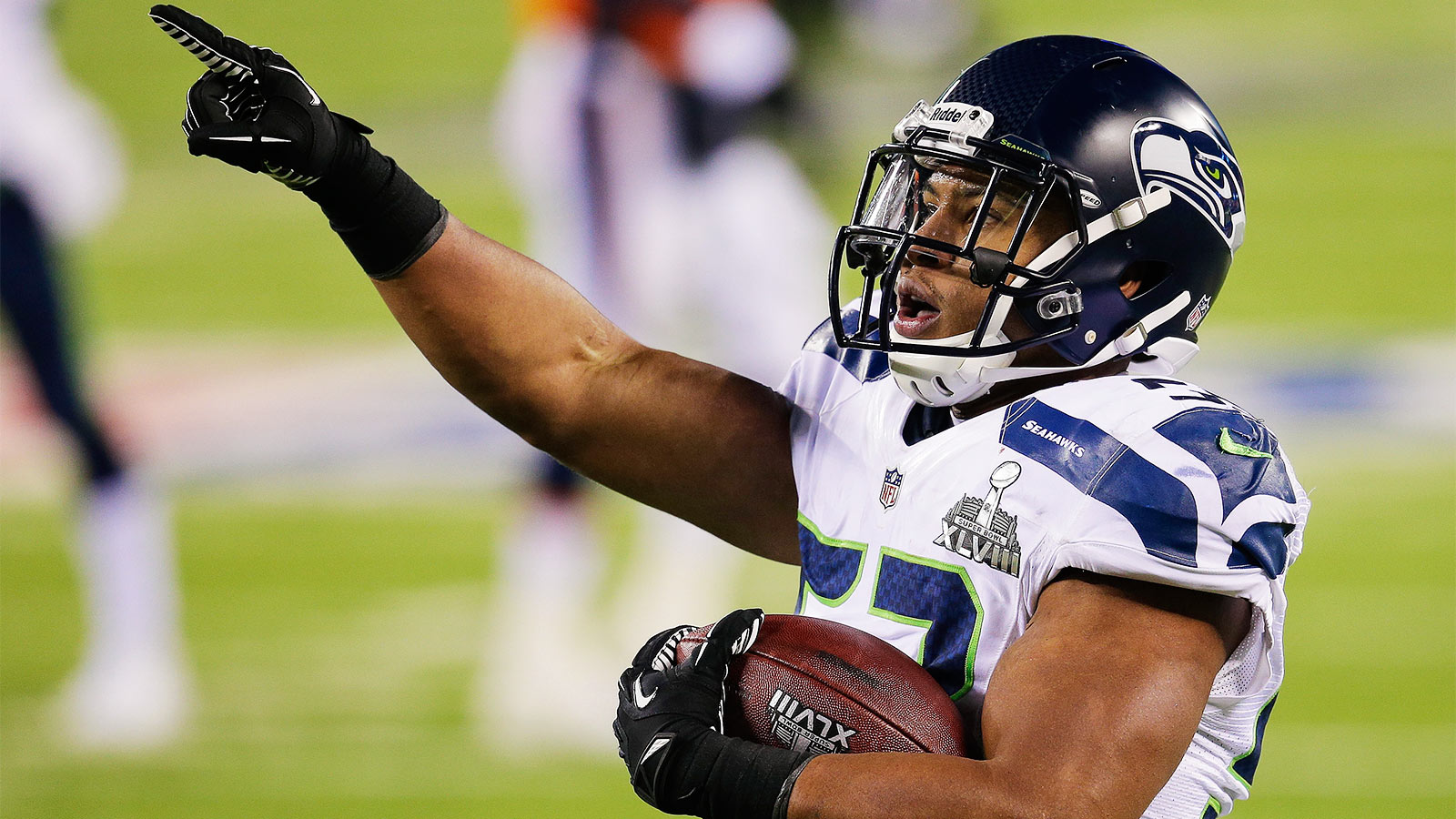 47. Richard Dent, DE, Chicago, Super Bowl XX
2 sacks, 2 forced fumbles
Taking nothing away from Dent, anyone on the '85 Bears defense could have won this award.
48. Harvey Martin & Randy White, DL, Dallas, Super Bowl XII
2 sacks (Martin) and 1 sack (White)
Two MVPs might as well equal zero MVPs.
49. Dexter Jackson, CB, Tampa Bay, Super Bowl XXXVII
2 interceptions
In a 48-21 blowout in which not all that much happened, voters gave it to the guy with two picks. But those two interceptions led to only three points for Tampa, so they were hardly game-changing.
50. Chuck Howley, LB, Dallas, Super Bowl V
2 INTs, 22 return yards
Dallas lost.