Report: New York Jets to Name Geno Smith Their Starting Quarterback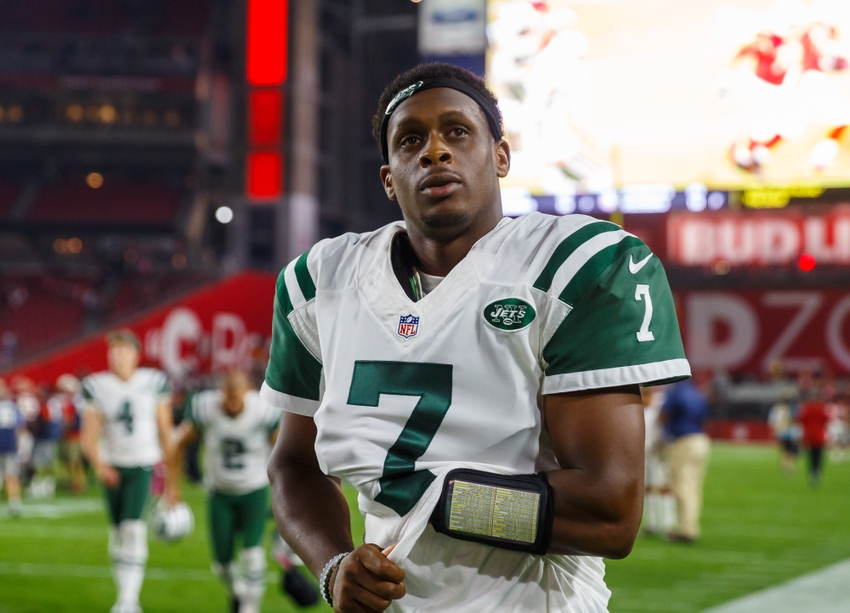 Jets Head Coach Todd Bowles is expected to name Geno Smith the starting quarterback
An unforeseen 1-5 start to the Jets season has prompted the coaching staff to make a major change for Sundays game against the Ravens.
According to ESPN's Adam Schefter, Geno Smith will be named the starting quarterback for the Jets going into this weekends game over Ryan Fitzpatrick.
On Monday Night Football against the Arizona Cardinals, Fitzpatrick was benched after throwing an interception in the fourth quarter and failing to score any offensive touchdowns. Smith entered the game and promptly threw an interception. Smith had been lobbying before the game with members of the media that he should be starting, and was visibly upset on the sideline when Fitzpatrick failed to convert plays.
Fantasy Football: Top 5 injuries to keep an eye on for Week 6
New York re-signed Ryan Fitzpatrick during training camp after the veteran had one of the best seasons of his career with the Jets. After lengthy contract negotiations, Fitzpatrick signed a one-year deal worth $12 million.
Fitzpatrick has thrown a league-high 11 interceptions through six games, and has just five touchdowns. The 33-year-old was a clubhouse favorite after his first year with the team, and had the support of multiple teammates.
Geno Smith was the Jets second-round pick out of West Virginia in 2013. Smith started his first two seasons in the NFL, but lost the starting job to Fitzpatrick last year after Smith had his jaw broken in a locker room fight.
Through 32 career NFL games, Smith has an 11-18 record with 27 touchdowns and 36 interceptions. Smith has not started a game since 2014.
This will be the final year of Geno Smith's rookie contract, and he is not expected to receive a long-term deal going forward. New York is the only team in the NFL carrying four quarterbacks on their active roster, with Bryce Petty and rookie Christian Hackenberg developing on the side.
Petty has been nursing a shoulder injury, and neither him nor Hackenberg have taken a regular season snap in their young careers. Hackenberg was drafted out of Penn State in the second-round of the 2016 NFL Draft after setting multiple Penn State passing records during his three years as the starter.
Follow NFL Mocks on Facebook, Twitter, Youtube, and Instagram!
More from NFL Mocks
This article originally appeared on