Philadelphia Eagles: Has Zach Ertz finally arrived?
Tight end Zach Ertz ended the season with an exclamation point for the Philadelphia Eagles, but is he for real?
Zach Ertz torched the Dallas Cowboys for 13 receptions, 139 yards, and two touchdowns in the season finale. His play jolted Lincoln Financial Field and a crowd that was fully aware that its' team would miss out on a playoff appearance. Ertz missed two games early in the season, but fans have been expecting him to elevate his play before last season even began. When the Philadelphia Eagles traded up and drafted Carson Wentz, they hoped a budding one-two connection would transpire. Unfortunately, that monster performance they hope for would have to wait until season's end. Ertz's two touchdowns accounted for half of his touchdown total for the entire 2016 season.
Ertz's career has been filled with excitement and disappointment. The former second-round draft pick drew comparisons to the NFL's elite tight ends because of his athletic ability. Coming out of the Stanford Cardinal program, Ertz was expected to immediately steal the starting position away from longtime bird, Brent Celek. It was Ertz's blocking ability that held him back. Since, Ertz has consciously worked to improve that facet of his game. In 2016, Ertz finished 5th in the NFL for receptions by a tight ends, the most receptions he's had in a season. Also, Ertz has the franchise record for receptions in a game with 15. He broke Brian Westbrook's record (14) against the Washington Redskins in 2014.
Hot finish to 2016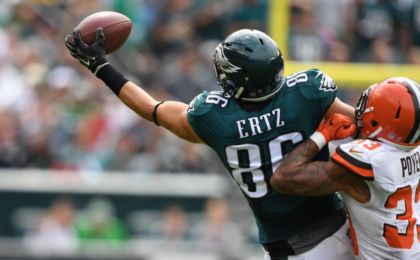 Before Ertz's mid-season performance against the New York Giants, he only had one game where he had more than four receptions, but Ertz finished the season on a strong note. In seven of the team's last nine games, Ertz recorded at least six receptions. In that span, he accumulated 63 receptions, 666 yards, and all four of his touchdowns. Down the stretch, Ertz and Wentz gave a glimpse of what the future could hold.
Ertz needs to continue what we saw late in the season when next season begins, but that's been an issue in recent years for the tight end. Somehow, both Doug Pederson and Chip Kelly, have seen Ertz run hot and cold like a faucet. Many want to blame the play calling and the offensive strategy. This season was supposed to be more promising than previous years. It just didn't turn out that way for the most part.
In week one, Wentz connected with Ertz six times for 58 yards in a convincing victory over the Cleveland Browns. Then, even after Ertz's two-week injury hiatus, the two connected nine times over the course of four games. As the season wound down, Wentz started to ignore his outside receivers more in an attempt to connect with Ertz and Trey Burton. In doing so, Ertz was able to showcase the development of his hands and route-running.
Although the Eagles are watching the NFL playoffs just like their fans, everyone should find solace in the fact that a budding Wentz-Ertz connection could prove fruitful. Often, young quarterbacks in the NFL are geared to throwing to tight ends because of their size and natural ability to create separation. Heading into 2017, if Wentz and Ertz can build off their momentum, "The Birds" could be in a different position offensively. That could make all the difference.
More from Inside the Iggles
This article originally appeared on