NFL Week 2: Injury Report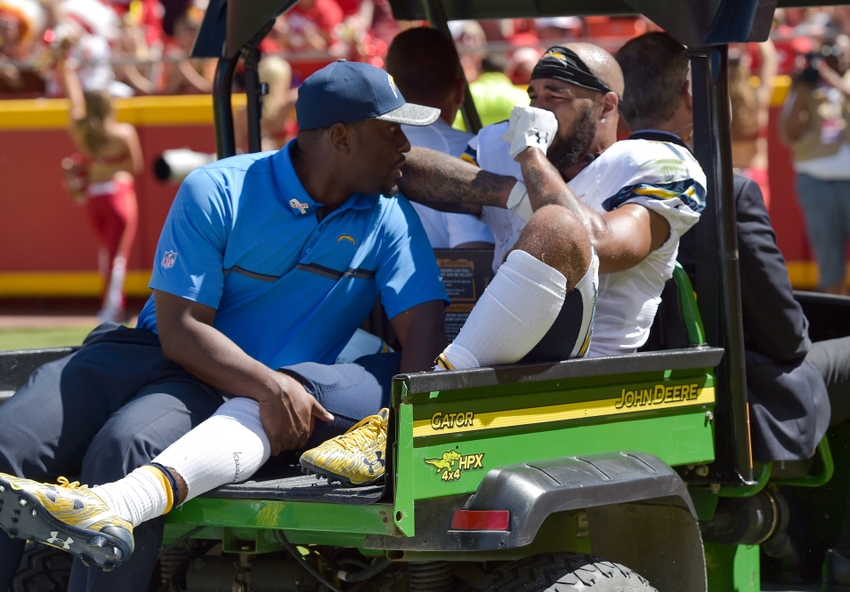 With Week 2 getting underway in nearly 24 hours, let's get up to date with injuries throughout the league.
It only took one week but there is already a host of notable players dealing with injuries. Of course, this is par for the course in the NFL where a player's season can end on one play. That was the case for San Diego Chargers receiver Keenan Allen who tore his ACL in the opener. It may also be the case for Cleveland Browns quarterback Robert Griffin III who was placed on IR with a designation to return.
In advance of the Thursday night game, here is the injury report of notable players after Wednesday's practices.
Quarterbacks
Robert Griffin III , Cleveland Browns
On Monday, the Browns placed RG3 on the injured reserve list just one game into the season. This puts the Browns in a tricky mess, as RG3 will have to miss at least eight games. A Week 10 comeback is what he'll shoot for however the team may have other plans. Griffin suffered a fractured coracoid bone in his left non-throwing shoulder.
Running Backs
Devonta Freeman, Atlanta Falcons:
Freeman was limited in practice today due to a quadriceps injury. In Week 1 against the Bucs, Freeman got just 11 carries and picked up 20 yards. He also ha four catches for an additional 20 more yards. The Falcons will take on the Raiders this week, and will need their star back to keep up with Oakland's offense.
Spencer Ware, Jamaal Charles, Kansas City Chiefs:
Ware missed practice Wednesday with a sprained toe, but head coach Andy Reid expects him to be ready for Houston this weekend. Charles worked out with the scout team today, per NFL.com, but it's unlikely he'll see the field versus the Texans Sunday.
Chris Ivory, Jacksonville Jaguars:
After spending two days in the hospital, Ivory was released yesterday after being admitted Sunday morning. He was a surprise inactive for Week 1 and the Jags have not publicized his illness or injury. He's questionable for Sunday's game against the Chargers in San Diego.
Wide Receivers
Keenan Allen, San Diego Chargers
Allen missed eight games last year due to a lacerated kidney, and now he'll miss 15 more due to a torn right ACL suffered in the season opener.
Demaryius Thomas, Denver Broncos
Thomas was limited in Wednesday's practice as he participated in roughly 1/3 of team activities via the Denver Post. It was his first practice in six days but head coach Gary Kubiak insists he will play Sunday against Indianapolis. Thomas injured his hip in the first quarter of their opener Thursday against the Panthers.
Julio Jones, Atlanta Falcons:
Jones was limited in practice on Wednesday (ankle) but is expected to play against Oakland on Sunday.
Sammy Watkins, Buffalo Bills
Watkins is listed as questionable for Thursday night's game against the Jets. A nagging foot injury has limited him in practice this week, including today. The fact that he's playing tomorrow on a quick week, will be a determining factor as to whether he suits up or not.
Tight Ends
Rob Gronkowski, New England Patriots:
After missing Week 1, Gronk appears to be on track to play Sunday as the Pats will play host to Miami. He was limited again today and is listed as questionable for Sunday. He was listed as questionable last week during practice but didn't make the trip to Arizona.
Zach Ertz, Philadelphia Eagles:
The 25-year old out of Stanford is listed as questionable for Monday Night's game against the Bears. He caught six balls for 58 yards on Sunday against the Browns. Ertz suffered a rib displacement in his collarbone and is doubtful for Monday night.
Offensive Line
Mike Pouncey, Miami Dolphins
After missing Week 1, the former first round pick is dealing with a small hip fracture. The same injury is keeping him out of practice, he is doubtful for Sunday.
Matt Kalil, Minnesota Vikings
The Vikings left tackle didn't practice Wednesday due to a hip issue. He played in every snap (63) against the Titans this past Sunday. He's questionable for now.
Defensive Stars
Brian Cushing, Houston Texans
The middle linebacker will miss six weeks as he recovers from a torn MCL. He won't need surgery and the injury is not on his problematic left knee, which has been banged up in the past.
Mario Williams, Miami Dolphins
Dolphins defensive end, Williams didn't practice today as he undergoes the league's protocol concussion tests. He picked up a sack against the Seahawks on top of two other tackles. He's listed as questionable for Sunday.
Delvin Breaux, New Orleans Saints:
The second-year corner had surgery this week to repair a broken left fibula he sustained against Oakland Sunday. The Saints number one corner played well last year. This is a huge blow to an already thin secondary. The silver lining, however, is that he will return in six weeks.
This article originally appeared on