NFL Week 13: Who Plays on Monday Night Football?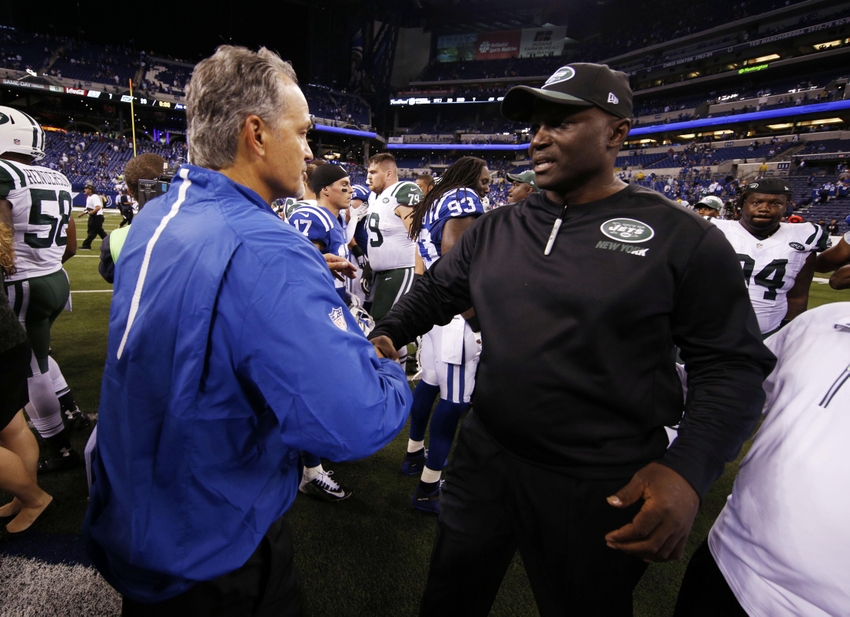 In NFL Week 13, Monday Night Football will have one of the worst games of the week to watch. Who will be facing off to wrap up Week 13?
As the season comes to a close, NFL Week 13 is upon us. Unfortunately, the final game of the week on Monday Night Football isn't the greatest. On Monday, it will be the New York Jets facing the Indianapolis Colts.
After being flexed out of Sunday Night Football last week, the Jets put together one of their best games of the season against the New England Patriots. Even though it was a good game for the Jets, it still wasn't enough. While trailing late, Patriots quarterback Tom Brady led his team down the field for an eventual game-winning touchdown.
The loss was a frustrating one for the Jets, as they played similar to what we saw in 2015. One of the big reasons for the close game was the performance of Ryan Fitzpatrick. After being awful for a majority of the season, Fitzpatrick turned in one of his best game against the Patriots. However, a fumble on a strip sack late ended their chances of an upset win.
For the Colts, Week 12 was also a difficult one for them. On Thanksgiving, the Colts were outmatched without Andrew Luck against the Pittsburgh Steelers. Luck sat out on Thanksgiving due to a concussion, but is expected to play on Monday Night Football.
While the Jets season is over at 3-8, the Colts are still very much alive in the AFC South. With a 5-6 record, the Colts are right behind the Tennessee Titans and Houston Texans, who each have six wins. With Luck back, Week 13 will be a very important one for the Colts, as they need to get a win.
It will be interesting to see how the Jets play from here on out with their season over. The Colts will be hoping that Week 12 was just a fluke against the Patriots, as the Jets actually looked like a good team last Sunday.
More from NFL Spin Zone
This article originally appeared on