NFL quarterback rankings, Week 14: Derek Carr surges once more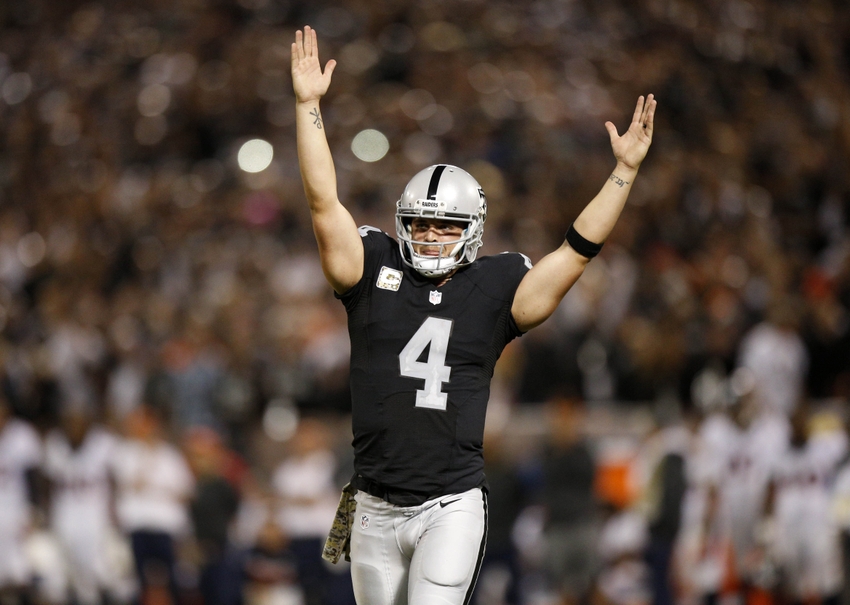 Derek Carr continues to play strong football, and rose up the NFL quarterback rankings as the weather turns colder in December.
As always, these are based off this year's play with a dash of historic context. Here's the link to last week's rankings.
Blake Bortles Memorial Division
32. Blake Bortles
FOX had a great stat on Sunday. Bortles has more pick-sixes (11) than wins (10) in his career. He's horrible.
Jeff Kemp Division
31. Jared Goff

Goff threw for 27 yards in the first half against New England. He's got a LONG way to go before he's passabale.
30. Matt Barkley

Bakrley got his first win as a starting NFL quarterback. It wasn't pretty. He didn't have a completion through the first quarter, but he won.
29. Ryan Fitzpatrick

Fitzpatrick is going to be a free agent this year, and he won't be getting any offers that include starting anytime soon.
Richard Todd Division
28. Brock Osweiler
Osweiler is horrendous. He has 14 touchdowns and 13 interceptions, and continues to make the same problems repeatedly. Ugly football.
27. Josh McCown
The Browns and McCown are just trying to survive this season.
26. Colin Kaepernick
Kaepernick was benched after completing one pass in the first half against a two-win Bears team. It's been a brutal season for a player who was a star only a few years ago.
Tommy Maddox Division
25. Tyrod Taylor
Taylor has to be feeling pressure. The Bills face a very expensive option on his contract, one that likely doesn't get picked up. He could be an interesting free agent.
24. Sam Bradford

Bradford has a great completion rate (71.2). Unfortunately, much of that is because Bradford checks down almost every play.
23. Carson Wentz
Wentz and the Eagles have really tailed off over the past two months. The kid shows promise, but his seven touchdowns and 11 interceptions through the past nine games tells the story.
22. Trevor Siemian

Siemia should be back Sunday, and that's huge for the Broncos. Siemian is proving to be an NFL quarterback, although maybe more backup than starter.
Jake Plummer Division
21. Carson Palmer

Palmer has thrown too many interceptions (11) but he also ranks ninth in the league with 3,231 yards to go with 18 touchdowns.
20. Cam Newton

Newton has been bad this season. No way around it. He might have won the MVP in 2015, but this version is rough. Newton has a completion percentage of 54.7.
19. Eli Manning

Manning is a talented two-time Super Bowl champ, but he throws a ton of ugly picks. The Giants probably beat the Steelers on Sunday if not for Manning literally throwing the game away.
18. Joe Flacco

Flacco has amassed 3,258 passing yards, but he has not looked the same after tearing his ACL and MCL last November. His 15 touchdowns and 11 interceptions is evidence of that.
17. Alex Smith

On Sunday, Smith was 21-of-25 for 270 yards in a sublime effort against the Falcons. Smith drives everyone insane, but he wins and wins.
Jim Hart Division
16. Andy Dalton

Dalton was terrific against the Eagles, who are ready to play some golf. The redhead has 3,375 yards and only six interceptions this season. Playing solid football.
15. Ryan Tannehill

Tannehill has been much-improved this year, but the game against Baltimore was hideous. The former side receiver threw three interception. Let's see if he bounces back this weekend.
14. Kirk Cousins

Cousins is third in the NFL with 3,811 yards and has 21 touchdowns. So why has he slipped? Bad outing in Arizona, in a game the Redskins really needed.
Earl Morrall Division
13. Marcus Mariota
Mariota is coming off the bye and playing in the biggest game of his professional life to this point. The Broncos come to Tennessee, bringing their top-ranked secondary with them.
12. Jameis Winston

Winston is coming of age right before our eyes. He still throws the occasional bad interception, but he's a playmaker who has the Buccaneers in a playoff spot.
11. Philip Rivers

No choice but to drop Rivers out of the top 10. There are simply too many bad interceptions, especially late in games. The Chargers are a goof team with a bad record, and he's not helping the cause.
Sid Luckman Division
10. Ben Roethlisberger

The Steelers need Roethlisberger to be at his best over the final month of the season. So far, Big Ben has 25 touchdowns and eight interceptions. He's been great
9. Dak Prescott

What else can be said about Prescott? He's thrown two interceptions all year nad couldn't be a better leader/winner. He's the real deal.
8. Aaron Rodgers
For all the talk about what's wrong with the Packers, there is nothing wrong with the quarterback. Rodgers has 29 touchdowns against seven interceptions.
Check out these other NFL posts from FanSided:
Top 10 craziest NFL fan bases
Top 15 NFL Draft busts of all-time
Top 15 Heisman winners who flopped in the NFL
Sammy Baugh Division
7. Drew Brees

Brees has to move back a few spots after a lackluster performance at home against the Lions. He's been terrific all year with a league-best 3,913 yards, but this Sunday wasn't his best.
6. Russell Wilson

Wilson laid it on the line Sunday night, torching the Panthers for 40 points. He's not running as much this season, but he's turning into a lethal passer.
5. Andrew Luck

Luck has almost no help on his entire team sans T.Y. Hilton, and still puts up crazy numbers. Can you imagine him with a modern-day combination of Reggie Wayne and Marvin Harrison?
Joe Montana Division
4. Matt Ryan

Ryan has been great all year, but moves down two spots after costing Atlanta a game with two interceptions to Eric Berry. Still, 3,813 passing yards and 27 touchdowns is tremendous.
3. Matthew Stafford

Stafford is authoring a great campaign in Detroit. The former No. 1 overall pick has 3,224 passing yards and 24 touchdowns, showing what he can do without Calvin Johnson.
2. Derek Carr

If the season ended today, Carr would be the MVP. With 3,375 passing yards and 24 touchdowns, he has blossomed into a superstar in 2016.
1. Tom Brady
He's played in eight games this season, and has 2,470 yards with 19 touchdowns and one interception. This is real life.
This article originally appeared on