Game of the Week: Ivory gives Jets puncher's chance against Patriots
Many will hesitate to believe the Jets offense is as good as they've seemed in the first month and a half of the NFL season because some of the players making it click have all played big roles in bad offenses in the very near past.
Wide receiver Brandon Marshall can't possibly be as good as he looks, right? That's the same guy from that terrible Chicago offense, correct? Chris Ivory can't be that, good? And Ryan Fitzpatrick? Don't even get me started on Ryan Fitzpatrick. He went to Harvard or something, amiright or amiright?
The problem with that train of thought is one of those hidden-in-plain-sight truths of great football: in bad situations, great players can look not great. It takes a team of complementary pieces to excel.
When the Patriots and Jets collide this Sunday in their big AFC East showdown in Foxboro, the Jets offense will be as big of a challenge for New England as the Jets defense, and that's news in itself.
THE IVORY TOWER
Fantasy football owners know Ivory well. Players who have to tackle Ivory do, too. Coaches who watch game tape and draw up game plans for a living are very familiar with Ivory. But to the casual NFL fan, when Marshall laid out the high regard that's due his teammate, many looked at him cross-eyed.
"He's already the best running back in the league right now," teammate Brandon Marshall said, per ESPN. "Just watch the tape: speed, quickness, agility, vision, endurance. He has it all."
Ivory has the stats to back up that claim, but is he really the best? Isn't there a secret handshake you have to master to join "the club" with the likes of Adrian Peterson, Marshawn Lynch, LeSean McCoy and Arian Foster?
To put it as plainly as you can in the land of running backs: if Ivory was given the ball instead of each of these runners for their respective carries this season, he'd have gotten more yards. A review of the tape and it's not even mildly debatable. It doesn't matter if he's not a household name, his tape glows.
As is the case with many players in the league, the kind of player they truly can be isn't always evident until there's balance around them. The Jets now have that balance so it's easier to see what's always been there.
Ivory has succeeded in a wide variety of scheme runs, so he doesn't have a slotted style of play that he needs to be successful. He finds yards that aren't there, finishes every carry with fall-forward violence that even the linebackers tackling him can appreciate, and has the quick feet, vision, and surprising speed that keeps him far from a "power back" pigeonhole.
HELP FROM EVERYWHERE
Ivory's rise helps remind us that football is a game of complementary pieces. The Patriots offense has been such a ridiculous group to stop for so many years because the trigger man in Brady is so good, but also because the offense has never rested on one or two or even three exclusive targets. When there's a lot of ways an offense can beat you and there's no specific person to take away that can derail it, you've got something.
This isn't to say the Jets offense is now the Patriots offense, but they do finally have the game plan advantage of not having a single player that if you snuff him out you've stopped them.
There have been many moments that illustrate the Jets' growth as an offense this season, but none as crystal clear as the opening series against the Dolphins in their game in London.
The Dolphins had watched the film. As evidenced by their initial alignment on the first offensive snap of the game against the Jets, they believed using a numbers advantage in the box to slow Ivory should be first on their to-do list (see below).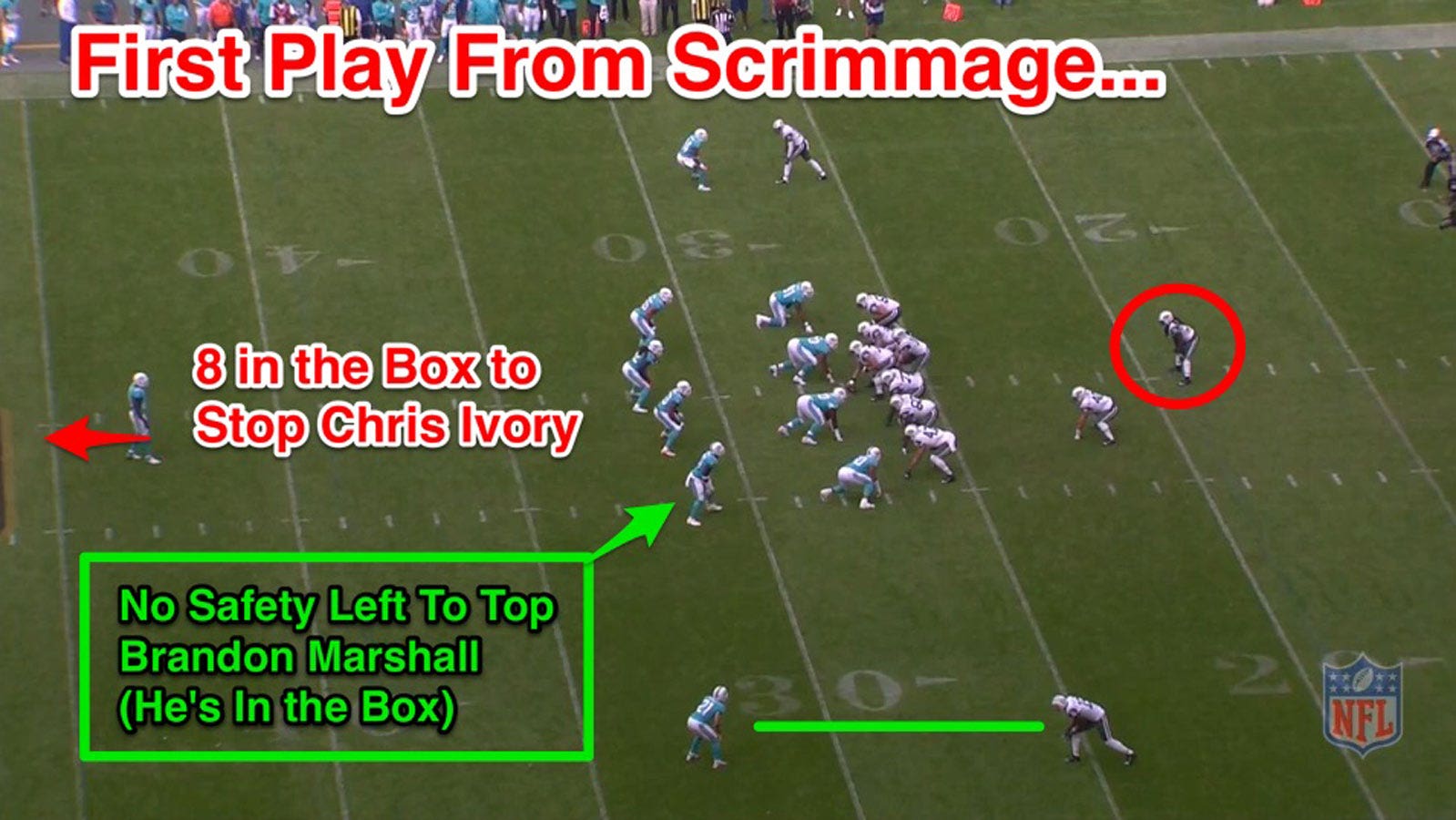 With eight in the box, the simple arithmetic is that you can no longer have two safeties in the deep part of the field. This wouldn't have been a problem in the absence of Marshall at wide receiver and a quarterback in Fitzpatrick who can run the show. With Eric Decker in his wheelhouse as a the No. 2 wide receiver drawing the team's second-best corner and no potential double-team, the table is set for all four of these players to play at a much higher level than any had a year ago in vastly different situations.
Complementary football 101.
What really makes this first big play was Fitzpatrick moving the single, middle-of-the-field safety with his eyes and shoulders. It was a subtle, smart play that, unfortunately, prompts the obligatory mention that Fitzpatrick attended Harvard. He sends them there for a full count, enough so that the safety could never retreat back across the field to his intended target: Marshall singled on the backside fade.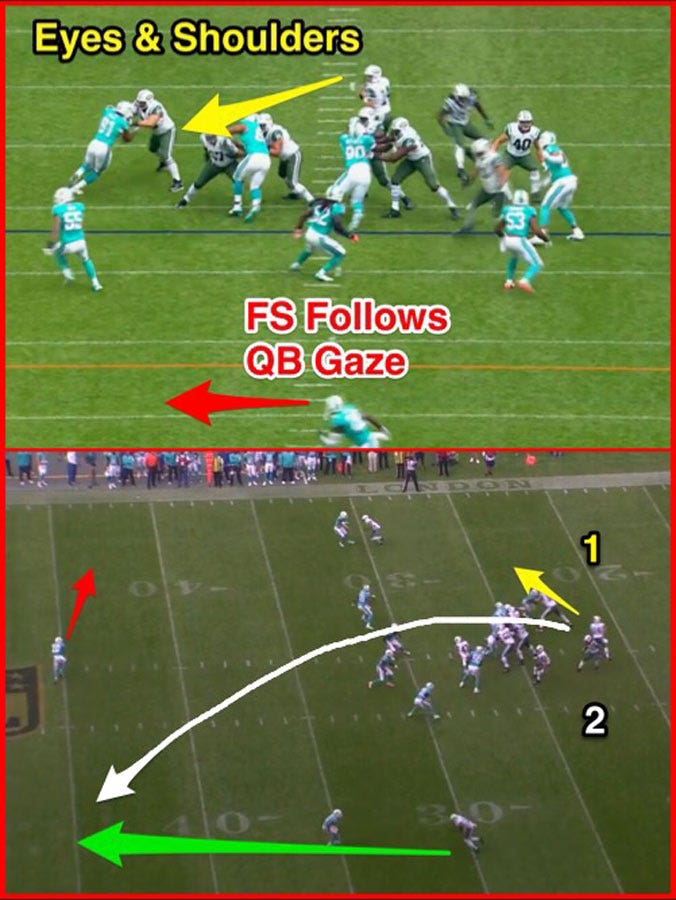 The result was a 58-yard completion to Marshall to start the game — a completion that immediately altered the Dolphins approach on the next play.
When down-safeties are used to double, it's an especially precarious situation if they are doubling to the weak side (away from tight end and run strength). As illustrated in the pic below, Ivory begins his run with an initial step to that overloaded weak side, but with an obvious numbers disadvantage there, the cutback was bound to be vulnerable — and it went for a 12-yard gain against the grain of the original play design.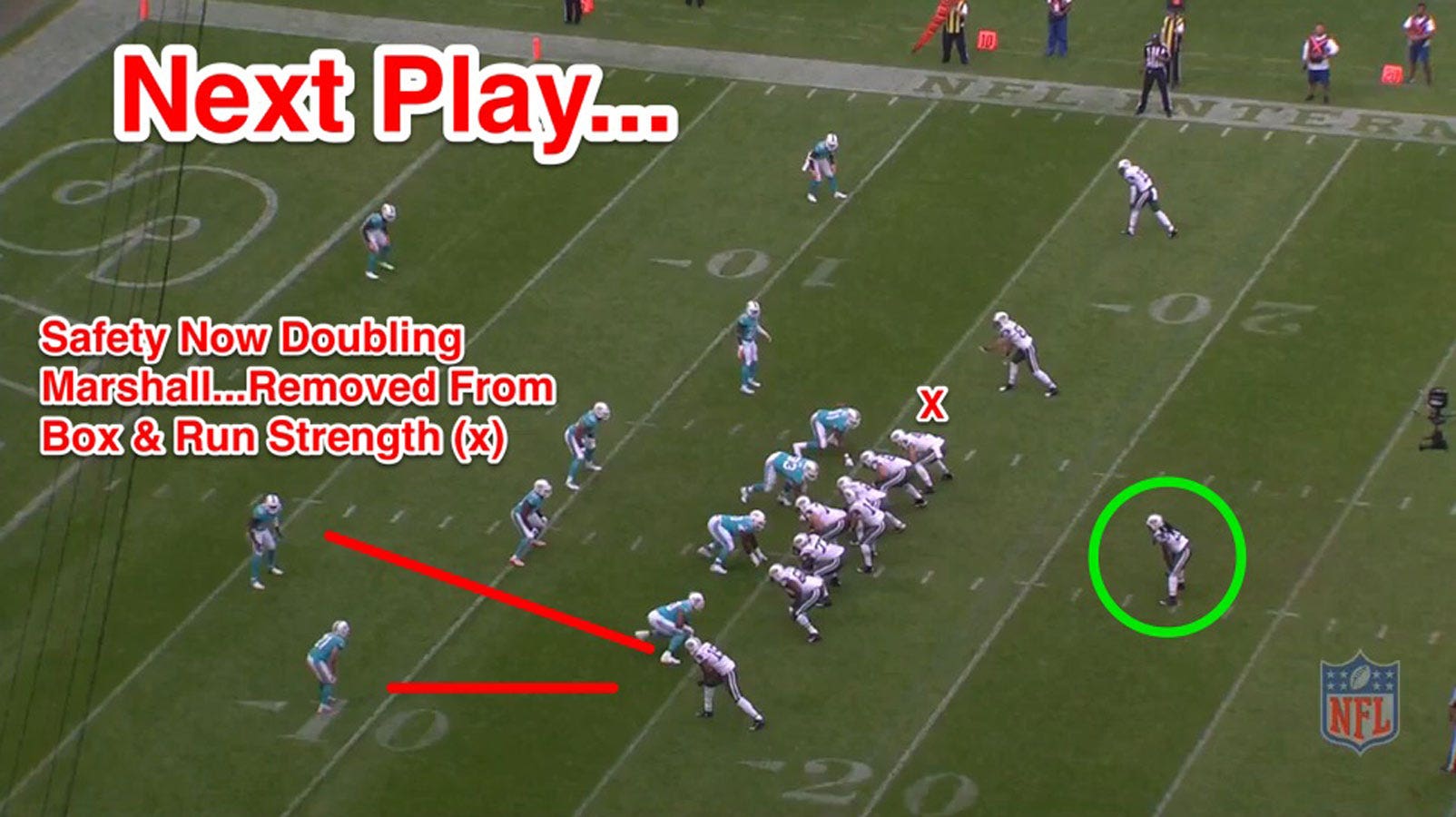 BIGGER IS NOT ALWAYS BETTER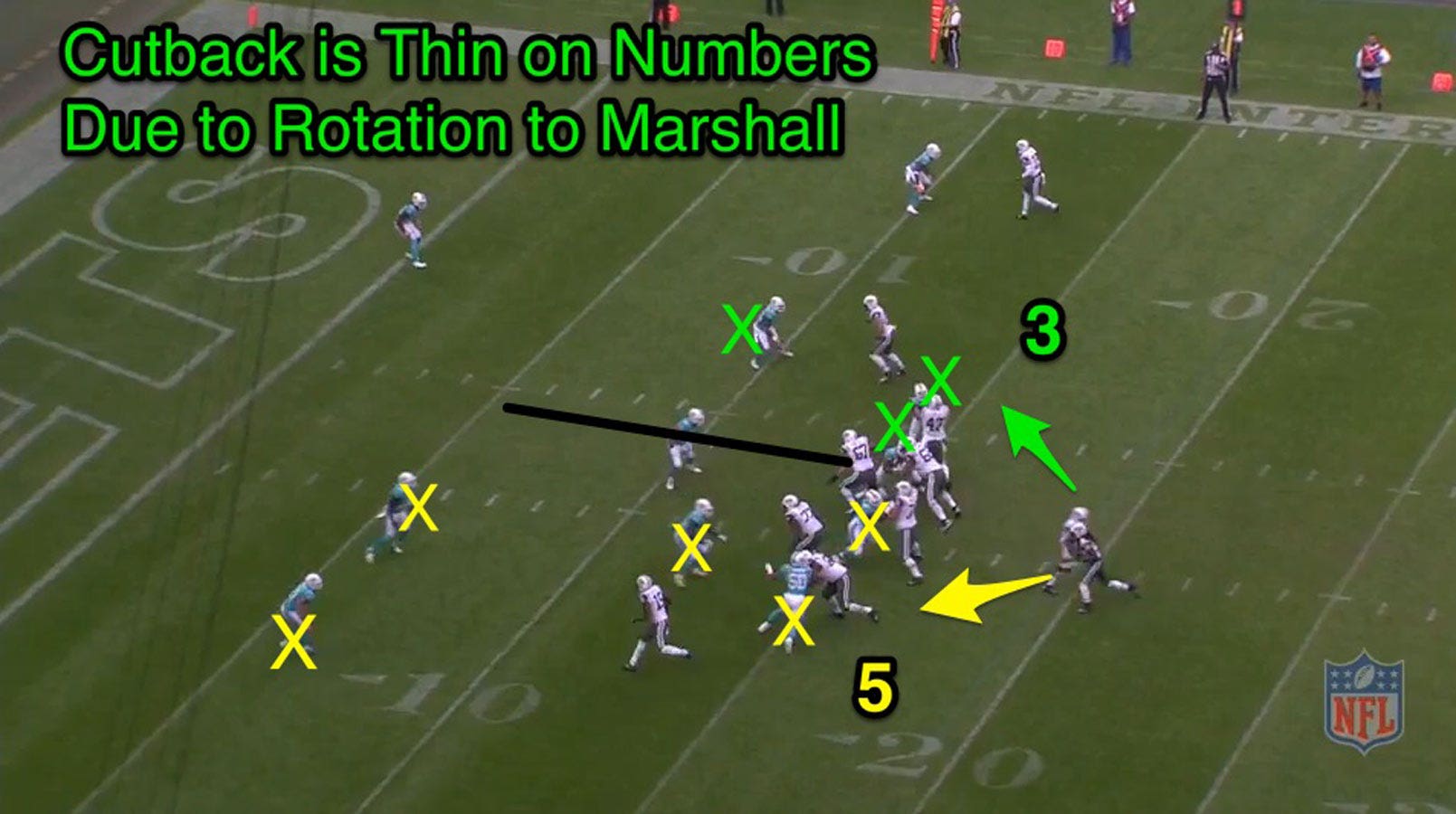 Ivory's physical running style would lead many to believe he's bigger than he really is; at 6-foot, 225 pounds, he's not huge. His ability here to both see the cutback and have the quickness to make it back to the outside beyond the tight end's block illustrates a couple of the elements Marshall was talking about: his elite vision and quickness. He finishes the run with kind of running violence he has become known for, blowing through the safety charged with meeting him in the hole and falling forward for several yards of YAC (see below).
What this quick sequence of just a couple plays shows is how competency at several positions stresses a defense and makes life much hard in game-planning. If the Patriots are to load the box, the Jets have the competent passer to deliver the ball to a number of legitimate threats.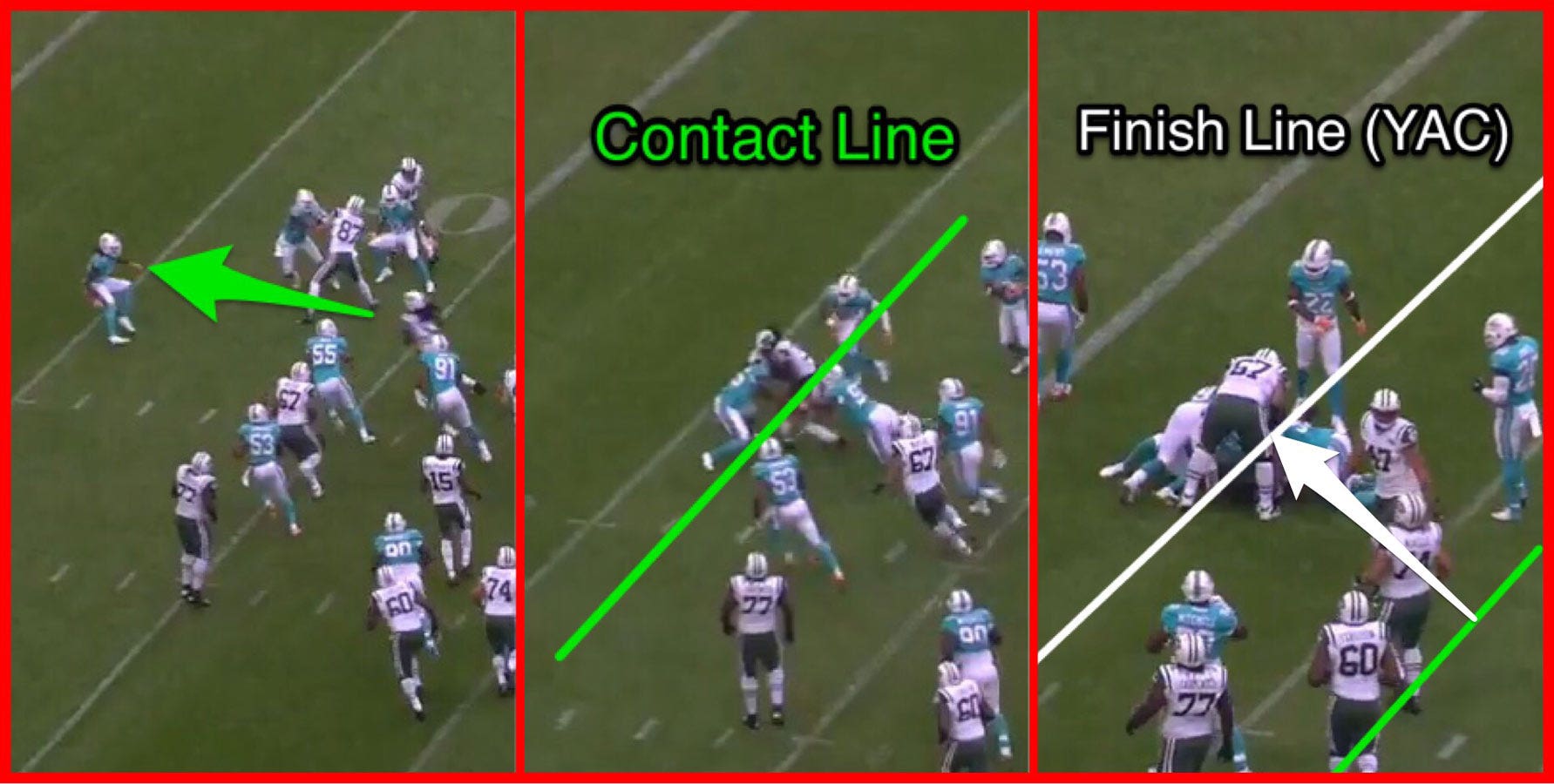 If the Patriots don't defend well against the run, Ivory has shown the ability to run for 150 (or more) yards and sap the clock — a development that would be particularly troublesome for the Patriots because their own offense is typically so prolific. The Pats want the ball, too.
High-end complementary offensive football is finally on display in New York, which only serves to spice up this heated rivalry. Will it be enough to overcome the mighty Patriots this weekend in Foxboro? I won't go that far. But the Jets now have a team that's a threat — not just on a particular side of the ball.
STORIES FROM FOOTBALL BY FOOTBALL
Is Seattle's reign in the NFC West over?
Knee-jerk press conference reactions from Week 6
Four things to know for Week 7
Matt Chatham played for the Patriots and Jets over nine seasons in the NFL, winning three Super Bowls. He is also the founder of footballbyfootball.com. You can follow him on Twitter.