New York Giants: Robbie Gould Prepared to Face Former Team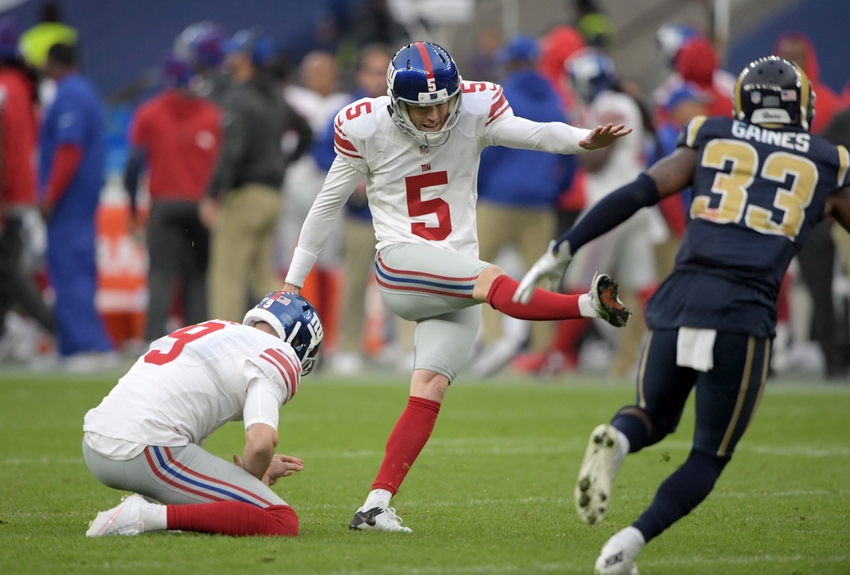 New York Giants kicker Robbie Gould will be facing the team that let him go on Sunday. Will there be an extra emotion for Gould?
The New York Giants will be playing the Chicago Bears on Sunday at MetLife Stadium. For kicker Robbie Gould, it will be his first game against his former team. For 11 seasons, Gould was the kicker for the Bears, but the organization decided to part ways with Gould prior to the start of this season.
"Yeah, I didn't see it coming," Gould said to Jordan Raanan. "Obviously, they cut me at nine o'clock at night on Sunday right before the first week. We never had conversations about that. I was preparing to play the Houston Texans, but they made a decision that my performance wasn't what they were looking for, and those are decisions that organizations get to make.
After a good chunk of the season passed, Gould ended up signing with the Giants just before their trip to England. In three games, Gould is a perfect 1-for-1 on his field goals and is also a perfect 9-for-9 on extra points.
Gould insists that there are no hard feelings between him and the Bears. Gould, in fact, praised Bears head coach John Fox as a great coach. Gould's replacement, Connor Barth, has done well for the Bears this season, as he is 12-for-15 on field goal attempts, and hasn't missed an extra point this season.
"[Fox] is a great coach. Obviously, he has a long list of wins under his belt. He has coached teams to Super Bowls. There are tough decisions that get made all the time and they made decisions that they had to make to make their team better, and it is just something that they did," Gould said to Raanan. "I am not mad about it. I am not upset about it. I had a great run there, and I hope we have a better run here Sunday than they do and realistically, I was talking to Coach [Ben] McAdoo at practice, what do I have to be upset about? I got to play with one team for 11 years with a lot of great teammates, with a lot of good memories, and they made a decision. I am really happy here, I love being a Giant, I love being in the Giants organization, and I have a lot of respect for the guys that are going to be across from me playing, so hopefully we come out with a win."
More from Empire Writes Back
Gould is excited to be playing against his former team, but he knows not to take them lightly because of their 2-7 record.
"It is not too often that you get to play against a team that you have played for, for so long, but I have a lot of respect for those guys in that locker room and I know how talented they are," Gould said to Raanan. "Their record does not obviously show the type of team that they are, so we can't take them easy, and it is going to be a fun game. I think it will be a good game. I think they will be ready to play.
After a big win on Monday Night Football against the Cincinnati Bengals, the Giants will have to avoid a letdown game. The NFC East is extremely tight right now in the standings, and that means the Giants need to beat teams like the Bears.
This article originally appeared on