Making the MVP Case for A.J. Green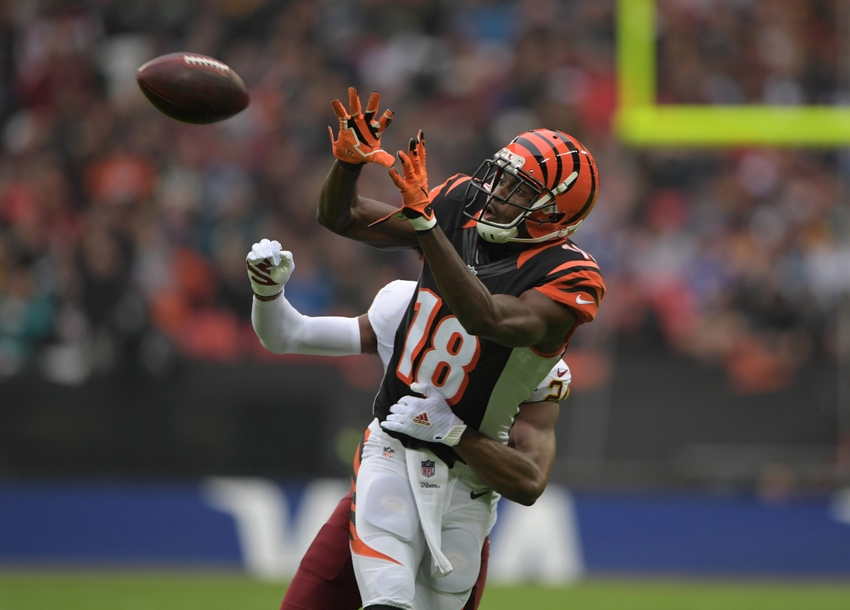 A.J. Green is in prime position to become the NFL's first wide receiver to claim the MVP trophy.
With Julio Jones and Antonio Brown lighting up the league with astronomical numbers over the past two seasons, many people forgot about the dominance of AJ Green. But with his showing through the first half of the 2016 season, AJ is making a case as the most valuable player.
Not discredit to Tom Brady, Matt Ryan and Ezekiel Elliot. They are all having fantastic seasons but AJ Green's impact is unrivaled. The Cincinnati Bengals lost Marvin Jones and Mohammad Sanu in free agency while Tyler Eifert missed the first half of the year due to a lingering injury. AJ Green was all that remained.
He's on pace for career marks statistically. He's averaging a league-leading 112 yards per game, 23 yards more than his original career high. He is also on pace for his first 100 reception season while his catch percentage of 67 is a new career mark.
What separates him from the rest of the pack is his overall impact on a game. The Bengals have struggled this year with a 3-4-1 record. AJ Green is responsible for each win. In the nail-biting week 1 win over the Jets, AJ Green recorded 180 yards and a touchdown on 12 catches.
They won 23-22. For the Bengals second win against the Orange Crush Dolphins, AJ recorded 10 grabs for 173 yards and another score. He followed that up with a 169-yard, 8-catch, 1 touchdown game against the Browns. It was their third and final win to this point. Even in the tie in London versus Washington he put up 121 yards on 9 catches.
The Bengals simply cannot win without AJ Green going off. And when he has a more modest game, like 88 yards against New England, Cincy collapses.
And his defenders aren't pushovers either. He's faced the aging Darrelle Revis, reigning defensive player of the year Josh Norman and All-Star corners Joe Haden, Malcolm Butler, Aquib Talib and Byron Maxwell.
The key to his MVP title is his competition. It throws audiences off to consider AJ Green as the first ever wide receiver to win the MVP trophy. While he's on pace to be one of the most decorated receivers in recent history, he doesn't match the legacy of Lance Alworth, Steve Largent, Jerry Rice, Terrell Owens, Randy Moss, or Calvin Johnson.
But his competition isn't too daunting. Matt Ryan is on pace for the third-most passing yards of all time in a single season, an incredible achievement. But of the top 15 single-season passing marks, only three of those campaigns ended with an MVP on their mantle. Dan Marino in 1984, Kurt Warner in 2001, and Peyton Manning in 2013.
Whether it is fair or not, a winning record is a very important factor for quarterback's MVP case. If the Falcons finish 11-5 (they stand at 6-3), their win-loss record doesn't exactly jump off the page.
Derek Carr's candicy only comes from the Raiders exponential rise to a contending level. His stats don't match up to Matt Ryan despite a more talented offense in Oakland. His strongest stat is the Raiders 7-2 record, atop the toughest division in the league.
If Tom Brady  keeps up his pace, he'll claim the title without a second thought. Having one of the most efficient seasons in NFL history, his numbers are video-game like. There would be no contest for Brady except the fact that he missed a quarter of the season. Imagine a basketball player missing 20 games and winning MVP. 12 games may not be enough in order for him to be crowned the league's best.
Zeke's rise to fame has been enjoyable to watch, and he is on pace for an astronomical season for any player, not just as a rookie. But with most running back campaigns, an eventual decline will ensue and with one of the greatest offensive lines in the last 20 years, it will be hard for him to be claimed "most valuable." Demarco Murray hit 1,800 yards and received just 2 MVP votes.
It is hard to wrap our minds around the idea of AJ Green winning MVP as no receiver in history has done so. With the likes of Antonio Brown, Julio Jones and Odell Beckham Jr, AJ Green isn't normally considered to be the best receiver in the league. But he is having an amazing season and is the sole reason the Bengals are afloat, as he is single-handedly carrying this team.
Midseason MVP goes to AJ Green.
More from With the First Pick
This article originally appeared on