J.J. Watt Loss All But Cripples Texans Super Bowl Hopes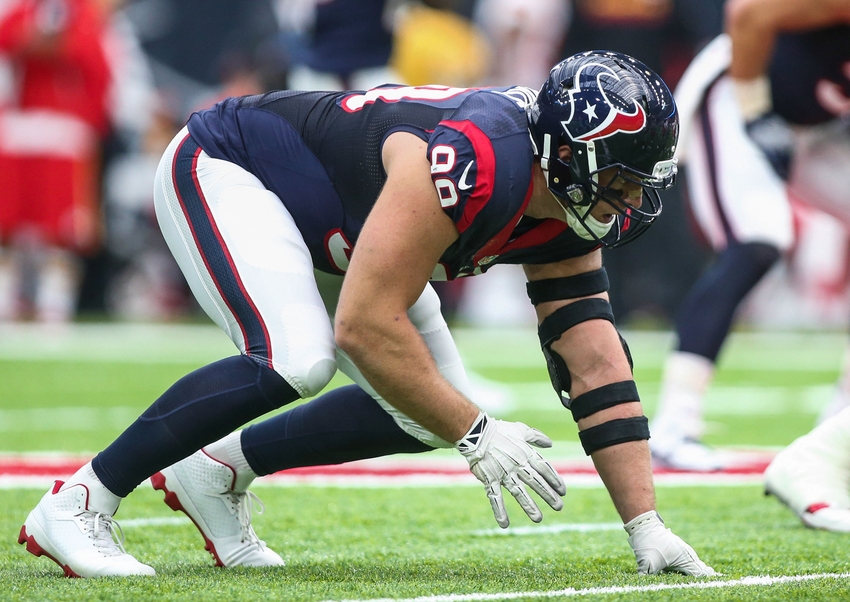 It's a black day for Houston Texans football. Their superstar pass rusher J.J. Watt could be done for the season after re-injuring his back.
There was an overlying fear before the start of the 2016 season. Initial belief was that Watt, recovering from back surgery, could miss the first couple games in order to ensure he would be 100%. Not too long later word began to percolate that he was ahead of schedule in his rehab and could be available for the opener against Chicago on September 11th. Sure enough the three-time Defensive Player of the Year made it onto the field and played well.
At the same time there was an undertone of concern that maybe Watt was pushing to play. He's one of the most competitive players in the game and had no qualms playing hurt. Back injuries though are not something to mess around with. Rush back too soon and there is a risk of making the original injury even worse than before. It looks like that's exactly what happened.
Even before the announcement of the injury it was apparent that Watt wasn't himself. He didn't have the same consistent dominance he usually did. That was plainly apparent against the New England Patriots. Their right tackle Marcus Cannon, a former backup, basically shut him down the entire game. That doesn't happen if Watt is healthy.
One other thing that New England game revealed was that the Houston Texans aren't the same team when they don't have Watt at his best. That often happens with superstar players. Even though the Texans upgraded much of their roster, everything still sort of orbits around him. Whitney Mercilus and Jadeveon Clowney won't be as effective if he's not on the field. More pressure will also be put on Brock Osweiler to put up points. Something he doesn't look prepared to do.
Suffice to say after seeing their performance in Foxborough and then hearing Watt is done, the hype train for a Houston Texans Super Bowl run has derailed. Hopefully the J.J. Watt will return to his old self in time, otherwise the entire franchise takes a permanent step back.
This article originally appeared on