Golden Tate School Vikings Defense for Game-Winning Score (Video)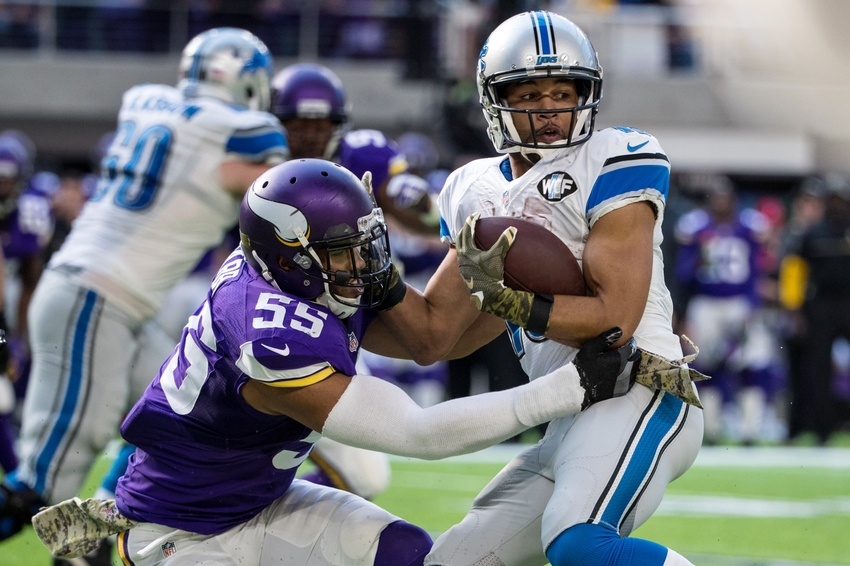 Whenever the Detroit Lions are locked in a tight battle, you know Matthew Stafford will pull off something special—with the help of Golden Tate.
The Minnesota Vikings have now lost their third straight game and there's nothing Sam Bradford or Stefon Diggs can do about it. Both players were stellar, but the Detroit Lions managed to stun yet another team at the end of the game.
First, Matt Prater nailed a 58-yard field goal as time expired like it was nothing to send the Lions into overtime. Not to be out-done by his ice-cold kicker, Matthew Stafford whipped up some more game-winning heroics, dispatching a walk-off 28-yard touchdown to Golden Tate in overtime on a third-and-eight pass.
This play was special. Stafford delivered the ball in between two Vikings defenders to Tate on the left sideline and Tate showed why he is one of the best players in the NFL after the catch. Back on top as the Lions No. 1 wide receiver over offseason signing Marvin Jones, Tate somehow stayed in bounds despite his momentum. It takes some seriously quick feet and elite body control to pull that off.
As if that wasn't enough, Tate brought the Steve Smith Sr. comparisons back to mind by shoving elite safety Harrison Smith to the turf. He then danced his way into the end zone, leaping in style with the other safety, Andrew Sendejo, helpless to stop the game-winning touchdown.
Tate finished the game with 11 receptions for 72 yards and a touchdown. He's now caught six passes in each of the last four games. His early-season struggles are in the past and Tate and the Lions will get a bye week before facing the Jacksonville Jaguars in Week 11.
This article originally appeared on