Fantasy Football Week 12: Waiver-Wire Pickups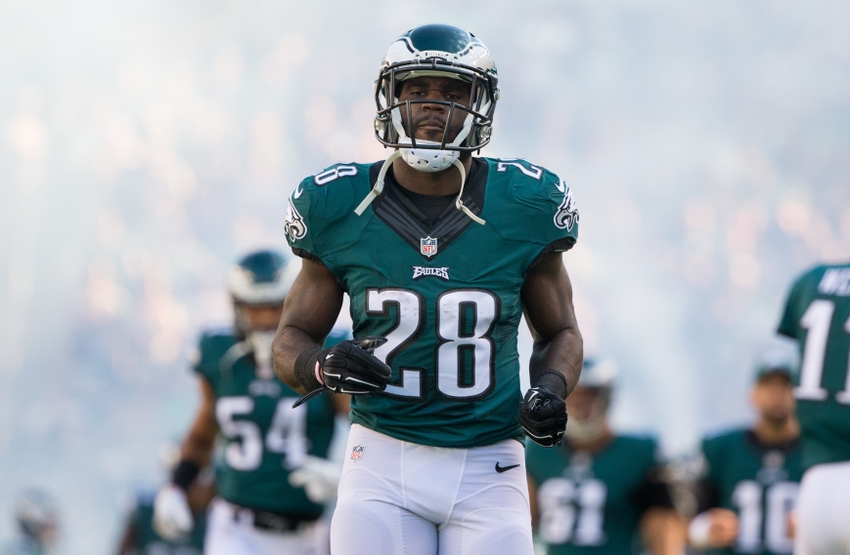 The fantasy football waiver-wire is where seasons are won and lost, especially late in the year. Here are a few players that could help you in Week 12.
We saw plenty of important players go down with injuries last week (Mark Ingram, A.J. Green, Giovani Bernard, Zach Miller) and some of them won't be back for the rest of the fantasy season. This makes some players available on the waiver-wire a lot more important. It's also a reminder to owners to handcuff your highly-vaulable RB1s.
For these purposes, we will being using Yahoo! Fantasy Football as a guideline. Any player that is 50 percent owned or less is eligible.
Here are the players you should be targeting on the fantasy football waiver-wire for Week 12.
5. Mike Gillislee, RB – Buffalo Bills (26% Owned)
In last week's game against the Cincinnati Bengals, the Buffalo Bills starting running back, LeSean McCoy, left with an injury. He did not return to the game and as a result, Gillislee ended up leading the Bills backfield in carries (14) and rushing yards (72).
It turns out McCoy suffered a dislocated thumb and already had surgery on. It's already been reported McCoy has a good chance to suit up in Week 12 against the Jacksonville Jaguars. However, there's no guarantee at this point. If he does play, he could see a decrease in playing time if his injured thumb gives him a hard time catching passes. Not to mention, there's always a chance for re-injury.
At the very least, Gillislee needs to be targeted by McCoy owners as a handcuff for the rest of the season. Last week was a prime example that any player at anytime can go down with an injury. If McCoy were to miss multiple games with this injury or a new one, Mike Gillislee would immediately be a RB2.
4. C.J. Fiedorowicz, TE – Houston Texans (22% Owned)
Outside of a few names, the tight end group as a whole is a crapshoot just about every week. With all things considered, Fiedorowicz has been pretty consistent since Week 4. In that time he has averaged seven targets, five receptions and 54 yards per game. He has produced double-digit performances in five out of seven games in PPR leagues.
Yesterday on Monday Night Football he set a season high in targets (10) and tied his season high in receptions (6). His 82 receiving yards was the second-most he's had in a game all season.
Going into Week 12, he's tied for first on the Texans in touchdown receptions and (3) and is second on the Texans in receptions (35). Even though his three touchdowns in 2016 doesn't seem like a lot, keep in mind that is just as many touchdowns as Jordan Reed, Travis Kelce, Greg Olsen and Rob Gronkowski.
If you're an owner that is looking for an upgrade at the tight end position or who just lost Chicago Bears tight end Zach Miller for the season, Fiedorowicz is the tight end you should target this week.
3. Brandon LaFell, WR – Cincinnati Bengals (11% Owned)
When A.J. Green when down with a hamstring injury last week, it opened the door for other Bengals wide recievers to see extra opportunities. LaFell's nine targets against the Buffalo Bills on Sunday were the second-most targets he's had all season and the most he's had since Week 5. Green won't be available for next week's game against the Baltimore Ravens and will more than likely miss multiple games. As a result, LaFell will be the team's No.1 wide receiver for the foreseeable future.
Currently, LaFell is second on the team in targets (55) and receiving yards (419). He is also third on the team in receptions (33). His four touchdown receptions is tied for the most on the team with Green. The only two players ahead of him in any receiving categories are Green and running back Giovani Bernard. Oh yeah, did I mention Bernard tore his ACL and is out for the season? So the only two players that ranked ahead of LaFell in all the receiving categories are both out.
LaFell doesn't do anything spectacular and he's not a great wide receiver. However, he is now the No. 1 wide receiver on the Bengals and is more than serviceable. Right now he should be viewed as a WR3 with WR2 upside.
2. Tyler Boyd, WR – Cincinnati Bengals (7% Owned)
Just like I mentioned in the slide before, when A.J. Green went down with an injury it opened the door for other Bengals wide receivers to see extra opportunities. Well, Tyler Boyd seized that opportunity more than any other Bengals player. He finished last week's game with six receptions, 54 yards and one touchdown. Other than targets, he led the entire team in all receiving categories. Also, his touchdown reception was his first of the season.
The reason I would recommend going after Boyd before LaFell on the waiver-wire is because he's simply a more dynamic and dangerous wide receiver. His one-yard touchdown on Sunday came from the slot and that's where he should spend a lot of his time. He should see a lot of targets in the short to immediate range which should lead to a handful of receptions every game. With Giovani Bernard out for the season, he should dominate targets in those areas.
I'm not saying it's a slam dunk Boyd will see the most targets and receptions than LaFell with Green out. That's why I believe LaFell still makes for a valuable target on the waiver-wire. However, if I'm going after one, it's going to be the rookie.
1. Wendell Smallwood, RB – Philadelphia Eagles (6% Owned)
In Week 10 Smallwood had 13 carries for 70 yards. That was with running backs Ryan Mathews and Darren Sproles both playing in the game. In Week 11, both Mathews and Sproles left the game due to injuries and Smallwood led the Eagles backfield in touches. He finished with 17 touches for 79 yards.
Both Mathews and Sproles are considered day-to-day and could miss Monday night's game against the Green Bay Packers. Then again, both of them could be healthy enough to play too. Either way, Smallwood will undoubtedly see an increase in practice reps and will spend a lot the time working the one's.
Smallwood only needs one of the players to miss Monday's game to have real value this week due to his versatility. His 13 carries in back-to-back weeks shows that he's capable of carrying it between the tackles and shouldering the load. However, he is also a good pass catcher out of the backfield. If Sproles misses Monday's game, he could take over that role while also seeing an increase in carries with Mathews at less than 100 percent healthy.
If Smallwood can have a good game against the Packers, he might earn more playing time moving forward. Considering the Redskins running back Rob Kelley just ran for 137 yards and 3 touchdowns against the Packers, he has a good chance to do that.
Other Receiving Votes
Here are a few more names you want to consider when you go through your fantasy football waiver wire.
Tennessee Titans running back Derrick Henry (48% Owned) – DeMarco Murray owners, you really need to get this guy on your bench. If he goes down with an injury, you'll never forgive yourself.
Jacksonville Jaguars running back Chris Ivory (48% Owned) – Last week, T.J. Yeldon left the game with an injury and did not return. If he is forced to miss next week's game, Ivory would become a workhorse in the Jaguars backfield.
Buffalo Bills wide receiver Sammy Watkins (42% Owned) – Watkins is nearing a return from injury and is worth a bench stash if you can afford it. He could end up paying off big dividends in the playoffs.
Baltimore Ravens running back Kenneth Dixon (28% Owned) – The rookie is the more explosive and better pass-catching running back in a timeshare. He has RB3 value in PPR leagues and could be a RB1/2 if Terrance West went down with an injury.
Pittsburgh Steelers running back DeAngelo Williams (23% Owned) – He's nearing a return from injury, but won't be nothing more than a handcuff. However, he's the most important handcuff in all of fantasy football.
San Francisco 49ers quarterback Colin Kaepernick (18% Owned) – I've said it before and I'll say it again: he's not a good quarterback and he's on an awful team. However, he's been a solid fantasy quarterback since becoming the starter and his running ability gives him a high ceiling every week.
This article originally appeared on